15 Perfect Pixie Hairstyles For Kids
Celebrate your kid's milestones with trendy cuts that keep the hair short and healthy.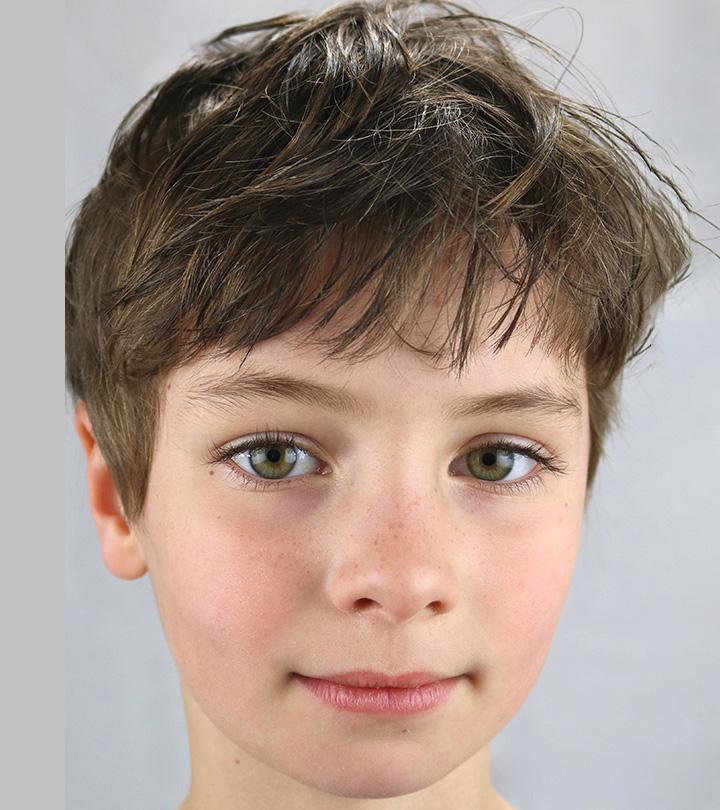 Kids are undoubtedly full of life, always up for fun and frolic. But this makes it challenging to keep their beautiful and delicate hair in place. In this case, you might want to consider a pixie cut for kids. This haircut is versatile, cute, and easy to manage.
Jessica Noonan, a hairstylist, says, " As a mom and a stylist, I love the ease of pixie cuts. They're pretty much as close to wash-and-go as you can get. Just use a little leave-in conditioner, or some styling cream for polish and control. And you're done!"
Remember, it is essential to take good care of your little one's hair so that they are healthy and gorgeous forever. And short haircuts like pixie play a crucial role in making it possible. With this article, we want to introduce you to some of the popular types of this cut. Below is a list of some that you must check out. So without further ado, scroll down to take your pick!

Before You Get Started
Consider your child's hair texture and thickness, parting style, personality, and face shape when picking out a pixie hairstyle for them.
If you want a fuss-free look, opt for a pixie hairstyle cut in just one length all over to keep hair off your child's face and make styling it easier.
Avoid shaggy pixie haircuts or ones cut in many layers as they are not easy to style and manage.
Pixie Hairstyles For kids
Have a look at these popular pixie cut hairstyles for kids:
Style 1: Pixie Undercut
An undercut and a side-swept pixie cut can be a risky but fashionable look for a little girl. The undercut ends precisely at the forehead and has edgy, pointed ends. You can go the extra mile and color your little one's pixie hair a soft pink shade.
Style 2: Blunt Pixie Bob
This is a traditional pixie bob with blunt ends that looks good on all face shapes and hair types. The even shape will result in few flyaways and an overall neat look. It is excellent for fussy girls who don't like their hair falling on their faces. You can also add a cute little detail like this pink hairband to enhance its beauty.
Style 3: Middle-Parted Pixie Bob
This is an easy-to-do pixie hairdo for your small girl. Part her hair down the middle and brush out all the knots and tangles from her hair. You can style her hair by placing clips on either side of the center parting.
Style 4: Side-Braided Pixie Bob
Create a braid in place of the standard side part to give the pixie bob a more playful and dainty look. This is the perfect look for a wedding, Christmas, or picture day at school!
Style 5: Curly Pixie Bob
From an early age, curly hair requires proper maintenance. Therefore, a trendy pixie bob haircut is a perfect choice for little girls to maintain their curls. The gradual layering on the sides will frame her face beautifully.
Style 6: Blunt Bangs Pixie Cut
Little girls' pixie hairstyles often have blunt bangs because they keep the hair out of their face and eyes. They also make the kids look adorable! The benefit of blunt bangs is that they give the face a sharp, tidy appearance and draw attention to the eyes.
Style 7: Curly Pixie Bob With Bangs
For a change, you can give your little one a curly look with blunt bangs in the front. This adorable look is sure to make her feel like a princess. This cute hairstyle is perfect for your little girl to rock at weddings and parties.
Style 8: Asymmetrical Pixie Cut
If your kid is influenced by pop singers and loves to experiment with her hair, try this trendy haircut originally sported by Willow Smith. This hairstyle looks super edgy and is especially appropriate for the summer.
Style 9: The Chin Length Pixie Bob
This one of pixie haircuts for kids is a bob that is symmetrical on both the sides of the head. It extends till the chin and there are no layers in this hair style. This is an all-round cut, bringing all the hair and the bangs to one length. The chin length pixie bob can be accessorized with colorful hair bands, clips, flowers, pins and a lot more.

Did You Know?
Pixie haircuts became popular in the 1950s following the release of the film Roman Holiday, starring Audrey Hepburn. Many celebs have experimented with pixies in recent times, including Miley Cyrus, Cara Delevingne, Pamela Anderson, and Katy Perry.
Style 10: The Round Pixie Bob
The round pixie bob accentuates the cut cheeks of your little princess. This is an asymmetrical bob placed just over the ears. You can keep the soft fringes on the fore head or side sweep them. This hair style also can be accessorized with clips, hair bands etc.
Style 11: Short Wavy Pixie Cut
If your child has lots of soft waves, you can style her hair into a short wavy hairstyles pixie cut. The soft wave falls just below her ears and gives her a very adorable look. You can add a lot of fringes and place them on her fore head.
Style 12: Short Curly Pixie Bob
Style your little lady's cute and soft curls into this short curly pixie bob. This cut is a very easy to style as you can leave as it is or even tie a small pigtail pony using colorful elastic bands.
Style 13: The Sleek And Straight Cut
If you're little girl has super straight hair, then this pixie cut is the best option for her. You can keep short bangs and side sweep them to one end for a more stylish look. Adding an elastic head band or a bejeweled hair clip can make her look gorgeous for an evening party.
Style 14: The Wispy Pixie Cut
This is suitable for little girls who have straight to wavy hair. You can keep longer wisp of hair over the ears and at the nape of her neck. This will differentiate her hair style from a boys cut. But keep in mind that the wispy pixie may not be ideal for curly hair as it could get messy, making it unsuitable for school.
Style 15: Multiple Layered Pixie Cut
All children are not blessed with thick hair. If your little girl has thin and limp hair, she should definitely go for this cut. Adding a lot of layers will give the required volume and provide a body to her hair. If your girl has curly hair or lots of loose curls, then this is the perfect hair style to manage her hair.
Jessica Noonan adds, "Short haircuts are an amazing way to embrace every texture of hair. Whether you have thick curls that need taming, or fine hair that needs a bit of oomph, short cuts are your friends! Plus, the kiddos still look cute – even when they get a little messy."


Quick Tip
To keep the cut fresh and crisp, you'll need to have it trimmed regularly. Therefore, go for monthly haircuts to maintain the pixie cut on your children.
Infographic: Top 4 Pixie Hairstyles For Kids
Since most kids are energetic, keeping their hair from becoming unruly can be challenging. The pixie cut is an excellent solution because it requires minimal styling and still looks cute and stylish. All hair types look good with pixie cuts and are ideal for summer. Check out the infographic below to see some of the best pixie hairstyles that are incredibly functional, stylish, and simple.

The experience of styling your kids' hair can be very memorable. It is not just about spending time with them, but you also want them to love how they look. While pixie hairstyles are quick to style, they are high maintenance. So, make sure your kid gets regular trims. That being said, we hope the 7 pixie looks that we have shared above work wonderfully for your child. As you practice these styles on their hair, you could come up with experiments leading to more creative styles that adorably suit them.
Frequently Asked Questions
What face shape suits a pixie cut?
Pixie cuts are great for round and fuller face shapes because their sharp angles can accentuate the roundness. Usually, kids have fuller baby faces, and pixie cuts look cute on them. However, pixies can be cut to suit any face shape, shifting length and shape to balance or enhance features.
Is a pixie cut high maintenance?
No. Although pixie cuts need regular trims every 6-8 weeks at the salon, they still take less time to wash and are easier to detangle, use less product, and need minimal styling. Therefore pixie cuts are medium to low maintenance.
Is a pixie cut feminine?
No. Pixie cuts are generally androgynous hairstyles. However, they can be cut and styled to be incredibly feminine with soft wisps. It depends on how you style the look for yourself.