7 Different Types Of Nail Art Brushes That Anyone Can Try
You can't become a pro unless you master the art of knowing which brush to use when.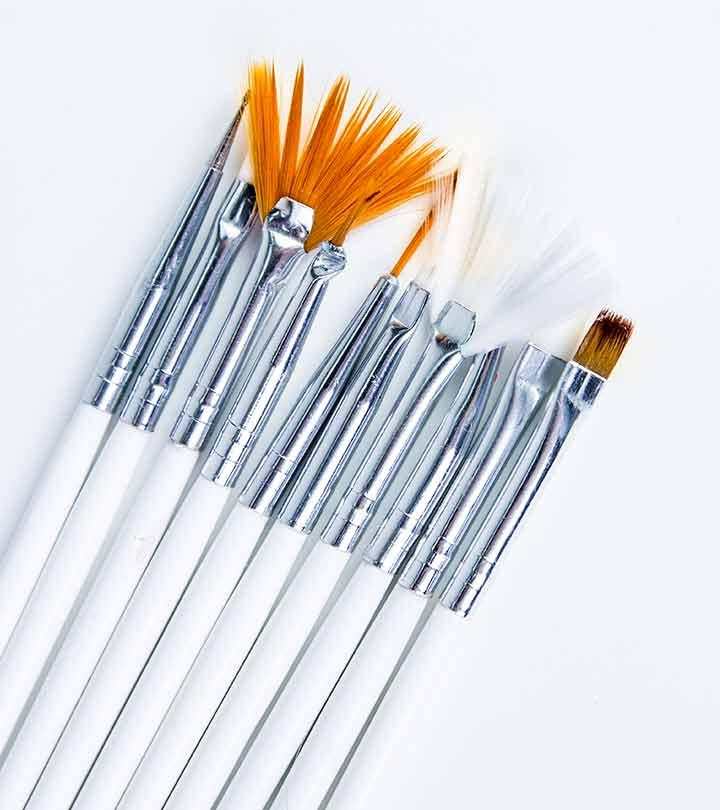 Nail art rules the beauty industry now! And anyone can try it at home, but only if you have the right tools. Good nail art brushes are key to perfect nail art that will make heads turn wherever you go. So, if you wish to flaunt some art on your nails, you should definitely invest in a good nail art brush.
How to choose a good nail art brush? What are the different types of nail art brushes available? What are the things you should keep in mind while doing nail art? If you are confused with all these questions, we have your back. This article contains all the information you need to know about nail art brushes. Keep scrolling!
Nail Art Brushes
Nail art brushes comes in 15 different interesting pieces and each set can be further divided into 7 parts. You can buy these brushes individually too depending on what you like to do. These brushes are:
1. 3D Brush
The 3D brush, more specifically the acrylic brush (no. 02), is the most versatile and common nail art brush. It is used for creating intricate designs. It also helps in creating different strokes and patterns. These brushes also help in making 3D nail art using acrylic powder and monomer.
2. Striper/Liner Brush
This nail brush helps in creating stripes (long lines), striping stroke patterns, and plaid art (checks), and you can also use them to make animal patterns such as zebra or tiger prints. You get straight lines with these brushes with ease. Your set may contain 3 of these brushes.
Quick Tip
A striper brush is also ideal for creating geometric designs and drag marbling. The long bristles help to reduce shakiness and create smooth lines.
3. Flat/Gel Brush
This brush is also known as a shader brush. These brushes help in creating long fluid strokes on the nails. It also helps in creating one stroke patterns, blending and shading. They are also helpful in doing gel nails. Your set may contain 2-3 sizes of this brush.
4. Angled Brush
This brush basically helps in one-stroke nail art flowers on the nail. It is very easy to double-load the two colors while using it because of its angled bristles.
Quick Tip
Aside from designing, an angled brush can also be used to remove excess polish from the cuticles and sidewalls of the nails.
5. Fan Brush
A fan brush has many functions. It helps in shading, creating swirls, and sprinkling glitter. You can create beautiful stroke effects with this brush. It is also used in brushing off excess flocking powder or glitter too.
6. Detailing Brush
As the name suggests this brush is used for adding details to your nail design and it has a very good precision effect. You can create many masterpieces with this brush. This is a must-have brush in your nail art tools stash.
7. Dotter
Your 15-piece nail art brush set should consist of one dotter tool too. It has a very small head tip which helps in creating many small dotted effects on the nails. For larger dots, you can use other bigger dotting tools that are available in the market.
A good set of nail art brushes make nail art easy and help you achieve the desired look. Round brush, striper brush, flat brush, angled brush, fan brush, detailing brush, and dotter brush are a few nail art brushes that you can choose from. Each brush has a specific use like shading, sprinkling glitter, blending, and creating intricate designs. In addition, a few of these brushes also help create 3D designs. While using these brushes can be tough initially, you will get used to it with constant practice.
Frequently Asked Questions
What can I use instead of nail art brushes?
You can use old eyeliner brushes and paint brushes instead of nail art brushes.
Which brushes are best for acrylic nails?
Acrylic brushes are the best for acrylic nails as their pointed tip allows precise application and good control for a smooth finish.
How do I keep my acrylic nail brush from getting hard?
Your nail brush may go hard if acrylic is left to dry on it. So, thoroughly wipe your brushes with clean paper towels using the monomer liquid after every use to keep it from becoming hard. Make sure you do not dip your brush directly in monomer without wiping acrylic leftover from the brush as it can result in the acrylic drying up on your brush and hardening the bristles.
Key Takeaways
Every kind of brush has a particular usage and can be employed to produce various designs.
The outcome of the nail design might be impacted by the brush's quality.
Natural or synthetic hair are only two examples of the materials that can be used to make nail art brushes.
For greater versatility, certain nail art brushes have numerous brush heads.
The longevity and utility of the brushes can be guaranteed by proper cleaning and maintenance.