17 Winter Bridal Hairstyles For Indian Women
Hey girls! So the wedding season is here in full swing with a lot of weddings scheduled for the coming season. Dressing up appropriately takes a lot of planning and is most definitely stressful. Being bride only makes it even more stressful. You need to look your best for every occasion and that calls a different hair style every time. After all, it's your special day, and you deserve to shine!
Bridal Hairstyles for Indian Women:
Scroll down for some inspiration on bridal hairstyles weddings.
Style 1: The Classic Indian Hairstyle
You can never go wrong with this one. This is one bridal hair style which will never going out of fashion! And it suits everyone!  Grab your hair at the back and put them into a braid or a simple bun hairstyle. Adorn your hair with some fresh mogra flowers (gajra) around the bun and a maang-tikka for jewellery. Whether you want to cover your head with a veil or not will depend on the traditions, but this style will never fail you. I recommend you try this style at least once during the many wedding functions.
Style 2: Jewelled Tiara
Again a very simple, classy and timeless of the Indian women hairstyles. Wear your hair in a puff around the crown to add volume, and create a bun at the back with the remaining hair. Add a stylish tiara around the crown, just before the puff. The style sure turns a lot of heads. It is best worn at engagements and receptions.
Style 3: Neckpiece With a Twist
For ceremonies such as cocktails and sangeet, you can experiment with your looks a lot more than the actual D-day. Try wearing jewellery in a different manner, like wearing a neck-piece with a heavy pendant in place of the maang tikka, in a rather un-conventional way. Keep the rest of the hairstyle very simple, like ironed. So that the focus is on the jewellery!
Style 4: Half-Up-Half-Down Curled Hair
For occasions where you need to keep your hair stylish, yet you don't want to experiment much, just curl your hair at the back in loose curls, and tie the front-half of the hair in a small voluminous puff. And you're good to go!
Style 5: For Those With Short Hair
If you have short-cropped hair, and don't want to use hair extensions or artificial hair, use jewelled accessories to add style to your hair.
Style 6: Buns
Buns are every bride's favourites when it comes to hair styling for the wedding day. Leaving the front section out, create a puff around the crown. This will not only add some drama to your look, it will also add a few inches to your height. With the rest of the hair, make a simple bun around the nape of the neck. Decorate the hair with simple accessories. The style will keep hair away from your face too, allowing you to enjoy the moments at your wedding without much fuss with the hair.
Style 7: South-Style Braid
If you are a gorgeous south Indian bride, or you are wearing a south-style sari for a function, go in for a braid with adornments all over, and a gajra around the base of the braid. Nothing works better!
I hope you all liked the compilation. In addition to the above styles, you can experiment with fresh or artificial flowers and other decorative hair motifs, clips and pins, etc to add style to your hair.
[ Read :South Indian Wedding Hairstyles ]
Style 8: Short Messy Pin Curls
If you have short hair, use a small barrel curler, a few hairpins and some help from a friend, and you have this look ready. This one of the winter wedding hairstyles which makes short hair seem like just the right length even for a wedding!
Style 9: The Elegant Look
This is one look for which you will need a stylist for sure. Make sure you find a suitable stylist to give you the desired results.
This look requires for you to combine the braid with the puffed hair and curls which requires a great deal of precision and experience too.
Style 10: Messy Pop Star Look
Get the jazzed up look this wedding season, and finish it off with some flowers. This one sure shot way of stepping out of the box with the winter wedding hair look. Plus, it isn't called a pop star look for no reason!
Style 11: Low Side Chignon
Mostly a bachelorette party style, a perfect combination of hot and sexy. But then if your look for a perfect style to go with that studded hair pin you picked up, then this is it.
Style 12: The Wavy Flows
Create some waves and let them loose, and knot up a few strands to get this simply yet elegant look. If you believe that less is more then this style will most definitely prove you right! Its the simplicity in it that you find so very appealing!
Style 13: The Accessorized Bun Look
A heavy hair accessory to a big bun hairstyle can help you create a fashion statement in absolutely no time.
Style 14: The Simple Maangtikka Look
A simple maangtika spares is the simplest way to get a wedding look, and hardly consumes any time. If your an Indian bride, then is one look that fits perfectly into your ceremonies and still keeps you looking stylish.
Style 15: Half up Half down Hairstyle for Long Hair
If you have long and thick hair, then try this look; add some hair accessories to complete the look. This is one look that will never run out of style. The half up half down style has been around for a long time and has come out in many different versions. One of out favourite wedding styles though is the curled in and wavy look. For this you just need to puff up your hair a bit if you don't already have volume. Tie a portion up and leave the remaining loose. Use a curler and set this portion is curls. That is all that's needed!
Style 16: Half up half down Messy Hairstyle
Don't have real long hair? Not a problem, try out this hairstyle. It messy fun and trendy while keeping your look in place.
Style 17: Curly Messy Hair style for Short hair
Pin hair together and use small cute flowers to give it a neat finish.Simple and nice!
Hope this article is quite interesting for all the brides-to-be there! Which one of these you will love to don? Share your thoughts and any ideas with us.

The following two tabs change content below.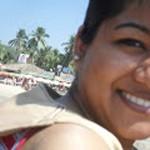 Latest posts by Ritu Rajput (see all)