8 Black and White Nail Art Designs With Pictures And Styling Tips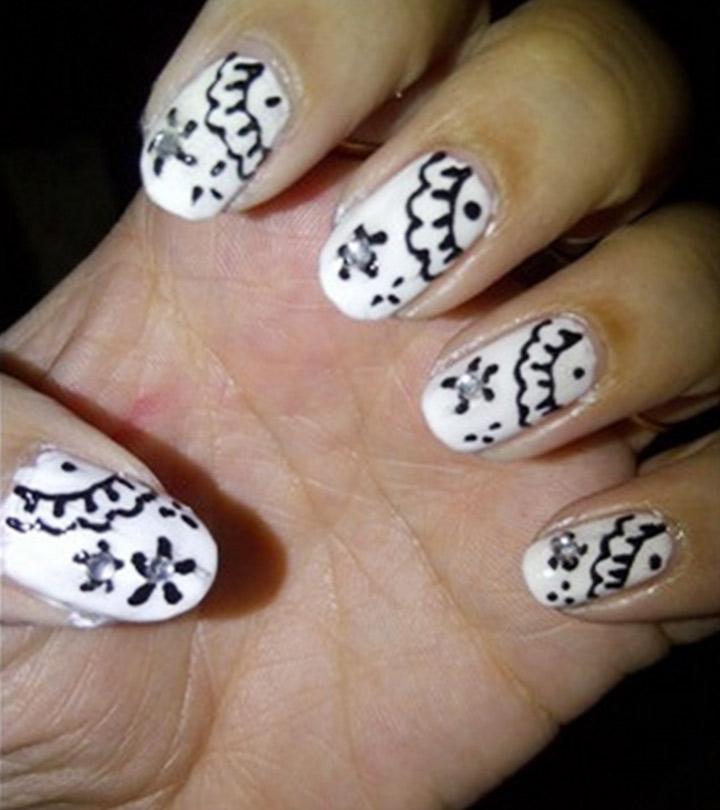 Black and white is the most loved combination and is always in fashion. This combination always looks goods on everything from your home decor to your outfit or even your nails. Black and white nail art designs go with any outfit and looks very chic.
8 Different Black And White Nail Art Designs
Here I am sharing few of my nail art designs in white and black combination and some other inspirations to get the gorgeous combination on your tips:
Inspiration 1: Polka Dots Nail Art
Polka dots look very classy and chic in Black and white combination. Creating this look is very simple and easy. Just paint your nails black or white and put dots using a tooth pick or dotting tool in alternate colors and seal your design with a top coat. You can add small, big or medium sized polka dots according to your preference. You can even stamp the polka dot nail designs.
Inspiration 2: Stripes Nail Art
Black and white Nail Art Stripes look very pretty. You can put stripes in vertical, diagnal or horizontal position.  How to create this look? Paint your base in white or black and using precision brush or stripper brush, draw lines in whichever position you like. Make sure to keep your hand steady to get straight lines. You can stamp stripes too using stripes template plate. You can put thick or thin stripes according to your preference.
Inspiration 3: Zebra Print Nail Art
How about getting the zebra print done on your nails? Zebra print looks very pretty in this color as it is in its natural form. To get this right, paint your nails in white and add fork like alternating stripes (alternate each stripe …..Paint them first left than right and so on). You can stamp this pattern too. This nail art in black and white strips look really chic!
You can add a hint of third color to enhance the beauty of this combination. Hot pink and red looks great with this combination.
Inspiration 4: Glitter Nail Art
Layering black glitter nail art polish over white or white glitter polish over black is a good idea to get this Black and white Nail Art combination easily. This method is not only easy but saves your time too.
Inspiration 5: Abstract Design Nail Art
Abstract designs looks good in almost every combination but they look best in black and white combination.  I created this design by painting nail in white and then adding a few short strokes and dots in black.
Inspiration 6: Freehand Nail Art
Almost every design looks very gorgeous in black and white combination. You can add white flowers over black or vice versa. You can paint butterflies also. In the following picture first I applied my base coat and then sponged some white color starting from tips to just above my cuticles. After white colour dried up, I painted a few black branches on my nail tips and then added some very small black leaves. After this I added a few red dots to my nail art to enhance its beauty.
You can freehand any design using this combination. Like in the above picture, I made henna like pattern with black over white base.
[ Read:Top 10 Rainbow Nail Art Design Tutorials ]
Inspiration 7: Using Black and White Embellishments
You can add black and white embellishments to get this combination on your tips like I did in this manicure.
Inspiration 8: Miscellaneous Nail Art
There are many ways to get this combination on your tips with ease. There are many different techniques you can use along with this combination like you can do newspaper nails, marbling, stamping etc. you can use black stickers over white base or vice versa.
As two tone French manicures are trending you can create those using this combination by painting your nails white and then adding thin tip of black color.
You can use this combination in creating half moon manicure as they are quite hot in 2013.
To conclude the post, I say "be creative".
Do you love these combinations? Which is your favorite combination? Share your views on this.
If you liked this article, you will love our article on 2013 Nail Art Trends and Nail Art Stickers. Don't forget to check them out.
Recommended Articles:
The following two tabs change content below.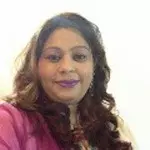 Latest posts by puja malhotra (see all)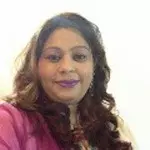 puja malhotra
I am a trained nail artist and mother of 5 year and half year old girls...... I own my own nail art studio and do nail art professionally and teach nail art. I am nail polish addict.:) My nail polish obsession started since my childhood. I wont mind painting my nails every day. I love keeping myself updated with new nail art trends and I hope you enjoy reading it as much as I enjoy working on it.