42 Outstanding Short Curly Hairstyles For Women
You will love how your curly locks look with these stunning and classy hairstyles.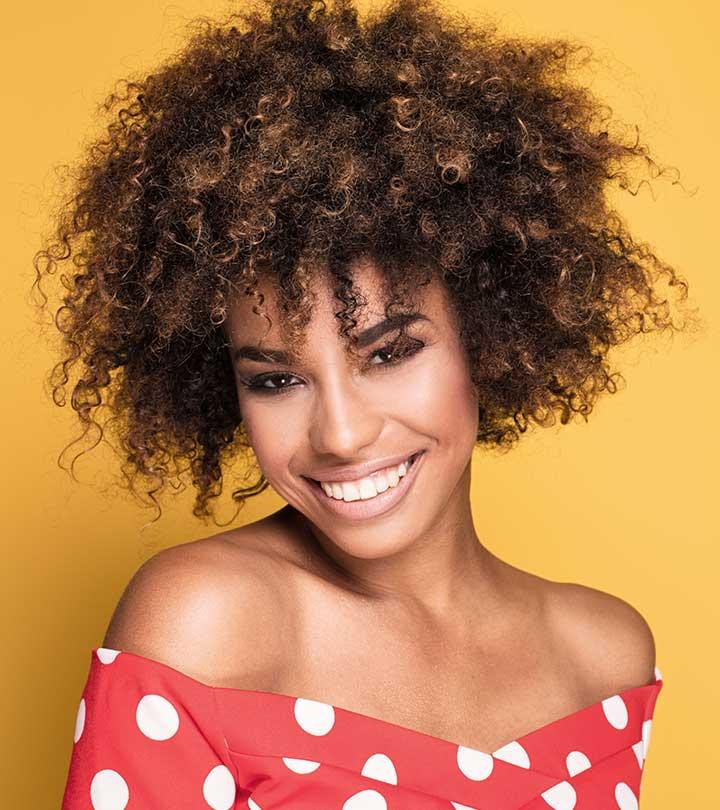 So often, when we think of curly hair, we think of long wild Princess Merida locks. But short curly tresses look equally stunning. To convince you, here are some amazing short curly hairstyles that will make you chop off your lock ringlets and embrace the beauty of shorter curly hair.
And for our straight-haired friends, here are four ways you can curl your tresses. But first, listen close: do not forget hairspray or mousse. It will help set your curls and keep them long-lasting!
Once you learn how to curl your silky locks, you too can scroll down and peruse these gorgeous hairstyles for short curly hair. Keep reading!

Before You Get Started
Short curly hairstyles are perfect for people with round, oval, and oblong faces.
Combing short curly hair from the ends and working your way up to the roots can prevent hair breakage.
Layers are a good option for short curly hair as they add extra volume, texture, and bounce to your look.
Four Methods Of Curling Your Hair
Using a curling iron
Using rollers
Perming
Sectioning Hair
Ideally, sectioning your hair is based on your convenience. Some people prefer doing it from the front to the back and some from the back to the front. Find what you're comfortable with and follow that.
I like to section off my hair by splitting it in half, i.e., taking a middle parting from the beginning of my hairline down to the nape of my neck. Clip one side of the parting (Section B) off. Now, split the unclipped hair (Section A) into a top and bottom section and clip up the top section of hair. So, whether you use a straightener or a curling iron, you would start with Section A bottom half, then Section A top half, move to Section B bottom half, and finally to Section B top half. If you have bangs, leave them until the end.
Depending on the amount of hair you have, split the section A bottom half into three to five parts (each approximately one inch in thickness) and start curling from back to front. The owner of Royal Locks Curl Care Casey Simmons says, "Using smaller sections around the front and top area of your hair will create more defined areas of curls with excellent shape. Sort of like a face frame of wavy or curly ringlets. But the curls can sometimes fall flat so consider adding a liberal amount of mousse, cream, gel, or spray when you style them."
On the other hand, if you are working with rollers, start from the top and work your way down to the bottom.
I. Using A Curling Iron
Things You Will Need
A rat tail comb
Hairspray
Mousse or gel
½ inch wand curling iron
Sectioning clips (flat clips, clips, pins, etc.)
Blow dryer
Round brush
 Procedure
Apply mousse or gel on damp hair. Use mousse if you have thin, fine hair, and gel if you have thick hair. Apply all the way to your roots.
Blow dry your hair now, focusing on your roots. To do this, you will need to flip your hair forward. This gives your hair a lot of volume. Using a round brush, comb your hair to make sure your bangs are brushed away from your face. This also creates volume for your hair.
Section off your hair using clips and the pointed end of the rat tail comb. The more the sections, the more curls you get, and the fuller the look. Make sure each section is about a half inch thick. Spritz some light setting spray on the first section of hair from about a feet away.
Place the end of the hair in the curling iron and twist the rod towards your head. Make sure you are careful not to burn yourself. The clip of the curling iron has to face forward at the beginning of this process. Hold the curling iron in place for about 10 seconds and then release your hair slowly.
Don't touch your hair until you know it has cooled down. Curl your bangs away from your face.
After you're done curling all your hair, spritz some hairspray all over it to keep it in place. If you want a more natural look, just shake your hair, and when you're happy with the look, spray some hairspray on it.
Do not comb or brush your hair as you might loosen the curls or unravel them altogether. If you want a parting, use the pointed end of the rat tail comb.
Jennifer L. Scott, a YouTuber, showed how she curls her straight hair to make it last. She starts by using a flat iron on the top of her hair to tame the frizz and baby hair. She then proceeds to use hairspray before curling it. She divides her hair into three sections – two sides and the middle, saying, "I'm going to alternate the direction in which I curl my hair. So I'm going to start off by curling it back and holding it for 10-15 seconds and then I'm going to alternate and go forward. Going forward and backward will give your hair a lot of body and it will make the curl look more natural (i)."
II. Using A Straightener
Things You Will Need
A rat tail comb
Heat protectant
Hairspray
Blow dryer
Mousse or gel
A slim-bodied straightener
Sectioning clips
Round brush
 Procedure
Apply a heat protectant to your hair to protect it from damage. If your hair is wet, blow dry it.
Section off your hair as described earlier.
Now, depending on the type of curls you want, you can hold the straightener in two ways. The first is diagonal to the ground. This gives your curls an angle and a more loose wave look. The second is holding the straightener parallel to the ground. When you do this, while sliding the straightener to the tip of your hair, you will have to be really slow. It will give your curls a tighter look. If you want wispy ends, place the straightener diagonal to the ground.
Keep the straightener the way you want and then wrap your hair around it carefully and slide it down to the end. Repeat this for all the sections of your hair.
Make sure you allow your hair to cool down before touching it. Spritz hairspray all over your hair to keep the look intact.
You can run your hands gently through your hair to give it a loose beachy look.
III. Using Rollers
Things You Will Need
Rollers
Water spray
Towel, scarf or t-shirt
Hairspray
Pins
Procedure 
Using rollers is a simple method. First, make sure your hair is damp (but not dripping wet).
Section off parts of your hair, keeping each an inch thick.
Wrap one section onto a roller and curl it towards your head. Using a pin, hold the curl in place. Now, it's up to you if you want the roller to be left in the curl.
If you have only a few rollers, after you roll your hair, gently take out the roller without messing your hair up. Pin up the curl immediately. Do the same with all the sections of your hair.
Wrap a scarf around your hair, so it holds the curls in place. You can use a thin cotton cloth, a towel, or a t-shirt. Leave it on overnight.
In the morning, carefully take off the towel or t-shirt and the pins.
Apply hairspray to keep the curls intact. If you feel the curls are too close together, shake your hair and apply hairspray again.
Don't comb or brush your hair. Just gently run your fingers through them.
Casey Simmons recommends applying a priming spray and a curl cream or gel to damp hair before rolling them into curls. "The curls hold better when they dry thanks to these products. It will also help to reduce frizz. Shaking curls out, after removing the rollers, is an excellent way to help curls fall naturally. Flip your hair upside down for even better results. Avoid touching your hair, as it causes frizz. Instead use a pick or the end of a comb if you need to place the sections to help them fall nicely. And remember to never go to bed with sopping wet hair. It can cause mold and mildew on your scalp."
IV. Perming 
Perming is a permanent hair change. If you want your hair curly or wavy all the time, get a perm done. Perming is done with chemicals, so while you can try this at home, it is better to let professionals handle this.
Things You Will Need
Perming kit
Petroleum jelly
A cloth to protect your body
A towel
Water to rinse
Procedure
If you have healthy or slightly damaged hair, try perming your hair using alkaline or acid based perm. If you have afro hair or heavily damaged hair, I would recommend going to a salon.
If you've decided to perm your hair at home, buy a perming kit online or from a drugstore.
You can wash your hair before perming it. But do not condition it.
Apply petroleum jelly on the skin close to your hair so that none of the chemicals come in contact with your skin.
Make sure you have someone to help you out because a few people have told me that they found it difficult perming their hair on their own.
Follow the instructions on the perming kit to the T.
After you perm your hair and wash the chemicals off, do not wipe your hair with a towel as you naturally would. Instead, pat your hair dry.
Also, do not use shampoo for about 48 hours after you've washed your hair.
Whether you have extremely short curly hair, short curly hair or medium curly hair, check out these awesome hairstyles below!
42 Best Short Curly Hairstyles
1. Shaggy Curls
The shaggy cut with wild curls lends a casual, carefree vibe. They look gorgeous on people with round faces. In addition to that, this hairdo makes the mane look voluminous and thicker, so it's perfect for those who have fine hair.
2. Curly Top Knot
A curly updo with face-framing strands screams chic! This hairdo is easy to achieve and the simplest way to stand out in the crowd. You can finish off your look with a shine spray to get glossy curls.
3. Pixie Curls
This short pixie cut with a mix of curls at the top and waves at the sides and bottom looks hardcore. This hairstyle is perfect for people with oval or thin heart-shaped faces.
4. Crochet Curls
If you have a wedding or a party to attend, try these pretty crochet curls. Crochet curls are basically tight ringlets.
5. Curly Lob
The lob is making heads turn all over the world! These loose curls with wispy ends are the bomb. If you have a round face, get your lob done just below your chin as it helps frame and thin down your facial structure.
6. Short Dominican Curls
If you have a long thin face, these Dominican curls will suit you. This is a really cool hairstyle for short curly hair.
7. Short Soft Curls
This hairdo is great for short straight hair. Perfect for a change this summer but, at the same time, not too much of a difference. The hair at the front is curled away from the face.
8. Loose Curls
These loose wild curls are perfect for a naturally curly haired look. This look is ideal for women with round faces as the side swept curly bangs hide the width of your forehead, giving your face a more heart-shaped look.
9. Curly Bob
Not everyone can pull off this diva curly bob cut. It works for women with oblong, oval, and heart-shaped faces.
10. Natural Curls
Nothing looks more stunning than your natural hair! If your cheeks are the fullest part of your face, get a deep, tapered cut for your side bangs as they make your face look slim and draw focus to the eyes.
11. Curly Bangs
Curly bangs look so chill! As they attract attention to the eyes, you can accentuate them with some eyeliner, eyeshadow or mascara. Casey Simmons says, "Curly bangs are hot right now! They're in a majority of the trending hairstyles of 2022-23, and for good reason. They look great on long beachy wavy curls, add volume and face framing effects to finer hair, and add a chic look to voluminous round curls. They're a simple addition to many curly hairstyles, but give big results."

Quick Tip
Bangs can look amazing on those with oblong, diamond, heart, or oval face shapes. But, if you have a round or square face, bangs might make your face appear rounder and broader.
12. Balayage Curls
Balayage is taking the world by storm. Try this excellent balayage wavy blunt hairdo. The dark to light shades give your hair the perfect sun-kissed look.
13. Braided Curls
When you braid your hair, you use three sections. But to accomplish this look, you're going to split the hair into two sections and use loose hair from the bottom as your third section. Pick up some hair from the side of your face, above your ear, and split it into two. Place a part of the free hair in between the two sections and then lock it in by overlapping one piece over the other. Continue doing this until you reach the center of your head. Clip it in and do the same on the other side of your head.
14. Textured Curls
This short curly hairdo is suave! If you have straight hair, try this hairstyle with slight waves at the end if you don't want your hair too kinky. This textured cut hairstyle frames the face well. If you have a round face, consider side swept bangs with this hairdo as it covers the forehead and takes the focus away from it.
15. Ginger Curls
Ginger curls look amazing. The layers frame your face and focus on your features. The side parting with added height brings volume to your hair.
16. Scarf It!
Been living with curly hair all your life? Tried all the possible hairstyles there are? Having a bad hair day? Then, try accessorizing your curls with a scarf. This hairdo looks relaxed and cool.
17. Bangs and Curls
A textured bob with bangs is a great hairstyle for women with short curly hair. If you have a round, square, or a heart-shaped face, or a broad forehead, try this look as the bangs cover your forehead. Just make sure to keep the length of the lob the longest right near your chin.
18. The Afro
The afro has to be the coolest curly hairstyle in the entire history of the human race. Well, that's just my opinion. To get this look, you will need to use small curlers. It's best to get it professionally done if you want an afro at its best.
"If you have naturally coily hair, give your afro its best life with a twist-out," says Casey Simmons, owner of the Royal Locks Curl Care. "This styling technique adds definition without taming down the overall look. After washing or co-washing, remove excess water with a microfiber towel or tee shirt. Divide your hair into smaller sections so you will get a curlier and more voluminous style . Apply a drop of curl cream or curl cream gel to each section. Separate the section into two equal pieces. Starting at the root, twist the equal pieces into a rope. Repeat until the entire head of hair has been twisted. Dry completely. Untwist in the opposite direction. Apply a small amount of curl cream or curl cream gel to your hands and gently glaze, or pat, on top of curly coily afro to hold the shape in place."
19. Sunset Curls
Not afraid to color your hair? Then, try this kickass look. This curly sunset hairdo is beautiful, and that's because the added colors blend with each other so well.
20. Mohawk Curls
Who says curly haired women can't sport mohawks? This hairstyle not only stuns but also works to frame your face. The heightened hair near the top gives your face a more extended look.
21. Fine Thin Curls
Women with thin curls are recommended to keep their hair short. Add some color to get a fuller, shinier look.
22. Phone Cable Curls
Phone cable curls are the curly version of messy straight hair. This hairdo looks super laidback and chill. If you have a long face, I would not recommend keeping the curls just at the top of your head as it will make your face look longer. Instead, grow your hair till your neck or consider a bob with these curls.
23. Highlighted Curls
Highlighting your curls gives your hair a fuller look if you have fine or thin curls. Highlight the curls close to your face with a lighter color to add more definition to it. Highlighting your curls can accentuate specific facial features like your eyes or a lipstick shade as well.
24. Beachy Curls
This look is simple, beautiful, and the perfect everyday look. The highlights add a voluminous look to the hair and make it suitable for a day at the beach.


Quick Tip
You may also diffuse your hair and use sea salt spray on damp locks to give your curls a bouncy, volumized appearance.
25. Medium Curls
If you have a long or an oval face, medium curls are the way to go. These medium curls add just the right amount of width to your face, so it doesn't look too short or too long. Add highlights to bring a bit of definition to your face.
26. Short Short Curls
If you have a square or thin face, these curls will look great on you. This hairdo can be done at home as well, but make sure you've done enough prep to know what you're doing.
27. Waves At The Top, Curls At The Bottom
The slight waves at the top are reminiscent of retro hairstyles. The curls at the bottom add volume, giving your face a narrow look near the jawline.
28. Retro Touch
This hairstyle also has a bit of a retro feel to it. It is perfect for medium curly hair. The wide curls add focus to the cheekbones.
29. Side Braids
This look is a really cool hairstyle with an asymmetrical cut. Braid your hair near the scalp on one side to mimic this hairdo.
30. Short Curls With Undercut
The best thing about short hair is that you can play around with it and it will grow back. Try this edgy look by shaving a shape on your head. You can try this look with many other patterns. Get creative!
31. Short Curled Ends
The slight curls at the end add volume to the hair, making it look full. This hairstyle will suit any face shape. Add highlights at the tips to add more definition to your face.
32. Fluff Curls
These awesome fluff curls are old school, but you will need professional help to get these done correctly. Women with slender faces can pull off this look effortlessly.
33. Bob Curls With Highlighted Tips
Thin bob curls with highlighted tips go a long way in giving small curls a naturally fuller look. If you have an oblong face, try this hairstyle out.
34. Side Parting Volume Curls
Less is more sometimes. A simple side parting can go a long way in helping your hair look full and stunning. And matched with that red lipstick, what could go wrong?
35. Dark To Light Curls
If you're thinking about coloring your hair, consider placing dark colors at the top and light colors at the bottom. The bright colors at the bottom will frame your face while adding definition to it.
36. Rain Curls
I like to call these the rain curls because they look like they were drenched in the rain. Use mousse or gel to smoothen your hair instead of making it fluffy.
37. Brushed Curls
Brushed curls look so pretty! Brush your hair with a round brush. However, if you have too much hair, getting this ideal look could be a little tricky.
38. Side-Swept Bangs
Side-swept bangs with curly ends on a pixie add spice to your hairstyle. This is a hairstyle for women who like keeping it simple.
39. Choppy Waves
Rough waves with sharp ends look incredible. Try this look with wispy tips as well. This wavy, choppy cut can be obtained with a curling iron, but you need to know how to do it right. This hairdo gets full somewhere midway down the face, keeping the focus on your cheekbones and jawlines.
40. Volume Curls
I like to call this hairdo 'volume curls.' The big side curl along with the perfect end curls add tons of volume to your hair. So, if you have thin hair, try this look.
41. Colored Hair
Don't be afraid to try out some color. Pastel colors are trending right now. If you're confused about what colors might suit your hair and skin tone, you can ask a hairstylist.
42. Naturally Messy Hair
Natural is beautiful! Leave your hair naturally messy! If you want to arrange your hair, just run your fingers through it.
I've heard a lot of my curly haired friends talk about how difficult it is to have healthy curly hair. So, here are a few maintenance tips to help you keep those curls perfect!
Maintenance For Curly Hair
Use a heat protectant whenever you are heat styling your hair. Apply it just before you curl or straighten your hair.
Hair gets damaged easily from heat. Let your hair air dry or blow dry it on a low setting.
If you keep straightening your hair regularly, over a period, your hair will lose a bit of its curliness.
Use shampoos that are specifically made for damaged hair as curly hair gets dry fast.
Limit the number of times you wash your hair. You shouldn't wash it more than twice in a week. Also, wash your hair with cold water as it locks in the moisture from the conditioner.
Use conditioner regularly as it helps keep your hair nourished. However, avoid it if you have contact dermatitis.
When applying oil on your hair, massage your roots.
Deep condition your hair. Curly hair gets dry faster than straight hair due to the coily pattern it follows. Deep conditioning your hair helps moisturize it. Apply conditioner to your hair just before you get into the shower and cover it with a shower cap. The steam produced from the hot water will help keep the moisture in your hair. Rinse with water.
Detangle your hair by running your fingers through it. If you want to comb your hair, use a wide-toothed comb to do so. Brushing can lead to hair loss.
Use hair a gel or mousse to keep your hair moisturized. Use a gel if you have thick hair and mousse if you have fine hair.
Infographic: 5 Flattering Hairstyles For Short Curly Hair
If you are someone who thinks short curly hair is difficult to style, you are mistaken! Short curly hair is versatile and looks incredibly cool and leaves you feeling at your best. Just make sure to keep your strands healthy to style your bombshell curls in all their glory. If you are hunting for some trendy hairstyles to flaunt, check out the infographic below!


There are four ways you can curl short straight hair. You can use a curler, a straightener, rollers, or perm your locks, depending on how long you want the curls to last and your hair type. Follow the curling tips to the T to achieve perfectly curled hair. Once you have curled your hair, or if you have naturally curled hair, you can try out any of the short curly hairstyles mentioned above. These versatile hairstyles flaunt your curly locks flawlessly. From mohawk pixie curls to a naturally messy cut, you can find elegant to edgy hairstyles that women of all personalities can be happy with!
Frequently Asked Questions
How do I manage my short curly hair?
Manage your curls by opting for air-drying over heat styling tools, applying hair mousse to enhance your curls, using a wide-toothed comb, and having regular trims to prevent split ends.
How do you scrunch short curly hair?
After washing your hair, use mousse and scrunch your hair from the tips to the scalp. Use hairspray to fix your scrunch.
Does short curly hair make you look older?
Possibly not. The natural volume that curly hair offers tends to make women younger than those with straight hair, as hair thinning isn't as pronounced as it would be in straight hair.
Discover 40 amazing short curly hairstyles for women who like to embrace their natural curls. Check this video for a range of trendy and stylish options to confidently rock your curly hair.
Personal Experience: Source
i. How I Curl My Hair & Make It Last |Curling Iron Tutorial
https://www.youtube.com/watch?v=HibSAQ9bWKE
The following two tabs change content below.