30 Best 80s Hairstyles For Women To Try In 2022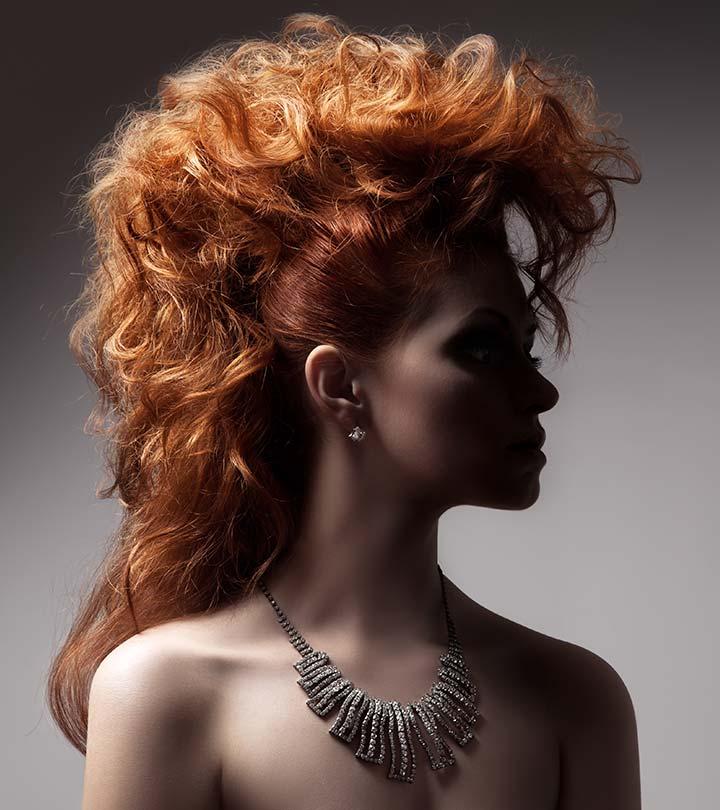 The fluffier and bigger the hair, the better – probably the driving force behind the 80s hairstyles.
Who can forget Farah Fawcett's hair, oversized sweaters, and vibrant bright tights!
With retro hairstyles making a comeback, we decided to take you on an 80s hairdo journey. Soft full curls, big fluffy blowouts, flawless perms, sharp layers, and hair-raising mohawks; the 80s were way edgier than we are.
So, take a ride into funky town with some rad 80s hairdos. You will be embracing that decade sooner than you know!
30 Rad 80's Hairdos You Need To Remember
1. Permed Hair
Permed hair was all the rage in the '80s. Go check out any of the TV shows from that decade, and you'll see all the women with permed hair at least once. It's imperative that I say this – please don't try to perm your hair without taking the appropriate measures. If you are a perm virgin, here's what you need to know. Chemicals are used to curl your hair. While the name stands for permanent (which means a permanent change in your hair), a perm does wash off with water if you don't take the appropriate measures. So, go to a salon if it's your first time.
2. The Mullet
The mullet was a men's hairdo, but there were a few women who decided to sport it. I must say, it looks better on women. Before Ellen DeGeneres started her career as a talk show host, she was a mullet-sporting comedian. More recently, Kristen Stewart and Rihanna have been seen sporting edgier mullets without taking away too much from this classic 'do.
3. Jheri Curls
These were called wash-n-wear curls, and they created quite a sensation back in the '80s. They are shiny permed curls that hang loose. Michael Jackson sported Jheri curls for his album Thriller, as did many other stars like Ice Cube. These curls were created by hairdresser Jheri Redding. Since then, they've become quite a hit among many women. If you check Instagram now, you'll find many women flaunting this look like queens.
4. Hair Blowout
Blowouts caused a big stir during the '80s as one of the best hairdos, and it hasn't stopped since. The '80s were all about big hair, so blowouts were big styles that were fashioned perfectly to a T.
5. Big Teased Hair
That's right! Back-combed hair was big in the '80s. It was probably bigger than the unicorn frappe trend that debuted last year. If you're from a generation after the '80s, look for your parents' photos from that time. You won't be disappointed.
6. Crimped Hair
Who didn't sport crimped hair in the '80s? Both men and women sported the crimped look, including the stunning Demi Moore. For those of you who don't know, crimping your hair means styling your hair in zig-zag waves using a crimping iron. Did you know that the creator of the crimping iron created modern crimping for Barbra Streisand?
7. Beehive Buns With Headband
This classic retro look was big in the '80s. Once again you can see the big-haired aspect. This hairstyle is classy as hell, and the head wrap is the perfect final touch, along with striking eye makeup and some lipstick. It is the perfect updo for any formal event or to captivate that boy you like in college.
8. Farrah Feathers
Farrah Fawcett's hair was an icon in itself. This feathered cut sent every woman to the salon. You'll find some variation of this hairstyle in all the movies and TV series from that time. And why not? It is stellar.
9. High Side Ponytail
Who remembers DJ Tanner (Full House) sporting the high side ponytail? She looked cute as a button. This was the go-to hairstyle for young girls – along with being the work-out and dance routine hairdo. Why for a workout, you ask? It's the best way you can show off your hair without it getting in your face during your exercises.
10. Scrunchies
Colorful, vibrant, and oversized – scrunchies were a big deal in the '80s. Most of the time, they were tied around very little hair to create a dramatic contrast. That's because the point of the hairdo was to focus on the stylish scrunchie. It's the perfect way to deal with those bad hair days.
11. The Bow
Who doesn't love a good bow? Big bow clips were all the rage in the '80s. DJ Tanner, Lisa Turtle, and almost all of our favorite teen characters sported a bow. The bow itself is versatile – you can find some innocent child-like colors or plain and printed designs for adults. There's something for everyone!
12. The Headband
The headband has stood the test of time. You can even see fashion icons like Blair Waldorf (Leighton Meester) from Gossip Girl and Veronica Lodge (Cami Mendes) from Riverdale flaunt it to perfection. It's one of the best accessories to keep your hair off of your face. The variety it comes in is also incredible.
13. Half Up And Half Down
Whenever my hair is a bit greasy, I go for a half top knot. It shows off your hair without making it look flat. I don't know if y'all do the same, but the 80's is the total opposite of that. The half updo was made to look bigger with some slight bangs settled in the front. Instead of letting your entire bangs fall on your face, comb it up with a brush so it adds height to your hair.
14. Cyndi Lauper
Girls Just Wanna Have Fun and Time After Time are songs that are played even now. It's only fair that the woman who sung those songs be given credit where it's due. Cyndi Lauper is as timeless as her songs. The same can be said about her hair too. Her fans sported her eccentric hairdos throughout the 80's.
15. Soft Curls
Soft curls were the curly-haired go-to version of the straight hair blow out. Look at these curls! I wish I had them. It's no surprise that they've never gone out of fashion. Soft curls add a nice, supple feel to your hair. If you have sharp features that tend to come off as harsh, these curls can soften your lines.
16. Coconut Half Updo
Have you seen kids with short half ponytails tied right at the top of their heads? It looks like a coconut tree, right? Well, the '80s made that hairdo a trend, but with medium to long hair. Tie up your hair in a high ponytail at the top of your head and let your hair fall to the sides and back to mimic a coconut tree.
17. Bangs
Soft and twisted bangs were really big in the '80s. You could have a grungy hairdo, but the bangs with it would be more fuzzy than choppy. Feathered light bangs and bangs with uplifted and twirled ends were big back then.
18. The Rat Tail
I had forgotten that such a trend really existed. In my personal opinion, I'm not sure how the rat tail became a trend to start with, but we've added some style to it by making it a rat tail braid now. I prefer that so much more!
19. Sandy From Grease
When straight-haired good girl Sandy Olsson came out wearing black leather and curled hair, all girls considered making the change as well. I can only imagine what high school/college was like the week this movie came out – makeovers every other day and good girls going bad. What a time the '80s must have been!
20. Hippie Bands
The hippy style was a huge '70s trend that seeped into the '80s. But the hippy headband trend was enormous and is still going strong as ever. Go to Sunburn or Tomorrowland, and you are guaranteed to see such headbands being worn to this day.
21. Barrettes
Barrettes are classy accessories that hold your hair back. Any clips that hold hair in place are referred to as barrettes, so they can be clips, slides, or fancy hairpins. You can find them in so many designs and shapes, it's crazy. If you're looking for a bridal hairdo, consider a designer barrette to decorate your locks. You will look stunning!
22. Punk Hair
Though they originated in the '70s, the '80s really took punk hairdos to another level. Hardcore punk hairstyles that you see people sporting now emerged in the '80s in Britain, all thanks to the UK82 renaissance. Elaborately teased hair that was meant to look drastically different from the prim and proper hairdos of the '80s – that's the definition of punk rock hairstyles in my opinion.
23. Workout Head Band
The '80s were big on workouts and looking brilliant while working out. Olivia Newton-John (go listen to 'Physical') has her own series of workout videos, no kidding – as does Jane Fonda, Raquel Welch, Tamilee Webb, and many other celebs from that decade. The one thing you'll notice in their videos (apart from some very funny things) is their hair. It's always in place and perfect. Well, that's thanks to the head sweatband!
24. Classic Madonna One Side Hair
Madonna has had her hair styled on one side many times, but this style is sophisticated. It is classy and perfect. The '80s really had a great mix of grunge, teen, and class. Really perfect!
25. Whitney Houston Hair
Tell me honestly, didn't you just start belting "And I Will Always Love You" with one hand on your heart and the other in the air (total diva songstress mode on)? The '80s was an era of stunning women, their careers, and their hair – like Whitney Houston. Her hairstyles were always sensational, and they're sported by women till date.
26. Princess Diana Hair
From the moment Princess Di was seen in public, everyone wanted to be like her. Her social activism, fashion sense, and classic loose bob caused quite the stir. The fluffy, neatly styled bob quickly became the most sought-after hairdo. This hairstyle is elegant and sophisticated, yet messy. It's perfect!
27. The Mohawk
Yes, this is a punk hairdo, but it's so legendary that it needs a special mention. The '80s took the mohawk to new heights (pun intended!). If you thought the mohawk was crazy now, you haven't seen anything yet. The '80s was all about making the mohawk as punk and as crazy as ever. Messy big hair, shaved hair, and spiked hair became the fad of this era, and it remains so to this day.
28. Spiky Hair
Spiky hair for women was a trend in the '80s. Instead of overly gelled hair and extremely pointed ends, women opted for a more soft spiked look. It looked incredible with the vibrant eyeshadow trends of that time.
29. Straight Hair
If you didn't have a blowout, your other option was slick straight hair. If you watch Full House, you'll notice Lori Loughlin's slick straight hair making beloved appearances. Stunning!
30. Flapper Girls
Even though this trend was at its height in the '20s, it still made a celebrated appearance every now and then in the '80s. Both curly and straight flapper cuts were all the rage. You would mainly see these hairdos in Broadway shows, burlesque bars, and other entertainment establishments. It was the go-to party hairdo for young ladies.
With the return of the 80s hairstyles, your chances of looking drop-dead gorgeous at any given time have increased manifold. Just look at your options — permed hair, beehive buns with headbands, soft curls, and more. Aren't they all super cute and amazing?
It can be a good idea to get one of the hairstyles listed above if you are planning to give yourself a fresh and glamorous look. So, don't hold yourself back. Just experiment with these beauties and prepare yourself to receive endless compliments.
The following two tabs change content below.