15 Best 80th Birthday Party Ideas: Decor, Theme, And More
Just because it is a party for an 80-year-old does not mean it can't be fun!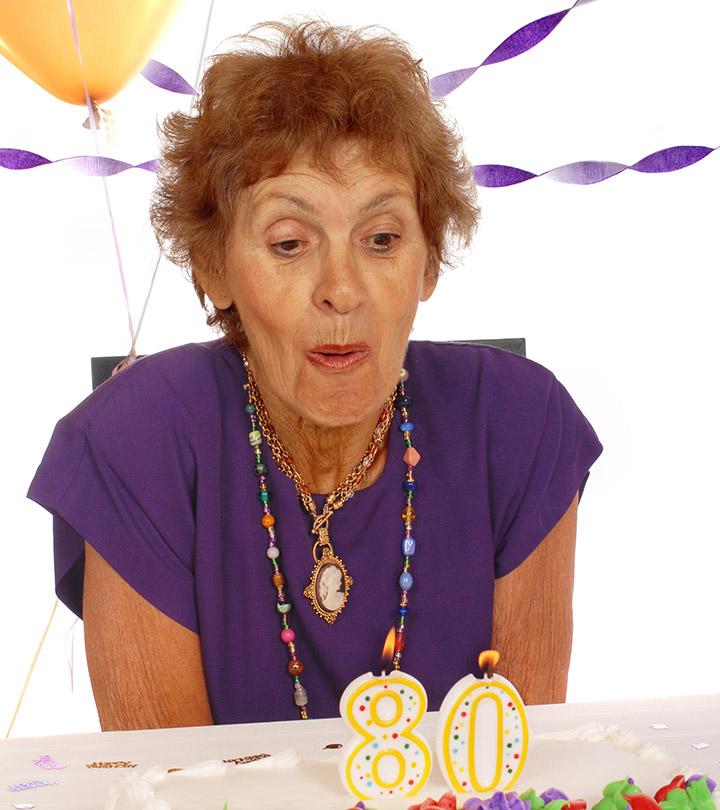 Your loved ones deserve a special and memorable birthday blowout when they turn 80. The 80th birthday is a milestone that celebrates a long, eventful life. So, make the birthday 'girl' or 'boy' the center of attention by having the theme, food, décor, and every other detail of the party according to their taste and interests.
The 80th birthday celebrations are also the best time to reminisce about their younger years or even let them feel young. Choose a venue and activities that remind them of their youth and let them enjoy freely. Old dance numbers, childhood games, and fashion statements can make your 80th birthday party a winner. This article lists some unique and fun 80th birthday party ideas. Keep scrolling!
80th Birthday Party Ideas For Dad
When it comes to your dad's 80th birthday, you must make it as iconic as they are for you. Listed below are a few ideas to make his birthday worth remembering:
As it is the 80th birthday party celebration, don't overdo it. Call upon a simple dinner party with some of your close relatives. Keep your dad's favorite restaurant-style cooked food on the menu. Make sure to keep his health issues in mind and plan accordingly. You can also take into account some dietary foods that can go along with the party.
Telling A Story Through Pictures
Tell your dad's story, right from his childhood to his adulthood and senior years. Take the help of a projector and make it a full-fledged presentation through pictures and video clips. Put his favorite music in the background. Collect pictures from different guests and use speaker notes to weave the whole journey into a story. It will include his naughty childhood activities as well as his handsome youth pictures. He will surely love the emotional aspect of this idea. Give it a try!
Just like dads, moms are close to every child's heart. So, you need to start planning early to make her 80th birthday special for her. Highlight her journey using nostalgic moments. Head to the next section for some ideas on her 80th birthday party theme.
80th Birthday Party Ideas For Mom
If your mom has the desire to sing along to rock 'n' roll publicly or have a party like the 1950s, this is a perfect time to fulfill her dream. With some planning, have rehearsal before the event to teach the guests a "flash mob" routine. Use music that your guest of honor will know and loves. You can decorate the hall with old rockstar posters and set a playlist that contains songs from the '50s or '60s. She will love this splendid idea that will make her relive her younger years.
We hope you are aware that your mom is still young at heart. Send her and her close friends for a makeover to a stylist. Make her feel like a GLAM mom! Later, you can even arrange a photoshoot for the lady of the hour. Finally, play her favorite song from the mid-90s, and even if she cannot dance like a pro, we are sure she will break into a step or two on the floor!


Quick Tip
If your mom has a good sense of humor and can take a few jabs in jest, plan a mini roast session where her close ones crack a few jokes about her unique personality.
Even if your grandma is turning 80, you can always take her back to the golden years of her youth. Throw a classic party on her 80th birthday and feature it with the things she likes. The next section lists some options you can consider. Scroll down.
80th Birthday Party Ideas For Grandma
Evening Celebration On The Lawn
Decorate the lawn with some candles and fairy lights to give it an antique look. Call some of your grandma's close friends and relatives. Add some champagne to the list and pair it with light snacks. An evening toast by her friends and family in her honor will be a heartwarming moment.


Quick Tip
In case some of your guests couldn't make it, collate a video of their wishes and fond memories of your grandma and share them with your fellow party members.
Party In Her Favorite Restaurant
If they cannot have outside food due to health conditions, you can make special arrangements at one of her favorite restaurants. Just be aware of the quality of the food and let the chef know of any allergy or health concerns beforehand. You can also bring in her favorite cake and have a grand celebration at the restaurant.
If your plan to organize the party at home, it doesn't mean you have to spend a fortune on decorations. Senior people like it simple and classy. Keep your decorations elegant and theme-based to transform the party area into a new realm.
80th Birthday Party Decoration Ideas
Decorate Using Photographs
With some pre-planning, you can have life size cardboard cutouts made of the guest of honor. Have them around the party venue. Dive into old photo albums, and you will get innumerable pictures of the birthday person. Turn them into a huge collage that shall serve as a background. You can also take individual prints of the pictures and clip them all around the room. Your loved ones will be delighted to cherish their childhood memories. You can also decorate the room with your childhood pictures that have good memories attached to them.
Try to get an idea of how things were when your parent/grandparent was young and just got into college. Then, take elements from that era and decorate the house in a golden tone to reflect those precious memories. Reminiscing about those memories will be an added gift to them on their 80th birthday.
Unlike other birthday parties, food for an 80th birthday party should be simple and not overcooked. Food often connects people and brings them closer. So, pay special attention to what everyone likes, especially the birthday person, and decide the menu accordingly. As older adults will be present at the party, make sure their health concerns are also considered.
80th Birthday Party Food Ideas
Arrange some delicious and light local foods from nearby restaurants. Keep the items limited and simple. You can also add some exotic continental foods, which your parents and guests might like. Continental foods are not heavy, and older people can consume them safely. You can also introduce chocolate pretzels in dessert, apart from the cake.
Tap into some healthy ingredients to add sophistication to the party. Bring in some distilled spices and herbs and make savory mocktails that the senior crowd will cherish. You can also add some light-flavored alcohol to the mocktails if your guests prefer it.
Theme plays a pivotal role in the 80th birthday celebrations, just like any personalized gift. You can pick from a variety of themes to use for the party; the trick is to keep it minimalistic yet elegant.
80th Birthday Party Theme Ideas
You can doll up your garden with Bohemian decorations. Cover the eatery tables with outdoor decorations, such as streamers of pastel shades and balloons. Use Bohemian cushion covers to match the accent of the decorations. Also, decorate the flower pots with fairy lights for that warm ambiance.
Retro dress codes for the 80th birthday party will transport everyone in time. Imagine your grandma and her friends decked up like movie actresses of the '60s! Bring it all together with a playlist of that period. It will make the party revelers remember their college days, and maybe even their crush!
Throwing a birthday party should definitely be accompanied by fun-filling activities. The next section discusses a few ideas that people of all age groups can enjoy. Read on.
Fun Ideas For 80th Birthday Party
Sign Group Photos And Frame It
Arrange (or click) a nice photograph that includes all their close friends and relatives. Have your guests sign the picture with messages for the person of the hour. It will be a great gift for them and, of course, a memorable one.
Do not bring in some monotonous cake for the 80th birthday party. Align your cake idea with the theme of the party. You can involve some handmade cookies along with a huge pound of cake. Keep it simple with some magnificent colored roses or fondant. It might display their age and propose to make a century perhaps. You can use a family tree cake or a retro malt cake as well.
Infographic: Games For 80th Birthday Party
Turning 80 is a milestone that symbolizes a long and full life. It should definitely be celebrated with a beautiful and memorable party for your loved one. Since a party is incomplete without some games, we have provided a list of fun games you can play with your family and friends on this special day.
Check out this infographic below to know more!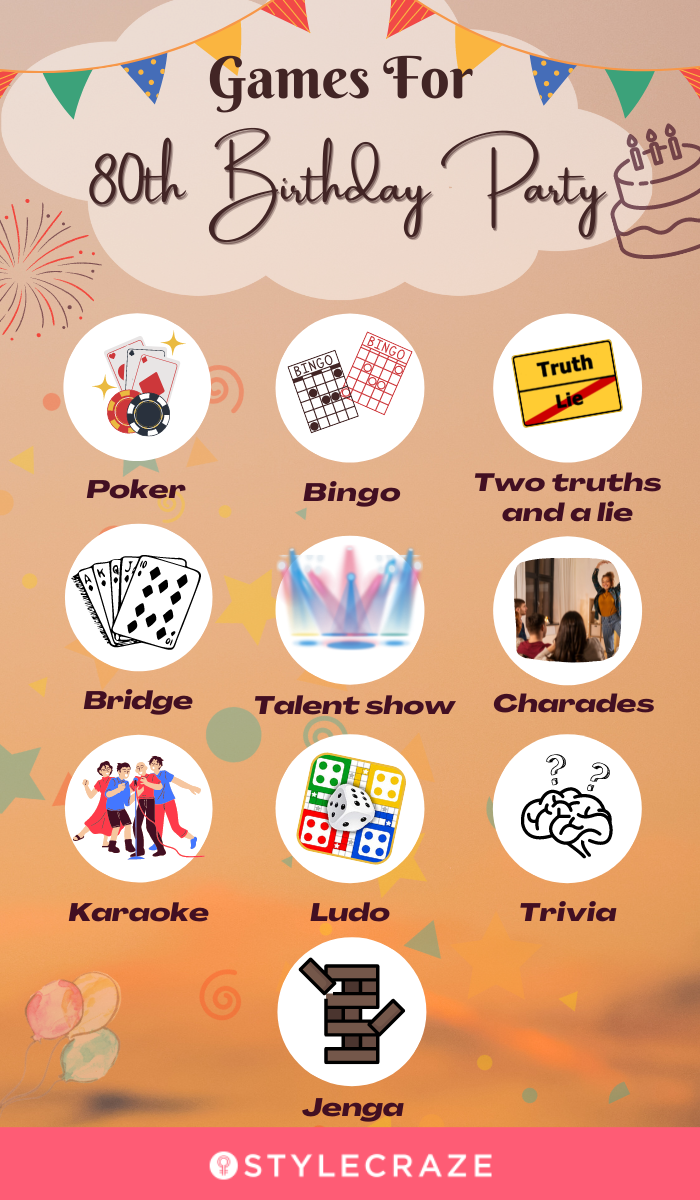 80th birthday party ideas need to be special as the day marks a celebration of a long and well-lived life. The birthday party can encapsulate the essence of the individual's life journey and have elements that touch upon and reminisce youthful years. Whether you choose a simple dinner party, go wild with rock and roll parties, or make the party theme-based, you need to pay attention to the decor, guest list, and food. Photographs, gold and glittery confetti and hangings, and old musical hits can set the mood for the party. However, the most important thing is to get all near and dear ones together to celebrate the significant milestone with joy and cheer.
Frequently Asked Questions
What is the color for an 80th birthday?
There is no specific color to celebrate an 80th birthday party. You can use the favorite colors of the person whose birthday it is or colors based on a theme.
What is traditional for an 80th birthday?
There is no traditional gift, symbol, or color for an 80th birthday. Only anniversaries have traditional colors, terms, and symbols.
How do you organize an 80th birthday party?
First, fix the budget. Decide where you want the party to be held and if you want to order food or catering services. Decide a theme or party decor. Make a guest list of the celebrant's closest friends and family. When inviting everyone, make sure you add easy directions so everyone can find the venue easily, and let them know the theme of the party if there is one. And don't forget to order or make a cake with the celebrant's dietary restrictions in mind.
Is 80th birthday a milestone?
Yes, celebrating someone who has lived through 80 years is a huge milestone. They have lived through so many memories and experiences. Their long life should be celebrated.
What do you say to someone who turns 80?
Congratulate them on reaching this big age. You can add a birthday quote that you find appropriate for them, along with your good wishes. If you have any special memories with them, you can mention those as well.
What is the flower for an 80th birthday?
It really depends on what the celebrant's favorite flowers are. However, you also can search for flowers that symbolize the blessing you wish to convey to the celebrant. Or look for flowers that perfectly capture the personality of the celebrant.
What should I do for my 80th birthday at home?
You can have a party at home for your closest friends and family, like a backyard BBQ. Invite your family to help decorate your house.
How can I celebrate an 80th birthday on a low budget?
First, fix your budget and hold the party at home. Make your own snacks and keep decorations to a minimum. Instead of having a party with many people, opt for something low-key with your family and close friends.
What is a good theme for an 80th birthday party?
Try a decade theme. You can pick a decade that the celebrant has the most amazing memories from or loves the most. Have everyone dress up according to that decade, play music from that era, and have foods that were famous during that time.
What is the 80th birthday called in English?
While there is no specific name for an 80th birthday, you could use the term "octogenarian birthday" as an octogenarian is someone who is in their 80s.
Key Takeaways
The 80th birthday marks a milestone of a life well lived and cherished.
Keeping the birthday boy or girl's choices, preferences, health, and interests, is important in planning a grand party for their special day.
At this age, having friends and family together makes them feel loved and cherished for all the time and efforts they have put in all through their life.