Top 10 Aishwarya Rai Hairstyles Through The Years
Style, acting, or eloquence - this Miss World beauty queen never ceases to amaze us.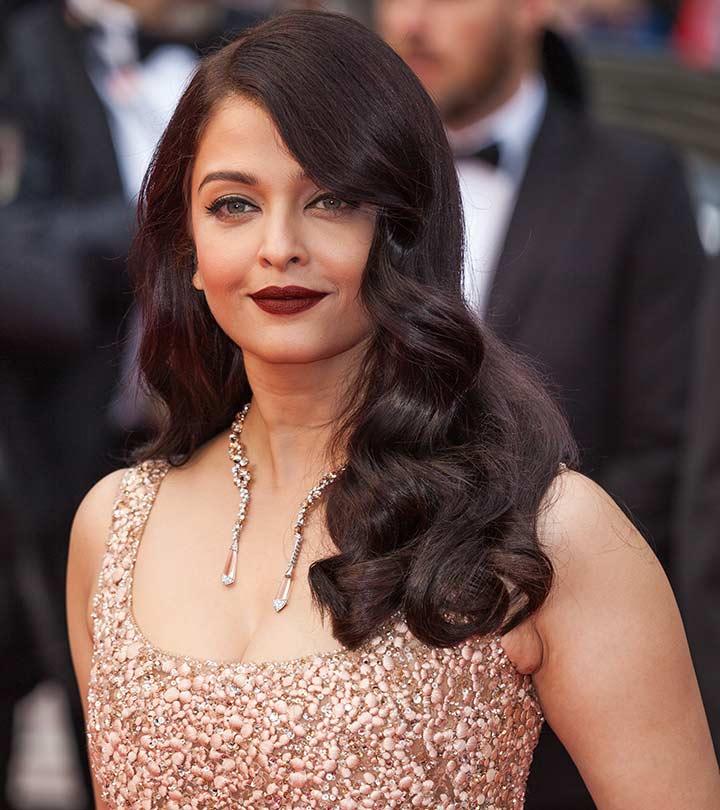 Aishwarya Rai, the world's most beautiful woman, has become a household name worldwide thanks to many commercials, films, and charity efforts. Aishwarya Rai hairstyles and dressing styles are always in the spotlight as women adore her and strive to replicate her grace and flair. When she won the prestigious Miss World title in 1994, the globe sat up and took note of this Mangalore beauty, and she has not looked back since. However, no one can dispute her awe-inspiring presence with her perfect features and striking emerald eyes.
If you are looking for hairstyles that can steal glances from across a room at a crowded party, check out this list of our top 10 favorite Aishwarya Rai's hairstyles over the years. They are simple yet full of grace and beauty. So, dive right in.
Top 10 Aishwarya Rai Hairstyles
1. Simply Center Parted
Back in 2003, Aishwarya Rai became the first Indian actress to be on the jury of the esteemed Cannes Film Festival. On this particular occasion, she put her best foot forward by going for a simple and understated hair look. Her chocolate brown hair was styled in a simple center-parted style and straightened out to give it a lustrous shine. This hairstyle worked perfectly to highlight her navy blue corset dress and jhumkas.
2. Teenage Curls
Here comes one of the best hairstyles of Aishwarya Rai. At her 2006 appearance on the Cannes Film Festival red carpet, Aishwarya decided to go for a more youthful curly haired look. Her dark brown hair was done up in chunky curls that were probably achieved with the help of a 2-inch curling iron. This cutesy teenage hair look is the epitome of early 2000s hair trends.
3. Bouffant Curls Ponytail
Over the years, Aishwarya Rai has seriously upped her style game at the Cannes Film Festival. In 2010, she went for this totally over-the-top bouffant hair look to complement her periwinkle blue gown. The bouffant style with the tight curls ponytail at the back added a funky element to the otherwise elegant tulle gown.
4. Sexy Waves
Aishwarya Rai totally embraced her bombshell avatar at the 2014 Cannes red carpet and how! That metallic gold gown, those matte red lips, that sexy windswept hair… phew! Her hair has been styled in waves that curl away from her face and parted down the center to create the perfect wind tousled effect. A glamorous hairstyle for a glamorous lady, indeed.
5. Sleek Ponytail
Yes, ladies. Even Aishwarya Rai can't resist the charm of a good ol' ponytail. And when this traditionally casual hairstyle is paired with a formal outfit, the effect is even more stunning. At the premiere of Pink Panther 2, Aishwarya went for a sleek mid-level ponytail to add a a bit of edge to her simple black gown.
6. Natural Hair
See, the 90s were a simpler time in Bollywood. Actresses didn't really need to use a straightening or curling irons to club their hair into dank submission the way they need to now. Instead, their natural hair was styled with just a little bit of product. Here, Aishwarya's naturally thick and wavy hair has simply been smoothed down with a bit of smoothening serum and parted down the middle to showcase its natural beauty.
7. Old Fashioned Beehive
Here's the thing about Aishwarya Rai—there's absolutely no hairstyle in the world that she cannot pull off. In her 2010 movie Action Replayy, she pulled off a number of 70s hairstyles—like this beehive look—with total aplomb. In this half up-half down beehive style, she has left her loose hair down unstyled and gone for some cute and long center-parted bangs in the front to frame her beautiful face.
8. Side Swept Bangs
In 2009, Aishwarya Rai took the world's breath away as Sonia in the Hollywood movie Pink Panther 2. And her hair look in this movie was truly a thing of beauty. Her shoulder-length hair was styled in loose, relaxed curls to give them a more natural look. But it was her voluminous side-swept bangs that added an element of Parisian chic to her whole look.
9. Traditional Indian Bun
Who doesn't remember Aishwarya Rai's iconic role as Paro in Devdas? She played the role of a Bengali beauty to perfection and earned herself a Filmfare award in the process. In the second half of this movie, Aishwarya sported a center-parted low bun that made her look demure, elegant and a picture of traditional Indian beauty.
10. Crazy Kiya Re Braided Ponytail
Of course, how could we forget Aishwarya's sizzling hot look in Dhoom 2? In the ultra-catchy item song Crazy Kiya Re, Aishwarya went all out with her bold look and sported this braided ponytail style. The 3 French braids that go back in a high ponytail became such a hit among the masses that you could see girls in schools and colleges sporting the same.
Aishwarya Rai never misses a beat when it comes to her outfits and hairstyles. She has beautiful long, flowy locks, and she knows how to flaunt her hair in the best way possible. So, take a leaf from her book and copy any of these fabulous Aishwarya Rai hairstyles to amp up your tresses. While she always opts for longer hairstyles, none of them ever look the same or boring. She always changes up her look and accentuates her hair volume and facial features. From a simple center parting to heavy bouffant curls, you can get inspiration for any and all occasions, moods, and seasons right here with Aishwarya!
The following two tabs change content below.