11 Best Alcohol-Free Beauty Products Of 2023
Don't let your skin dry out! Flourish it with good ol' TLC, moisturization, and hydration.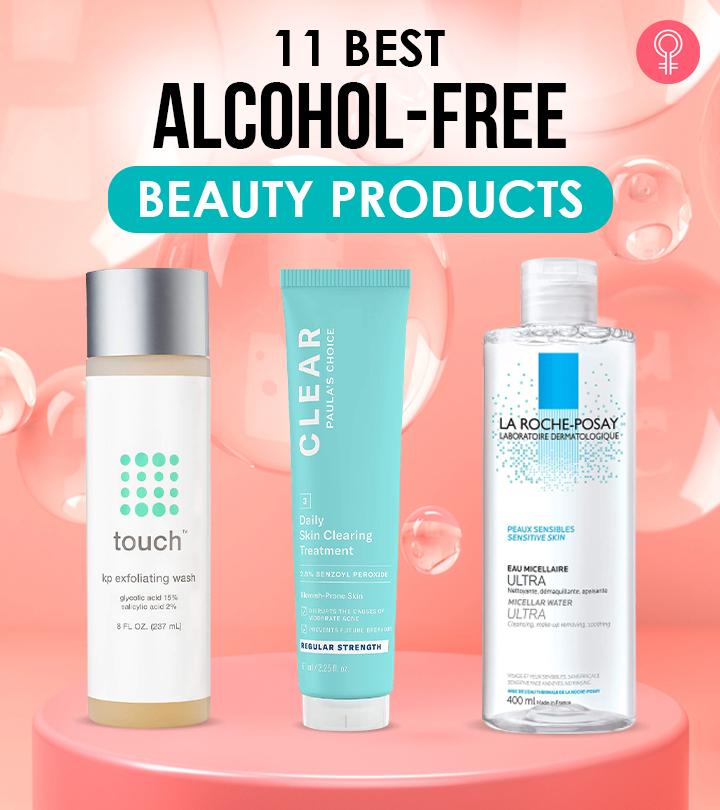 Products with alcohol can be drying, which is why most of us always look for alcohol-free skin care products. Alcohols, especially alcohol denat, often disrupt your skin's oil balance and protective barrier, causing dryness, acne outbreaks, inflammation, and may lead to premature aging signs. If you want to switch to an alcohol-free skin care routine, we have compiled a list of the 11 finest alcohol-free skin care products for each skin type. Scroll down to check them out.
Why Should We Avoid Alcohol In Skin Care Products?
When it comes to skin care products, it is best to pick the ones without alcohol. The major reason is that it tends to dry out your skin. Alcohol stimulates oil production and depletes your skin's natural protection barrier. It also disturbs the natural oil balance required for healthy skin, worsening oily skin conditions. It accelerates premature aging, making your skin saggy and wrinkly.
Let's take a look at the 11 best alcohol-free skin care products that you can include in your beauty regimen.
11 Best Alcohol-Free Skin Care Products
The Neutrogena Hydro Boost City Shield Water Gel Sunscreen provides your skin with an instant boost of hydration to quench dehydrated skin while protecting it from exposure to pollution and daily aggressors. This alcohol-free sunscreen has broad-spectrum SPF 25 that protects your skin by blocking out UVA and UVB rays. The lightweight formula is infused with a complex of purified hyaluronic acid that adds moisture to your skin and locks it in. This 2-in-1 moisturizing formula also has antioxidant properties that fight signs of dullness or tired-looking skin and ensures soft and supple skin. Also, this product has excellent reviews, confirming why this one is a must-have product.
Skin Type: All
Pros
Non-comedogenic
Dermatologist-recommended
Lightweight
Nourishing formula
Oil-free
Wearable under makeup
Cons
The alcohol-free Ebanel Hyaluronic Collagen Sheet Mask is sure to transform your skin by instantly adding a boost of hydration, radiance, and beneficial antioxidants. The ultra-hydrating hyaluronic acid, vitamin C and E, aloe vera, tomato, edelweiss, and purslane extracts. The plant-derived product contains collagen peptides extracted from seaweed to boost skin cell regeneration and provide firmer and wrinkle-free skin. The potent serum-infused sheets soothe your skin, reduce redness, relieve acne, and offer a supple finish and a healthy glow. Here's a video of the reviewer's experience to help you know more about this product.
Skin Type: Oily, Combination, Sensitive, Dry, and Acne-prone
Pros
Hypoallergenic
Oil-free
Non-irritating
Soothing formula
Allergy-tested
Cruelty-free
All-natural
Vegan
Cons
Unpleasant fragrance
Might cause redness in sensitive skin.
The La Roche-Posay Micellar Water Ultra has a gentle water-like texture and works as a face wash, toner, and makeup remover. This tried-and-tested formula removes even the most stubborn and long-wear makeup, excess oil, sebum, pollution, dirt, and grime from your pores. It refreshes your skin instantly, hydrates it, and prevents acne breakouts. The antioxidant-rich water and glycerin hydrate the skin, while the poloxamer cleanses the skin deeply and gently. This micellar water lifts off impurities and makeup with a single swipe and does not require rubbing. This video reviews the product in detail, so check it out.
Skin Type: Combination, Sensitive, and Normal
Pros
Gentle
No-rinse formula
Dermatologically tested
Ophthalmologically tested
Clinically-tested
Paraben-free
Oil-free
Soap-free
Fragrance-free
Ideal for daily use
Cons
This product from PAULA'S CHOICE is perfect for those dealing with acne breakouts and blemishes. The alcohol-free and ultra-light lotion combats acne, controls excess sebum secretion, soothes the skin, and calms redness. It also hydrates the skin to minimize skin peeling due to dryness. It has a matte finish, ideal for a makeup base. This product is suitable for all age groups and skin types, including mild, moderate acne to cystic acne-prone skin. For a more detailed review of this product, here's a video.
Skin Type: Oily, Combination, Dry, and Normal
Pros
Clinically tested
Lightweight
Calming formula
Matte finish
Oil-free
Paraben-free
Silicone-free
Dye-free
Fragrance-free
Cruelty-free
Cons
Might cause a burning sensation.
Rejuvenate your skin with the Burt's Bees Facial Towelettes. These facial towelettes are infused with rich botanicals and other skin-friendly ingredients, such as aloe vera, rice, and cotton that help to remove oil, excess dirt, and makeup. They make your skin soft, clean, and tone your skin for a clear appearance. Additionally, the pack comes with a convenient resealable closure and is rinse-free. You need to dispose of these towelettes after use.
Skin Type: Sensitive
Pros
Dermatologist-tested
Fragrance-free
Hypoallergenic
Accepted by the National Eczema Association
Paraben-free
Cruelty-free
SLS-free
Phthalate-free
Petrolatum-free
Cons
The mild and alcohol-free touch kp Exfoliating Wash is best suited for treating keratosis pilaris and body acne. It is formulated with 15% glycolic acid and 2% salicylic acid to clear your skin by gentle exfoliation. It has a pH of 3.5 and contains no harsh and harmful ingredients that could aggravate skin concerns.
The glycolic acid (AHA) exfoliates tiny skin bumps, while the oil-soluble salicylic acid (BHA) seeps in your pores to reduce inflammation and redness caused by body acne. Hyaluronic acid boosts hydration and prevents drying or natural moisture loss. The moisturizing aloe vera prevents irritation, the anti-inflammatory gotu kola stimulates collagen production, and the antioxidant-rich vitamin E exhibits repairing properties that protect your skin.
Skin Type: Oily, Combination, Sensitive, Dry, and Normal
Pros
Non-comedogenic
Clinically-proven ingredients
Mild
Non-drying
Paraben-free
Phthalate-free
Sulfate-free
Dye-free
Cruelty-free
Fragrance-free
Cons
This revitalizing alcohol-free toner from Clean & Clear cleanses your skin gently and deeply. It is loaded with lemon extract and vitamin C that even-tone your complexion. The non-drying formula brightens your skin, lifts off impurities from the pores, and treats acne, leaving you with clear, bright, and healthy skin. The purifying properties of the toner boost your natural radiance and brighten your skin with consistent use.
Skin Type: Acne-prone
Pros
No-rinse formula
Oil-free
Ideal for daily use
Value for money
Cons
Strong fragrance
May dry out the skin.
This 100% pure and organic Moroccan rosewater can be used for skin care, hair care, and to add flavor to desserts and drinks. It balances the skin's moisture levels and opens blocked pores to prevent blackheads, pimples, and acne. Its anti-aging properties stimulate blood circulation to prevent wrinkles and firm the skin. This rose water is best suited for irritated and sensitive skin. It also rejuvenates the hair and prevents damage due to the sun and heat styling tools.
Skin Type: All
Pros
Gentle
Multipurpose
Preservative-free
GMO-free
Paraben-free
Cruelty-free
Cons
Contains artificial fragrance
The Ebanel Ultimate Brightening Peeling Gel is a gentle exfoliator that removes dead skin cells and impurities from your skin. It gets rid of dry and dull skin to enhance the natural skin cell turnover without causing any skin irritation. This alcohol-free gel is loaded with the goodness of aloe vera, honey, allantoin, and vitamins C and E.
The potent blend helps brighten, hydrate, and heal your skin with its anti-inflammatory properties. The astringent stem cell extracts tighten the pores, while the antioxidants and peptides firm your skin to make it look younger and radiant. This peeling gel is formulated with micro-fine granules that offer mild exfoliation without clogging the pores.
Skin Type: All
Pros
Hypoallergenic
Non-comedogenic
Pore-minimizing formula
Mild
Non-irritatingParaben-free
Soap-freeIdeal for daily use
Cons
Doesn't exfoliate dead skin.
This moisturizer from eraorganics has a plant-based formula to combat skin conditions like rosacea, eczema, redness, dermatitis, acne, dry skin, itching, or irritation. This alcohol-free skin care product diminishes scars and blemishes, heals affected skin, and promotes even skin tone. It contains aloe vera and coconut oil with healing properties and chamomile to relieve itchiness and dryness. MSM promotes skin regeneration, milk thistle has skin-protecting antioxidants, while cocoa butter and avocado oil boost collagen production to reduce fine lines and wrinkles.
Skin Type: Acne-prone and Sensitive
Pros
Vegan
All-natural
Dye-free
Fragrance-free
Mineral oil-free
Petroleum-free
Sulfate-free
Paraben-free
Cruelty-free
Cons
This Korean skin care product nurtures your skin in more than one way! It contains azelaic acid that helps diminish acne, blemishes, dark spots, and acne breakout marks. The multi-tasking formula has an oil-free texture and is lightweight enough to be mixed with other skin care products. This alcohol-free serum has niacinamide that reduces acne. It serves as a perfect base for makeup and leaves your skin soft and supple.
Skin Type: Sensitive and Acne-prone
Pros
Lightweight
Gentle
Oil-free
Fragrance-free
Hydroquinone-free
Formaldehyde-free
Paraben-free
Cruelty-free
Ideal for everyday use
Cons
Now that you have gone through our top picks for alcohol-free products, here are some factors to consider before buying one.
Things To Consider Before Buying An Alcohol-Free Skin Care Product
The skin type is an essential factor to consider while buying any skin care product. Dry skin requires products that tackle dryness and impart more moisture, while oily skin needs products to control excess sebum and prevent acne. Also, always remember to do a patch test before applying any product to your skin to avoid adverse effects.
Read the labels and check the ingredient list to avoid any products that contain parabens, sulfates, added fragrances, or any other harmful chemicals that might damage your skin's texture and health in the long run. Opt for safe, natural ingredients and organic, eco-friendly products that do not adversely affect your skin. Additionally, opt for products made with scientifically formulated ingredients that offer a multitude of benefits.
When you decide on a skin care product, make sure that it addresses the skin concern you are looking for. For instance, if you are dealing with acne, look for products with glycolic acid, salicylic acid, or niacinamide. If you have dry skin, look for products with hyaluronic acid or glycerin. Furthermore, try choosing the products that are dermatologist-recommended or expert-recommended for the most effective results.
Take your time to do some research by going through online customer reviews or ask an expert for a recommendation. Check if the skin care brand is vegan, cruelty-free, FDA-approved, dermatologically tested, and safe to use.
Some products are loaded with preservatives that should ideally not be used beyond a certain time. Therefore, the shelf life/expiry date plays a vital role. Any product used after its shelf life might cause breakouts, rashes, allergies, irritation, or other skin issues.
It is a myth that any expensive product from a highly reputed brand is sure to work wonders on your skin. The most highly-priced skin care product doesn't need to be the best. Focus on the ingredients and the customer reviews instead of the price tag. Some pocket-friendly brands are sure to provide equally good and effective results.
Why Trust StyleCraze?
Shiboli Chakraborti, the author of this article, is a certified skin care coach. She enjoys reviewing beauty products as they hit the shelves. She went through various trusted online forums to analyze user feedback and curated this list of the best alcohol-free skin care products for her readers. These products are hypoallergenic, non-irritating, chemical-free, gentle, and keep the skin hydrated. They also rejuvenate the skin and leave it feeling fresh and healthy.
Frequently Asked Questions
How do you know if a product is alcohol free?
Brands are proud to have alcohol-free skincare products which is why they label 'alcohol-free' on all their products.
Why do so many beauty products have alcohol?
Beauty products have alcohol in them so that they appear and sit well on your skin. Products with alcohol in them usually form a layer on the skin that appears to retain moisture. Sometimes, brands may use alcohol as a preservative to extend the shelf life of the products.
Why does La Roche Posay use alcohol?
In its formulation, La Roche Posay uses an alcohol that is both safe and certified. It is applied to assist create a light texture and a cooling, refreshing sensation. But not all of its products contain alcohol.
Does serum contain alcohol?
Some serums may contain alcohol in order to penetrate into the skin more effectively.
Does Neutrogena contain alcohol?
No, the Neutrogena Hydro Boost Gel Sunscreen does not contain alcohol in it.
Recommended Articles