How To Wear A Palazzo Pants – Everything You Need To Know
Preparing for summer? Dreading the heat and not sure how to beat it and wondering what to wear? For once I've planned my closet quite ahead of time, and I have it all sorted. If you have not guessed already? Palazzo is your rescue ranger, like no other. They are stylish, flouncy, chic and supremely comfortable. But, firstly did you know that these were a hit from their inception in the 1960s? Yes, this retro trend that has made a comeback is not really a new age revolution. It was first sported by the famous designer Coco Chanel in a beach back in the day. She has been a pioneer and a pivot to the fashion industry. Chanel – You should know that we are all indebted to you! That was good to know information, wasn't it? Moving on, the number of types of palazzo to emerge ever since needs a pat on the designers' backs. Maybe this is what smart dressing is all about? One piece of fashion clothing that is addictive and you can never get enough of.
So, here I am and we'll discuss everything there is to know about palazzo. Follow me, and we'll break a few myths, understand different types of palazzo and go over some styling ideas (my favorite part).
8 Types Of Palazzo Pants:
1. Straight Cut
You should have got it by now, leggings is old news, and it's honestly obsolete. Wearing kurtis has just gotten twice as hep. The straight cut palazzos are pretty self-explanatory and will be a perfect match with both short and long kurta. They are meant to be that way. You've got to get basic plain pants as a beginner since they go with absolutely anything. It's the neutral palette that does the trick. It is also a safe bet for anyone who is apprehensive about palazzos not suiting them. There's isn't too much flare, yet it is comfortable. Get one of these, if you haven't already.
Goes with – Long and Short Kurti
Purchase Link – tatacliq.com
2. Flared
A flared palazzo makes for a flamboyant and flouncy affair. I have had friends who detested the idea just because they thought it looked weird, but it's worth mentioning that it's been a long overhaul after their first trial. One piece that goes with anything and everything in the literal sense. For an ethnic look, pair it up with a long kurta, preferably printed – assuming the bottom is plain. It looks just as stylish and chic to wear it to work or a Sunday flea market shopping with a contrast plain T-shirt. If everything else fails – try a black or a white T-shirt. Or, go with a tank top – works best for summers. Take it one step forward and carry it for your beach vacation, use it as a cover up. Slide it up your legs once you're out from a swim and you're both stylish and sorted. Who would have known?
Goes With – A tank top, plain T-shirts, crop top or could also be used as a bikini cover-up.
Purchase Link – jabong.com
[ Read: Spectacular Salwar Kameez Designs ]
3. Layered
You've tried everything else with palazzos? Here's something you've got to try. A pair of fancy pants that are snappy and uptown all by themselves. If messy bun and casual chic define you, then I'm excited for you – since, you found your wardrobe staple. The advantage with these layered palazzo pants is that you can always dress up or down depending on where you're going. Imagine this – wearing this with a halter neck yoga tank for a long drive, throw up your hair in a bun, aviators, a cross-body bag, and a bold colored lipstick. Or, this may be – Wear it with a mica printed short sleeveless kurta, just eye-makeup, pom-pom necklace or sandals or both for making your work day exciting? Just a few ideas, amongst a million others.
Goes With – Full Sleeves T-Shirt, Halter Neck Or Printed Tunics, Short Kurti
Purchase Link – myntra.com
4. Trousers
Are you still stuck with your old school, interview pants? Don't! Because our much-needed revival is here. The palazzo trousers are professional, comfortable, stylish and everything else pants should be. Plus who says office wear needs to be boring. Color block them with a formal shirt. Even a flowy georgette or a chiffon top with ruffles will look just as good. Remember that shoes are the most important part of this puzzle, so don't shy away from sporting those red pumps or suede peep-toes. If you're going with printed trousers, go with any top that is plain, a blazer if you must, and it will pop the colors and prints further.
Goes With – Formal Shirts, Satin, Chiffon Or Georgette Tops
Purchase Link – myntra.com
5. Culottes
Culottes? Are you wondering where this came from? I'm not sure either! However, I can tell you these are in-between flared and knee-length palazzos, basically best of both the worlds. A special edition indeed – as they are available in earthy fabrics like cotton, khadi, and crepe. Yes, comfortable has just been redefined. There are no rules here, go with any top depending on the occasion, and I promise that every time, it looks better than the previous. Take this rustic look to the next level with hand-made jewelry, wedges, and a handloom bag. You're good to go!
Goes With – Spaghetti Kurti or Chiffon Top, Tank Or Tunic, Throw In A Kimono Or Shrug
Purchase Link – ajio.com
6. Palazzo Tie-Ups
Palazzo skirts – anyone? Strike that – 'Palazzo Tie-Ups,' it is. A skirt from the front and a divided pair of trousers at the rear. A classy statement both ways. This look is pretty effortless – a simple plain T-shirt, yoga tunic or a kurta – preferably anything short, that stops at the waist will do. Perfect for ethnic days at work, a day out at the mall or a house party. Do not forget to flaunt this with ballerina or flip-flops – whatever suits you best!
Goes With – Short Kurta, Yoga Tunic, Plain T-Shirt
Purchase Link – ajio.com
[ Read: Types Of Kurtis And Styling Tips ]
7. Pleated Palazzos
Have you caught up with the monochrome game? Can't get over it? That's okay, stay right where you are because here's a variant that is made for monochrome looks. The color choices are bountiful, and so are the options. Go with a monochrome look and etch it with beautiful contemporary jewelry – and you will rock your party. Or, spin over with the dearly loved off-shoulder and raise the bar to an all-time high. Or tuck an high-neck halter top into your pleated palazzo and cinch it near the midriff with a waist belt. Spruce it up further with pumps that are equally breathtaking. Have you not seen our celebrities flashing around all of these lately? You'll look no less than a star yourself.
Goes With – Formals, Georgette Top, Off-Shoulder, Waist Belt
Purchase Link – chicos.com
8. Palazzo Suits
You have to believe me when I tell you that I stopped buying regular salwar suits ever since I started experimenting with palazzo suits. They are addictive, and I cannot survive without caffeine, that's how much I love these. If I have to describe this in one word, then it has to be – Effortlessly Stylish, that's two words, but you get the drill don't you? The mystic and boho-chic vibe that these dresses give are to die for, and the combinations are myriad. Simple kurta-sets like these can be donned as office wear, or anywhere else you like. Finish your look with tribal/hand-made jewelry, and there's no stopping you!
Your Guide To Wearing Palazzo – Myths And Tips
It can sometimes get overwhelming with the options out there, but your focus should be on the fabric. If you're conscious about your figure, go for georgette, crepe or anything that is flowy. If you fall under the petite bucket, cottons and flared are your go-to.
When you opt for printed fabric, go with floral motifs which are universal. If you're worried about looking plumper refrain from picking those horizontal prints.
Choosing the right waist cut is something you cannot ignore. Go with high-waisted trousers if you want to flaunt your flash board abs in a crop top or low waist ones for kurtas.
Palazzos are not meant for short, or petite women is the biggest myth we need to break down. There are no hard and fast rules. But, a few basics like too flared or flouncy ones might just not help, so go with something that is shorter in length and with just the right hem-line
Palazzos complement jewelry like nothing ever does – so amp your accessories game or not, either way, you are going to rock it.
For palazzo formals, keep the colors subtle and soft – that's your cue.
Explore kimono and shrugs; I can't stress this enough!
Congratulations – your summer wardrobe is now sorted, thanks to these 8 types of palazzo pants. Now that you know how to wear palazzo pants, what are you waiting for? The options are endless, and there is so much you can do with them. I can sit here and talk about it forever. But, you get the drill, right? In my head, I've already ditched my denim for palazzos – it's time you do it too. What is your favorite style? Play around a little and see what fits you the best. Is there anything else you'd like to add to this? Drop in a text in the comment section below and let us know. Until then, Happy Shopping – Stay Hydrated!
Recommended Articles:

The following two tabs change content below.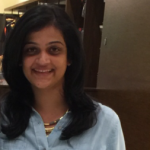 Latest posts by Pratima Ati (see all)