17 Ways To Style Palazzo Pants
Get inspired by the ideas and style your palazzos in the most stylish and trendy ways.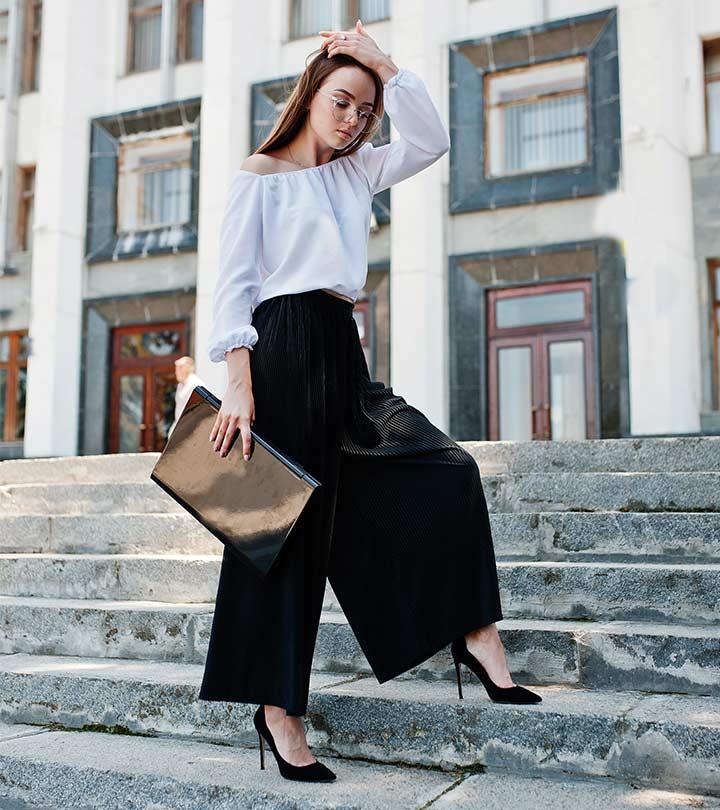 Well, thanks to the well-known designer Coco Chanel who first sported palazzo pants on a beach once. Originated in the 1960s, these pants are a trend even today. They exude endless elegance and confidence; this is exactly why we want to show you all the different ways to style palazzo pants here in this article. Going ahead, we shall break many myths around these pants and provide you with some amazing ideas that you can take help of in order to style them. We don't want to take much of your time anymore because it is time for you to rock some of these pants. After all, they are easy-to-wear, comfortable, and super chic and with a dash of creativity can be styled in various ways. scroll down and give this article a read.
Ace The Look
Body Type: A straight palazzo balances the mid-section of an apple-shaped body. Palazzos fitted around the hips with a medium-wide flare accentuate the rectangle body shape.
Occasion: Flared palazzos and shararas are perfect for weddings and parties, while straight palazzo pants work better for formal events.
Fabric: Light and flowy fabrics like chiffon or georgette are perfect for those with a fuller or curvy body. People with a petite body frame can pull off soft fabrics like cotton and linen.
Color And Style: Go for solid colors or vertical stripes to create an illusion of length. Choose smaller prints instead of bigger ones to avoid adding bulk to the overall look.
What Are Palazzo Pants?
Palazzo pants are trousers, except way more comfortable. They flare out from your knees as they move down to the legs. They are slightly high-waisted and create a sensual silhouette, contrary to the popular belief that they look unflattering. They were first spotted in the 1960s and now come in many variants to match the current trends. From formals to travel trousers, they come in all shapes and sizes. Take a look!
How And What To Wear With Palazzo Pants
1. Cropped Folk Palazzo Trousers
We thought we would get your attention with this exciting piece of palazzo pants. This pair of larger than life wide-cut pants with a crop top, a bamboo bag, and flats is how you welcome summer. You can pair palazzo pants with tops like these to give you a taller appearance.
2. Wide Leg Palazzo Trousers
We caught you off-guard with these, didn't we? We know that the general understanding of palazzos is that they are all about that hippie vibe, but that couldn't be far from the truth. Wide leg trouser-style palazzos work well as business casuals. You can throw on a blazer too to finish off the look.
Meghan, a fashion blogger, shares her experience with palazzos and she grew out of skinny jeans. She says, "As summer slowly approaches Sydney, I am super excited that two years on, they are still on trend. I can't wait to shove my skinny jeans and thick socks to the back of my cupboard and dust off my strappy sandals and palazzos (i)."

Fun Fact
At the 2020 People's Choice Awards, British actress Jameela Jamil sported hot pink palazzo pants complete with an oversized suit by Christopher John Rogers.
3. Black Palazzos And Off-Shoulder Top
Let's do the one combination that comes to us naturally, but slightly differently. Instead of black trousers and white shirt, try black palazzos with a white off-shoulder top. Watch this outfit transform the vibe within seconds.
4. 3/4th Palazzos And Bodysuit
Tame your wide-legged trousers with a figure-hugging bodysuit. Checks add character to the pants while its 3/4th length adds to the charm. Style this look with pumps and a formal blazer before walking into a meeting.
5. Floral Sharara Palazzos
When you are in the mood to do a little Indie thing with your outfit, these pants fit the bill. These floral sharara-style palazzos look perfect with a turtleneck T-shirt, layered jewelry, ankle-strap heels, and a slick high ponytail.
6. Palazzos And Short Kurta
Palazzos with a short kurta or a cropped empire waist top is one of the smartest outfits you can wear. You can dress up or down with this outfit. You can wear it to a party or a meeting. Finish off the look with platform heels or wedges.
7. Palazzo Pants And An Oversized Tunic
Palazzos have replaced leggings – and it is official. They bring comfort and style to your ethnic wardrobe. Pair them with any long kurti, tunic, an oversized dress shirt, or a sweater to create a comfy but chic look.

Fun Fact
Actress Karisma Kapoor sported Ekaya Banaras handwoven silk knee-length kurta and palazzo pants for Arpita Khan and Aayush Sharma's 2022 Eid celebrations.
8. Pastel Toned Palazzos With A Tube Top
Pair your pastel-toned palazzos with a bustier or off-shoulder top. Throw on wedges and a side body bag, style your hair in beachy waves, and put on some subtle makeup when you head to your next brunch party.
9. Flowing Palazzos And A Halter Top
Come summer, let these pants take over. They are oh-so-comfortable but without compromising on style. Halter neck, racerback, or anything that adds dimension without adding weight to the pants works perfectly.
10. Patterned Palazzo Pants
Patterned palazzos add definition to your outfit without looking over the top as long as you choose the right pattern. Ankle-length palazzos and a plain T-shirt (cropped or tucked in) go well with white Converse shoes, gladiator sandals, or even sneakers, depending on how you want to swing the outfit.
11. White Palazzos
Fan of linens and cotton clothes? You can do an all-white look with white palazzo pants to look incredibly classy. Tuck in a soft cotton shirt, throw on some tribal jewelry, and go for a "no makeup" makeup look.
12. Striped Palazzos And Crop Top
Heading out to the beach? Ankle-length palazzos are the perfect choice. They are airy, don't get dirty, and are too cute to say no to. Pick striped pants and pull off the matching top outfit thingy with a crop top, throw in sliders, and a hat!
13. Straight Formal Palazzos
Wondering what straight-cut palazzos look like? Formal palazzo trousers look better when they are a little less broad and cut straight, unlike casual palazzos. Pair this with a silk camisole top for a balanced silhouette.
14. High-Waisted Beige Trousers
If you have tried all types of styles with palazzos, go for a coordinated set like this. These high-waisted slit floral pants with a matching crop top are perfect for holidays in summer and spring.
15. Palazzos For Wedding
Do you prefer androgynous outfits over anything feminine? Even to a wedding? Then, a palazzo jumpsuit like this can do it for you. Put your hair in a sleek bun, throw on a side body bag or carry a clutch, and put on some exquisite jewelry to stand out in style.
16. Pleated Palazzo Pants
Pleats in palazzo pants create a stylish and sophisticated look. Whether you opt for classic black pleated palazzos paired with a crisp white blouse and heels for a polished office look, or flowy pastel pleated palazzos with a tucked-in tank top and wedges for a casual yet chic ensemble, pleats add a touch of elegance to your outfit.
17. Silk Palazzos For Parties
Elevate your party style with luxurious silk palazzos. The soft sheen and drape of silk add an opulent touch to your ensemble. Pair vibrant silk palazzos with a sequined top and strappy heels for a glamorous look, or opt for a more subtle approach with solid-colored silk palazzos and a statement necklace to make a chic statement at any soirée.
Infographic: 9 Easy And Trendy Ways To Style A Palazzo
While palazzos go all the way back to the 1960s, they are popular even today. Contrary to popular belief, this versatile pair of pants can look great with any outfit if styled the right way. Be it the office or a party, palazzos are an excellent addition to your wardrobe. To help you out, we have curated a list of 9 easy ways you can style your palazzos. Check out the infographic below to know more!


We would say that palazzo pants are some of the most versatile bottom wears we have been blessed with. It is incredible how these simple pants go perfectly well with both traditional and western outfits. Of course, you can also create an Indo-western look by just donning a crop top or halter neck top with palazzo pants. And can we applaud its ability to offer us comfort? Sure, we can, and we should. It is important to be comfortable in your clothes to look fabulous, and palazzo pants are perfect. So, take your inspiration from this article and learn all the ways to style palazzo pants.
Frequently Asked Questions
How will I know if palazzos suit my figure?
The common myth with palazzos is that they only look good on tall women. While it's true that tall women look great in them, it doesn't mean that shorter women can't rock them. If you are short, go for palazzos that aren't too huge but slightly narrow. Curvy women look great in palazzos when the focus is on the top. Wear a well-fitting top and avoid too many layers.
Can petite women wear palazzo pants?
If you are petite, pair your palazzos with a crop top or a short kurta that don't add weight to your upper body. Go for pumps or sandals that are narrow instead of anything chunky that can shrink you down further.
Are palazzos considered formal wear?
Yes, totally. It depends on how you style them and the tops you team them up with. Unless the bottoms are too deconstructed or look like travel pants, you can wear them to work.
What shoes do you wear with palazzo pants?
Pumps, platform heels, and peep-toe heels narrow down the broad silhouette of palazzos. Wedges and platform heels are also fail-proof options to pair with palazzos. Oxfords, sneakers, or gladiators look nice too if you want to go the boho way.
Are palazzo pants in style in 2022-23?
Absolutely! Fashion has been more about comfort in recent years, and it looks like it's going to stay that way for a while. And nothing spells comfort better than palazzos.
Should palazzo pants touch the floor?
No. Ideally, they should be ankle-length. They can be only slightly longer if you are wearing heels. If they are longer than that, they will bunch up at the bottom and look unappealing. They could also make you accidentally trip.
Can I wear palazzo pants to a wedding?
As a guest, yes. Consider the theme, vibe, and dress code of the wedding before you opt for palazzos. Solid colors paired with dress shirts, crop tops, and complementing blazers will make for a comfortable yet stylish look.
What is the difference between palazzo pants and wide-leg pants?
A palazzo is a type of wide-leg pant, but not all wide-leg pants are palazzos. Wide-leg pants are any kind of pants that are loose around the legs and have a straight cut from hip to toe. Palazzos have a cut that flares from the waist down.
What is the difference between culottes and palazzo pants?
The difference between culottes and palazzo pants is the length. Culottes have a similar cut to palazzos, but their length is between the knees and the ankles.
Which fabric is best for palazzos?
Airy, flowy fabrics like cotton and linen are best for casual palazzos. Silk, crepe, and jersey fabrics are ideal choices for formal and festive occasions.
Can I wear a palazzo to the office?
Yes. However, choose palazzos with straighter or less flared cuts.
Key Takeaways
Try your palazzo with a tunic to give it an ethnic kurta look.
You can pair your palazzo pants with a bodysuit. The upper snitched look will create a good contrast with the bottom pants.
Try wearing your palazzo pants with a tube top for a casual day out.
Pair your pants with a simple crop top for a night or date look.
Learn how to style your favorite palazzo pants in 5 easy ways. From casual to dressy, you'll be ready for any occasion. Check out the video now!
Personal Experience: Source
i. DUSTING OFF THE PALAZZOS
https://my-wishfulthinking.blogspot.com/2014/08/dusting-off-palazzos.html?m=0
The following two tabs change content below.