3C Hair – What Is It & How To Style And Care For It
Make the LOC method, silk pillowcases, and natural shampoo your 3c hair's best friends!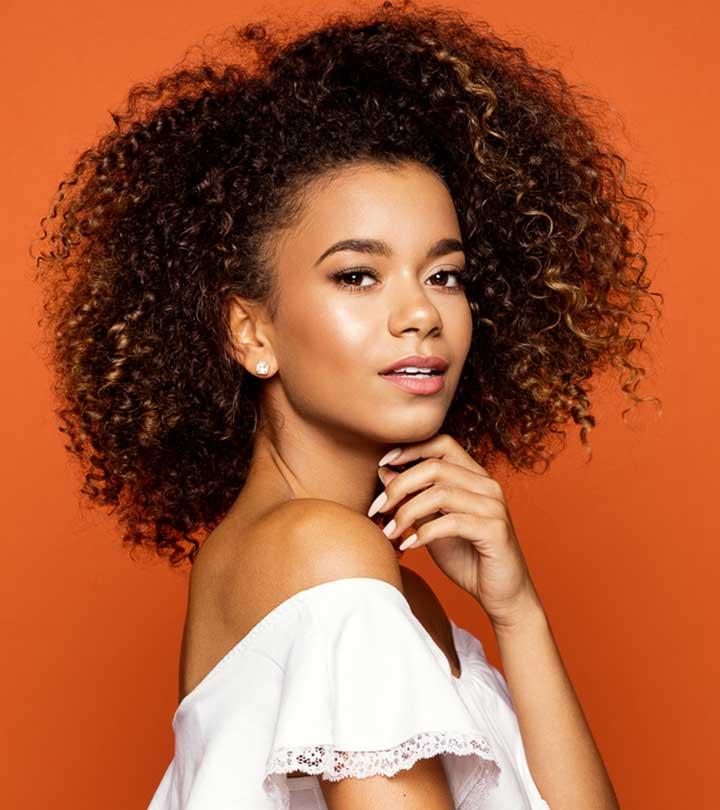 The tighter the curl type, the more maintenance your hair requires. Today, we will discuss 3C hair, which falls right in the middle of the curl category. Its texture may resemble type 4's coils and kinks but there is a distinction and we will discuss how we can determine that. Once you understand your curl structure and the problems that come with it, you can take care of your hair better. Also, you must understand which products are suitable for your hair. Styling your hair becomes easier when you know which tools to use, and you have a specific hair type to search for inspiration on Instagram. It also becomes very easy to fix your daily hair maintenance routine, and you can learn care tips for your curl type. But, if you are still unsure whether you have 3C hair or not, let's look to Andre Walker for help! He is a celebrity stylist who came up with the hair typing system. Scroll down to get more clarity on your hair type.

Before You Get Started
3C hair needs moisturization as it gets dry easily. Use hair mists, water sprays, oils, conditioning treatments, and moisturizing products to keep your hair moisturized and healthy-looking.
Go for 30 minute deep conditioning masks once a week to keep 3C curls hydrated and moisturized.
Check your hair porosity before buying products for your 3C hair.
Type 1
– Straight hair
Type 2– Wavy hair
Type 3– Curly hair
Type 4– Coily hair
Now, each hair type is further classified into subcategories. For purposes of this article, we're just going to focus on subtypes of type 3 curly hair as divided by NaturallyCurly.com. Type 3 curls are divided into subtypes A, B, and C, based on the size and pattern of the curls. Let's take a look at how these hair structures are categorized.
3a Curls: Type 3a curls are loose curls that follow an S-shaped pattern. These curls are usually well-defined and are as wide as a thick piece of sidewalk chalk. The one problem that people with 3a curls usually face is that it frizzes up and loses definition quite easily. Actress Annalynne McCord is the best example of this type of curls.
3b Curls: 3b curls are more tightly wound than 3a curls, and are about as wide as a marker. Though they are more voluminous, they lack shine and are much coarser and denser than the previous curl type.
3c Curls: The tightest of type 3 curls, 3c curls can wrap snugly around a pencil and are densely packed together on your head, which gives them more volume. What sets these curls apart is that they are fine textured. This was the reason why the 3c curl category was defined much later when fine textured tight curls couldn't be put in 3b or 4A categories.
How To Find Out What Type Of Curls You Have
The best way that you can find out what type of curls you have is by letting them air dry without putting products in it. So, once you step out of your shower after washing and conditioning it, resist the temptation to apply any gel, mousse, curl-defining cream, roller, perm rods, or whatever your post-shower hair routine involves. Just let it air-dry completely. This will ensure your natural hair pattern is retained. You can then wrap one of your curls around sidewalk chalk (3a), marker (3b), and pencil (3c) individually. Whichever item your curl fits the most snugly around is your curl type. The most important thing to keep in mind here is that your hair could also be a combination of these types and not fall into one category perfectly.
3c is that magical type of curl that stays intact and defined even 4 days after washing. However, it is also more prone to dryness than 3a and 3b curls as the sebum from the scalp doesn't get to travel down to the very ends due to the obstruction caused by the ringlets. This is why you need to dole out your TLC (Tender Loving Care) in high amounts when taking care of it. Just keep reading to find out how…
How To Take Care Of Your 3C Hair?
Your primary focus when taking care of your 3c curls and chalking out a hair care regime is to moisturize it to the core. Once you have that part down, your curls will fall into place perfectly, quite literally! So, here are a few essential things you need to keep in mind:
Moisturize: We've already established that 3c curls have a tendency to dry out and look parched if not taken care of well. Once you are done detangling your curls, shampoos, and conditioners designed specifically to hydrate and moisturize need to be a part of your hair care arsenal. You could also go in for a deep conditioning treatment once a week to add that extra boost of hydration.
Step Away From That Straightening Iron: Here's the thing, babygirl. You have gorgeous curls that make you stand out. So, reach for your straightening iron only once in every few months so as to not damage the health or the curl pattern of your 3c hair. And prep your hair with a heat protectant serum or spray when you do decide to use a straightening iron or a curling wand on it.
Stretch It Out!: It can be frustrating to try growing out your hair and not see any difference in length even after months. That doesn't mean that your hair is not growing! It's just that your hair keeps curling up throughout the hair growth process, thus not adding to its length. To stretch out your hair, you could put them up in perming rods overnight. This way you can avoid using any heat on it and still end up with longer and more defined curls.
Silk Pillowcases FTW: Cotton may be a great material to wear on your body, but it wreaks havoc on your skin and hair due to the friction caused by it. Not only will it cause your hair to dry out, but it will also make it break more readily. So, invest in a soft silk pillowcase that will be gentle on your skin and your 3c curls.
Pineappling: When you have 3c curls (or any type of curls, really), it can be difficult to maintain definition in your curls beyond a couple of days after showering. To maintain your style for 3-4 days, you could try out the pineappling method. Just bend your head forward and tie your hair into a ponytail/ loop bun right at the top of your head. Then, tie a satin scarf or bonnet around it before going to sleep. In the morning, just let your hair down and fluff it up with a little bit of oil to infuse new life into your curls. (You can check out this video tutorial to master the art of The Pineapple.)
Lock Down On The LOC Method: LOC stands for the Liquid-Oil-Cream method which is aimed at providing maximum moisturization to your hair. These three elixirs work together brilliantly to add moisture, bounce, definition, and shine to your 3c curls. The liquid refers to water that you wash your hair with (obvi-duh). But, you can also use water to moisturize your curls by spritzing it on your hair on the days that you don't wash it. As for the oil component of this method, you can choose from a wide variety of natural oils like jojoba, almond, argan, coconut, olive, etc. You will have to engage in a bit of trial-and-error here to figure out which oil adds the most nutrients and shine to your curls. Lastly, find and invest in a good curl defining cream that makes your 3c curls look and bounce like a million bucks without weighing them down too much.

Quick Tip
You can mix water, aloe vera gel, and coconut oil in a spritzer bottle and keep applying it on the hair whenever it begins to feel dry to keep up the hydration levels.
Embrace Natural Shampoos: Try to avoid going for shampoos that have sulfate in it as it dries out your hair like no tomorrow. Go for natural shampoos as much as possible.

Quick Tip
You can shampoo your 3c hair only once a week and use the co-wash method twice a week if you feel like your hair needs a cleanse. Washing only with a conditioner can help you cleanse the scalp gently and strengthen and nourish the strands without drying them out.
Though all of these are some essential tips for taking care of your 3c hair, you will still need to mess around with your hair products and hair care regime to lock in on what works best for you. Once you do that, you can experiment with your
hairstyles
a bit more and really embrace your curls! Here are a few of my favorite hairstyles for 3c curls…
Here are a few of my favorite hairstyles for 3c curls.
7 Stunning Hairstyles For 3c Curly Hair
1. Pineapple Hairdo
This is the easiest way to style your curly 3C hair. Rub some lightweight cream and pull up the hair into a ponytail at the top of the head, and that's it! The golden blonde highlights at the tips give depth to the hair.
2. Twisted Braid Bun
Keep the hair all tucked away in a protective style during the summer. This way you can keep frizz and tangles at bay. Make twisted braids all over your head and gather them together at the top of the head in a big, wrapped bun.
3. Wash And Go
The best thing about 3c curls is that once you've successfully locked down on a hair care regime, you can simply wash your hair, let it dry, and be good to go! But to show them off in all their glory, you could go in with a dollop of curl defining cream and fluff out your curls with a hair pick to give them some more gorgeous definition.
4. Colorful Headband
To add a pop of fun color to your 3c hair, you can sleek it back with a cute colorful headband that goes with your outfit. You can sleek back the front section of your hair with some gel and a fine toothed comb before putting your headband on to go for a cleaner hair look.
5. Braided Top Knot
If you've been in love with ballerina top knots since childhood and thought you couldn't sport one because you have curly hair, here is a hairstyle that you will fall in love with. Secure your hair with fine tight braids. Then, slick back these braids and tie them up in a super high top knot to complete this look.
6. Kitty Ear Buns
When it comes to 3c hair, this hairstyle is as trendy and chic as it gets. Tie up your hair into 2 buns on either side to create this fluffy uber stylish hair look. Leave out some curly long fringes hanging loose and falling elegantly on your cheeks. Sport this style on a night out clubbing and no one will be able to keep their eyes off you.
7. Headbanded Bun
Be it a casual day out or a chill day staying in, here's a hairstyle that is perfect for all your moods. Tie your hair curls up in a messy bun right on top of your head and style it with a bright cloth headband to add some oomph to the look.
Infographic: A Simple Guide To Styling And Caring For 3C Hair
If you think that 3C hair types can only sport a simple bun, we are here to prove you wrong. Those well-defined curls and endless volume allow you to experiment with countless fun hairdos. However, the wrong hair care routine can make your curls dull and weak. We have rounded up simple maintenance tips and fun 3C hairstyles you can experiment with in the infographic below. Check it out!

3c hair is densely packed with fine-textured curls, and it looks voluminous. If you have this type of hair, it is important to follow a customized hair care routine. Use conditioners and shampoos that moisturize the hair, besides embracing the liquid-oil-cream method to add bounce and shine. Always use a silk pillowcase to reduce friction while sleeping and be gentle on your hair. More importantly, do not lay your hands on straightening or heat styling tools and shampoos containing sulfates. Instead, try stretching your hair by putting the locks up in perming rods and using natural shampoos.
Frequently Asked Questions
Is 3C hair African American?
Most African people have curly hair types ranging from 3C-4C. If you are of African descent, like an African American, you can have 3C hair. But, Middle Eastern people also have 3C type hair which is not considered an afro hairstyle.
How often should 3C hair be washed?
3C hair should be washed twice a week. Though the roots get oily fast, the strands remain dry, so overwashing them could lead to damage, dryness, and breakage. Use a co-wash in between washes to keep your hair clean.
Is 3C hair low porosity?
3C hair can have low porosity. If your hair is usually dry and dehydrated, it has low porosity.
Is 3C hair natural hair?
Curly and coily hair types, like 3C hair, are called natural hair.
Does 3C hair shrink?
Yes, 3C hair does experience shrinkage.