How To Use Almond Oil To Help Control Hair Loss
Home remedies to help you reap the maximum hair care benefits of this wonder oil.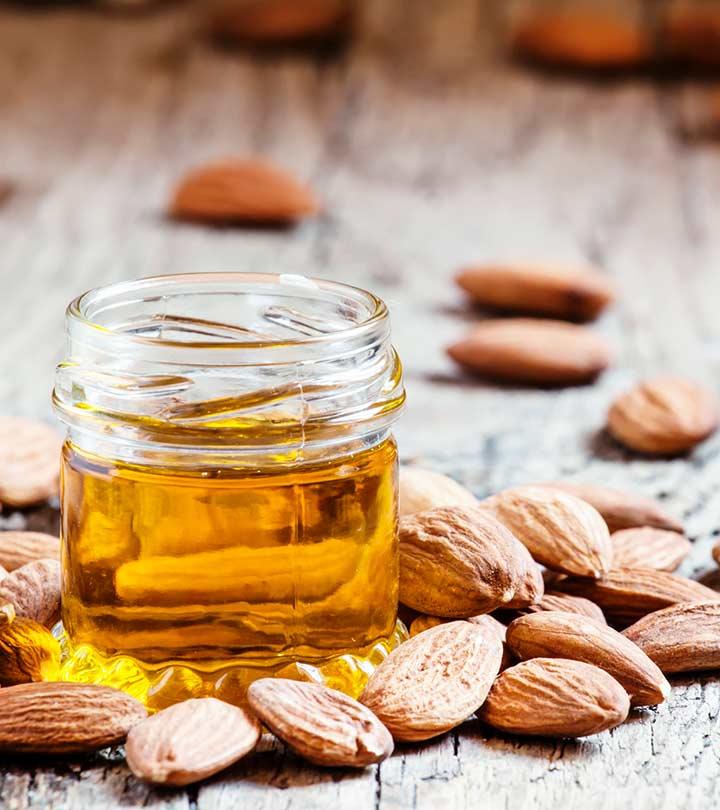 Let's talk about almond oil to control hair loss. If your hair is becoming thinner, you can improve it by following a proper hair treatment that includes the right elements. Almond oil is one such ingredient that can curb hair loss (1).
Almond oil softens, nourishes, and strengthens your hair. It also works as a very good cleansing agent (2). What role does almond oil have in hair growth? Continue reading to learn more.
Benefits Of Using Almond Oil For Hair Fall Control
Almond oil offers a multitude of benefits for hair health. This is because it has anti-inflammatory properties and is rich in fatty acids, such as omega-6, omega-3, and omega-9 fatty acids (3). It also contains vitamin E, which is known for its high antioxidant activity, and magnesium. Here's how these properties boost hair health and treat hair fall:
1. Nourishes Hair And Promotes Hair Growth
Almond extracts were shown to promote hair growth in rat studies (4). It contains minerals and proteins that stimulate hair growth while strengthening hair. Anecdotal evidence also shows that it makes hair soft while adding hair shine. Hair massage with almond oil works towards hair nourishment, increases hair thickness, and hair volume.
2. Repairs Damage
Almond oil manages damage caused by heat styling tools, such as blow dryers, straightening irons, and curling rods (5). It smoothes, hydrates, and strengthens the internal hair shaft to prevent further heat damage. It also helps heal chemically treated hair. This helps minimize hair breakage and increases hair strength.
3. Rich Content Of Antioxidants
The vitamin E present in almond oil is an antioxidant (6). It helps fight oxidative damage and may help boost hair growth (7).
4. Anti-Inflammatory
Almond oil has anti-inflammatory properties (8). These properties can help soothe an aggravated and irritated scalp. The abundance of pollution in our environment can lead to issues, such as itching, dandruff, and, in extreme cases, hair fall. The oil's anti-inflammatory properties help soothe these symptoms.
5. Improves Blood Circulation
Massaging almond oil into your scalp helps improve blood circulation. This ensures that your follicles are better nourished, so they can produce healthy hair.
6. Controls Oil Production
Hair fall is a common problem among people with oily hair. Anecdotal evidence suggests that almond oil helps calm the overzealous sebaceous glandsi  XSmall glands present in the hair follicles produce an oily substance called sebum that keeps the hair moist and prevents dryness. and controls oil production. It is also one of the lightest hair oils that successfully keep your hair conditioned without weighing it down, making it ideal for both oily and dry hair types.
One of the biggest reasons for hair fall is bad scalp health. A healthy scalp is the foundation for healthy hair. Using almond oil can restore scalp health and ensure healthy hair growth. It can also stimulate hair regrowth from dormant hair follicles.
Amy, a YouTuber, shared her positive experience with the transformative effects of almond oil on her hair. According to her, almond oil is her go-to solution for combating dryness, whether it's on the ends of her hair or her scalp. Showing visibly positive results on her own hair, which appears healthier, shinier, and more vibrant after incorporating almond oil into her routine, she said, "I really love doing this mask at least once a week; I highly recommend you guys giving it a try (i)."

Did You Know?
Almond oils come in two varieties: bitter almond oil and sweet almond oil. However, sweet almond oil is the oil that is most commonly recommended for use in hair care remedies.
Here are five ways to use almond oil for hair loss:
How To Use Almond Oil To Help Control Hair Loss
1. Almond Oil And Lemon Juice
The vitamin C in lemon juice helps boost collageni  XA protein present in the cartilage, bone, tendon, and hair follicles that provides the building blocks for creating new hair. production, which directly influences hair growth (9).
You Will Need
2 tablespoons almond oil
2 teaspoons lemon juice
Processing Time
35 minutes
Method
Mix the almond oil and lemon juice in a bowl.
Section your hair and apply the mixture to your hair and scalp.
Massage the oil into your scalp for at least 5 minutes and then wait for half an hour.
Rinse the oil off with a mild shampoo.
How Often?
You can repeat this up to 3 times a week.
Note: Lemon juice is acidic. Therefore, using it excessively or without diluting it can irritate the scalp.
2. Almond Oil And Egg
Eggs are packed with proteins that help nourish your hair follicles and aid hair growth (10). This pack also helps in hair frizz control for people who have dry, untameable hair.
You Will Need
4 tablespoons almond oil
1 raw egg
Processing Time
40 minutes
Method
Whisk the egg and almond oil until you get a smooth mixture.
Wash and dry your hair.
Apply the mixture to your freshly washed hair in sections.
Let it sit for 40 minutes and then rinse it out with shampoo.
How Often?
Use this hair mask once a week.
Note: Avoid using hot water while washing the mask out of your hair since it can cook the egg and make it nearly impossible to get the egg smell out of it.
3. Almond Oil And Yogurt
Yogurt helps keep your hair clean, conditioned, and damage-free (5). When combined with almond oil, it works to boost hair health while curbing hair loss.
You Will Need
1 cup yogurt
1 tablespoon almond oil
Processing Time
30 minutes
Method
Combine the almond oil and yogurt in a bowl and set aside.
Wash your hair and let it dry.
Apply the yogurt and almond oil mixture in sections.
Let it sit for 30 minutes and then rinse it out with a mild shampoo.
How Often?
You can use this hair mask up to 2 times a week.
4. Almond Oil And Olive Oil
Olive oil contains oleuropein, which induced hair loss in mouse studies (11). It also conditions your hair and enhances shine.
You Will Need
1 tablespoon almond oil
1 tablespoon olive oil
Processing Time
45 minutes
Method
Combine the oils in a bowl and massage it into your scalp.
After massaging your scalp for 5-10 minutes, work the oil downwards, along the length of your hair, to the tips.
Let it sit for an additional 30 minutes.
Wash off with a mild shampoo.
How Often?
You can repeat this 3 times a week.
5. Almond Oil With Banana And Honey
If your hair fall problem has stemmed due to dryness, this mask is one of the best ways to treat it. Banana and honey have emollienti  XSubstances or ingredients that create a thin, protective barrier that keeps the hair soft and moisturized. properties (12), (13). They can deeply condition your hair, leaving it feeling smooth and silky.
You Will Need
1 ripe banana
2 tablespoons almond oil
1 tablespoon honey
Processing Time
45 minutes
Method
Mash the banana until there are no lumps and add the honey and almond oil to it. Mix until all the ingredients are well combined.
Apply the hair mask in sections to freshly washed and dried hair.
Let it sit for 45 minutes.
Wash off with a mild shampoo.
How Often?
Use this hair mask once a week.


Quick Tip
Be careful not to use almond oil as a leave-in conditioner if you are about to use a heat styling tool on it. This oil makes hair more prone to burns at the hair ends and follicles.
While almond oil provides various benefits for hair, it's important to be aware of the potential side effects it may cause. Scroll down to read the possible downsides of this oil.
Side Effects Of Almond Oil For Hair
Using almond oil on your hair is generally safe and doesn't usually have any side effects. However, avoid applying pure almond oil before heat-styling your hair, as it can get hot and potentially cause burns on your scalp or hair shaft. Also, some individuals, particularly infants and pregnant women, may experience side effects like dermatitis, rashes, or itching (14). If you have a nut or almond allergy, steer clear of using this oil. If you notice any adverse effects, consult a doctor for proper treatment. If you are using hair treatments like minoxidil, please consult your doctor before pairing it with almond oil.
Infographic: 5 Benefits Of Almond Oil For Hair
Adding almond oil to your hair care routine may help strengthen your tresses and control hair loss. The antioxidant-rich oil cleanses your scalp and nourishes hair strands from within. It is rich in vitamin E and fatty acids that treat hair issues and boost hair health. Check out the infographic below to learn the 5 top benefits of almond oil for your hair.


If you are experiencing hair loss and looking for sustainable options, you can use almond oil to control hair loss. Almond oil is rich in essential vitamins, minerals, and antioxidants which benefit your hair in several ways. Its antioxidant and anti-inflammatory properties promote hair growth, boost blood circulation, control oil production, and repair hair damage. You can apply almond oil in combination with natural ingredients like lemon juice, egg, olive oil, banana, honey, or yogurt once a week to get smooth and shiny hair.
Frequently Asked Questions
Can we apply almond oil directly to the hair?
Yes. Rub a small amount of almond oil between your palms and massage it into the hair strands.
How long does almond oil take to work?
Anecdotal evidence suggests that almond oil takes two-three weeks of consistent use to show results.
Can I leave almond oil in my hair for 2 days?
No. Almond oil can clog your pores and attract dirt, making your scalp greasy and unhealthy.
Can we apply almond oil overnight?
Yes. You can leave almond oil in your hair overnight for deep hair hydration if you have a dry scalp.
Can I mix coconut oil with almond oil?
Yes. You can mix coconut and almond oils before applying them to your scalp.
Key Takeaways
Using almond oil for hair may give you thick, heavy, and strong tresses.
Almond oil massage may prevent hair breakage as it has anti-inflammatory properties.
This oil may encourage hair growth as it contains antioxidant properties.
Almond oil massage may increase blood flow to the scalp, which can boost nutrient delivery to the hair follicles.
Experience the magic of transforming thin hair into thick, luscious locks with almond hair oil. Watch the video below to unlock the secret.
Personal Experience: Sources
(i) Almond Oil for Hair Growth and Repair + How to Apply Almond Oil Hair Mask to Stimulate Hair Growth
https://www.youtube.com/watch?v=PIFw4kMBkzs
Sources
Articles on StyleCraze are backed by verified information from peer-reviewed and academic research papers, reputed organizations, research institutions, and medical associations to ensure accuracy and relevance. Check out our
editorial policy
for further details.
The following two tabs change content below.