Does Aloe Vera Work For Dandruff? Dandruff or seborrheic dermatitis is a common problem faced by most people. While the condition has several medical treatment options, alternative remedies are becoming popular thanks to safer, natural ingredients. One such natural remedy is aloe vera (1).
Aloe vera is rich in proteins, fatty acids, zinc, magnesium, and calcium. It also has vitamins A, E, and C. Its powerful nutrients may have a role to play in treating dandruff. But what does the research say? How does aloe vera work to reduce dandruff? We will answer all of these questions in this post. Keep reading.
Does Aloe Vera Work For Dandruff?
Aloe vera has anti-microbial properties (2). In a study, individuals with seborrheic dermatitis experienced relief from dandruff with aloe vera. The plant could effectively fight the Malassezia fungus that causes dandruff.
Aloe vera has also been used as an alternative natural treatment option to chemical-based shampoos.
But how do you use aloe vera to reduce your dandruff symptoms?
How Can Aloe Vera Be Used For Treating Dandruff?
Apply the aloe vera gel to the affected area. You can apply it in the form of a gel that you purchase from the market or extract the gel directly from the plant. Here is the step-by-step process of applying aloe vera gel to your hair:
Take the leaf of an aloe vera plant.
Scoop the gel out with a spoon. You may blend it with olive oil or coconut oil.
Rub the gel or the mixture directly into your scalp.
You can repeat the process 2 to 3 times a week or as required.
Using aloe vera for treating dandruff is simple. However, be informed that aloe vera may cause certain adverse effects. Remember to take due precautions before using it.
What Precautions Should Be Followed While Applying Aloe Vera For Dandruff?
Topical use of aloe vera gel may cause hives, skin irritation, and other allergies. You may experience these effects if you are already allergic to plants like onions and tulips that are part of the lily family (3). Do a patch test before using aloe vera on your scalp.
If you have purchased aloe vera gel from the market, ensure you follow the directions given on the product. Go for a brand recommended by your doctor. Choose a well-known brand to avoid any contamination in the form of other drugs or toxic metals.
While you can leave the aloe vera gel on your hair for an hour, can you do so overnight? Or would it cause any adverse effects?
Can I Leave Aloe Vera On My Hair Overnight For Treating Dandruff?
Yes, you can leave aloe vera gel on your hair overnight for treating dandruff. These are the steps to follow:
Apply the aloe vera gel to your dry hair at night.
Wear a hair cap to keep your pillow from getting stained.
Rinse your hair with water and shampoo, as usual, the next morning.
Final Words
Dandruff or seborrheic dermatitis is a common problem faced by many. Considering the harsh effects of chemical-based solutions, alternative remedies like aloe vera offer some promise. However, more thorough research is warranted to further understand the anti-dandruff effects of aloe vera. Hence, speak to your doctor before use. Also bear in mind that aloe vera may cause certain adverse effects. Do a patch test prior to use.
Expert's Answers For Readers' Questions
Can aloe vera be used for styling your hair?
Yes, aloe vera gel can be used for styling your hair. Here is how:
Add aloe vera pulp, a tablespoon of lemon juice, contents of a vitamin C capsule, and a few drops of moisturizing oil into a blender.
Pour the mixture into a jar and store it in the refrigerator.
Use the gel on your hair within three days.
Is it safe to consume aloe vera?
No, it is not safe to consume aloe vera for dandruff. It could cause diarrhea or kidney damage (3). Stick to topical use only.
How can fresh aloe vera gel be preserved?
You can preserve aloe vera gel by storing it in a refrigerator. But remember to use it within three days.
Recommended Articles
3 Sources
Articles on StyleCraze are backed by verified information from peer-reviewed and academic research papers, reputed organizations, research institutions, and medical associations to ensure accuracy and relevance. Check out our editorial policy for further details.
The following two tabs change content below.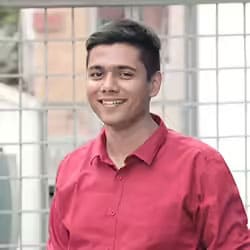 Ravi Teja Tadimalla is an editor and a published author. He graduated from SRM University, Chennai, and has been in the digital media field for over six years. He has a Professional Certificate in Food, Nutrition & Research from Wageningen University. He considers himself a sculptor born to chip away at content and reveal its dormant splendor. He started his career as a research writer, primarily focusing on health and wellness, and has over 250 articles to his credit. Ravi believes in the great possibilities of abundant health with natural foods and organic supplements. Reading and theater are his other interests.