Using Aloe Vera For Dark Spots On Your Skin: Tips And Precautions
Aloin content of this plant may reduce melanin production and decrease spots and marks.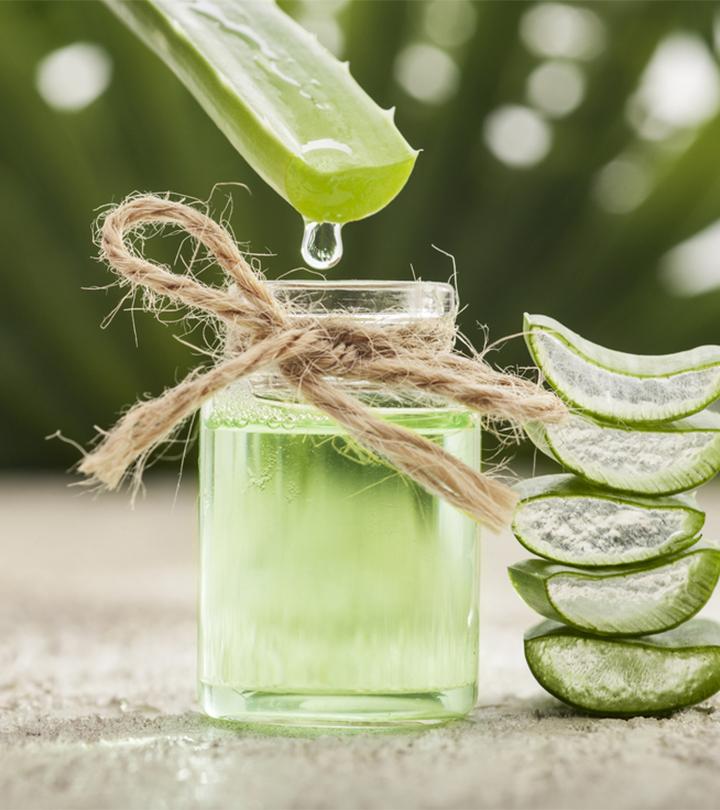 Can you use aloe vera for dark spots on your skin? Aloe vera is a plant that is used extensively in the skincare industry and it is also used quite frequently in home remedies. According to research, aloe vera leaves contain aloin that may be a potential depigmenting agent. Aloin helps in breaking down melanin and leads to the lightening of the skin (1). The study also suggests that further research is needed to prove its clinical use. This article will help you understand more about aloe vera's role in removing dark spots.
What Are Dark Spots?
Hyperpigmentation, otherwise known as dark spots or discoloration of the skin, is a common skin condition. This occurs in all skin types and is more prominent in people with light-colored skin. They are caused due to excessive production of melanin in the skin (2). Dark spots on the skin can also appear due to the photoagingi  XSkin damage incurred due to prolonged exposure to UV radiation. This causes collagen to break down and lead to premature aging. of skin or old age (3).
Dark spots can occur on any part of the body but are most common over the parts that are exposed to the sun. You can find them on your hand, face, back, and shoulders. Dark spots on your skin are harmless and do not require any treatment. People may choose to remove them for aesthetic and cosmetic reasons.


Trivia
Cameron Diaz and Kim Kardashian are some well-known celebrities who have dark spots (hyperpigmentation) on their skin.
So, how does aloe vera help with dark spots? Let's find out in the upcoming section.
How To Use Aloe Vera To Remove Dark Spots
In order to use aloe vera for dark spots removal, you can apply the fresh gel from the plant or store-bought aloe vera gel. If you want to use fresh gel from the plant, here is how you can extract it:
Process To Extract Aloe Vera Gel
Find a fully grown aloe vera plant and cut 2-3 thick leaves from it. Ensure you cut the leaves from the base of the plant.
The leaves should be green in color and must look fresh. Avoid using leaves if they have mold on them.
Using a scissor or knife, cut off the prickly edges.
Slit the leaves along their edges in such a way that they open up as a flap to reveal the gel.
Using a knife or a spoon, scoop out the gel and transfer it to an airtight container.
Now that you've extracted the gel or have got your hands on a store-bought gel, here is how to use it.
Process Of Applying The Gel
Wash your face with mild soap and lukewarm water and pat dry with a towel.
Apply a thin layer of the gel on the pigmented area and leave it overnight.
Rinse with lukewarm water the next morning.
Repeat this process till the dark spot disappears.
Since the research on the use of aloe vera for dark spots removal is limited, there is no definite time frame to tell how long it will take for the dark spots to disappear.


Quick Tip
You may also mix the gel with a few drops of lemon juice and use it for dark spots. However, wash it off after 5-10 minutes.
Apart from removing dark spots, aloe vera also offers many other benefits for the skin.
Other Benefits Of Aloe Vera For Skin
The use of aloe vera in skincare and beauty products can be traced back to the days of queens Cleopatra and Nefertiti. This cactus-like plant can do a lot of good for your skin. Let us find out in detail.
Aloe vera contains antiseptic agents like salicylic acid, lupeol, and nitrogen that help in preventing bacteria and fungi that cause infection. Applying aloe vera gel on small cuts and nick may help in preventing bacterial and fungal infection (4).
Moisturizing And Anti-aging Benefits
Aloe vera contains mucopolysaccharides that help in retaining the moisture of the skin. It also helps in stimulating fibroblasts that produce collagen and may help with dry skin. This makes the skin more elastic and less wrinkled, thereby, making it look youthful (4).
Aloe vera has been used in traditional medicine for centuries to treat wounds and skin conditions. Studies attribute aloe vera's regenerative properties to the presence of glucomannan which stimulates collagen production. Increased collagen amount in wounded areas is known to promote recovery (5).
Anti-inflammatory And Antimicrobial Effects
Aloe vera contains antioxidants, amino acids, and numerous other minerals that give it anti-inflammatory and antimicrobial properties. It can also help soothe rashes and allergic reactions caused by poison ivy.  Applying it to sunburnt skin can help relieve some of the pain and burning sensation. Its antimicrobial properties can also help relieve itching in cases of eczema (6).
Pamela Ross, beauty and lifestyle vlogger, tried fresh aloe vera for acne and dark spots and shared her experience in her vlog. She states, "The day after aloe vera treatment my skin is glowing, and it's healed there is no inflammation. Also, my skin is clean and smooth (i)."
Helps Treat Burns, Blisters, And Rashes
Studies suggest that it can help with the painful sensations caused by burns and blisters on the skin. Applying aloe vera gel may also help reduce the stinging sensation caused by herpes. Aloe vera juice may be effective in alleviating the symptoms of warts, eczemai  XA condition that leads to dry, irritated, and itchy skin, usually caused by environmental factors or allergens. , and psoriasisi  XA skin condition that occurs when the body's immune system attacks itself and causes the skin to develop patches. (6).
May Reduce Radiation-Induced Dermatitis
Using aloe vera lotion on the skin prior to cancer radiation therapy may help reduce the intensity of radiation-induced dermatitisi  XA broad term for various skin irritations that cause rashes, itching, or blisters. It is often triggered by stress and allergens. . A study suggested that the intensity of dermatitis was lower in patients who use aloe vera gel on irradiated areas of the skin (7).
While aloe vera has some great benefits and may improve the skin complexion, it may have a few downsides too. Let us find out in the next section.
Possible Side Effects And Safety Precautions To Be Considered Before Using Aloe Vera
There is very limited research to point out the side effects of aloe vera on the skin. Using aloe vera gel on the skin is generally harmless. In a few rare cases, it may cause skin rashes and may aggravate contact dermatitis (8).
Aloe vera-based cosmetics are not fully regulated by the USFDA. This means that you need to be careful about the products that you are buying. There are chances of buying counterfeit aloe vera gels that may cause adverse reactions. One way to ensure buying genuine aloe vera-based beauty products is to look for the seal of the International Aloe Science Council (IASC).
Using aloe vera for dark spot removal is only one among various remedial options.
What Are The Other Remedies To Treat Dark Spots?
You can choose from two broad categories of remedies to treat dark spots. You could opt for simple cosmetic procedures or you could try a few home remedies.
If you chose to go with cosmetic procedures, here are a few options that are available.
This is a popular choice to remove dark spots. Pulse laser light is used to target and break up the melanin that is causing the dark spot.
Liquid nitrogen is used to target the dark spots and freeze them. This injures the skin, during recovery the skin lightens and the dark spots disappear.
Your dermatologist may recommend skin-lightening creams that contain hydroquinone as the active ingredient. Hydroquinone-based creams are considered the standard prescription cream for treating hyperpigmentation. This cream helps in the depigmentation of the skin, causing it to lighten and get rid of dark spots (9).
If you are looking at home remedies as an alternative to cosmetic procedures, you can try the following:
Studies suggest that apple cider vinegar may help reduce pigmentation and lighten the skin (10). Here's how to use it:
Mix 2 teaspoons of apple cider vinegar and 2 teaspoons of water.
Apply to the affected area and leave it on for 2-3 minutes.
Rinse with warm water and repeat every day till you see results.
There is some evidence to suggest that green tea extracts may contain polyphenolic compoundsi  XNaturally occurring compounds that help improve brain function, aid digestion, and prevent cancer. that may help in depigmentation. However, further research is required to substantiate this (11).
Vitamin C is a potent antioxidant known for its ability to brighten and even out the skin tone. It inhibits melanin production and effectively reduces the appearance of dark spots, hyperpigmentation, and age spots (12). Opt for a face serum or cream enriched with vitamin C for visible results.
A chemical peel can effectively address dark spots by exfoliating the outer layer of the skin to reveal a more even complexion. Chemical peels containing alpha-hydroxy acids (AHAs) or beta-hydroxy acids (BHAs) can target hyperpigmentation and promote skin cell turnover. They are not only effective for dark spot reduction, but also help with skin conditions like acne, melasma, and scarring (13).
Infographic: A Simple Guide To Using Aloe Vera For Dark Spots On Your Skin
This popular plant has been used for centuries due to its beautifying and nutritional properties. From promoting supple skin to diminishing dark spots, aloe vera has taken its deserving spot in the skincare world. While you might know its benefits, the correct application is key to making these natural remedies work. Check out the infographic below to understand how to apply aloe vera gel correctly and the possible precautions you must keep in mind.


Hyperpigmentation, sometimes known as dark spots or blemishes, is a frequent but innocuous skin condition. It is more noticeable in those with light skin and results in the appearance of black spots on the skin. Aloe vera is a common remedy for removing dark spots that you can try. Aloin, a pigment found in aloe vera, offers skin-lightening characteristics that can help you get rid of dark spots and even out your skin tone. Aside from aloe vera, you can try some other cosmetic procedures and home remedies to help erase black spots, such as utilizing green tea extracts or apple cider vinegar.
Frequently Asked Questions
Can aloe vera remove blackheads?
No. Aloe vera cannot remove blackheads. However, using aloe vera may help prevent acne breakouts.
Is aloe vera good for under eyes?
Yes. Aloe vera has hydrating properties and feels soothing on the skin. It may help keep the undereye area soft and hydrated.
Is aloe vera suitable for all skin types?
Yes, aloe vera is generally suitable for all skin types. However, in rare cases, it may cause allergic reactions for sensitive skin.
Can aloe vera be used in combination with other ingredients for better results?
Using Aloe vera can be combined with a good skincare routine, healthy diet, and exercising, for better results. It is better not to use various ingredients on your face while using aloe vera to avoid any skin reaction.
Can aloe vera completely remove dark spots, or will they only fade?
The effectiveness of aloe vera in treating dark spots may depend on many factors including individual skin type and the severity of the dark spots. Overall, aloe vera can be a helpful natural remedy, but it may not remove the scar completely, as some dark spots may require aggressive treatments like laser therapy or chemical peels.
Can aloe vera help prevent future dark spots from appearing?
Aloe vera has natural antioxidants, such as vitamins E and C, which may help prevent the damage caused by free radicals. This may help prevent any future dark spots from appearing. However, more research is needed to confirm the claim.
Should I consult a dermatologist before using aloe vera for dark spots?
Yes, it is ideal to consult your dermatologist before starting any treatment on your skin.
Can I use aloe vera on sensitive areas, such as around the eyes or lips?
Aloe vera is generally safe to use in sensitive areas.However, it is better to do a patch test and see how it reacts on your normal skin before proceeding to use it on sensitive areas.
Key Takeaways
Dark spots are formed when melanin production in the skin shoots up.
Aloe vera gel can break down this pigment to ensure clear skin.
The gel also has moisturizing, anti-aging, and wound-healing properties.
However, it is unclear how long aloe vera takes to lighten dark spots, owing to limited research.
Fresh aloe vera from your garden can be a powerful and pocket-friendly solution for acne and dark spots. Watch this video to see how it can transform your skin.
Personal Experience: Source
i. I used fresh ALOE VERA for acne & dark spots…This is what happened!! – pt. 1
https://www.youtube.com/watch?v=DkP3MiIkeQc
Sources
Articles on StyleCraze are backed by verified information from peer-reviewed and academic research papers, reputed organizations, research institutions, and medical associations to ensure accuracy and relevance. Read our editorial policy to learn more.
The following two tabs change content below.