Aloe Vera For Weight Loss: How To Juice It, Recipes, Safety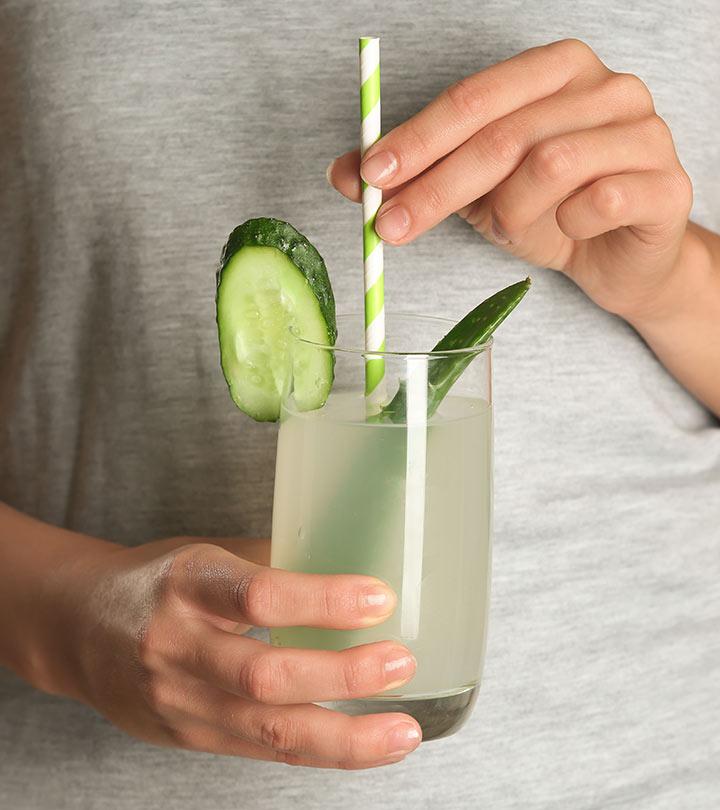 Aloe vera is a powerful natural ingredient for weight loss. The gel in aloe vera leaves contains antioxidants and has anti-inflammatory properties (1).
The aloe vera juice from the gel helps maintain normal body weight, blood sugar, and cholesterol levels (2).
In this article, you will know how aloe vera aids weight loss. You will also learn how you can prepare the juice and certain precautions you need to keep in mind.
Aloe Vera For Weight Loss
How Does Aloe Vera Help In Losing Weight Effectively?
Listed below are the ways the juice can aid weight loss.
Aloe vera juice is good for people with diabetes. Drinking aloe vera juice helps reduce high blood sugar, bad cholesterol, and serum triglyceride levels. It also helps people with insulin resistance and non insulin-dependent diabetes mellitus (3).
Aloe vera's anti-inflammatory properties induce positive effects on the gastrointestinal system, which, in turn, promotes metabolism (3).
Regular intake of aloe juice helps boost metabolism by easing issues like acid reflux, ulcers, etc., and regulating bowel movements. You may be able to burn calories much faster, thereby accelerating the process of weight loss.
The vitamin B content of aloe vera plays a key role in enhancing metabolism. This could prevent the build-up of fat and even help curb appetite, which can help in weight loss efforts.
Aloe vera is a natural laxative. Daily consumption of its juice can lead to better digestion. Healthy digestion leads to the proper functioning of your large intestine, a clean colon, and a healthy stomach (3). Kick-start the day with a glass of aloe juice or consume it right before exercising.
Naturally Detoxifies Your System
Aloe vera is a good source of polysaccharides and powerful antioxidants. It strengthens the immune system and prevents the growth of free radicals inside the body. Its juice keeps the internal system toxin-free. A cleansed body is necessary for healthy weight loss (1).
Aloe vera can help in lowering the glucose levels in our bloodstream. This restricts the accumulation of fat by slowing down the rate of sugar absorption. It also keeps us full for a long time, thereby preventing overeating.
Aloe vera contains an abundance of essential vitamins, minerals, amino acids, and fatty acids. It can easily meet your regular requirement of nutrients even if you are religiously following your weight loss diet.
How To Prepare Aloe Vera Juice
Taking aloe vera juice to complement your weight loss efforts is a good idea. Here is how you can make the juice at your home. Aloe vera juice is made from fresh aloe leaves. It is a simple three-step process:
Cut 4-5 aloe vera leaves and wash them thoroughly.
Remove the upper skin of the leaves to expose the gel. Use a mixer to grind it.
Strain the juice and refrigerate it.
If you find raw aloe vera bland, you may try the following recipes:
How To Consume Aloe Vera – 8 Recipes
It is recommended to drink one teaspoon of aloe vera juice every day, 15 minutes prior to a meal.
The course of consuming aloe vera juice for weight loss should be followed for a week or two. Although healthy, it is advised to consult a doctor before consuming the juice.
There are a number of ways in you can include aloe vera in your weight loss routine. These will help you enjoy the maximum benefits of this healing plant.
1. Plain Aloe Vera Juice
Take some fresh aloe vera leaves and clean them thoroughly.
Cut them down along their length to remove the thorny edges.
Remove the upper layer of the leaves carefully and scoop out the gel-like substance.
Grind it well and filter the juice. Refrigerate it.
Dilute 1 teaspoon of refrigerated aloe vera juice in a glass of water before drinking every day.
2. Plain Aloe Vera Gel
If you wish, you can consume the fresh aloe gel too.
Take a fresh aloe vera leaf and clean it.
Remove the thorny sides and the upper layer of the leaf.
Scoop the gel out and consume 1 teaspoon of it daily.
3. Aloe Vera Juice With Fruit/Vegetable Juice
Take a glass-full of fruit or vegetable juice.
Pour ¼ glass of fresh aloe vera juice into it and mix well.
Consume the mixed juice every day to get rid of excess body weight.
Mixing the juices will tone down the awkward taste of aloe.
4. Aloe Vera And Lemon Juice
Mix 1 cup of water (8 fl ounces) with 1 tablespoon of fresh aloe juice.
Squeeze the juice of a fresh lemon into it.
Stir well and drink it every day.
If you wish, you can add any artificial sweetener to this mixture to neutralize its bitter taste.
5. Aloe Vera With Honey
Both aloe vera and honey are good for weight loss. Hence, you can take this mixture to accelerate your weight loss efforts.
Mix 1 tablespoon of honey with the diluted aloe juice.
Consume a glass of honey and aloe juice every day.
This mixture tastes good, and you can consume it without adding any artificial sweetener.
Aloe Vera Smoothies
Aloe vera smoothies are a lip-smacking way of including the goodness of aloe in your diet. Here are a few recipes you can try:
6. Aloe Vera – Kale Smoothie
Take 1 tablespoon of fresh aloe vera gel and toss it into a blender.
Add 3 to 4 kale leaves (cut into small pieces) and a little water to the blender. Blend well.
Add a few dry fruits, chopped ginger, and a dash of salt. Blend again.
Strain and drink.
7. Aloe Vera – Blueberry Smoothie
Add 2 tablespoons of fresh aloe vera gel, ½ cup of blueberries, 1 tablespoon of chia seeds, 1 tablespoon of grated coconut, and a few mango chunks to a blender.
Blend until you achieve a smooth and creamy consistency. Pour the mixture in a glass and drink.
8. Aloe Vera Smoothie with Fruits and Cucumber
Add 2 tablespoons of fresh aloe vera gel, 1 small peeled and cubed cucumber, 2 peeled oranges, juice of half a lime, ½ a cup of coconut water, ½ a teaspoon of spirulina powder, and a few ice cubes to a blender.
Blend well, pour it in a glass, and drink it.
Before you start consuming aloe vera juice for weight loss, you also need to know the possible side effects this health drink may cause.
Side Effects
Aloe vera juice is often termed a miracle drink. But it also has certain side effects:
Conclusion
Taking aloe vera juice for weight loss is a smart choice. However, consult a doctor beforehand to understand the right dosage for you. For faster weight loss, you may try intermittent fasting or the 8-hour diet. These are non-restrictive and will keep you active.
Frequently Asked Questions
Is it good to drink aloe vera juice every day?
Yes, you may drink aloe vera juice every day. But consult your doctor before you do so.
Can aloe vera reduce belly fat?
Yes, aloe vera juice works on the overall body, thereby helping you shed belly fat as well. You must also do these exercises and eat these foods to achieve a flat tummy.
When should I drink aloe vera juice?
You can drink aloe vera juice in the morning before breakfast.
4 sources
Articles on StyleCraze are backed by verified information from peer-reviewed and academic research papers, reputed organizations, research institutions, and medical associations to ensure accuracy and relevance. Check out our
editorial policy
for further details.
Recommended Articles
The following two tabs change content below.