14 Best Aloe Vera Skin Care Products For Every Skin Type – 2022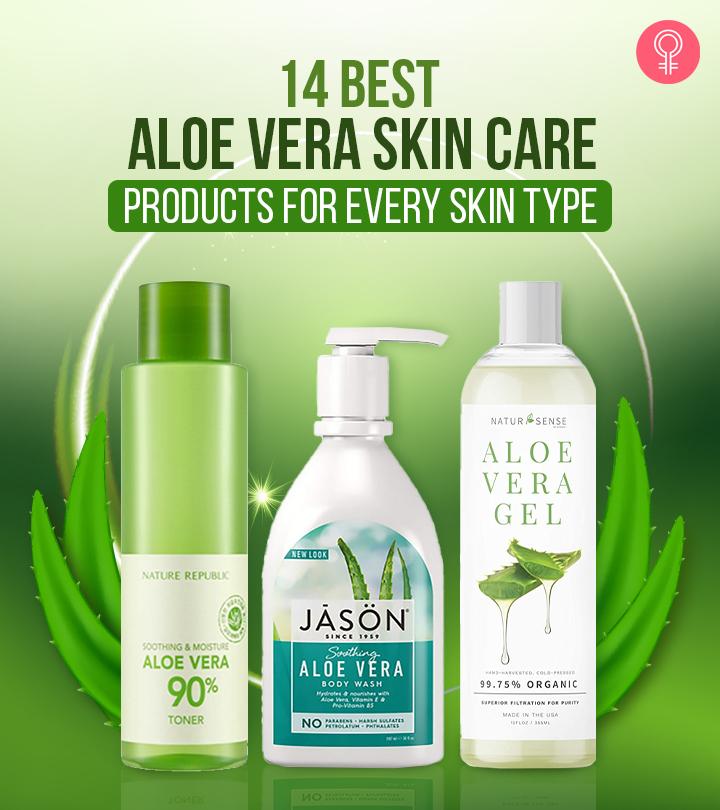 Aloe vera is a magical ingredient that works wonders for almost every skin type. Its excellent healing properties soothe dry and inflamed skin, while its natural humectant properties condition the hair. Aloe vera is often used as a primary ingredient in beauty products meant for managing acne, hyperpigmentation, scars, and sunburns.
If you want to reap the benefits of this ingredient, look no further! This article lists the 14 best aloe vera skin care products for every skin type. Scroll down to find the right product for you!
14 Best Aloe Vera Skin Care Products
This luxurious soap from Aspen Kay Naturals is made via the cold process method to retain the healing properties of the ingredients. It is fortified with organic calendula, chamomile, and olive oil to give your skin a soothing effect and keep it firm. Aloe vera's antioxidant properties improve the skin's natural firmness and elasticity. The natural formula contains refreshing essential oils that give the soap its uniquely pleasant smell.
Pros
Pleasant aroma
Long-lasting
Non-irritating
Lathers well
Organic
Gluten-free
Cruelty-free
Vegan
Cons
Expensive
Not suitable for sensitive skin.
The Aloe Facial Cleansing Foam from HolikaHolika is lightweight and non-sticky with excellent cleansing properties. It is enriched with a high concentration of Jeju aloe vera leaves that soothe and moisturize the skin. This mild cleanser has smart cleansing particles that melt dead skin cells and dissolve makeup and impurities from your skin without leaving any residue.
Pros
Hypoallergenic
Smells good
Alloin-free
Sulfate-free
Dermatologist-tested
Cruelty-free
Cons
Sticky
May cause rashes and breakouts.
The facial scrub from Anthony is a gentle and effective exfoliant that removes dirt and grime lodged deep in the skin. It has Bora Bora white sand to exfoliate dead skin cells and aloe vera, algae, and chamomile to refresh the skin from within. Vitamin C protects and brightens the skin. This scrub helps eliminate ingrown hairs and makes your skin soft and smooth.
Pros
Dermatologist-tested
Mild fragrance
Non-drying
Paraben-free
Phthalate-free
GMO-free
DEA-free
Cons
This skin care set from Nature Republic includes a toner and emulsion to soothe dry skin. The hydrating toner contains 90% aloe vera extract to balance your skin's pH level. The emulsion contains a higher concentration of aloe vera gel that keeps your skin soft and supple without making it feel sticky. The products are quickly absorbed into your skin without leaving it oily.
Pros
Lightweight
Quick-absorbing formula
Nice fragrance
Non-irritating
Cons
None
This refreshing body wash from JASON is infused with natural ingredients to give your skin a soothing effect. The combination of aloe vera juice with vitamin E, vitamin B5, and sunflower seed oil leaves your skin smooth and calm. This biodegradable formula is designed with skin-safe ingredients that do not overdry the skin.
Pros
Paraben-free
No harsh sulfates
Phthalate-free
Petrolatum-free
Cruelty-free
Cons
The organic aloe vera gel from NaturSense is extracted via the cold-pressed method. It is formulated with potent ingredients like vitamins, minerals, proteins, and enzymes that enhance your skin and hair health. You can use this product as a first aid to treat insect bites, minor burns, or skin irritation.
Pros
Non-sticky
Smells good
Colorant-free
Fragrance-free
Gluten-free
Cruelty-free
Aloin-free
Cons
May cause breakouts and rashes.
InfiniteAloe is a unique moisturizer suitable for dry skin. The non-greasy formula contains 30 botanical extracts and goes deep into the skin for intense hydration. The cream is infused with chamomile, calendula, and ginseng that reduce blemishes and impart a radiant glow. Green tea, rosehip oil, and yucca diminish the visible signs of aging and make your skin younger-looking skin. The moisturizing formula is safe for all skin types.
Pros
Lightweight
Quick-absorbing
Hypoallergenic
Non-comedogenic
Paraben-free
Phthalate-free
Sulfate-free
Petrochemical-free
Fragrance-free
Cons
The unscented Pure Aloe Vera Skin Treatment from Made From Earth is a potent formula created from high-quality aloe vera extract. This vitamin-rich formula provides deep moisturization and protects your skin from environmental damage. It is infused with rooibos tea, olive oil, vitamin E, and avocado that soothe and hydrate your skin and keep it healthy.
Pros
Non-irritating
Smells good
Dermatologically tested
Paraben-free
Cruelty-free
Cons
Small quantity for the price.
This product is a multipurpose body spray for your skin, hair, and nails. It helps improve the appearance of wrinkles, blemishes, and acne. You can spray a few pumps of this spray on your hair to reduce frizz and dandruff. It works great as an aftershave to relieve itchiness. This plant-based product is infused with the goodness of quality-based aloe vera grown in certified fields of the USA.
Pros
Mild scent
No residue
Long-lasting
Quickly absorbed
USDA certified
Tested by cosmetologist
No added water
Alcohol-free
Cons
The Banana Boat Sunscreen Lip Balm is infused with a broad-spectrum SPF 45 to protect the lips from UVA and UVB rays. It prevents sunburn and cracks and keeps your lips smooth and supple for an extended period.
Pros
Recommended by the Skin Cancer Foundation
Suitable for daily use
Suitable for sensitive skin
No white cast
Cons
The Aloe & Coconut Oil After Sun Soother from Burt's Bees is a quick-absorbing lotion formulated to recondition your skin. The unique blend of aloe and coconut oil hydrates dry skin, while the antioxidants and nutrients heal sunburns. The intensely nourishing ingredients keep your skin refreshed and smooth.
Pros
Quick-absorbing
Mild fragrance
Cruelty-free
Paraben-free
Phthalate-free
SLS-free
Petrolatum-free
Cons
The Dr Adorable Aloe Vera Oil has hydrating and healing properties that deeply nourish your skin. It contains vitamins C and E and zinc to stimulate the epidermal tissues and enhance blood circulation. This lightweight oil helps in conditioning and reviving your hair follicles. It can also be used as a massage oil for a therapeutic experience.
Pros
Lightweight
Organic
Non-GMO
Cruelty-free
Cons
None
These soothing facial wipes from Yes To Cucumber are packed with all-natural green ingredients that act as superfoods for the skin. They refresh and rejuvenate your skin while removing dirt, sweat, and makeup without having to rinse. A pack contains 30 wipes.
Pros
Lightweight
Biodegradable
Hypoallergenic
Oil-free
Non-comedogenic
Cons
May sting the face.
Strong fragrance
This face cream helps in fighting night-time dryness. It contains hyaluronic acid and aloe gel that keeps your skin hydrated and helps regenerate skin cells. The formula also contains galactoarabinan and plum kernel oil that diminish the loss of water from your skin and nourish it. This product leaves your skin soft and smooth.
Pros
Lightweight
Absorbed quickly
PEG-free
Cruelty-free
Paraben-free
Vegan
Cons
Expensive for the quantity.
Why Trust StyleCraze?
The author, Shiboli Chakraborti, is a certified skin care coach who gives you the scoop on the most effective products to help you achieve beautiful skin. She believes that adding aloe vera in your beauty regimen will help you achieve healthy and nourished skin. She has curated this list of the best aloe vera skin care products after carefully checking the most popular options on the market. She checked the brand websites and evaluated online user reviews and feedback to shortlist the products.
Frequently Asked Questions
Does aloe vera gel remove dark circles?
Aloe vera is rich in antioxidants, and its natural properties help in lightening dark circles.
Does aloe vera gel increase facial hair growth?
No, aloe vera does not increase facial hair growth.
Recommended Articles