Does Alpecin Shampoo Work? Side Effects And Benefits
Use the hair product carefully as it may cause reactions like hair fall and discoloration.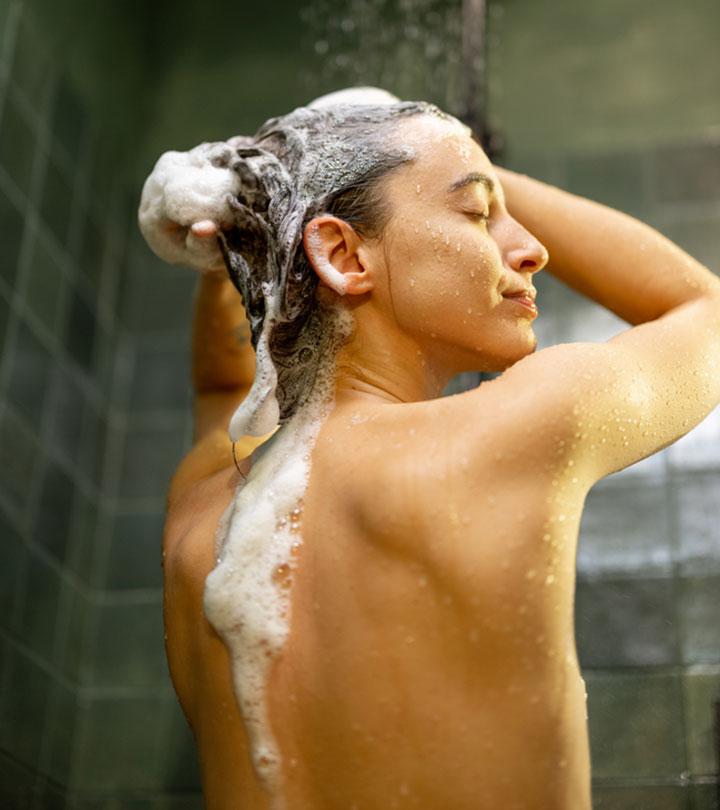 One of the many caffeine-based hair products garnering popularity fast is the Alpecin Shampoo. This brand claims to not only aid hair strengthening but also promote hair thickening and make your tresses shiny. Most caffeine-based shampoos also claim to stimulate hair growth and reduce hair fall. But we are here to separate the truth from fiction. Read on to understand the benefits of using Alpecin and also its side effects.
Alpecin For Hair: How It Works
The main ingredient of Alpecin shampoo is caffeine. Studies have found that caffeine might stimulate hair follicles and promote hair growth in people with androgenic alopeciai  XA genetic disorder characterized by hair loss from the front of the scalp caused by a sensitivity to androgens (male sex hormones). . It can penetrate the hair follicles faster when applied topically via shampoos (1), (2). This explains why Alpecin may work for hair growth.
Scalp health is also a crucial factor in promoting healthy hair growth. Alpecin also addresses scalp issues like dandruff (Alpecin Double Effect Shampoo). It contains piroctone olamine, an antifungal ingredient that controls the proliferation of Malassezia globosa, a yeast-like fungus that causes dandruff (3).
Alpecin shampoo contains piroctone olamine, an antifungal ingredient that helps control hair fall and reduces dandruff. This graph portrays the effect of piroctone olamine-containing shampoo on hair fall reduction.
Use of Piroctone Olamine-containing shampoo to reduce hair fall
Source: Scalp application of the antioxidant piroctone olamine reduces hair shedding in an 8‐week randomized, double‐blind, placebo‐controlled clinical study
If you have been thinking of using Alpecin for your hair fall issues, take a look at the benefits it may offer.
Benefits Of Alpecin Caffeine Shampoo
1. May Promote Hair Growth
The active ingredient in Alpecin shampoo is caffeine that may stimulate the hair follicles and promote hair growth. However, there is not enough evidence available to prove that caffeine promotes hair growth.
2. Strengthens The Roots
The caffeine in Alpecin helps strengthen the roots and reduce hair breakage.


Quick Tip
Mix a teaspoon of aloe vera gel with Alpecin shampoo to enhance its beneficial effects.
3. Minimizes Scalp Issues
Dandruff can affect the scalp's health and weaken the hair roots. Scratching can also injure the scalp and affect the hair roots. Alpecin shampoo can resolve scalp issues like dandruff, itchiness, and irritation.
While Alpecin is safe to use, it may cause several side effects. Let's take a look at them.
Side Effects Of Alpecin
1. Hair Thinning And Hair Fall
While many users have claimed to reap benefits from Alpecin, others reportedly experienced hair fall. The shampoo contains synthetic preservatives like methylparabeni  XA chemical with antifungal properties used as a preservative in pharmaceutical and cosmetic products to prolong their shelf life. , propylparabeni  XAn antimicrobial agent also used as a preservative in many personal care products that may cause severe, long-term side effects. , and phenoxyethanoli  XA chemical used as a preservative and stabilizer in cosmetic products that may cause severe, fatal allergic reactions. , which may cause scalp irritation and affect its overall health. Moreover, it may cause allergic reactions like itching, redness, and burning sensation if you are allergic to caffeine.
2. Discoloration
Long-term use of caffeine shampoo may fade the hair color and cause browning. If you have color-treated hair, you may avoid caffeine shampoo.
3. Reduced Efficacy
Anecdotal evidence suggests that long-term use of caffeine shampoo may eventually produce less effective results. If you have been using caffeine shampoo for hair growth for a long time, it may stop showing results after a while.


Did You Know?
Alpecin shampoo should not be used by children. It may aggravate hair fall and cause damage due to their sensitive scalp.
If you want to give Alpecin a try, here is how you can use it.
How To Use Alpecin
Apply the shampoo to wet hair.
Gently massage for 2-3 minutes in a circular motion.
Leave it on for another 2-3 minutes.
Wash off with regular water.
Infographic: DIY Caffeine Shampoo Recipes For Hair Growth
Despite the positive effects of caffeine shampoos, it might be challenging to find chemical-free alternatives. However, there is good news. You can enjoy the benefits of caffeine with simple DIY remedies. Check out the infographic below to learn easy DIY caffeinated shampoo recipes that will leave your hair glossy, healthy, and lustrous!



Alpecin shampoo is a popular hair care product that works by stimulating the hair follicles, thanks to its caffeine content. This shampoo aids scalp care by acting against the dandruff-causing Malassezia fungus and reduces itching and irritation. While alpecin caffeine shampoo reviews are good, they may cause certain side effects, like hair thinning and hair fall, due to the presence of harmful chemicals. Moreover, people allergic to caffeine may experience itching and a burning sensation, while frequent use of caffeine-based shampoos can discolor your hair. Hair loss can also be a sign of a genetic issue or an underlying health condition, so consult a doctor if the problem persists.
Frequently Asked Questions
Should I use Alpecin every day?
Yes. Alpecin contains caffeine that is formulated to be effective for 24 hours at a time. As a result, it is advisable to apply it on a regular basis to maintain its efficacy.
How long does Alpecin take to work?
Anecdotal evidence suggests that Alpecin takes about 3-4 months to show visible results.
Can I leave Alpecin overnight?
No, leaving Alpecin on for more than 2 minutes may lead to temporary scalp redness in certain individuals.
Is Alpecin shampoo sulfate-free?
No. Alpecin C1 Caffeine Shampoo contains sodium laureth sulfate, a sulfate compound that acts as a surfactant/​cleansing and an emulsifying agent
Key Takeaways
Alpecin shampoo claims to be anti-hairfall as it contains caffeine, which is said to stimulate hair growth.
It also uses piroctone olamine to control dandruff.
However, in certain cases, it may cause issues like hair thinning as well.
This shampoo can only be used as a short-term treatment for hair loss.

Find out if your Alpecin caffeine shampoo can really reverse hair loss. Watch this video to learn some hidden truths that can help you make an informed decision on your next shopping trip.

Sources:
Articles on StyleCraze are backed by verified information from peer-reviewed and academic research papers, reputed organizations, research institutions, and medical associations to ensure accuracy and relevance. Check out our editorial policy for further details.
The following two tabs change content below.