13 Health Benefits Of Thyme, Nutrition, And Side Effects
This common herb has some uncommon properties - and they can make your life better.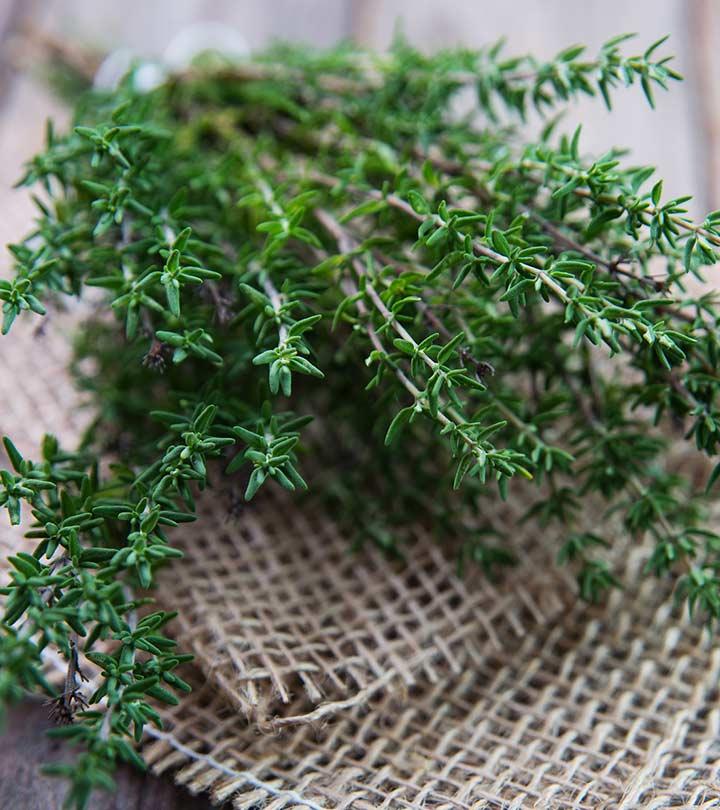 The benefits of thyme are fast becoming popular. This completely vegetarian herb inside your refrigerator or kitchen cabinets can positively affect your overall health. The intake of thyme may improve heart health, help fight cancer, treat inflammation, boost immune health, treat dyspraxia, and improve digestive health. It is easy to incorporate into one's diet. However, excess intake of thyme may cause some side effects. This post discusses thyme benefits and how you can enjoy them. Continue reading.

Know Your Ingredient: Thyme
What Is It?
A dried herb that belongs to the mint family and has a very distinct smell
What Are Its Benefits?
It may boost immunity and promote vision health due to its rich vitamin A and C content.
Who Can Consume It?
It can be consumed by anyone except those who are taking anticoagulant drugs.
How Often?
It can be consumed daily in moderation.
Caution
Excessive consumption might cause issues during pregnancy and breastfeeding.
What Is Thyme?
Scientifically known as Thymus vulgaris, thyme belongs to the mint family, and it is a relative of the oregano genus Origanum. A popular condiment, you might wonder 'is thyme a herb or spice?'. It is an evergreen herb and is used for medicinal, culinary, and ornamental purposes.
Also called 'thym' in French, 'thymian' in German, 'tomillo' in Spanish, and 'timi' in Indonesia, thyme is usually measured as sprigs – a sprig of thyme might give you half a tablespoon of leaves when peeled off. Of course, this again depends on the size of the stems. The word 'thyme' has been derived from the Greek word 'thumus', which means courage. Since ancient times, thyme has been associated with bravery and even used as a natural anti-depressant.
Thyme comes in different varieties as well. Here, we look at them in brief:
French or Common Thyme, which is the most common variety of thyme.
Red Creeping Thyme, whose tiny leaves have very little flavor or scent. Hence, it is mostly used for ornamental purposes.
Lemon Thyme, which is a spreading subshrub that can grow a foot tall. It is best used for cooking and is also one of the most fragrant of the lot.
Caraway Thyme, which is a creeper that grows 2 to 5 inches tall. It comes with pink flowers.


Did You Know?
Around 350 different species of thyme exist, mainly due to their proclivity to hybridize.
Thyme does have a rich history. Before we get to what is thyme good for, it is important we know about it.
What Is The History Of Thyme?
While the ancient Greeks used it as as incense in temples, the ancient Egyptians used thyme for embalming. The Romans went a little ahead and used thyme for flavoring their alcoholic beverages. It said that thyme was even offered as a cure for people who were shy or melancholic.
Hippocrates, also called the Father of Western Medicine, recommended thyme for respiratory ailments (way back around 370 BC). And when the black death invaded Europe in the 1340s, posies of thyme were said to have been worn for protection.
Thyme had also found its way into the classic and aromatic Benedictine liqueur developed in 19th century France.


Trivia
Roman emperors believed that eating thyme before or during a supper would protect them from poison. Some even claimed that a bath in thyme water would reverse the effects of poison.
Thyme was pretty much a big deal back then. And it still is today. But wait, before we head to the most important part of this post, there is something else we need to address.
Thyme Vs. Oregano – What's The Difference?
Thyme and oregano are cousins. Or close brothers, probably. Because the similarities are striking. But there are a few differences too.
Thyme 
Richer in vitamins A and C.
Stimulates appetite.
Commonly taken orally for treating conditions, such as asthma, bronchitis, whooping cough, arthritis, and colic.
Oregano 
Richer in potassium, calcium, and iron.
Used for disorders of the GI tract, such as indigestion, gas, bloating, diarrhea and heartburn.
May soothe menstrual cramps and headaches and certain heart conditions.
Now, coming to why we talk what we talk about thyme – it's the benefits, obviously. The herb is made of some of the most powerful nutrients.
What Is The Nutritional Profile Of Thyme?
Thyme (Dried)
Nutrition Facts
Serving Size 1 tsp of ground
Amount Per Serving
Calories from Fat 1 Calories 4
% Daily Values*
Total Fat 0.1g
0%
Saturated Fat 0.038g
0%
Polyunsaturated Fat 0.017g
Monounsaturated Fat 0.007g
Cholesterol 0mg
0%
Sodium 1mg
0%
Potassium 11mg
Total Carbohydrate 0.9g
0%
Dietary Fiber 0.5g
2%
Sugars 0.02g
Protein 0.13g
Vitamin A 1%
Vitamin C 1%
Calcium 3%
Iron 10%
*Percent Daily Values are based on a 2000 calorie diet. Your daily values may be higher or lower depending on your calorie needs. Nutrition Values are based on USDA Nutrient Database SR18
of RDI* (4 calories)
Calorie Breakdown: Carbohydrate (70%) Fat (23%) Protein (7%)
* Based on a RDI of 2000 calories
One ounce of thyme contains about 28 calories, 0.5 grams of fat, 3.9 grams of fiber, 1.6 grams of protein, and 6.8 grams of carbohydrates. It also contains nutrients like zinc and copper. Other important nutrients in thyme are:
45 milligrams of vitamin C (75% of the adequate intake)
1330 IU of vitamin A (27% of the daily value)
5 milligrams of manganese (24% of the daily value)
113 milligrams of calcium (11% of the daily value)
45 milligrams of magnesium (11% of the daily value)
171 milligrams of potassium (5% of the daily value)
And finally, here's why you must include thyme in your daily routine.
What Are The Benefits Of Thyme?
1. Improves Heart Health
Studies are aplenty to back this up. The extract of thyme was found to reduce heart rate significantly in rats with high blood pressure (1). And we can expect similar results in humans as well. Thyme was also found to lower cholesterol levels.(2)
What you can do is replace salt with thyme in your meals. This can protect you from the ill effects of high blood pressure.
Another study states that thyme may help treat atherosclerosisi  XA condition wherein the narrowing of the arteries due to plaque buildup leads to reduced blood and oxygen flow to various organs. , a major form of cardiovascular disease (3).
2. Helps Fight Cancer
One Portuguese study had revealed that thyme may help prevent cancer, especially that of the colon. These properties can be attributed to its constituents – some of which include oleanolic acidi  XA compound found in many plants that has shown to reduce inflammation and may help improve insulin resistance. , ursolic acidi  XA compound commonly found in foods and herbs with benefits like reducing inflammation and cholesterol levels, and fighting viruses. , lutein, and beta-sitosteroli  XA plant-based compound that may help reduce cholesterol levels by decreasing the amount of cholesterol absorbed from food. (4).
Thyme also had a beneficial effect on breast cancer. The herb had shown to have positive effects on the treatment of breast cancer by potentially increasing cancer cell death.
Another major component of thyme essential oil that helps prevent cancer is carvacrol – one study found that carvacrol can inhibit the proliferation and migration of cancer cell lines. The compound exhibits therapeutic effects towards the treatment and possible prevention of cancer, especially colon cancer (5).
3. Treats Inflammation
Studies have shown that thyme oil can suppress COX-2, which is an inflammatory enzyme that leads to several inflammatory ailments. Carvacrol, the major chemical in the oil, was found to play a role in this (6). Carvacrol was found to suppress inflammation similar to resveratrol – another powerful compound in red wine that has been linked to several health benefits.
Another study talks about how carvacrol and another compound called thymol in thyme essential oil can fight inflammation (7). The oil is also used to ease the painful symptoms of arthritis and gout.
4. Boosts Immunity
Thyme is packed with vitamin C, and that explains everything. It also is a good source of vitamin A – both these nutrients help boost immunity and stop that oncoming cold right in its tracks.
Thyme also supports the formation of white blood cells, thereby boosting the immune system (8). It contains flavonoids whose anti-inflammatory properties also help boost the immunity. Given its mild scent and flavor, it can be used in a steam tent for help with cold and congestion (9).
Thyme can also accelerate wound healing. Its local application can help achieve this (10).
5. Aids In The Treatment of Dyspraxia
Also called Developmental Coordination Disorder (DCD), dyspraxia is a neurological disorder that affects movement. Thyme has been found to improve the symptoms of this disease, especially in children.
Thyme oil was also one of the oils used in a study to find the effects of essential oils in the treatment of neurological ailments like dyspraxia (11). And the results of the study showed promise.
However, we need more studies to form a concrete base in this regard.
6. Improves Digestive Health
Thyme is known to prevent the increase of harmful gases in the stomach, thereby boosting digestive health (12). This effect can be attributed to the volatile oils in thyme that offer carminative (reducing gas) properties. Thyme also works as an antispasmodic and helps relieve intestinal cramps.
7. Treats Respiratory Issues
Remember what Hippocrates told 2300 years ago? Yes. And we already discussed this. Thyme boosts immunity, and this helps treat most respiratory issues. And even otherwise, thyme has been used traditionally to treat respiratory ailments like bronchitis and cough. In fact, thyme has been approved by The German Commission E (a governmental regulatory agency) for its use in treating respiratory discomfort (13).
One study suggests the use of thyme and ivy leaves for alleviating cough and other symptoms of acute bronchitis (14). Drinking thyme tea the next time you have a cough or a sore throat can offer relief.
8. Helps Relieve Menstrual Issues
One study tells us how thyme may help in reducing the pain in dysmenorrhea (painful menstruation that involves abdominal cramps) (15).
9. Improves Vision Health
Thyme is rich in vitamin A, one nutrient particularly beneficial for vision health. The deficiency of vitamin A can lead to night blindness. Thyme might also help prevent other issues related to vision – including macular degenerationi  XAn eye issue that affects the macula and retina of the eye causing the central vision to become blurry. .
Studies show that thyme might have properties to improve your vision (16).
10. Enhances Oral Health
Studies have shown how thyme oil can help relieve infections of the oral cavity. The oil displayed great efficacy against bacteria that had grown resistant to antibiotics (17).
You can also use thyme as a mouthwash for maintaining your oral health. Simply add one drop of the oil to a cup of warm water. Swish in your mouth and spit it out.
As per another study, thyme oil can also act as an effective antiseptic treatment against oral pathogens (18). A few other oral issues thyme can help with are gingivitis, plaque, tooth decay, and bad breath. The antibacterial and antiseptic properties of thyme help achieve this. And thymol, the component in thyme, can be used as a dental varnish to protect the teeth from decaying.
11. May Help Relieve Headaches
The carvacrol in thyme gets the credit here. This compound inhibits COX2 (as we saw), pretty much like an anti-inflammatory drug. You just have to dab a few drops of thyme essential oil on your temples and forehead. Gently rub into your skin and stay put for a while until you feel relief.
Thyme oil can relieve stress – the antioxidants in it protect your cells from stress and toxins.
Thyme essential oil might also boost your mood if inhaled.
12. Improves Skin Health
Given its antibacterial and antifungal properties, thyme oil can protect your skin from related infections. It works as a home remedy for acne. The oil also heals sores, wounds, scars, and cuts. It even relieves burns and acts as a natural remedy for skin rashes.
Thyme oil may help reduce the symptoms of eczema as well – the embarrassing skin condition with dry and itchy scales that blister and crack. Eczema is often caused by poor digestion and stress – and since thyme improves the two conditions, it can help heal eczema as well.
And since thyme is high in antioxidants, it can slow down the aging process and give you healthy and glowing skin.
For treating acne, you can use thyme along with witch hazel. Steep the two in hot water for about 20 minutes. Then, use a cotton ball to apply to the affected areas. Wait for 20 minutes and then wash off with warm water.
13. Could Be Good For Hair
Thyme, when combined with other herbs, may promote hair growth. You can simply apply lavender oil mixed with thyme on your hair – certain studies show this method can improve hair growth in 7 months (19).
Thyme tea can also be used as a hair rinse as a cure for dandruff.
Any Tips To Use Thyme?
Thyme is safe when added to foods.
It can be taken as a medicine for short periods.
This can sometimes upset your digestive system, so steer clear if you are already experiencing any issues.
Thyme oil is safe to apply on the skin.
You can even use thyme for seasoning your dishes.
Avoid it if the oil causes skin irritation.
Thyme is also safe for pregnant and breastfeeding women in normal amounts, but make sure to check with your doctor first.
It should not be taken in doses larger than what are prescribed by your health care provider.
Oregano allergic people can also be allergic to thyme.
Avoid using thyme two weeks before surgery.
In case you are wondering how to pick the right kind of thyme the next time you head to the store, this is it.
How To Select And Store Thyme
Selection
Ensure you pick thyme that is not wilted, dried out, or bruised.
Storage 
You can store fresh thyme herb in a plastic bag in your refrigerator. You can also stand the thyme sprigs in a glass of water and put it on the refrigerator shelf.
And if you plan to use thyme for cooking, there are a few things to remember.
Any Tips On Cooking With Thyme?
Check out the following tips to learn how to cook with thyme:
Be aware that one fresh sprig of thyme is equal to half a teaspoon of dried thyme.
Ensure you crush the thyme leaves between your hands before you add them to your recipe. This helps release the beneficial oils in the leaves.
If you want to dry thyme, simply hang bundles of sprigs upside-down in a warm, dry, and airy area for about 10 days.
Store dried thyme in a cool and dark place. Or best – in an airtight container. Dried thyme must be stored for no more than 6 months.
It is recommended that you strip the leaves from the stems before using thyme in your recipes. This is because the stems can sometimes be woody. One easy way to do this is placing the stem between the teeth of a fork and pulling it in the direction opposite to that of leaf growth. Or you can simply use your fingers to pluck the leaves out.
Cooking with thyme is simple. Which is why we also want you to try these sumptuous recipes out.
Any Popular Thyme Recipes?
1. Honey-Mustard Glazed Salmon With Thyme
What You Need
¼ cup of Dijon mustard
¼ cup of whole-grain mustard
¼ cup of honey
1 minced garlic clove
2 tablespoons of soy sauce
1 ½ teaspoons of freshly chopped thyme
4 6-ounce skinless salmon fillets
Canola oil
Kosher salt
Freshly ground pepper
Directions
Take a medium bowl and whisk together the mustards, honey, soy sauce, garlic, and thyme.
Preheat a grill pan and oil it. Brush the salmon fillets with the oil and season with salt and pepper. Grill the salmon fillets (skinned side down) over moderate heat for 3 minutes. Turn the fillets and grill for 3 more minutes.
Brush both the sides of the salmon with the honey mustard mixture generously and grill for about a minute.
Transfer to a plate and serve.
2. Thyme Chicken Salad
What You Need
4 boneless and skinless chicken breasts (cut into strips)
The zest and juice of a lemon
A few sprigs of fresh thyme
3 tablespoons of oil
150 grams of mixed salad leaves (you will get them in a bag)
1 small halved and thinly sliced red onion
1 crushed garlic clove
A handful of pitted and halved black olives
Pepper and salt as required
Directions
To a bowl, add the chicken pieces, lemon zest, thyme, and black pepper and salt to taste. Mix well with your hands.
Heat one tablespoon of olive in a pan and fry the chicken for 10 minutes. Meanwhile, you can spread the leaves and onion over a large platter.
Add the garlic and olives to the pan and fry for another minute. Remove the pan from the heat and add the rest of the oil and lemon juice. Stir well.
Check the seasoning and then pour it over the chicken and salad.
Serve with crusty bread.
You can also prepare its tea. There are no complicated instructions to follow on how to make thyme tea. Simply steep the leaves in boiling water. Drain the leaves and have the tea.
How about having some fun? These thyme facts are sure to keep you entertained for a while.
Any Fun Facts About Thyme?
The ancient Egyptians used thyme herbs in mummification.
There are over 100 varieties of thyme.
The Greeks often said that someone 'smelt of thyme'. Well, they said that when someone appeared refined and stylish. In fact, they even sprinkled thyme in their baths.
Thyme was often placed in coffins to ensure passage to the next world.
In the Middle Ages, people placed thyme under their pillows to prevent nightmares during sleep.
There's one 17th century recipe containing thyme, which claims to enable people to see fairies.
In case you are wondering where to pick your favorite thyme sprigs from…
Where To Buy Fresh Thyme
A popular herb, fresh thyme can be purchased easily. You can get your sprigs from the local farmer's market or online. Dried thyme is available online. You can also buy thyme plants, seeds, and tea bags.
All great. But there are certain things about thyme that are not so great.
In medicinal amounts, thyme is fine in children. But we don't know how safe thyme oil is – whether taken orally or applied topically. So, avoid its use.
Issues With Pregnancy And Breastfeeding
It is safe when taken in normal food amounts. But we don't know what happens if thyme is taken in larger doses. So, stay safe and stick to small amounts.
Like most dark green plants, thyme contains vitamin K, which can slow down blood clotting. This might increase your risk of bleeding if taken in large amounts. This is why you also need to keep off from thyme at least two weeks before a scheduled surgery.
Infographic: Nutritional Profile And Benefits Of Thyme
Thyme is an evergreen herb and is one of the majorly used condiments in many dishes worldwide. It adds a slightly lemony and earthy flavor to the food. It is loaded with many beneficial nutrients that offer important benefits and is often used as an expectorant.
The following infographic provides information about the nutritional profile and benefits of thyme. Check it out!



Thyme is a herb related to the mint family, popular for its aromatic flavor. Rich in vitamin C and other essential nutrients, thyme has many therapeutic and medicinal properties as well. With its anti-inflammatory, antiseptic, and anti-bacterial properties, thyme benefits your respiratory, skin, digestive, and cardiac wellness while alleviating congestion, infections, and headaches. While this fragrant herb is versatile and beneficial, it is important not to overdo it in order to avoid any possible side effects.
Frequently Asked Questions
How to prepare thyme oil?
You just need half a cup of fresh thyme and 8 ounces of some carrier oil (like olive oil). Wash the herbs and then pat dry them. Crush them using a pestle and mortar – this releases their natural oils. Now, add the crushed thyme, its oil, and the olive oil to a saucepan. Simmer over medium heat for about 5 minutes. Allow the mixture to cool. Pour it into a glass container and store in a cool and dry place.
Any substitute for thyme?
Oregano, any given day.
What is the use of thyme-infused water?
Thyme water benefits are pretty much like thyme tea. It offers the same benefits as thyme does.
What is the recommended dosage of thyme tincture?
One-third to one teaspoon, thrice daily.
What does thyme taste like?
Thyme has a slightly minty flavor.
Does thyme make you sleepy?
No, thyme doesn't make you sleepy. But it has anxiolytic and sedative properties that help you relax (20).
Is thyme good for your kidney?
Yes, thyme extracts have shown to help manage renal toxicity associated with oxidative stress thanks to their high antioxidant activity that promote renal health (21).
Key Takeaways
Thyme improves heart health, boosts immunity, and treats headaches.
Dandruff and hair loss are two common problems that can be treated naturally using thyme oil.
You can add thyme to salads, meats, and soups.
Excess consumption of thyme can slow down blood clotting and trigger issues with estrogen.
Sources
Thyme is more than a garnish or herb. Discover 9 amazing health benefits of thyme! Learn how this herb can help improve your overall health and wellbeing. Watch ithe video to know more.
The following two tabs change content below.