9 Amazing Benefits Of Capoeira Workout To Strengthen Your Body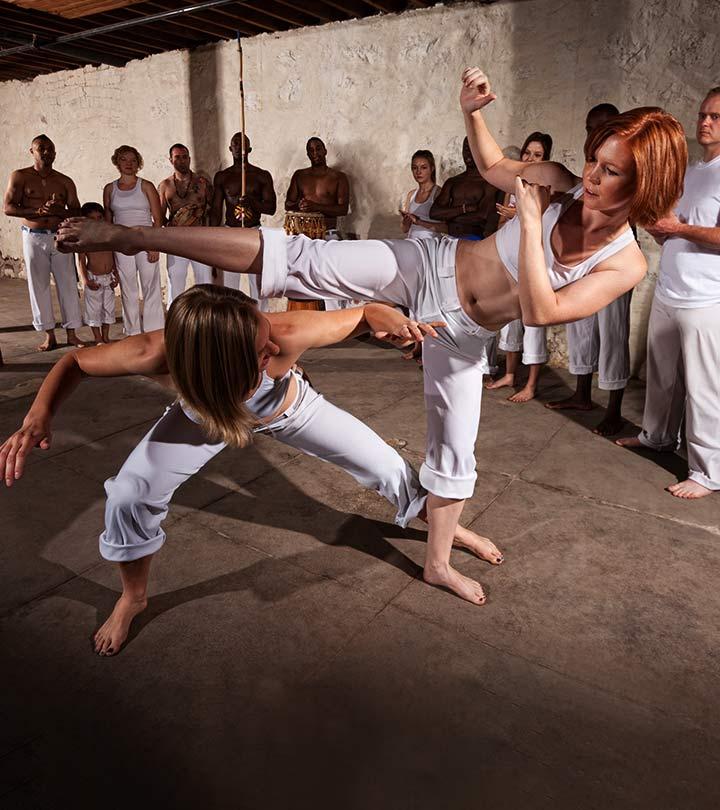 A healthy body is essential to enjoy and live your life to the fullest. Many of us follow a regular workout routine. However, regular exercises can appear monotonous and boring after some time. Worry not! There are a lot of 'fun' routines that offer the results of the strenuous workouts. Capoeira Workout is one such physical activity that makes you healthy and at the same time appears interesting. Double whammy!
What Is Capoeira?

Is Capoeira a martial art? Yes, Capoeira is a form of martial arts and owes its origin to both Africa and Brazil. It was created by African slaves in Brazil around 1500 AD. It is a hybrid of martial art and dance that offers immense benefits for the body. It helps in toning and strengthening quadriceps, buttocks and hamstrings while performing the routines as a dance. Capoeira includes lot of cartwheels, spinning and kicking, all being performed as a dance sequence.
[ Read: Benefits Of Hammer Strength Exercise ]
How To Perform Capoeira?
Capoeira is performed by incorporating acrobatics, music and dance into self-defense moves. There are several places that conduct group classes for learning and practicing Capoeira. Beginners need not be scared by the expertise required for performing Capoeira fitness routine. The exercise gear is, generally, loose pants and well-fitted T-shirt. Capoeira is performed by exercising with some kind of background music.
Benefits Of Capoeira Workout:
There are immense benefits of performing Capoeira regularly. This exercise routine is not just good for your body but also for your personality and social grooming. A regular practice of Capoeira has the following benefits:
1. Strength:
The exercise routines of Capoeira require lot of upper body movements, like moving around on hands during headstands, poses, rolls, etc. These movements involve engaging one's core and abs, which results in fantastic upper body strength.
2. Flexibility:
The strenuous routines promote flexibility in body, almost at par with Yoga. Even if you are not an expert in Capoeira, you will still feel the increase in flexibility of the body.
3. Stamina:
Unlike many other sports, Capoeira engages muscle groups in unique ways. All the routines require lot of energy to co-ordinate with the group. All these factors, in addition to repetitive movements, make Capoeira an intense cardio exercise. This increases the muscular and cardio vascular endurance of the body and provides more stamina.
4. Co-ordination:
Capoeira is unique in a way that all the movements are followed like a dance routine. All the movements are well coordinated and make you move gracefully and smoothly between the different Capoeira styles. This makes the body more coordinated and introduces a sense of rhythm as well.
[ Read: Dance Exercises And Their Benefits ]
5. Speed:
The main essence of performing Capoeira is to do all the movements fluidly in a very short amount of time. As a martial arts technique, this will make your response time better and the body more agile to respond back to other people's moves.
6. Balance:
Capoeira teaches body to control instant and complex movements and be more balanced while doing that.
7. Stress Reduction:
Performing the fluid movements to a sound track relaxes the body and the mind completely. You can totally feel the rush of the endorphins post the session.
8. Confidence:
Capoeira is a very rare form of exercise. Thus, doing Capoeira routines will make you more confident as a person.
9. Self Expression:
As there is a dance aspect in Capoeira, it becomes an excellent form of self-expression.
A Word Of Caution:
Capoeira requires lot of fluid and intense movements. Beginners should not stress themselves and force their body to adapt instantly. Regular practice will impart the strength and flexibility required. Further, avoid wearing very loose clothes while practicing Capoeira. You should take regular precautions as with any other form of exercise.
Capoeira is a fun, yet effective way to get a healthier body. Find a Capoeira instructor and dance your way to a fitter body today!
Are you aware of Capoeira workout? Do you practice Capoeira? Share with us in the comments section below.
Recommended Articles:
The following two tabs change content below.