Arnica: Uses, Benefits, Side Effects, Dosage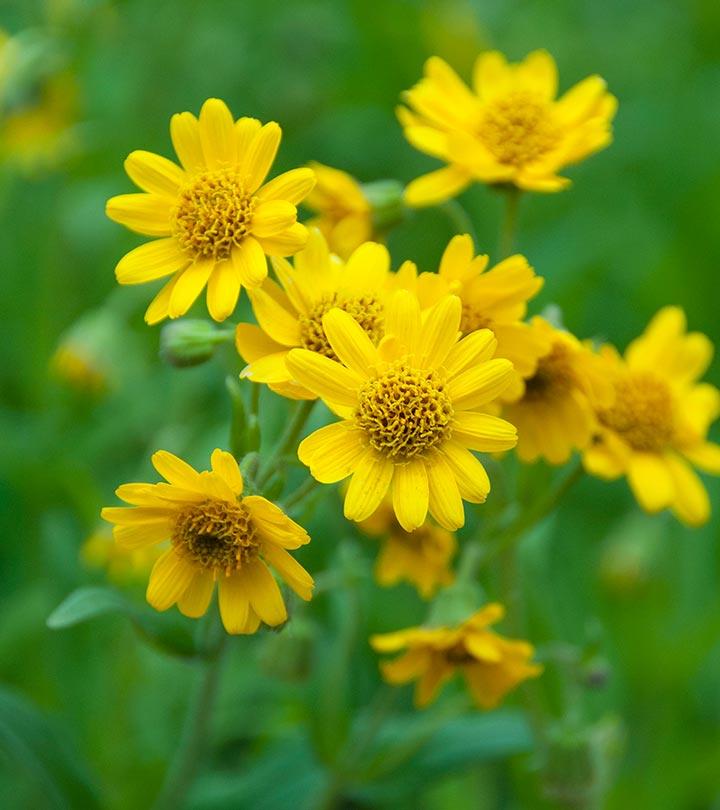 Arnica is a perennial shrub native to Europe. It is also called Arnica montana and is used as a homeopathic medicine for relieving pain and inflammation. It is used in the form of gel or oil.
Diluted preparations of arnica are also used to treat arthritis, post-operative soreness, bruises, scars, and inflamed tissues.
In this post, we will cover what research says about the possible uses and benefits of arnica. We have also included information about the dosage, and more importantly, its side effects (as it may induce certain adverse reactions).
Arnica: In Detail
Arnica montana is a perennial shrub native to Europe. It is also known as Leopard's Bane, Wolf's bane, Mountain Tobacco, and Mountain Snuff. This Asteraceae member has bright yellow, July-blooming, happy flowers and is a homeopathy staple.
Arnica has pain-relieving and anti-inflammatory properties. It has been used to treat epilepsy, seasickness, wounds, and gunshots in the 20th century. In Europe, Arnica was thought to possess fungicidal and bactericidal properties (1). You can, thus, find Arnica in many homeopathic ointments, gels, tinctures, creams, and tablets.
The active compounds in this plant, especially sesquiterpene lactones, are responsible for various medicinal applications (1). These sesquiterpenes occur in varying amounts in the plant parts. The concentration of sesquiterpenes was found to be higher in the disc florets than in the ray florets and even lower in the stalk.
Such variability in the bioavailability of active compounds might influence the efficacy of Arnica. However, the mechanism of Arnica's action has not been studied extensively. It also has received a lot of flak for being poisonous.
And that's when the physicians understood the power of its dosage. Arnica is known to be highly beneficial for your health, but only in trace amounts.
This is why it is important to understand its benefits. Read on!
What Are The 4 Main Benefits Of Using Arnica?
1. May Relieve Pain And Inflammation
In homeopathy, arnica is used to control swelling, pain, and inflammation in tissues. It showed comparable results to allopathic anti-inflammatory drugs, such as diclofenac and ibuprofen (2).
Topical use of arnica ointments and gels may help relieve acute muscle pains, sprains, tendonitis, stiffness, fibromyalgia, etc. (2).
Its clinical efficacy in relieving pain and inflammation makes it a potential alternative to non-steroidal anti-inflammatory drugs (2).
There is limited yet convincing scientific evidence proving the positive effects of Arnica on cellulitis-derived pain, numbness, acute back pain, headache, hemorrhoids, etc. (3),(4).
When administered with other oral homeopathic dilutions, Arnica also reduced postoperative pain in patients (2).
2. May Help Manage Osteoarthritis And Rheumatoid Arthritis
Osteoarthritis (OA) is a disease that affects the joints in your knees, hips, and hands. When joints lose cartilage, usually, the bone grows to repair the damage. Osteoarthritis arises when instead of rebuilding, the bone grows abnormally and affects the routine physical function (5).
A study on 174 people with hand osteoarthritis showed that applying arnica extract gel gave comparable results with that of ibuprofen treatment. Though adverse effects were reported, this herbal treatment improved pain and function (5).
A few patients recorded better movement and recovery than the non-steroidal inflammatory drug (NSAID) counterpart. This proves that arnica oil/tincture/gel is no less than ibuprofen. They can be used similarly under medical guidance to treat chronic osteoarthritis (6).
3. Could Heal Scars And Bruises
Post-operative scars and bruises can affect an individual's confidence and personality. Such bruises are formed when blood leaks out of damaged blood vessel walls.
The leaked blood collects around the wound or incision and obstructs the natural blood flow. Due to lack of enough oxygen supply, these injured sites turn blue, brown, green, or black, giving rise to 'ecchymosis.'
In a study involving rhinoplasty surgeries of the nasal bone, patients were given an oral perioperative dose of arnica. These patients had accelerated post-operative healing, rapid recovery of the ecchymosis, and quicker change in bruise colors to normalcy (7).
These reproducible observations prove the efficiency of Arnica in healing scars and bruises. Its formulations might be employed in face-lift and rhinoplasty surgeries and to heal deep wounds (7), (8).
4. Might Help Cope With Hair Loss
Alopecia or severe hair loss in women can cause depression and loss of confidence. Aromatherapy may help deal with such severe hair loss. The treatment involves highly concentrated extracts that are derived from various herbs, including arnica (9).
Applying these extracts topically may also stimulate hair follicles. It could also  be the safest way to cope with different types of hair loss (9).
Currently, a few benefits of arnica have been studied. Arnica could be available in different forms, and in the following section, we will discuss how you can use the herb.
How To Use Arnica?
Proponents claim that both topical and ingested arnica can help. The herb is available in the following forms:
Lotion
Gel
Tissue salts
Pills
Pain patches
Teas
You can purchase arnica at the nearest health store or online.
The benefits above could be attributed to the active components in arnica.
What Are The Active Components Of Arnica?
Sesquiterpene-lactones, flavonoids, and phenolic acids are the classes contributing the most to Arnica's properties.
While sesquiterpene-lactones impart anti-inflammatory and analgesic effects, the flavonoids and phenolic acids impart antioxidant and antimicrobial effects to this flower (10).
Helenalin and its esters are the types of sesquiterpene-lactones found abundantly in Arnica flowerheads. Quercetin-glucoside, patuletin-glucoside, Kaempferol-glucoside, Kaempferol-glucuronide, 6-Methoxykaempferol-glucoside, and Hispidulin are the flavonoids (10).
Chlorogenic acid, 3,5-Dicaffeoylquinic acid, 1-Methoxy-oxaloyl-3,5-dicaffeoylquinic acid, and 4,5-Dicaffeoylquinic acid are a few phenolic acids you can find in this herb (10).
Apart from the components, it also is important that we know the mechanism of the herb.
How Does Arnica Work?
There are a few proposed mechanisms through which arnica operates. They involve the inhibition of pro-inflammatory cytokines (interleukin-1, TNF-α) and the translocation of NF-ϰß and NF-AT (Nuclear Factor of Activated T-cells). NF-ϰß and NF-AT are cellular chemicals engaged in the inflammatory processes (10).
Helenalin suppresses the translocation of NF-AT in the specialized immune system cells (T cells). This is how arnica gets its immunosuppressive properties (10).
A few mice studies indicated that arnica treatment showed a 4.5-fold inhibition of nitric oxide production and a drop in the levels of nitric oxide synthase and cyclooxygenase-2 enzymes. All of these are clear signs of receding inflammation in the body (2).
However, helenalin is selectively cytotoxic. Studies show how this property of helenalin can be applied to manage cancers at the molecular level (10).
However, the cytotoxicity of arnica could be one concern. The herb may have certain side effects, which we will explore in the following section.
What Are The Side Effects Of Arnica?
Arnica is considered safe when used topically for short-term use on unbroken skin. But the US FDA has not considered it safe for oral consumption.
Some of the side effects of arnica include the following. 
Using large quantities or frequent doses of Arnica extracts might cause skin irritation. Dermatitis, allergies, and related symptoms have been reported if it is used on sensitive, damaged, and broken skin (11).
May Accelerate Heart Rate
Ingestion of products containing arnica was found to accelerate heart rate in individuals (12).
May Cause Gastroenteritis
Taking this oral medication in excess might cause gastroenteritis (12).
Pregnancy And Breastfeeding
The evidence is inconclusive and insufficient to prove the safety of arnica for pregnant and lactating women.
Does Arnica Interact With Medications?
Arnica contains coumarins, which are compounds with anticoagulant effects. The herb may reduce coagulation and increase the risk of bleeding (13).
Hence, use it cautiously under medical supervision. Also, keep the following points in mind:
The strength of homeopathic formulas used topically is 2 g of the flowerheads in 100 mL of water.
Ointments might have a maximum of 20-25% of the arnica tincture.
This tincture is usually a 1:10 dilution, and the oil is usually made with 1 part of the herb extract and 5 parts of vegetable oil.
What Is The Ideal Dosage For Arnica?
Arnica is considered safe when used topically for short-term use on unbroken skin. If you are ingesting the tablets, Arnica 200c (for adults or children over 2 years of age), you may take three of them, 4 to 6 times in a day (14).
There is little information on the dosage of the gel, and you need to consult your doctor.
Summing It Up
Arnica montana has an important place in medicinal, cosmetic, and food industries. This herb is said to be an effective remedy for bruises, muscle aches, wound healing, insect bites, joint pains, inflammation, hair loss, hemorrhoids, and sprains, although not all have been validated yet by medical science.
It is considered poisonous if taken in high amounts. Hence, homeopathy uses a diluted (6X) version of Arnica extracts. You can try its oil, tincture, tablets, gels, and ointments, but only under medical supervision.
Sources
Articles on StyleCraze are backed by verified information from peer-reviewed and academic research papers, reputed organizations, research institutions, and medical associations to ensure accuracy and relevance. Check out our
editorial policy
for further details.
Recommended Articles:
The following two tabs change content below.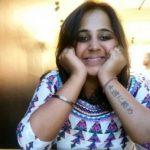 Swathi holds a Master's degree in Biotechnology and has worked in places where actual science and research happen. Blending her love for writing with science, Swathi writes for Health and Wellness and simplifies complex topics for readers from all walks of life.And on the days she doesn't write, she learns and performs Kathak, sings Carnatic music compositions, makes plans to travel, and obsesses over cleanliness.