11 Amazing Benefits Of The Banana And Milk Diet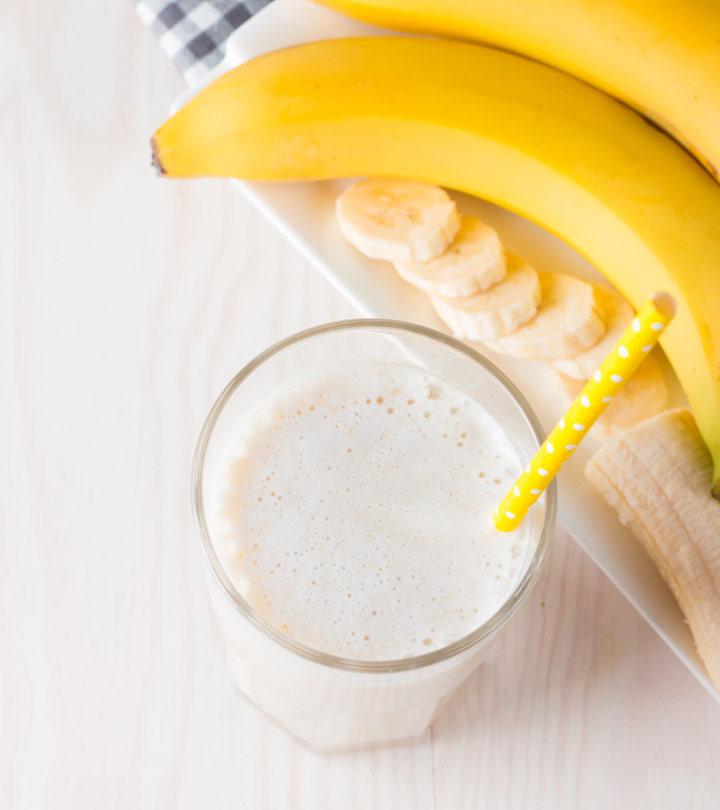 Banana and milk are two nutrient-dense ingredients that have many health benefits. A couple of glasses of banana milkshake, along with a balanced diet, can aid weight gain as well as weight loss to help you get in shape. Keep reading to know all about the banana and milk diet.
11 Benefits Of Banana And Milk Diet

Banana's Benefits 
Bananas are rich in vitamins, dietary fiber, and minerals. It is especially rich in potassium (about 358 mg in one banana), which is vital for the normal functioning of the body (1).
They also contain fiber (2.6 gms in one banana) that helps the body get rid of the accumulated toxins (1).
The starch in bananas helps reduce meal size, improve glucose metabolism, and reduce body weight (2).
Above all, bananas are tasty and consuming them is easy.
Milk's Benefits
Combined Benefits Of Banana And Milk
Together, bananas and milk provide the body with ample doses of proteins, vitamins, dietary fiber, and minerals.
You may drink banana milkshake as a post-workout drink. Add slivered almonds and cocoa powder to your banana milkshake for a fiber- and protein-loaded drink.
You may use the banana and milk diet to either gain weight or lose weight. Discussed below is how to follow the banana and milk diet for both.
How The Banana And Milk Diet Aids Weight Gain 
To gain weight, you must increase your calorie intake. Banana and milk provide all the nutrients required to gain weight – protein for building lean muscle, carbs for energy, and calcium and phosphorus for stronger bones (1), (2), (4).
You also need sunlight for vitamin D synthesis, which helps in the absorption of calcium and phosphorus. The nutrition chart below makes it clear why banana and milk is a good combination for weight gain.
| Nutrition | 1 Ripe Banana | 1 Cup Whole Milk | Combined  |
| --- | --- | --- | --- |
| Calories | 108 Calories | 149 Calories | 257 Calories |
| Protein | 1.3 g | 7.69 g | 8.99 g |
| Carbs | 27g | 11g | 36g |
| Dietary Fiber | 3g | 0 | 3g |
| Fat | 0.33 g | 7.93 g | 8.26 g |
| Calcium | 5 mg | 276 mg | 281 mg |
| Phosphorus | 22 mg | 84 mg | 106 mg |
Consume two glasses of banana milkshake twice a day (use one large banana and a cup of whole milk to prepare it). Along with banana milkshake, consume these high-calorie foods to gain weight. Follow a healthy diet chart to build lean muscles and strengthen your bones. You may also consult your doctor and consume weight gain supplements.
If the banana and milk diet is good for weight gain, how can it aid weight loss? Find out in the next section.
How The Banana And Milk Diet Promotes Weight Loss
The banana and milk diet for weight loss was developed by Dr. George Harrop in 1934 for people with diabetes. You need to follow this diet for 3 days. You can only consume 2-3 bananas and 2-3 cups of full-fat milk 3 times a day when you are on this diet. You must limit your total calorie intake to 1000 calories per day. Remember, this is a fad diet and is NOT meant for long-term weight loss.
To lose weight, we recommend consuming full-fat milk. Research proves that full-fat milk aids weight loss better than low-fat milk (8). You may have  banana before or after consuming milk or consume banana milkshake.
Along with banana and milk, consume other protein-rich and fiber-rich foods that will help you shed the fat quickly without making you feel starved. Drink enough water to keep yourself hydrated and flush out toxins.
Here's a sample banana and milk diet chart:
Banana And Milk Sample Diet Chart For Weight Loss
| MEALS | WHAT TO EAT |
| --- | --- |
| Early Morning (6:00 – 7:30 am) | 1 cup water with 2 teaspoons fenugreek seeds soaked overnight |
| Breakfast (7:00 – 8:30 am) | 1 cup full-fat milk + 1 banana |
| Mid Morning (10:00 – 11:00 am) | 1 cup green tea + 2 almonds |
| Lunch (12:30 – 1:30 pm) | 1 cup full-fat milk + 1 banana |
| Evening Snack (4:00 – 4:30 pm) | 1 cup freshly pressed fruit juice + 1 banana |
| Dinner (7:00 – 7:30 pm) | A small cup of sautéed or grilled veggies + 3 oz grilled fish/ ½ cup sautéed mushrooms + 1 cup warm milk before bed |
How This Diet Chart Works
Fenugreek seeds help improve glucose metabolism (9).  Water hydrates your body and reduces toxin build-up (10). Green tea has antioxidant properties that help scavenge the free oxygen radicals and increase thermogenesis (11), (12). Almonds are rich in healthy fats that help reduce cholesterol (13).
For lunch, have a banana and a cup of milk to keep your calorie count low. Freshly pressed juice will provide your body with vitamins, minerals, and dietary fiber.
If you choose to drink coconut water, it will provide your body with natural electrolytes and keep you hydrated (14).
Have a small cup of sautéed vegetables along with banana and milk for dinner so that you don't feel hungry soon and give in to your late-night food cravings.
Here are a few more tips to make the banana and milk diet work for you.
Tips To Make The Banana And Milk Diet Work For You
If you want to lose weight with the banana and milk diet, you must also do some light exercises. Do not opt for HIIT or weightlifting as you will be on a very low-calorie diet. You can do yoga and meditation.
Avoid refined sugar, aerated drinks, packaged foods and drinks, fried foods, and unhealthy snacks.
You can make banana and milk smoothie and add chia seeds, ground flax seeds, nuts, protein powder, cocoa powder, or chocolate syrup (if you want to gain weight).
Drink at least 3 liters of water per day.
Sleep for 7-8 hours.
Keep the stress away by not worrying too much about your weight.
Stop this diet immediately if you feel weak and consult a doctor for further advice.
Follow a healthy diet and exercise to maintain weight and stay fit and active.
Some Points Of Caution
If you want to use the banana and milk diet to lose weight in an emergency situation, keep these points in mind:
Initially, one might feel a bit weak as the calorie intake gets drastically reduced during this diet. The weakness is not very difficult to manage, but if it gets tough, you can consume one proper meal per day.
Women should not follow the banana-milk diet when they are menstruating. This diet lacks minerals like iron, zinc, copper, and some vitamins that are quite important during this period. But if it is imperative that you follow the diet during this time, make sure you have some vitamin and mineral supplements.
The banana-milk diet plan should not be followed for more than 3 days as some of the vital elements required for the body are missing in it. Following this diet for 3 days can help you lose around 2 kg of body weight. If you want to lose more weight, take a gap of about one week before doing another round of this diet plan.
Conclusion
The banana and milk diet is good for both weight loss and weight gain, depending on the number of calories you consume, your diet, and your lifestyle. Consider consulting your doctor before trying the banana and milk diet to shed the extra inches or gain a few pounds.
Frequently Asked Questions
Can you eat a banana and drink milk?
Yes, absolutely! You can consume them separately or combine them to drink a delicious glass of milkshake.
Do banana and milk increase weight?
Banana and milk help to increase weight. Make sure you consume two glasses of banana milkshake and other weight gaining foods.
Are banana and milk a combination good for health?
Yes, banana and milk are good for health. However, if you have lactose intolerance, avoid consuming milk. It is best to talk to your doctor before going on the banana and milk diet.
Can we drink banana shake at night?
It is best to avoid consuming a banana or banana shake at night. You may catch a cold. However, if you are not prone to catching a cold, you may consume banana shake at night.
Sources
Articles on StyleCraze are backed by verified information from peer-reviewed and academic research papers, reputed organizations, research institutions, and medical associations to ensure accuracy and relevance. Check out our
editorial policy
for further details.
Recommended Articles
The following two tabs change content below.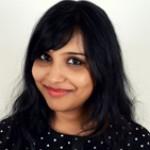 Charushila Biswas is a Senior Content Writer and an ISSA Certified Specialist in Fitness & Nutrition. She is an alumni of VIT University, Vellore and has worked on transgenic wheat as a part of her Masters dissertation from NRCPB (IARI), New Delhi. After completing her Masters, she developed a passion for nutrition and fitness, which are closely related to human psychology. This prompted her to author a review article in 2015. She has written over 200 articles on Fitness and Nutrition. In her leisure time, Charushila loves to cook and enjoys mobile photography.