10 Amazing Benefits Of Banana Peels
Think twice before discarding the peel, especially if you want your skin to get a natural glow.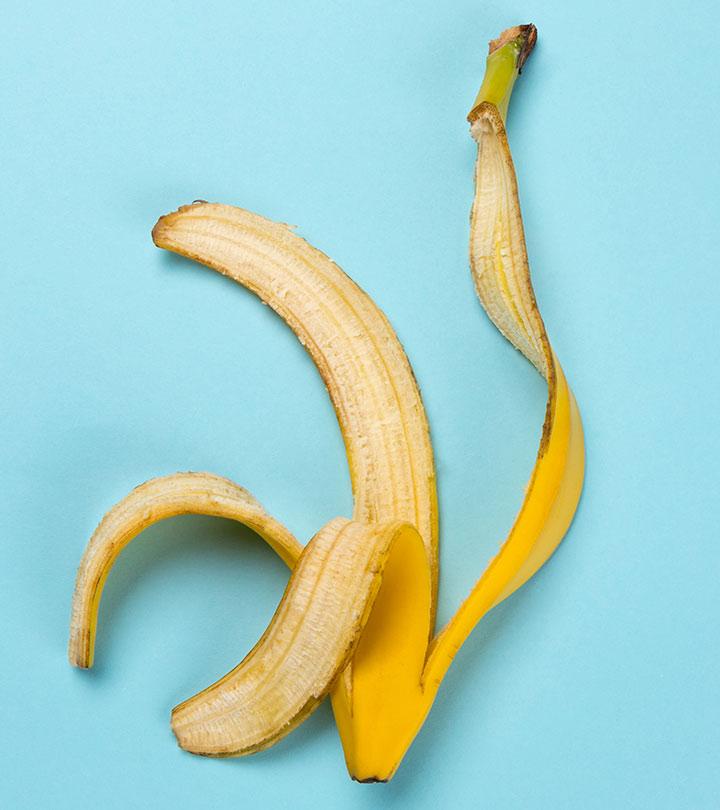 While you may be familiar with the benefits of eating bananas, are you aware that banana peels can also benefit your health? Yes, you got that right. This article introduces you to the many benefits of banana peels and how to make the most of them.
While most of us know the banana as a delectable and nutritious fruit that is rich in potassium, vitamins, fiber and mineral content, we mostly tend to discard the banana peels (or use them for home composting). You would be surprised to know that banana peels are also replete with polyphenolsi  XNaturally occurring micronutrients in plants that protect from oxidative stress and offer important health benefits. , carotenoidsi  X Yellow, orange, and red organic pigments in plants known for their antioxidant, anti-inflammatory, and other health benefits. , and other antioxidants that can help remove the toxic free radicals from your skin and body (1).
Want to know more about the benefits of banana peels? Read on!

Know Your Ingredient: Banana Peel
What Is It?
The outer covering of a banana.
What Are Its Benefits?
Banana peel can help with reducing pimples, wrinkles and even aid in skin issues like psoriasis.
Who Can Use It?
Anyone looking for skin benefits can use it, unless they are allergic to it
How Often?
You can apply for it twice weekly.
Caution
There are no such side effects unless you are allergic to banana
Banana Peel Uses
1. Sparkling Teeth
Rub the banana peel every day for a week on your teeth for about a minute. This may result in teeth whitening, which can cost a lot of money otherwise.
2. May Remove Warts
Anecdotal evidence suggests that banana peel helps in removing wartsi  XA skin infection caused by human papillomavirus that leads to small, grainy bumps on the skin and spreads through skin-to-skin contact. and preventing the occurrence of new ones. For this, simply rub the peel on the affected area or tie the peel overnight on it. This is one of the simplest ways to use a banana peel for the skin.
3. Eat Them
Banana peels can also be eaten. You can find amazing Indian recipes that use banana peels in stir fries, chutneys, and curry preparations. Raw banana peels are also used to tenderize and preserve meat and chicken (2).


Fun Fact
Vegans use banana peels to make a vegan version of bacon. When cooked the right way, banana peel is said to have the same meaty quality as pork.
4. May Treat Pimples
Just massage banana peels on your face and body for 5 minutes every day to treat pimples. The results should be visible within a week. Keep applying the peels till the acne disappears.
5. May Reduce Wrinkles
Although there is no scientific evidence to support this claim, it is said that a banana peel helps to keep your skin hydrated. Add an egg yolk to a mashed banana peel. Apply this mixture on your face, leave it on for 5 minutes and then wash it off. The antioxidants in banana peel help prevent oxidative stress and reduce signs of aging like wrinkles and fine lines (3).
6. Pain Reliever
Apply the banana peel directly on the painful area. Leave it for 30 minutes till the pain is gone. Banana peels have anti-inflammatory and antiseptic properties that can help reduce the pain (3). A mixture of vegetable oil and banana peel might also help in pain relief (4).
7. May Treat Psoriasis
Apply the peel on the psoriasis affected area. The banana peel has moisturizing properties and also reduces itchiness. It may treat mild to moderate psoriasis (3).
8. May Treat Bites By Bugs
Massage the peel on the mosquito bites to get instant relief from the itching and pain. The antioxidants and vitamins help increase the blood circulation healing the pain and inflammation (3).
9. Shoes, Leather, Silver Polish
Rub a banana peel on shoes, leather, and silver articles to make them shine instantly.
10. UV Protection
Banana peel may help in protecting the eyes from the harmful UV rays. Make sure you leave the peel under the sun before rubbing the banana peel on your eyes. It is also said to reduce the risk of cataractsi  X An eye condition that causes the natural lens of the eye to become cloudy, making things look blurry and less colorful. .
Some Important Tips
Use a fresh, yellow banana peel for best results.
Never keep an unpeeled banana for long. The polyphenols turn it brown on exposure to air. Consume immediately after peeling. Also, the peel should be used immediately.
Store bananas in a cool, dry place and always keep them away from heat or sunlight.
Never store banana peels in a refrigerator.
Avoid throwing banana peels on the roads or public places as they are slippery in texture. Use bins or save them for better purposes.

Quick Tip

The riper the banana peel, the sweeter its taste, making it better for use in any cooking recipe.
Infographic: Top 5 Incredible Benefits Of Banana Peels
You enjoy adding bananas to everything, from baked items to your daily porridge. But the peel? Not really – because you feel banana peels should be thrown out. However, the peels have dozens of possible uses that can be beneficial in numerous ways. Check out the infographic below to learn more.



The benefits of banana peels are many. They contain polyphenols, carotenoids, and antioxidants that help remove toxins from the body. They help whiten teeth, remove warts, and also help manage pimples, wrinkles, pain, and psoriasis. You can use them for composting or as fertilizers for your plants. Fresh banana peels always give the best results. Also, do note that banana peels change their color and lose their effectiveness if refrigerated.
Frequently Asked Questions
Does drinking boiled banana peel water help tighten the skin?
Mary Sabat, RDN, says, "Drinking boiled banana peels is not recommended. There is no scientific evidence that boiling banana peels can provide any health benefits or tighten skin."
What do banana peels in water do?
Putting banana peels in water would leach their nutrients into the water. The resulting mixture is similar to compost tea.
Can I leave banana peels on my face overnight?
Yes. Banana peels may help rejuvenate your skin and deal with pimples.
Does banana peel lighten skin?
Possibly. Banana peels contain antioxidants and small amounts of vitamin C that may help brighten your complexion.
How do you make banana peel powder?
Cut the peels into small pieces and sun-dry them. Alternatively, you can dry the banana peels in the oven and grind them to obtain banana peel powder.
What does banana peel do to your hair?
Anecdotal evidence suggests that the antioxidants in the banana peels may help boost hair growth and leave silky soft and shiny hair behind.
Key Takeaways
Banana peels can aid in digestion, inflammation, and skin health.
Additionally, they might be advantageous for heart health, controlling weight, and preventing some malignancies.
You can consume peels raw, cooked, or added to smoothies.
Wash banana peels to remove any pesticide residue before utilizing or consuming them.
Learn 13 amazing ways to use banana peels to improve your everyday life! From cleaning to gardening, you won't believe what you can do with them! Check out the below video to know more now!
Sources
The following two tabs change content below.