21 Amazing Benefits Of Camphor For Your Skin, Hair, And Health
This strange substance has the potential to strengthen your hair roots and relieve muscle pain.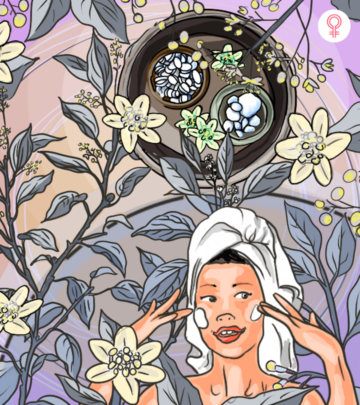 Camphor (Cinnamomum camphora) is a natural and flammable substance known for its healing properties (1). This combustible and translucent solid has been used in many pain balms and ointments for centuries.
The benefits of camphor are numerous. And its readily absorbable and cooling formula makes it a suitable ingredient in many skin and hair treatments.
The use of camphor can provide stress relief and mental clarity, reduce irritation, decrease itchiness, minimize muscle pain, induce sleep, aid weight loss, enhance hair growth, strengthen hair roots, improve blood circulation, and treat cold and cough (2). Therefore, it is quite an all-rounder!
In this article, we have discussed the benefits of camphor for your health, skin, and hair, how to use it, and its possible adverse effects. Take a look!

Know Your Ingredient: Camphor
What Is It?
Camphor is a waxy, colorless solid with a potent scent.
What Are Its Benefits?
Camphor can help with skin irritation, hair growth and relieve cold and cough.
Who Can Use It?
Only adults should handle camphor and use it for their skin, hair and health ailments.
How Often?
You can use it 2 to 3 times daily.
Caution
It can irritate eyes and should never be consumed.
What Is Camphor?
Only 50-year-old Cinnamomum camphora trees can produce the active component from which camphor oil is produced. Camphor oil is extracted from the stems of the tree through a steam distillation process. It is usually manufactured from turpentine.
The chemical composition of camphor (terpene) includes pinene, camphene, B-pinene, limonene, 1,8-cineole, and P-cymene. Camphor is said to possess anti-inflammatory, antioxidant, antibacterial, antifungal, antispasmodic, anti-anxiety, and sedative properties (2).
Read on to find out why camphor is used in skin and hair products and how its medicinal properties provide relief from many health issues.
What Are The Benefits Of Camphor For Skin?
1. May Relieve Skin Itching And Irritation
Camphor has antifungal and antibacterial properties that may help in alleviating some skin-related issues like itching and irritation (2). One animal study also found camphor to be a potent wound-healing agent (3).
Camphor can increase collagen and elastin production in dermal fibroblastsi  XSpecialized cells present in the dermis that generate connective tissue and promote wound healing for recovery from injuries. to aid wound healing. It is also an effective anti-wrinkle ingredient in many cosmetics (3). However, more research is required to understand this benefit of camphor on humans.
2. May Alleviate Pain
Camphor can be used to relieve pain and swelling. A study conducted at Hamdard University (Pakistan) found that a spray consisting of menthol, eucalyptus, clove, and camphor possesses analgesic and anti-inflammatory properties and can reduce pain (4).
3. May Soothe Burns
Camphor can be used to relieve pain and swelling. It can be used to remove the burn scars as well. In one study conducted on rats, it was noticed that a herbal ointment containing camphor, sesame oil, and honey reduced the healing time of burns (5). Dissolve a small quantity of camphor in water and apply on the burn. This needs to be done on a daily basis until the scars disappear.
4. May Treat Acne
Camphor has the potential to treat acne. It is said to bring down the pain and swelling caused by the inflammation of hair follicles and sebaceous glands. The antibacterial activity of the bioactive compounds in camphor, such as 1,8-cineole, α-pinene, and camphene, is effective in acne treatment (6).
5. May Treat Eczema
Camphor is also used to relieve eczemai  XA skin condition caused due to irritants, environmental factors, or allergens that results in dry, itchy, and inflamed skin with soreness. and control itching. It is an effective remedy for when eczema flares up, and you need to control the inflammation and itching (7).
6. May Cure Nail Fungus
Fungus on toenails can be unsightly and painful, but using camphor paste can help inhibit its growth. Camphor has been found to be effective in treating nail fungus because of its antiseptic and antifungal properties (8).
7. May Be Good For Cracked Heels
Anecdotal evidence suggests that camphor can soften your cracked heels. However, there is no scientific evidence to prove the same.
For relief from cracked heels, you need to soak your feet in a solution of camphor and water and scrub your feet. Following this, you may apply moisturizer or petroleum jelly on them. This will keep your skin moist and prevent cracks from occurring.
8. May Soothe Skin Rashes
Camphor contains certain anti-inflammatory compounds that could help provide relief from rashes (2). It is said to be particularly good for skin rashes that occur due to excessive heat and perspiration. Camphor, when dissolved in water and applied on skin rashes, is claimed to make them vanish after a couple of days of repeated use.
9. May Treat Fungal And Bacterial Infections
Cool and calm camphor is used in many skin ointments that are used to treat a whole range of fungal and bacterial infections. The antifungal and antibacterial properties of camphor have made it a must-use ingredient in the cosmetic industry (2).
Note: It is important to ascertain whether you are allergic to camphor before using it to treat skin problems. If it does not suit you, it may aggravate the skin condition. Further, it should not be applied to broken skin. It can enter the body through the broken skin and cause poisoning, especially if the concentration of camphor in the body goes up.
What Are The Benefits Of Camphor For Hair?
10. May Strengthen Hair Roots
Limited research is available to support this claim, but anecdotal evidence suggests that the use of camphor strengthens hair roots. Combining egg or yogurt with camphor oil can supply your hair with much-needed nutrients.
11. May Boost Hair Growth
When camphor oil is combined with certain essential oils, it is said to boost hair growth.
You can also mix camphor oil with a regular carrier oil (like coconut or olive) and apply it to your scalp. This is said to stimulate blood circulation and promote hair growth. However, there is no scientific evidence to prove the same.
12. May Improve Hair Texture And Fight Hair Loss
Anecdotal evidence suggests that camphor oil may improve your hair texture to give you smooth and soft hair.
It is claimes that camphor oil can reduce hair loss and boost hair growth. However, there is limited research to support either of these claims.
13. Kills Lice
Camphor acts as an excellent cleaning and disinfecting agent. It can also kill lice (9). Camphor oil mixed in bathing water is gets rid of head lice effectively.
Mix camphor oil with coconut oil and apply it to your scalp to suffocate the lice.
What Are The Benefits Of Camphor For Health?
14. May Relieve Muscle Pain
Camphor oil, in combination with menthol, can be used for pain relief, especially for back pain. This mixture also eases muscle tension with the help of its anti-inflammatory properties (10).
Massage the painful muscles with camphor oil to increase the blood flow in that area and reduce the pain and stiffness.
15. May Treat Arthritis
A study conducted by the China Academy of Chinese Medical Sciences on rats found that the anti-inflammatory effect of camphor may help in treating arthritis (11). However, more studies are required to understand this benefit of camphor in humans.
16. May Treat Spasmodic Problems
The antispasmodic properties of camphor may help in calming the nerves (12). The aromatic camphor oil vapors are believed to promote a sense of calm by reducing stress. Massaging with this oil may give you some relief from spasms.
17. May Help Induce Sleep
Camphor oil may help relax the body and mind and induce sleep as it contains P-cymene. However, limited research is available to support this claim.
18. May Treat Cold and Cough
Camphor has decongestant and expectorant properties and is very effective against cold and cough. It is an active ingredient in many decongestants and vaporubs. There are many ways to use camphor to treat cough and congestion, including inhaling, rubbing, and using it as steam vaporization. Dissolving camphor in hot water for ten minutes and inhaling it via the steam can work wonders. It even soothes throat irritation and treats bronchitis (13).
19. May Aid Weight Loss
Camphor tree seed kernel oil (CKO) may help in reducing body fat. A study conducted on rats found that using CKO reduces body weight and fat deposition (14). However, more research is required to verify this benefit for humans.
20. May Help Treat Cardiovascular Problems
A study conducted on 190 patients with functional cardiovascular disorders found that a combination of camphor and crataegus may provide relief from symptoms of cardiovascular disorders (15).
21. May Promote Blood Circulation
Abnormal blood flow in your body leads to many health problems, but inhaling camphor may help correct that issue.
Camphor improves blood circulation (16). Improvement in blood circulation can alleviate the symptoms of rheumatic diseasesi  XA collective term for chronic diseases like osteoarthritis and rheumatoid arthritis that affect muscles, joints, tendons, and ligaments resulting in swelling and pain. , gout, and arthritis.
Research is extremely limited on some camphor uses. However, anecdotal evidence suggests that camphor may benefit in treating the following conditions:
Warts
Low libido
Cold sores
Earaches
Flatulence
Anxiety and depression

Hemorrhoids

i

  X

A painful medical condition of enlarged and bulging veins (similar to varicose veins) in the anus and lower rectum.

Trivia
Camphor oil was one of the substances used by the ancient Egyptians in the process of embalming for mummification. It was also used to flavor leavened bread.
After reading about these promising benefits of camphor, you must be wondering how to use it. Check out the next section to know more.
How To Use Camphor
1. Camphor As A Liniment
To get instant relief from pain, you can make your own pain-relief spray at home using camphor.
What You Need
2 drops of camphor essential oil
1 ounce pure grain alcohol
1 glass spray bottle
Process
Mix the alcohol and camphor essential oil.
Pour the solution in a glass spray bottle.
Apply it on sore muscles and sprains to relieve the pain.
2. Camphor As A Chest-Rub
You can make your own vapor rub at home using camphor.
What You Need
1 ounce olive oil
2-inch cubes of beeswax
3-5 drops of camphor essential oil
Glass jar
Process
Start by heating up olive oil in a pan and adding beeswax to it.
Stir until the wax melts.
Add the camphor essential oil and mix thoroughly.
Pour the mixture in a jar and let it cool.
Store this mixture at room temperature and use it when required.
The best thing about this rub is its long shelf life. It can last up to a year.
3. Camphor As A Bath Soak
Nothing relaxes you more than a long bath. But, using regular soap may not really relieve your tired muscles. Add camphor essential oil to a tub of water and enjoy the relaxing bath. Adding 2-3 drops of this essential oil soothes sore muscles and enhances blood circulation in the body, imparting a rejuvenating effect. It also helps people suffering from cold and flu to get rid of uncomfortable congestion.
4. More Uses Of Camphor Uses
Adding camphor to your regular cold creams and antiseptics enhances their power and gives you instant relief. It also acts as an insecticide, insect repellent, disinfectant, and stimulant.

Trivia
Camphor is a popular ingredient used in Hindu rites. In India, it is displayed on a stand known as karpur dāni. Aarti is frequently conducted as the final phase of puja after lighting camphor.
Though camphor is generally safe for consumption, it does have a few side effects that you need to keep in mind. Check them out in the following section.
What Are The Side Effects Of Camphor?
Camphor is generally safe when it is used in recommended amounts. However, even a slight overdose of camphor, either by inhalation or application on the skin, may cause some side effects like poisoning, vomiting, and drop in body temperature.
Remember to store camphor products away from children. An overdose of camphor can result in seizures in children and even death in children (17), (18). Usually, symptoms of an overdose and poisoning show up within minutes. An overdose can cause irritation in the eyes, on the skin, and in the mucous membranes. This can lead to diarrhea, nausea, vomiting, headache, fainting, and convulsions. So, limit its usage and consult a doctor in case of any emergency.
Before you start using camphor on your skin and hair, check out the safety precautions you need to keep in mind.
Risks And Precautions
Camphor exhibits its toxicity within 5 to 90 minutes of ingestion. The symptoms include muscular contractions, effect on the nervous system, and confusion. Don't ignite products that contain camphor as an ingredient.
Don't take camphor in any form (internally or topically) if you have any liver problems. People with asthma are also advised to avoid the usage of camphor. Ingesting small doses of camphor also can cause seizures in children (17). Some medications that contain camphor can be fatal to toddlers (18).
There is a variety of camphor oils available in the market. Check out the differences between them in the next section.
Differences Between Brown, Yellow, And White Camphor Oil
Only white camphor oil is safe for treating health ailments. Most medical products contain white camphor. Safrole is a compound found in yellow and brown camphor oil. It is a listed carcinogen. Therefore, yellow and brown camphor oils are not safe for use.
Products Containing Camphor
Camphor is found in many products such as ointments, balms, and creams. It is the main ingredient in cosmetics such as nail polish and facewash. Camphor is a common ingredient in shaving and anti-itch creams as well.
Products containing camphor include:
IcyHot Balm
Tiger Balm
Biofreeze Pain Relief Gel
Bengay Pain Relieving Cream
Vicks VapoRu
Infographic: Top Reasons To Use Camphor For Skin
There is no doubt that camphor is popular as a room freshener, however, you might be amazed to know that it can have a significant effect on your skin as well. A synthetic compound such as this may offer soothing properties to your skin and help relieve its many issues.
Check out the infographic below to learn more about the benefits of using camphor for your skin.



The benefits of camphor can be attributed to its healing, anti-inflammatory, antibacterial, and anti-fungal properties. Its refreshing scent leaves you feeling energized and calm while aiding you in your journey towards skin care and hair care. It may relieve skin itching and irritation, soothe burns, treat acne, soften cracked heels, boost hair growth, relieve muscle pain, treat arthritis, induce sleep, aid in weight loss, and maintain respiratory health. However, an overdose of camphor may cause vomiting, poisoning, diarrhea, nausea, headache, and a drop in body temperature. Hence, take it in moderation – and if you experience any side effects, stop its intake and consult your doctor.
Frequently Asked Questions
Is it good to put camphor in water?
Barbara Kovalenko, a nutritionist, says, "I totally don't recommend putting camphor in water for internal use as it can be toxic when ingested. Camphor should only be used externally and under the guidance of a healthcare professional."
What are the benefits of drinking camphor water?
Never drink camphor water as it may cause toxicity. It is best to use camphor water topically, as it has antibacterial properties and may help alleviate cold, cough, itching, and rashes.
How do you mix camphor and coconut oil?
You can mix and dissolve camphor powder in half a cup of warm coconut oil.
How is camphor used in aromatherapy and natural skincare products?
Camphor is used in the form of cream, ointments, vapor rubs, liniments, and balms and is incorporated in aromatherapy as an essential oil.
Can camphor be used as a natural insect repellent?
Yes, camphor is known for being an insecticide. Its strong smell is effective in repelling insects and mosquitoes.
Key Takeaways
Camphor is a flammable substance with an aromatic odor that is widely renowned for its healing powers.
Camphor may help soothe irritation, induce sleep, reduce acne, and treat colds and coughs.
You can mix camphor with olive oil and beeswax as a chest rub.
Over-inhalation of camphor may cause vomiting and poisoning.
Unlock the incredible uses and benefits of camphor (karpur) in this eye-opening video. From providing pain relief to acting as an insect repellent, delve into the versatile properties of this aromatic substance. Enlighten yourself with the video below and experience the power of camphor for yourself!
Sources
Articles on StyleCraze are backed by verified information from peer-reviewed and academic research papers, reputed organizations, research institutions, and medical associations to ensure accuracy and relevance. Check out our
editorial policy
for further details.
The following two tabs change content below.