10 Amazing Benefits Of Coriander Seeds (Dhania)
Coriander is an integral part of Indian cuisine. We regularly use coriander seeds as a spice, and coriander leaves for garnishing curries, salads, or soups.
Coriander is known all over the world for its medicinal properties. It is a great source of potassium, iron, vitamins A, K, and C, folic acid, magnesium, and calcium that can heal many health issues.
| | |
| --- | --- |
| Kingdom | Plantae |
| Genus | Coriandrum |
| Species | C. sativum |
| Binomial name | Coriandrum sativum |
| Common Names | Cilantro, Coriander, Chinese parsley or Dhania |
| Indian Names |  Dhania or Dhaniya (Hindi), Dhaniyalu (Telugu), Kothamalli vidai (Tamil), Kothambalari (Malayalam), Dhane (Marathi), Dhoney (Bengali), and Dhaniya (Gujarati, Oriya & Punjabi) |
How Coriander Seeds Can Help You
Skin Benefits
Hair Benefits
Health Benefits
Skin Benefits
1. Cure Skin Diseases
Coriander is quite effective in curing various skin diseases like eczema, itchy skin, rashes, and inflammation. It also helps cure mouth ulcers and sores.
What You Need
What You Have To Do
Gargle with boiled coriander water to reduce and cure mouth ulcers.
OR
It can also be used as a cure for itchy skin and rashes.
What You Need
Coriander seeds
One teaspoon honey
Water
What You Have To Do
Make a paste of coriander seeds with a little water and add a teaspoon of honey.
Apply this paste on itchy skin for instant relief.
Rinse it off after about 10 minutes.
Why Does It Work
Coriander seeds exhibit antiseptic properties that help fight skin problems like eczema and rashes (1). They also contain linoleic acid that has analgesic properties to reduce inflammation like rheumatism and arthritis (2), (3).
2. Reduce Pimples
Pimples or acne are a recurring problem for those with oily skin as well as those entering adolescence. Coriander seeds can prove to be of great help in reducing the instance of breakouts.
What You Need
Coriander seeds
One teaspoon honey
A pinch of turmeric
Multani mitti (optional)
What You Have To Do
Prepare a face mask with coriander paste, honey, and turmeric.
You can also add multani mitti if you have oily skin.
Apply the mask all over the face and let it dry.
Rinse with cold water.
Why Does It Work
The antibacterial properties of coriander seeds work as an effective home remedy for pimples and blackheads (4), (5).
Hair Benefits
3. Facilitate Hair Growth
Hair loss can result from weakened hair follicles, hormonal imbalances, stress, as well as improper diet. Coriander seeds prevent further hair fall and help stimulate the roots for the growth of new hair.
What You Need
What You Have To Do
Add some powdered coriander seeds in your hair oil and use it to massage your scalp at least twice a week.
Why Does It Work
Coriander seeds strengthen the roots of your hair and stimulate further growth, thus keeping at bay your hair fall problems.
Health Benefits
4. Aid Digestion
Coriander seeds and fresh coriander leaves help in healthy digestion.
What You Need
What You Have To Do
Soak a handful of seeds in water for a day.
Filter out the seeds and drink the coriander water on an empty stomach.
How Often Should You Use It
Drink it daily to cure indigestion.
Why Does It Work
Coriander seeds have antioxidant properties and dietary fiber that promote the healthy functioning of the liver and facilitate bowel movements (6), (7), (8), (9). They help in the production of digestive enzymes and juices that ease the process of digestion (10). If you suffer from indigestion, bloated feeling, and flatulence, include coriander seeds in your diet.
5. Cure For Cold And Flu
A diet consisting of coriander seeds enables the healthy production of collagen that helps retain skin elasticity. It also helps heal wounds, maintain healthy connective tissues, and guards against common cold and flu.
Why Does It Work
Vitamin C is a powerful antioxidant that is essential for a healthy body and skin (11). Coriander has many essential vitamins like folic acid, vitamin A, and beta-carotene, and most importantly, vitamin C. Studies have shown that coriander leaves and seeds contain almost 30% of the daily recommended amount of vitamin C (12).
6. Antidiabetic
Many doctors swear by the antidiabetic properties of the coriander seed (13).
What You Need
What You Have To Do
Soak a handful of coriander seeds overnight.
Next morning, strain the water and drink it.
How Often Should You Use It
If you suffer from diabetes and cholesterol issues, you should drink coriander water daily.
Why Does It Work
It helps lower blood glucose, thus maintaining healthy blood sugar levels (14). It reduces the amount of LDL (bad cholesterol) and increases the amount of HDL (good cholesterol) in the blood (15). Those suffering from diabetes and high cholesterol should drink coriander water daily.
7. Have Antibacterial Properties
Many food and waterborne diseases like cholera, typhoid, food poisoning, dysentery, etc. are caused by bacteria (salmonella). The regular intake of coriander protects you from foodborne diseases due to its antibacterial properties.
What You Need
Coriander seeds (whole or ground)
What You Have To Do
You can include it in your salsa dip, curry, or salad for extra flavor.
How Often Should You Use It
Some amounts of coriander seeds in your regular diet can prevent any kind of bacterial infection, especially from salmonella.
Why Does It Work
Coriander seeds contain a high concentration of dodecenal – a compound twice more potent than any antibiotic for salmonella (16), (17). Including coriander seeds in your diet reduces chances of food poisoning.
8. Prevent Anemia
Did you know coriander seeds could help prevent anemia as well? Anemia results from iron deficiency and negatively impacts the efficiency of oxygen transport by blood. Coriander seeds help compensate the iron deficit.
Why Does It Work
Coriander seeds contain many essential vitamins and minerals, including iron, which helps prevent anemia (18), (19).
9. Treat Conjunctivitis
Considered one of the best remedies for conjunctivitis (pink eye), coriander also prevents other eye diseases and problems.
What You Need
A decoction of coriander seeds
What You Have To Do
Simply use the coriander seeds' decoction to wash your eyes.
How Often Should You Use It
If you have conjunctivitis, try to wash the affected eye with the decoction as often as you can.
Why Does It Work
The high antioxidant content in it reduces redness, itchiness and inflammation in the eyes (20). Also, the antibacterial properties of coriander seeds help protect your eyes from contagious diseases like conjunctivitis (21).
10. Prevent Menstrual Irregularities
If you suffer from heavy menstrual flow, then include coriander seeds in your regular diet. They also help prevent menstrual irregularities.
What You Need
6 g coriander seeds
1 teaspoon of sugar
1 liter water
What You Have To Do
Boil 6 grams of coriander seeds in half a liter of water.
Add a teaspoon of sugar when the water has been reduced to half.
Drink the mixture while it is still warm.
How Often Should You Use It
This mixture should be consumed thrice a day daily.
Why Does It Work
Coriander seeds contain natural stimulants that stimulate your endocrine glands to secrete and maintain proper hormone balance, which ensures that the associated pain with the cycle is reduced, and excess flow is alleviated (22).
Caution
Those who suffer from diabetes and hypertension should monitor their health rigorously when including coriander seeds in their diet since they can cause a drastic drop in the sugar levels and blood pressure. Those who are prone to allergies should also be wary of the use of coriander in their diet since it may aggravate allergic reactions.
Selection & Storage
Selection
You will get coriander seeds from your local grocer's store. Try to select organically grown coriander seeds.
You can also harvest coriander seeds on your own. Pick up the seeds while they are still green and fresh. Ensure that the seed heads have a little bit of the stalk. Store these green seeds in a brown paper bag by hanging them upside down. Once the seeds have become brown and completely dry, they will drop down to the base of the paper bag.
Storage
Whether you pick up coriander seeds from the market or harvest them yourself, store in a cool and dry place. Ideally, store them in an opaque and airtight container to prevent any kind of contamination or clumps from forming.
Nutritional Value
Nutrient
Unit
Value per 100 g
Proximates
Water
g
8.86
Energy
kcal
298
Protein
g
12.37
Total lipid (fat)
g
17.77
Carbohydrate, by difference
g
54.99
Fiber, total dietary
g
41.9
Minerals
Calcium, Ca
mg
709
Iron, Fe
mg
16.32
Magnesium, Mg
mg
330
Phosphorus, P
mg
Potassium, K
mg
Sodium, Na
mg
35
Zinc, Zn
mg
4.70
Vitamins
Vitamin C, total ascorbic acid
mg
21.0
Thiamin
mg
0.239
Riboflavin
mg
0.290
Niacin
mg
2.130
Folate, DFE
µg
0
Vitamin B-12
µg
0.00
Vitamin A, RAE
µg
0
Vitamin A, IU
IU
0
Vitamin D (D2 + D3)
µg
0.0
Vitamin D
IU
0
Lipids
Fatty acids, total saturated
g
0.990
Fatty acids, total monounsaturated
g
13.580
Fatty acids, total polyunsaturated
g
1.750
Cholesterol
mg
0

The following two tabs change content below.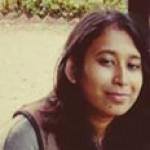 Latest posts by Rahi Bhattacharya (see all)