10 Benefits Of Eggplant, Nutrition Facts, And Side Effects
Promote heart health, regulate blood sugar levels, and improve cognitive function with this veggie.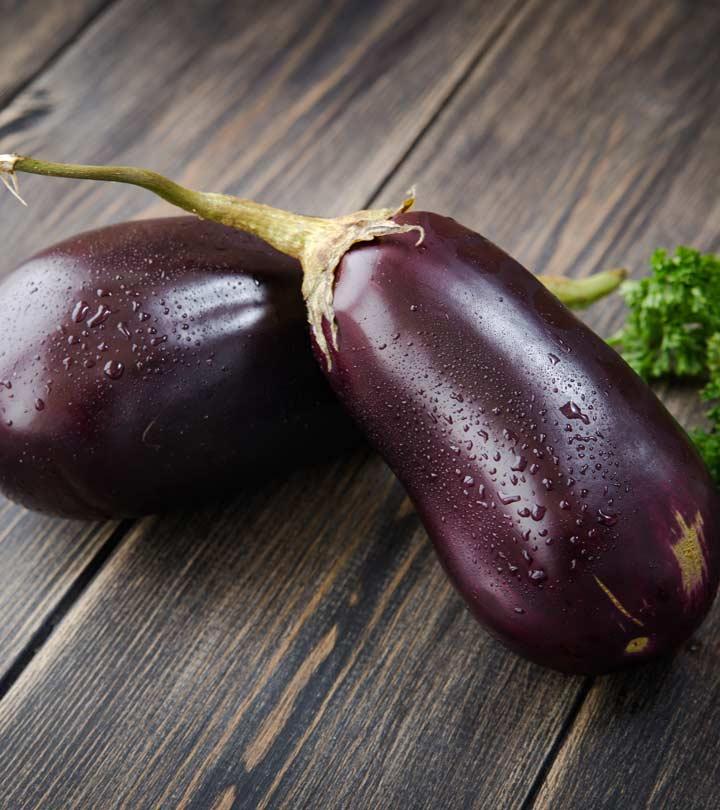 Eggplant (Solanum melongena) is a tear-drop-shaped vegetable (technically a fruit) from the nightshade family. It is also known as aubergine and is available in different colors and shapes. The health benefits of eggplant are due to the presence of antioxidants, vitamins, and minerals.
The health benefits of brinjal are due to the presence of antioxidants, polyphenols, vitamins like A and C (which help protect body cells from radical damage), and minerals. The intake of eggplant can help promote heart health, improve diabetes conditions, reduce cancer risk, and improve cognitive function (1).
In this article, we have discussed the ways in which brinjal benefits your health, its nutritional profile, ways to include it in your diet, and some risks associated with it. Keep reading!


Know Your Ingredient: Eggplant
What Is It?
A teardrop-shaped vegetable from the nightshade family.
What Are Its Benefits?
Promotes heart health, diabetes, cognitive functions, and cancer prevention
Who Can Use It?
Anyone can consume it as there are no underlying allergies
How Often?
Can be consumed in moderation
Caution
Excess consumption can cause solanine poisoning, disrupt iron absorption, and might increase the risk of kidney stones.

What Are The Health Benefits Of Eggplant?
1. May Promote Heart Health
Eggplants are said to possess antioxidant properties that may help promote heart health (2).
A study conducted by the University of Connecticut School of Medicine found that raw and cooked eggplant had cardioprotective properties. Nasunin, a polyphenolic component in eggplant, is beneficial for the heart (3).
Another study conducted on hypercholesterolemic (high cholesterol) rabbits found that eggplant juice may lower plasma and aortic cholesterol levels (4). Also, daily ingestion of eggplant could control high blood pressure in stressed individuals (5).
2. May Control Blood Sugar Levels
Eggplant is a rich source of fiber and low in soluble carbohydrates. It can help improve blood sugar control and regulate the absorption of glucose. In vitro studies of eggplant found that the phenolics in this vegetable act as inhibitors of enzymes involved with type 2 diabetes (6).
A study conducted by the German Institute of Human Nutrition found that dietary fiber consumption and its metabolic effects may help prevent diabetes. Fiber can slow down the absorption of sugar and control the blood sugar levels (7).
The polyphenols in eggplant may help control blood sugar levels (8).
3. May Reduce Cancer Risk
Eggplants may play an important role in cancer prevention. Extracts found in the eggplant peel are rich in solasodine rhamnosyl glycosides (SRGs). These compounds have cancer-fighting properties and may help treat skin cancer (9). A study conducted by the Australasian Medical Research found that the SRGs may induce cancer cell death (10).
Another study conducted by the University of Queensland found that a standard mixture of solasodine glycosides has been shown to be effective in the treatment of malignant and benign human skin tumors (11).
4. May Improve Cognitive Function
The phytonutrients in eggplants may protect the brain cell membranes from damage. They can also facilitate message transfer from one cell to another, thus preserving memory function.
Free radicals in the brain may be responsible for neural degeneration, Alzheimer's, and dementia. Nasunin, the potent antioxidant in eggplant peels, may inhibit neural issues by scavenging these free radicals. This improves brain function and reduces the risk of neural ailments (12), (13).
5. May Aid Weight Loss
Is eggplant good for you if you are trying to lose weight? Yes, because it has high water content and is low in calories. This makes it ideal for people who want to reduce weight. The spongy texture of the vegetable facilitates these characteristics.
Hence, you must consume eggplant in its natural form as much as possible. The vegetable also has a high fiber content. The fiber boosts satiety and may help with weight loss (14). Anecdotal evidence suggests that it may also help improve digestion and metabolism. However, further studies are warranted to support this claim.
6. May Promote Eye Health
Eggplant is rich in lutein (15). The antioxidant may prevent age-related macular degeneration, which is the main cause of blindness and vision impairment (16). More long-term research is needed to understand the potential vision-protective effects of eggplant in humans.
7. May Enhance Bone Health
Eggplant may help improve bone mineral density and reduce the risk of osteoporosis (17). This vegetable contains nutrients like calcium, magnesium, and potassium that help promote bone strength (17), (18).
8. May Help Treat Anemia
The world has seen an unbelievable surge in the number of people with anemia over the last two decades. As per the WHO, a whopping 1.62 billion people today are affected by anemia (19).
Iron deficiency is one of the root causes of anemia, which has symptoms such as headaches, weakness, and difficulty concentrating (20). Therefore, doctors suggest a diet rich in iron to combat anemia.
Talking about eggplant nutritional value, it contains around 0.2 mg of iron per 100 grams. This nutritional vegetable is also rich in copper (about 0.173 mg in 100 grams) (18). These two minerals work together effectively to aid the proper production and distribution of RBCs, thus boosting the energy and hemoglobin levels (21).
9. May Prevent Birth Defects
Eggplants contain folic acid that is essential for pregnant women (22). The intake of a folic acid-rich diet may help prevent birth defects. Folate deficiency leads to abnormalities in both mothers and fetuses (23).
10. May Improve Skin Health
Eggplants are rich in vitamins, minerals, anthocyanins (natural plant compounds), and antioxidants. Anecdotal evidence suggests that these may help improve skin glow and help slow down aging. However, there is no scientific evidence to prove this claim.


Trivia
The ladies from 5th century China used a black dye made from eggplant to stain their teeth.
After learning about the different ways eggplant benefits your health and skin. Let's now take a look at the nutritional information of eggplant.
Eggplant Nutrition Facts
Eggplant is rich in calcium, iron, magnesium and several other important nutrients that aid the proper functioning of your body. According to the United States Department of Agriculture (USDA), 1 cup (or 82 gms) of eggplant contains (18):
Energy: 20.5 kcal
Water: 75.7 g
Protein: 0.8 g
Carbohydrate: 4.82 g
Fiber: 2.46 g
Iron: 0.189 g
Folate: 18 μg
Manganese: 0.19 mg
Potassium:188 mg
Vitamin K: 2.87 μg
Eggplant also contains polyphenolic compounds, phytonutrients like nausinin and chlorogenic acid, fatty acids, amino acids, vitamins B6 and E, and minerals.


Did You Know?
Just like blueberries, eggplants are technically berries, but they are considered vegetables. They are also known as the "king of vegetables" in India.
Including eggplant in your diet is easy. In the following sections, we have discussed how to prepare and use brinjal in your diet.
What Is The Best Way To Prepare An Eggplant?
Eggplants are versatile, low-calorie vegetables. They have smooth, glossy skin and are purple. They have a slightly bitter taste. Soaking an eggplant in salt will draw out the moisture and also the compounds that contribute to the bitter taste. Also, this process will reduce oil absorption during cooking.
To do this:
Always use a stainless steel knife to cut an eggplant. Carbon steel can react with the nutrients present in the eggplant and make the vegetable go black.
Have the eggplant with its skin to enjoy complete nutrition.
Cut the eggplant into the required size and shape. Sprinkle some salt over it and let it sit for at least 30 minutes. This will reduce its water content and make it absorb less oil while cooking.
Salting eggplants will also help reduce their bitter taste to some extent. Rinse eggplants after you have salted them. This will help remove the excess salt from them.
If you choose to bake the eggplant as a whole, make sure you pierce a lot of small holes on the skin with a fork. This will help the steam to pass through and escape. After baking, pass a knife through the eggplant. If it passes through easily, it is ready to be eaten.
Eggplants are a healthy addition to your daily diet, and you can prepare many dishes with them. In the following section, we have included a few recipes.
Recipes
1. Crispy Baked Eggplant
Ingredients
2 pounds of small to medium-sized eggplant
Olive oil, for baking sheets
2 large eggs
1/2 teaspoon each of kosher salt and freshly ground pepper
3/4 cup of finely grated Parmesan cheese
1 teaspoon of dried Italian seasoning
3/4 cup of plain panko breadcrumbs
Marinara sauce for dipping (optional)
Procedure
Preheat the oven to 375o Coat a baking sheet with oil. Set aside.
Whisk the eggs and a tablespoon of water in a shallow bowl.
ombine the panko or Rice Chex crumbs, parmesan, Italian seasoning, salt, and pepper in another bowl.
Cut the eggplants into thick rounds.
Dip the eggplant slices in the egg mixture, letting the excess drip off.
Dredge the dipped slices in the Parmesan mixture, pushing down gently to coat well.
Transfer the coated slices to the baking sheet.
Bake until golden brown on the bottom, for 17-20 minutes.
Flip the slices and continue baking until lightly browned on the other side but still slightly firm for about 10 minutes more.
Remove from the oven and serve as is or with a side of marinara sauce for dipping.
2. Eggplant Spirals With Greek Yogurt, Tomatoes, And Cucumber Recipe
Ingredients
For The Filling
1 1/2 cups of Greek yogurt
1/2 cup of finely grated feta cheese
Kosher salt and freshly ground black pepper
1 teaspoon of finely minced fresh mint
1 tablespoon of fresh juice from 1 lemon
1 teaspoon of minced garlic (about 1 medium clove)
1 tablespoon of finely minced fresh oregano
1 teaspoon of finely minced fresh dill
For The Eggplant Rolls

3 Roma tomatoes stemmed, cored, and cut into 1/4-inch dice
2 large eggplants, ends trimmed and cut lengthwise into 1/4-inch slices
1 English cucumber, seeded and cut into 1/4-inch dice
1/3 cup extra-virgin olive oil
Procedure
For The Filling
Whisk the yogurt, feta, lemon juice, oregano, mint, dill, and garlic in a medium bowl.
Season with salt and pepper.
For The Eggplant Rolls

Set the cooking grate in place, cover the grill, and allow to preheat for 5 minutes.
Clean and oil the grilling grate. Brush the eggplant slices with oil and season with salt and pepper. Grill the eggplant until browned on both sides, 2-3 minutes per side.
Transfer to a large tray or cutting board and let it cool for 3-5 minutes.
Spread a layer of filling over each eggplant slice and top each with a single layer of tomatoes and cucumber.
Roll the eggplant slices into spirals and serve.
Apart from these recipes, there are other ways to eat eggplants. 
Ways To Eat Eggplant
Oven-baked Eggplant Fries: Slice the eggplant into strips or wedges, add a breadcrumb spiced coating, and then bake them for a crunchy taste.
Eggplant Pizza Crust: Replace pizza crust with sliced eggplant and add tomato sauce, cheese, and other toppings for a gluten-free, low-calorie treat.
Eggplant Pasta Topping: Cut the eggplant into thick slices, then bake or sauté them and add the strips to a pasta dish. Top the slices with Parmesan cheese to make eggplant Parmesan. Although most of us think of the grilled eggplants when it comes to Italian cuisine, a Sicilian pasta dish called Pasta Alla Norma is made with eggplants.
In Curries: The fleshy eggplants are a great addition to almost any curry, making it far more delicious. You can dice up the eggplant and add it to a chicken or fish curry. It also is ideal for a vegetable curry.
Burger Garnish: Cut the eggplant lengthwise into thick slices and grill them. Serve them alone or in a burger.
Roast: This is one of the easiest and delicious ways to cook eggplant. All that is required is a hot oven, a few drops of olive oil, and a sprinkle of salt and pepper to transform the eggplant into a rich, soft, and creamy treat.
Though eggplant's health benefits are many, you still need to practice caution. They may cause adverse effects in some individuals.
Are There Any Risks?
Eggplants have a few risk factors associated with them. Excess consumption of eggplant may lead to side effects, such as allergies, solanine poisoning, and oxalate kidney stones.
Eggplants belong to the nightshade family of vegetables that are associated with allergic reactions.
In very rare cases, they may cause allergic reactions in some people due to a specific lipid transfer protein (24). The symptoms include difficulty in breathing, swelling, and hives. In rare cases, eggplant may also cause anaphylaxis (a hypersensitive condition). If you experience any allergic reactions, stop eating eggplant and consult a doctor.
Insufficient Information For
May Disrupt Iron Absorption
Nasunin is an anthocyanin in eggplant peels that binds with iron and removes it from cells. In other words, it chelates iron (25). It may reduce iron absorption. Though more research is warranted in this regard, it is better if people with low iron levels avoid eggplants.
May Cause Solanine Poisoning
Solanine is the natural toxin found in eggplants. Excess intake of eggplants may cause vomiting, nausea, and drowsiness (26).
Consuming eggplants in low-to-moderate levels may not cause any harm. However, consult a health care professional in case of any emergency.
May Increase Risk Of Kidney Stones
Eggplants contain oxalates, which may increase the risk of kidney stones in some people. However, there is insufficient data available. If you have a risk of kidney stones, stop use and consult your doctor.
Infographic: Eggplant – Types & Home Remedies
Eggplant, available in different varieties, is one of the most commonly consumed vegetables worldwide. It has a lot of significance in Ayurveda and other traditional medicine. Moreover, its roots and seeds come in handy as home remedies to help alleviate certain ailments. The following infographic takes you through a list of such home remedies and the types of eggplant. Take a look!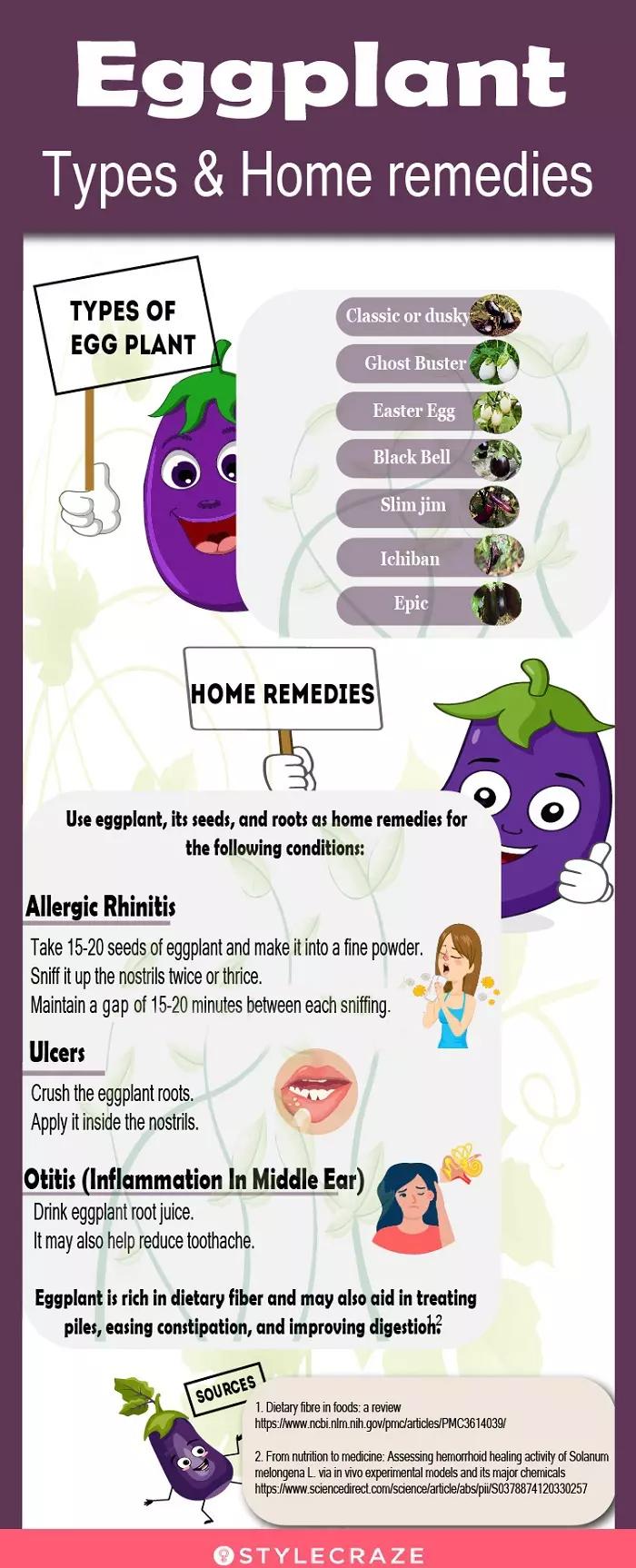 The benefits of eggplant are plentiful and varied. They have a rich nutrient profile and contain beneficial vitamins, minerals, fatty acids, and bioactive compounds. These nutrients help promote bone, brain, and heart health. Eggplant may also help boost vision, weight loss, and skin health. It can be prepared in various ways and incorporated into many dishes. However, some individuals may also experience allergies and solanine poisoning if overconsumed. Hence, consult your healthcare provider before consumption if you have any preexisting medical conditions.
Frequently Asked Questions
Is eggplant a superfood?
Eggplant is considered a superfood because of its high nutritious value. This high-fiber and low-calorie vegetable contains all essential nutrients and minerals and is used to treat many ailments. It is an ideal addition to your daily diet.
Should eggplant be peeled?
A young and tender eggplant does not have to be peeled. If the vegetable is more mature, however, you can peel it to avoid its bitter taste.
Is it OK to eat eggplant every day?
You may eat eggplant every day. It is said to possess many nutrients and has several potential health benefits. However, individuals with a sensitive stomach should avoid taking it daily.
Can you drink eggplant water?
Anecdotal evidence suggests that drinking eggplant water has many health benefits. It may possess anti-inflammatory and laxative properties. Thus, it stimulates the immune system and lowers inflammation. Eggplant water may also help detoxify the body and improve blood flow. However, limited research is available to support this claim.
Should I refrigerate eggplant?
Yes, you should refrigerate eggplant. This vegetable cannot stay fresh if stored for long periods at room temperature. If you don't want to eat eggplants within 2 days, store them in the refrigerator.
Is fried eggplant good for you?
Eggplant is low in calories. But deep-fried eggplant can contain more oil and may not be as healthy.
Is eggplant good for an ulcer?
Anecdotal evidence suggests that eggplant is good for ulcers. However, very little information is available in this aspect.
Is pickled eggplant good for you?
Pickled eggplant has low cholesterol and saturated fat. Hence, it is considered good for health. However, high sodium levels in pickled eggplant may be bad for health.
How many calories are in a cup of cooked eggplant?
One cup of cooked eggplant (101 g) provides 73.7 kcal of energy (27).
Key Takeaways
Eggplant has a good amount of fiber and is low in soluble carbohydrates, which can help control your blood sugar levels.
Eggplants have antioxidant qualities that may benefit heart health.
Simply roast, grill, bake, or add the eggplant to curries and other dishes.
Do not consume the vegetable excessively as it may result in allergies, solanine toxicity, and oxalate kidney stones.
Eggplant is a nutritious vegetable packed with vitamins and minerals. Learn about its health benefits and nutrition facts from this informative video.
Sources
Articles on StyleCraze are backed by verified information from peer-reviewed and academic research papers, reputed organizations, research institutions, and medical associations to ensure accuracy and relevance. Check out our
editorial policy
for further details.
The following two tabs change content below.