19 Amazing Benefits Of Fennel Seeds For Skin, Hair, And Health
Improve your digestion and keep your blood pressure in check with these aromatic seeds.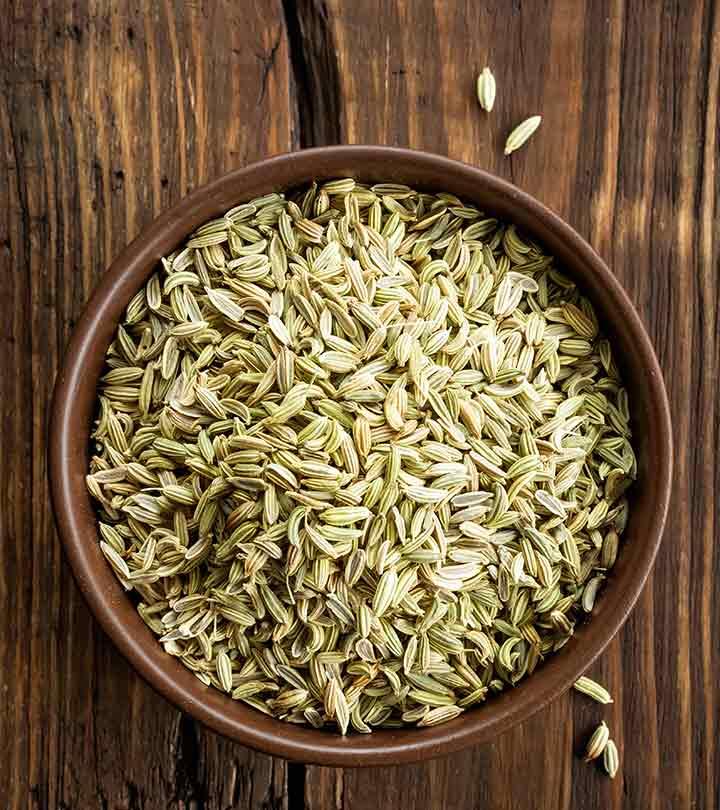 There are many benefits of fennel seeds. They are known for their relieving properties, which can be attributed to the antioxidant and phytonutrient content of fennel seeds. Anethole is a potent nutrient in fennel seeds. In addition, fennel seeds can effectively manage stomach gas, diabetes, congestion, and asthma. In Spanish, fennel seeds are called Semillas de hinojo, budhur alfianal in Arabic, and graines de fenouil in French. Scroll down to learn more about the various ways fennel seeds benefit your health.

Know Your Ingredient: Fennel Seed
What Is It?
A small, light green seed that has a strong, aniseed-like aroma.
What Are Its Benefits?
It helps maintain oral hygiene, fight diabetes, and manage cholesterol levels.
Who Can Use It?
Anyone can take it except people who are allergic to it and on antibiotics and blood thinning medications.
How Often?
You can consume a teaspoon of fennel seeds daily.
Caution
Avoid taking fennel seed oil and supplements if you are pregnant or breastfeeding. Overconsumption may lead to abdominal discomfort and nausea.
What Are The Benefits of Fennel Seeds?

1. May Improve Digestive Health
Fennel seeds are used to treat an array of digestive ailments, including heartburn, intestinal gas (and infant gas), bloating, and even colic in infants. The seeds have carminative and antispasmodic effects. The essential of the seeds can help treat other serious digestive ailments like irritable bowel syndromei  XA variety of digestion-related symptoms that occur together due to an intestinal problem, including stomach pain and constipation. (1).
Some sources suggest that fennel seeds may also help treat gastroesophageal reflux disease (GERD)i  XA long-term disorder developed when bile or stomach acid enters and irritates the esophagus, resulting in acid reflux and heartburn. , diarrhea, constipation, and ulcerative colitisi  XUlcers and inflammation develop in the colon (large intestine), causing chronic abdominal pain and discomfort. . However, more research is warranted in this regard.
2. May Provide Relief From Asthma And Other Respiratory Ailments
The phytonutrients in fennel seeds help clear sinuses. This may help relieve asthma symptoms. The expectorant properties of the seeds heal other respiratory ailments like bronchitisi  XInfection-related inflammation of the bronchial lining (the tube that carries air to the lungs), which results in congestion. , cough, and congestion, thus supporting overall respiratory health.  A study explored the relaxant effects of fennel seeds on guinea pig tracheal chains (2). It concluded the seeds could offer bronchial relaxation. However, we need more research to understand the same effect in humans.
Fennel seeds may instead cause asthmatic symptoms in some individuals (3). Hence, talk to your doctor if you are vulnerable to asthma.
3. May Benefit Breastfeeding Women
Fennel seeds contain anethole (4). Some believe anethole mimics the properties of the estrogen hormone and increases milk secretion in women. Fennel seeds may benefit lactating women as they also are known to be galactagogues (substances that promote lactation) (5).
4. May Combat Bad Breath
Anecdotal evidence suggests that chewing fennel seeds may freshen your breath. The seeds have the flavor of anise (or licorice). Simply munching on 5 to 10 fennel seeds could freshen your breath. The seeds are believed to increase the production of saliva and may wash out the bacteria that cause bad breath. The essential oil of fennel has antibacterial properties that help fight the germs that cause bad breath. The longer you chew the seeds, the more refreshing you could feel.
5. May Help Fight Diabetes
A 2008 study found that fennel essential oil may lower blood sugar levels in diabetic rats (6). Fennel seeds are also a good source of vitamin C. Intake of the nutrient may support blood sugar regulation, though more research is needed to further understand this mechanism. The beta-carotene in fennel seeds may also reduce cholesterol levels in patients with type 2 diabetes. Also, fennel seeds have a low glycemic index (7). Hence, they can be a good addition to a diabetes diet.
6. May Increase Breast Growth
There is limited research in this regard. Fennel is a popular ingredient in most 'bust enhancing' herbal products (8). This could be because it mimics the properties of human estrogen. Talk to your doctor before using fennel seeds for this purpose.
7. May Help Lower Cholesterol Levels
The methanol extracts of fennel were found to reduce cholesterol levels in mice. They also could reduce the deposition of fats (triglycerides) in the coronary arteries (9).
8. May Help Treat Edema
Edema is the swelling of tissues in the body due to excess fluid. Anecdotal evidence supports the efficacy of fennel seeds in treating edema. The anethole in fennel seeds may help in this regard (10).
9. May Boost Fertility
Fennel has estrogenic properties (11).  Anecdotal evidence suggests that these properties may also boost fertility. However, more research is warranted in this regard.
10. May Regulate Blood Pressure Levels
Fennel seeds contain potassium. Potassium is known to counteract the ill effects of sodium and regulates the fluid amount in the bloodstream. This may help lower blood pressure (12).
Anecdotal evidence suggests that the calcium in the seeds also may help in blood pressure regulation. It may help keep the blood vessels toned, and may even help maintain heart rate. The fiber in fennel seeds may also play a role in regulating blood pressure levels.
Research shows the nitrites in fennel seeds may lower blood pressure levels (13). The seeds contain magnesium too. This nutrient is also known to lower blood pressure levels (14).
11. May Aid Hernia Treatment
Some sources mention the use of fennel seeds by traditional Chinese herbal medicine for treating hernia (15). However, we need more research to confirm if they can be used in mainstream hernia treatment.
12. May Enhance Liver Health
In one 2011 study, fennel seeds inhibited liver cancer cells and increased the activity of certain antioxidant cells in the liver (16). The selenium in fennel seeds may also improve the function of liver enzymes. However, more research is warranted in this regard. Some sources suggest that fennel seeds may also help relieve urinary tract infections (17).
13. May Promote Weight Loss
Fennel seeds are rich in fiber, making them an effective metabolism booster. They may also aid weight loss and keep hunger pangs at bay. The seeds may also decrease fat storage and improve nutrient absorption. However, more research is warranted in this regard.
Fennel seeds have diuretic properties (18). They increase urine output and flush out the excess fluid from the body. This also may contribute to weight loss. However, this weight loss induced by fennel seeds could be a direct consequence of water loss and not fat loss.
A Korean study proved that the intake of fennel tea could suppress appetite in overweight people (19).
14. May Ease Morning Sickness
Fennel seeds may be used to calm the stomach and offer quick relief from morning sickness. Chewing fennel seeds or having fennel tea may help. Fennel seeds may also prevent stomach gas and encourage the expulsion of gas. They may help treat nausea as well. However, research is lacking in this regard.
15. May Improve Menstrual Symptoms
Preliminary studies have confirmed that fennel is safe and effective for easing menopause symptoms. It is also a known emmenagogue (20). The phytoestrogenic properties of fennel seeds may also help treat menstrual symptoms like cramps and hot flashes (21).
16. May Enhance Sleep Quality
Fennel seeds contain magnesium. Some sources suggest that magnesium may improve the quality and duration of sleep, especially in the elderly. The mineral may also help treat sleep disorders like insomnia (22).
17. May Treat Candida
The antioxidant properties of fennel seeds can help treat candida (23). The seeds also possess antibacterial and antifungal properties. They may be effective against Candida albicans (24). Taking a tablespoon of fennel seeds along with breakfast may help ease symptoms. You can crush them and add to your breakfast. You can reap fennel tea's benefits by steeping the seeds in hot water and drinking the infused tea in the morning.
18. May Improve Skin Appearance
Anti-aging dermatological skin care creams with fennel extracts have been formulated that help in protecting the skin from free radical damage and improve skin cell longevity (25).
How to use fennel seeds to Improve skin quality?
To tone your skin, you can take a handful of fennel seeds and add them to boiling water. Allow to cool. Add a few drops of fennel essential oil to the mixture. Filter it. Dab it to your face with the help of cotton balls as many times as you can throughout the day. Your skin will feel toned and thoroughly refreshed.
You can also use fennel seed steam facial for enhanced skin texture. Add a tablespoon of fennel seeds to one liter of boiling water. Lean over it and cover your head and neck with a towel for 5 minutes. Do this twice a week to clean the pores and make your skin glow.
You can also use a face mask. Prepare a fennel seed infusion by adding a tablespoon of fennel seeds to half a cup of boiling water. Wait for 30 minutes and add a tablespoon each of oatmeal and honey to it. Make a smooth paste and apply it to your face. Leave it on for 20 minutes. Wash off with lukewarm water.

Quick Tip
The essential oil extracted from the seeds is used in soaps, pharmaceuticals, and cosmetics. You may also use fennel seed-infused products to reap its benefits.
19. May Improve Hair Health
The antioxidant and antimicrobial effects of fennel seeds may help treat a host of hair ailments. The seeds may help treat dandruff, scalp itchiness, hair breakage, and hair fall (26).
How to use fennel to reduce hair fall and breakage?
First, prepare fennel seed tea. You can pound three tablespoons of fennel seeds. Alternatively, you may choose to invest in readymade fennel seed powder. Boil two cups of water and add it to the powdered seeds. Keep the solution aside for about 15 minutes. Use it as the last rinse after you have shampooed and conditioned your hair. This may boost hair health and prevent hair breakage and hair fall.
You may also use a fennel seed-vinegar solution. You can use apple cider vinegar and glycerin along with fennel seeds to prepare a solution to treat an itchy and dry scalp. Boil a cup of water. Pour it over a spoon of crushed fennel seeds placed in a small bowl. Wait for 30 minutes. Add a spoon of vegetable glycerin and apple cider vinegar. Filter the solution with a cheesecloth. Massage the mixture into your scalp and hair and leave it on for some time. Rinse. The best part is that this tonic can be stored in a glass container for weeks.
These are the benefits of fennel seeds. In the following section we will check the nutritional profile of fennel seeds.
What Are The Nutrients In Fennel Seeds?
Nutrition Facts

Serving Size 87g

Amounts Per Selected Serving

Calories 27

Calories from Fat 1
% Daily Value
Total Fat
0 g
 0%
Cholesterol
0 mg
 0%
Sodium
45 mg
 2%
Total Carbohydrate
6 g
  2%
Dietary Fibre
3 g
 11%
Protein
1 g

Vitamins

Amounts Per Selected Serving

%DV

Vitamin A
117 IU
2%

Vitamin C

10.4 mg
 17%

Vitamin D

~
 ~

Vitamin E (Alpha Tocopherol)

~
~

Vitamin K

~
~
Thiamin
0.0 mg
 1%
Riboflavin
0.0 mg
 2%
Niacin
0.6 mg
 3%
Vitamin B6
0.0 mg
 2%
Folate
23.5 mcg
 6%
Vitamin B12
0.0 mcg
 0%
Pantothenic Acid
0.2 mg
 2%
Choline
~
Betaine
~

Minerals

Amounts Per Selected Serving

%DV

Calcium
42.6 mg
  4%
Iron
0.6 mg
 4%
Magnesium
14.8 mg
 4%
Phosphorus
 43.5 mg
 4%
Potassium

360 mg

 10%
Sodium
45.2 mg
 2%
Zinc
2.5 mg
 1%
Copper
 0.2 mg
 3%
Manganese
0.1 mg
 8%
Selenium

0.6 mcg

 1%
Fluoride

~
*values sourced from USDA, spices, fennel seed


Quick Tip
Fennel seeds are added to sweet pickles and sauerkraut and baked into biscuits, bread, stuffing, and sausages.
Infographic: Amazing Benefits Of Fennel Seeds
You may be surprised once you learn the many health benefits of fennel seeds. The seeds are replete with many antioxidants and essential phytonutrients. Check out the infographic below to learn how these seeds can make your life better.


Fennel seeds are an aromatic spice popular in many cuisines. It is packed with many beneficial nutrients that offer a wide range of benefits. The seeds help support digestive, heart, and liver functions. Women may find them particularly beneficial as they can provide menstrual cramp relief, boost fertility, and ease morning sickness. As it has natural antibacterial effects, it is useful for addressing various hair issues, including dandruff and hair loss. Nevertheless, excess intake may have side effects. If you experience any adverse effects, limit their use and seek medical advice.
Frequently Asked Questions
Can we eat fennel seeds daily?
Yes, the nutritional benefits of fennels can be enjoyed daily if consumed in moderate amounts.
How much fennel can I consume in a day?
Five to seven grams of fennel seeds or 0.1 mL to 0.6 mL of the oil would do.
What can I substitute fennel seeds with?
Anise seeds can be a good substitute as they also have a licorice flavor. Since anise seeds have a stronger flavor, you can use them in small amounts.
Can you eat raw fennel?
Yes, you may eat raw fennel.
Which part of the fennel plant can we use?
The white fennel bulb and the green fronds are can be used. Fennel stalks are quite tough and are generally not consumed.
Is fennel good for the eyes?
Traditional medicine suggests that fennel is good for improving eyesight. It has anti-inflammatory effects and may help treat various eye related issues such as dry eyes, and watery or tired eyes. Ayurvedic remedies claim to use fennel to clear cloudy eyes, and help in the treatment of glaucoma and cataracts. However, research is lacking in this aspect.
Where do fennel seeds come from?
Fennel seeds come from the fruit of the fennel plant.
Key Takeaways
Fennel seeds have digestive benefits that can help with bloating, gas, and heartburn.
Lactating women can use fennel seeds to improve milk secretion as these seeds mimic the properties of estrogen.
Consume fennel seeds to improve your overall health and reduce the risk of chronic diseases like cancer.
The potassium, fiber, and magnesium in these seeds can help improve heart health.
Fennel seeds are packed with nutrients and offer many health benefits. Check this video to learn about this superfood's amazing facts and benefits!
Sources
Articles on StyleCraze are backed by verified information from peer-reviewed and academic research papers, reputed organizations, research institutions, and medical associations to ensure accuracy and relevance. Check out our
editorial policy
for further details.
The following two tabs change content below.