10 Amazing Beauty Benefits Of Galvanic Facial
You probably haven't heard much about it, so here's all you need to know about this beneficial facial treatment.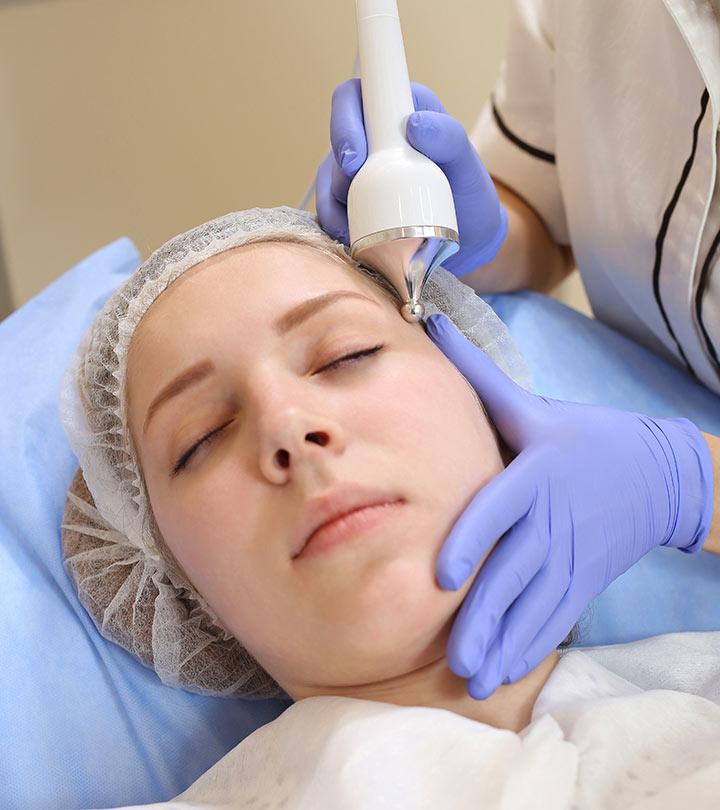 Galvanic facials are the new buzzword in the skin care world and the easiest way to stimulate your facial muscles. However, the benefits of galvanic facials go beyond that. The low-level currents stimulate collagen production, boost circulation, and minimize wrinkles. Dr. Anna Chacon, MD, FAAD, a double board-certified dermatologist, says, "Galvanic facials help improve the skin's absorption by using direct electrical current." A galvanic facial stimulates the facial muscles and tissues. It works like a non-surgical facelift to keep your skin healthy and youthful. Read on to understand the benefits of a galvanic facial and how to do it at home.
What Is Galvanic Facial?
Skin therapists call this procedure a 'non-surgical facelift' that gives you youthful skin without having to undergo any surgical procedure or poke needles into it. In other words, a galvanic facial uses a galvanic machine to render medium-amperage direct current to stimulate your skin cells, soften your skin, and drive medicines or creams deep into the layers of your skin. This is done to improve the hydration levels of and blood circulation to your face, thereby making it more radiant. And don't worry! It's quite painless – you won't even feel a thing.
Usually, skin therapists offer two types of galvanic facial:
Iontophoresis: During this procedure, a positively charged gel is applied to your skin. Then, a negative electrode is placed near your shoulder, or you are asked to hold it. Now, a positively charged current is passed through your skin, which helps push the active ingredients applied to your skin deep into the epidermal layers. This dramatically increases the efficacy of all skin products that you use after undergoing this procedure.
Desincrustation: In this process, galvanic current is used to soften and emulsify the keratin and sebum contained in your hair follicles. It is a way to prepare your skin for safe and painless removal of

comedones

i

  X

A hair follicle or skin pore that may be open (blackhead) or closed (whitehead) and blocked with sebum, dead skin, or bacteria.

. A manual extraction follows this procedure. This is meant for deep cleansing your skin and softening it at the same time.
Galvanic facial is suitable for all skin types (including sensitive skin). This specialized skin treatment has many benefits.


Did You Know?
Desincrustation treatment was developed in France by the Société P.A.B. during the early 1930s.
What Are The Benefits Of Galvanic Facial?
1. Reduces Dullness And Makes Skin Glow
Dullness is one of the main signs of aging. A galvanic facial removes all the impurities from your skin and promotes skin rejuvenation. It also improves the concentration of oxygen in it. This deep cleansing technique makes your skin glow.
2. Minimizes Fine Lines And Wrinkles
Age and constant exposure to the sun and dust can take a toll on your skin. You won't even notice the fine lines and wrinkles beginning to creep up on your face. Treating yourself to a galvanic facial once in a while rejuvenates your skin, restores skin balance, tightens the skin, and leads to reduced fine lines and wrinkles. It is also beneficial in preventing premature signs of aging.
3. Improves The Elasticity Of Your Skin
When you are stressed, it is evident on your face. No, I am not talking about frowning and squinting. I'm talking about the effect of stress on your skin. Coupled with lack of proper care and other external factors, your skin tends to lose elasticity and sag. The galvanic current that is passed through your skin during the treatment helps in tightening it. This revives your aging skin, resulting in improved skin elasticity.
4. Detoxifies Your Skin
You can't deny the fact that your skin feels great and relaxed after every facial session. But, apart from the relaxation, a galvanic facial has something more to offer than conventional facials. The electric currents enable lymph drainage and stimulate your skin. This improves your skin's natural ability to cleanse itself of harmful toxins, leading to improved skin texture. Moreover, the facial draws out toxins from deep within your skin, making your face look brighter and healthier.
5. Boosts Blood Circulation And Oxygen Levels In The Skin
A galvanic facial boosts the production of fresh skin cells, causing an increased collagen production. As a result, the new cells replace the older ones much faster. It also aids improved blood circulation to the surface of your skin, which, in turn, increases oxygen supply to your face. Oxygen makes your skin feel fresher and tighter and supports moisture retention.
6. Helps In Preventing Acne
The galvanic facial, especially the desincrustation process, targets the hair follicles and clogged pores. It extracts all the impurities stuck in your skin pores, leaving them clean. This helps in reducing and preventing acne.
7. Improves Complexion
I am not saying that this treatment will make you fair. Don't carry that notion. When your skin is thoroughly cleansed, it looks clear and bright. That's because harmful toxins are eliminated from your skin. The negative ions in the current trap all the impurities, toxins, and dirt. This, in turn, gives you an improved skin tone.
8. Thoroughly Moisturizes Your Skin
Worried that your moisturizing face cream is not working properly? The fact is that the product does not penetrate the layers of your skin. Moreover, your skin may not be able to retain moisture. A galvanic facial aids improved skin hydration by removing dead skin cells and promoting cell regeneration. This revitalizes your skin, making it more elastic and increasing its moisture retention.
9. Better Product Penetration
The galvanic facial results in improved product absorption. The galvanic current contains negative ions, and the treatment gel (containing anti-aging and other ingredients) that is applied to your skin contains positive ions. The current pushes the products deeper into your skin. The products work hard in neutralizing the toxins and harmful free radicals in your skin. The deep tissues and cells within your skin layer are where the products work best. The better absorption of products further leads to improved overall skin health.
10. Calms And Soothes Your Skin
Not only does aging turn your skin into a canvas of fine lines, age spots, and wrinkles, it also makes it rough to touch. A galvanic facial eases the facial tissues and muscles that get stiff with aging. When the muscles and tissues are relaxed, more blood and oxygen are carried to the skin cells. The pH balance of the skin is also restored, making it soft and smooth.


Quick Tip
Avoid touching the face after the procedure and do not use makeup for at least 24 hours.
Sounds promising, isn't it? But before you rush to book your appointment, there are some more things you need to know. Not everyone can opt for a galvanic facial. Why? It's because certain factors make you a weak candidate for this facial.
Galvanic Facial: Who Is Not Suitable For This Treatment?
Do not go for this treatment if you:
Have a pacemaker
Are diagnosed with a heart condition
Suffer from

epilepsy

i

  X

A nervous system disorder affecting brain activity characterized by convulsions, unconsciousness, or odd behavior.

or high blood pressure
Have cuts, wounds, and abrasions on your skin
Are pregnant
Are diabetic
Have metal implants in your body
Have spider veins
Are on skin thinning medication
Recently underwent chemical peeling
I understand that the very thought of passing electricity through your skin sounds scary. But are there any side effects of this treatment? Is galvanic facial safe?
Side Effects Of Galvanic Facial
So far, no study has been conducted to evaluate galvanic facial side effects. However, galvanic current has been widely used for treating face paralysis and Bell's Palsyi  XA condition affecting one side of the face, causing sudden weakness of muscles of that region. , so it is considered to be a safe treatment. Nevertheless, one study evaluating the effect of electrical stimulation on human skin mentions that a few of the participants experienced an "unpleasant feeling." Some of them also felt mild pain (1).
Again, the level of sensitivity to stimuli differs from person to person. Some may have a high pain tolerance, while others may be extremely sensitive to even mild stimuli. So, it depends on you and the condition of your body.
If you have metallic dental fillings, crowns, and metal braces, be careful. People with these dental fixtures may experience a metallic taste in their mouth during the procedure. Having metal inside the mouth may even give you a galvanic shock, which may trigger a mild headache or give you a tingling feeling. But, with a few precautions, you can go for this procedure.
Getting a galvanic facial at a spa may cost a bomb, but you can experience this luxury right at home without having to break the bank.
How To Do A Galvanic Facial At Home
Handheld galvanic facial equipment is readily available in the market, along with the special facial gels. Get them and then follow these steps:
Clean your face and neck thoroughly with the cleanser you have at home. Pat dry and spritz on your favorite toner.
Apply the treatment gel (as directed on the kit) on one half of your face and neck. Set the timer (in case the facial machine doesn't have a timer).
Wet your hands and then hold the device. Once you press the start button, touch the end of the machine to your skin where you have applied the gel and move it around.
Stop when the timer goes off. Repeat the same steps on the other side of your face and neck.
Once done, remove the remaining gel from your face with a wet cloth or towel. Apply a face serum or moisturizer once you are done.
Note: If the gel dries up during the treatment, apply a little bit of water and continue. Also, make sure that the flow of current is consistent.
It is always better to visit a professional aesthetician for a proper galvanic facial. Some spas offer this service. The benefits of this service are innumerable if only you keep in mind the words of caution. So, say goodbye to dull and lifeless skin, and welcome a new you with the galvanic facial.
Infographic: Top 5 Benefits Of Galvanic Facial
A galvanic facial helps improve your skin by boosting circulation and hydration levels. Though this facial has multiple skin benefits and provides a deep cleansing effect, we have compiled a list of the key benefits you should pay attention to. Check out the infographic below to learn the top 5 benefits of galvanic facials.



The benefits of galvanic facial are gaining attention in the beauty industry. This facial uses a low-level current to infuse the medication into the skin. Galvanic facial reduces dullness and imparts a natural glow to the skin. It helps with the detoxification of skin, minimizes the appearance of fine lines and wrinkles, may treat acne, and moisturizes the skin. The facial also helps with improved lymphatic drainage, resulting in reduced pore size. Fortunately, this facial can be done in the comfort of your home as well. However, pregnant women and people with a heart condition, a pacemaker, or diabetes should not go for this facial.
Have you ever tried this facial? How did it go? Why don't you share your experience with me? Just drop a comment in the comments section below!
Frequently Asked Questions
What skin type is galvanic good for?
Though they are beneficial for all skin types, galvanic facials work particularly for dry/dehydrated skin.
How long does it take to see results from a galvanic spa?
Dr. Chacon says, "The majority of people notice and feel a difference right away after using the galvanic spa, but the biggest benefits will be observed after one month of constant use."
How long does the galvanic facial treatment take?
A session lasts anywhere from 45 minutes to an hour.
How many galvanic treatment sessions are needed?
You may go for a galvanic facial twice or thrice a week, depending on your age. If you are in your 20s, you may try it once or twice in two weeks.
What is the cost of the galvanic facial treatment?
It depends on the area you are in, the salon, and the expertise of the aesthetician.
How long does a galvanic facial last?
Results of galvanic facials last for 1-2 years after completion of a series of facial treatments as recommended and with proper maintenance.
Can I use a galvanic spa every day?
No, galvanic spas and facial gels should be used as recommended. They are usually recommended for use two to three times a week.
Key Takeaways
Galvanic facial removes impurities and reduces fine lines and wrinkles.
It tightens the skin and improves blood circulation.
It calms your skin and prevents acne breakouts.
Do not opt for this facial if you are pregnant or have any heart condition.
You might experience a mild headache due to a galvanic shock if you have metal fillings or braces.
Learn how to give yourself a luxurious facial treatment with this easy-to-follow tutorial on galvanic facial treatment. Watch the video now and get glowing skin in no time.
The following two tabs change content below.