4 Bottle Gourd Juice Benefits, Nutrition, & How To Make It
Tackle hair loss and boost your heart health with this nutritious green juice.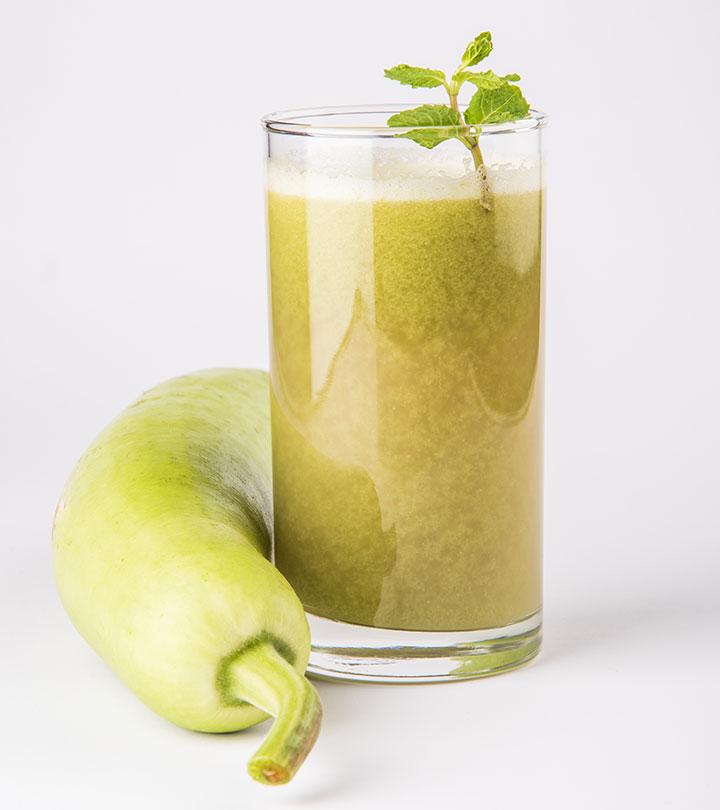 Bottle gourd juice benefits go beyond promoting gut health. It contains an abundance of nutrients and minerals like potassium, folate, calcium, magnesium, and vitamin C. However, consuming raw bottle gourd juice can cause serious side effects like vomiting, diarrhea, and bleeding in the gastrointestinal tract (1).
On the contrary, drinking cooked bottle gourd juice has several health benefits. It promotes your heart and hair health. This article discusses the benefits of bottle gourd juice, its nutritional profile, and any potential side effects. Keep reading.

Know Your Ingredient: Bottle Gourd Juice
What Is It?
A healthy drink made of cooked bottle gourd (Calabash).
What Are Its Benefits?
It may promote heart and digestive health and reduce the risk of cancer and hair loss.
Who Can Consume It?
It can be consumed by all in small quantities, but people who want to lose weight might find it more beneficial.
How Often?
You can consume 50 ml of the juice every day.
Caution
If you experience diarrhea or vomiting, seek immediate medical assistance.
How Can Bottle Gourd Juice Be Good For You?
Studies show that the dietary fiber in bottle gourd juice can help relieve constipation and flatulence. It can also relieve pain and inflammation in the body. As per research, the juice also shows better effects in the treatment of insomniai  XA common sleep disorder in which you have trouble falling and staying asleep due to poor sleeping habits, depression, and anxiety. and epilepsyi  XA disorder of the brain in which the nerve cell activity of the brain is disturbed and the nerve cells don't properly respond. (2). The extract of bottle gourd serves as an adjunct in the treatment of cardiovascular disease (3).


Trivia
Dried bottle gourds were used to make containers, cutlery, and musical instruments. West Indian percussion instruments Ṣẹ̀kẹ̀rẹ̀, kora, and goje, along with the Hawaiian ipu heke, were made from bottle gourds.
In the following section, we will look at the other possible ways that bottle gourd juice benefits your health.

Trivia
Bottle gourd is known by many names across the globe – calabash, long melon, birdhouse gourd, New Guinea bean, and Tasmania bean.
What Are The Health Benefits Of Bottle Gourd Juice?
If made the right way, bottle gourd juice may promote a healthy heart and reduce oxidative stress. It may also be beneficial in the treatment of certain digestive issues.
1. May Promote Heart Health
As per a study, the extract of bottle gourd can serve as a powerful nutraceutical with significant lipid-lowering properties. The extract may be used as a preventive measure in subjects with cardiovascular disease risk (4).
Regular intake of the extract was found to reduce cardiovascular risk ratio and oxidative stress and could be of therapeutic use for addressing lifestyle disorders (4).
In subjects with high cholesterol levels, administration of this extract was also found to lower systolic and diastolic blood pressure (4).
In a study on rats with myocardial infarction, bottle gourd juice seemed to have a protective effect. However, further studies with higher doses of the juice administered for a longer duration are needed to confirm its cardioprotective activity (5). Anecdotal evidence suggests that traditionally bottle gourd juice has been used to control blood sugar level and helps in diabetes management.
2. May Reduce Cancer Risk
In mice studies, bottle gourd juice was found to have a chemopreventivei  XThe property of a drug that helps lower the risk of developing cancerous cells or delay its occurrence. effect on skin cancer. Higher doses of the juice were found to be more potent than the lower doses (6).
This is the only study that links the juice to possible cancer prevention. More research is warranted to confirm the claims.
3. May Promote Digestive Health
Bottle gourd juice could be an excellent remedy for digestive disorders. The dietary fiber present in the vegetable can help relieve constipation, flatulence, and even piles (7).
Some research also states that a decoction of the seeds of bottle gourd could be effective in cleansing the digestive system and helping ease constipation (1).
4. May Reduce Hair Loss
There is very limited research in this regard. One small study states that topical application of bottle gourd juice and sesame oil on the scalp may help reduce hair loss to some extent (7).
The benefits of bottle gourd juice are limited for now. But more research is being done to explore and establish other benefits of lauki juice. In the following section, we will look at the nutritional profile of the juice.
What Is The Nutritional Profile Of Bottle Gourd Juice?
Though the table shows the nutritional data of bottle gourd, it can be applied to its juice as well (when consumed by retaining the natural fiber and without any added sugars).
Carbohydrates
Amounts Per Selected Serving
%DV
Total Carbohydrate
5.39 g
2%
Dietary Fiber
1.8g
4%
VITAMINS
Amounts Per Selected Serving
%DV
Vitamin C
12.4 mg
21%
Thiamin
0.042 mg
1%
Riboflavin
0.032 mg
1%
Niacin
0.569 mg
1%
Vitamin B6
0.055 mg
1%
Folate
6 mcg
12%
Minerals
Amounts Per Selected Serving
%DV
Calcium
35 mg
5%
Iron
0.36 mg
1%
Magnesium
16 mg
5%
Phosphorus
19 mg
3%
Potassium
248 mg
6%
Sodium
3 mg
1%
Zinc
1 mg
6%
Source: United States Department of Agriculture, National Nutrient Database, gourd, white-flowered, cooked (values for 1 cup of gourd, 146 grams)
The juice contains several nutrients. It also is very low in cholesterol and fat. But if you have it outside, you run the risk of contamination. However, there is a solution – making the juice at home may help reduce the risk.
How To Make Bottle Gourd Juice At Home
The best time to have this juice is in the morning on an empty stomach. Preparing it is simple.
However, do remember to taste a small piece of the bottle gourd from both the ends. If the gourd tastes bitter, please do not pick it up. Ensure you cook the gourd before using it to prepare the juice. Also, to be on the safe side, consume less than 50 ml of the juice a day as consuming it in large quantities may lead to complications (1).
What You Need
2 medium-sized bottle gourds, cooked, peeled, deseeded, and chopped
4 Indian gooseberries, sliced
15 to 20 mint leaves
1 tablespoon of cumin seeds
2 to 3 tablespoons of lemon juice
2 small pieces of ginger, chopped
Salt, as required
Ice cubes, as required
Directions
Add the bottle gourds, gooseberries, ginger, mint leaves, salt, and cumin seeds to a blender. Add a cup of water and blend for 2 to 3 minutes.
Add another cup of water, lemon juice, and ice cubes. Blend for 2 to 3 minutes.
Strain into individual glass tumblers and serve chilled.
Before you go ahead with your preparation, there is something you must know. Bottle gourd juice has a major concern. Consuming it in excess can lead to toxic symptoms due to possible contaminants.
What Is The Concern With Bottle Gourd Juice?
Excess bottle gourd juice may cause toxicity and fatal harm. Patients developed severe dizziness and sweating and collapsed. Though timely management could save a few, the rest could not be saved (1).
Bottle gourd contains toxic tetracyclic triterpenoid compounds, called cucurbitacins, which are responsible for the bitter taste and toxicity. Just within an hour of ingesting bitter bottle gourd juice, most patients may experience vomiting, diarrhea, hypotensioni  XA sudden drop in blood pressure that causes dizziness or fatigue because the brain doesn't receive enough blood. , and upper gastrointestinal bleeding (8).
If you experience any of these symptoms after consuming bottle gourd juice, please seek immediate medical help. You will be put on intravenous fluids, and a detailed examination of your vital organs will be carried out (1).
As per reports, there is no known antidote for this poisoning. Blood transfusions may be necessary. Antibiotics are frequently administered to prevent and treat any infections (8).
While 50 ml of the juice can lead to complications, 200 ml can be fatal (1).
It is important that you avoid drinking bottle gourd juice if it is bitter. Raw or uncooked bottle gourd juice is also dangerous to health (1).
Juice from cooked bottle gourd is better and maybe harmless. Tasting a small piece of bottle gourd (from both ends) can tell you if the veggie is bitter. If it is bitter, please don't pick it up.
Infographic: Bottle Gourd Juice: Dosage, Storage, And Who Should Avoid
Bottle gourd is known for its water content and many beneficial nutrients like vitamin C and dietary fiber. Its juice also comes with an array of health benefits. Know the ideal dosage of the juice, how to store it, and who should avoid it from the following infographic.



Bottle gourd or lauki juice benefits are plentiful and varied. It is replete with many essential nutrients and phytonutrientsi  XNatural chemicals or compounds produced by plants with anticancer and cardio-protective properties. that promote overall health and boosts the immune system. Cooked bottle gourd juice may help promote heart, digestion, and hair health. It may help reduce the risk of cancer as well. Drinking this nutritious beverage for breakfast can be a great way to start your day. However, excess intake may cause vomiting, diarrhea, dizziness, or sweating. Seek medical attention if these effects occur.
Frequently Asked Questions
Can I drink bottle gourd juice daily?
Please keep the dosage in mind – no more than 50 ml. Ensure the juice is extracted from cooked gourds. You may drink bottle gourd juice daily, but if you are not sure about the quality of the gourds, it could be risky.
Can I freeze a bottle gourd?
Yes, you can. Place the bottle gourd in a zip lock bag and store in the refrigerator. Chopped bottle gourd must be covered with a cling film, placed in a glass/stainless steel container, and then refrigerated/frozen. But remember to cook the bottle gourd before consumption.
Is the bottle gourd good for kidneys?
There is no research here. On the contrary, consuming raw bottle gourd juice can lead to multiple organ damage, possibly harming the kidneys as well.
Does bottle gourd juice reduce belly fat?
Yes. Drinking bottle gourd juice on an empty stomach in the morning helps in weight loss and reducing belly fat. The vitamins, antioxidants, and other active ingredients in bottle gourd prevents fat accumulation in the adipose tissue (9).
Is bottle gourd good for the skin?
Bottle gourd has been used in folk medicine to treat many skin diseases and irritation (10). Also, it may help cleanse the body internally and offers clear, glowing skin and boosts hydration.
Is bottle gourd or lauki juice good for the liver?
Yes. Bottle gourd or lauki juice may help manage liver inflammation and other liver conditions (11).
Is bottle gourd acidic or alkaline?
Bottle gourd is alkaline.
Is lauki juice good for uric acid?
Anecdotal evidence suggests bottle gourd juice may lower uric acid levels. However, more research is warranted in this regard.
Key Takeaways
The dietary fiber in bottle gourd juice relieves constipation, piles, and flatulence.
Bottle gourd reduces lipid levels, the risk of cardiovascular disease, and blood pressure.
Bottle gourd has chemopreventive properties that might help treat skin cancer.
Consuming bitter bottle gourd juice can cause diarrhea, vomiting, gastrointestinal bleeding, and hypotension.
Experience the incredible benefits of bottle gourd juice, a.k.a lauki or calabash. From weight loss to glowing skin, this informative video uncovers the secrets of this nutritious elixir. Check it out!
Sources
Articles on StyleCraze are backed by verified information from peer-reviewed and academic research papers, reputed organizations, research institutions, and medical associations to ensure accuracy and relevance. Check out our
editorial policy
for further details.
The following two tabs change content below.