Health Benefits Of Okra: For Diabetes, Cardiovascular Health, And More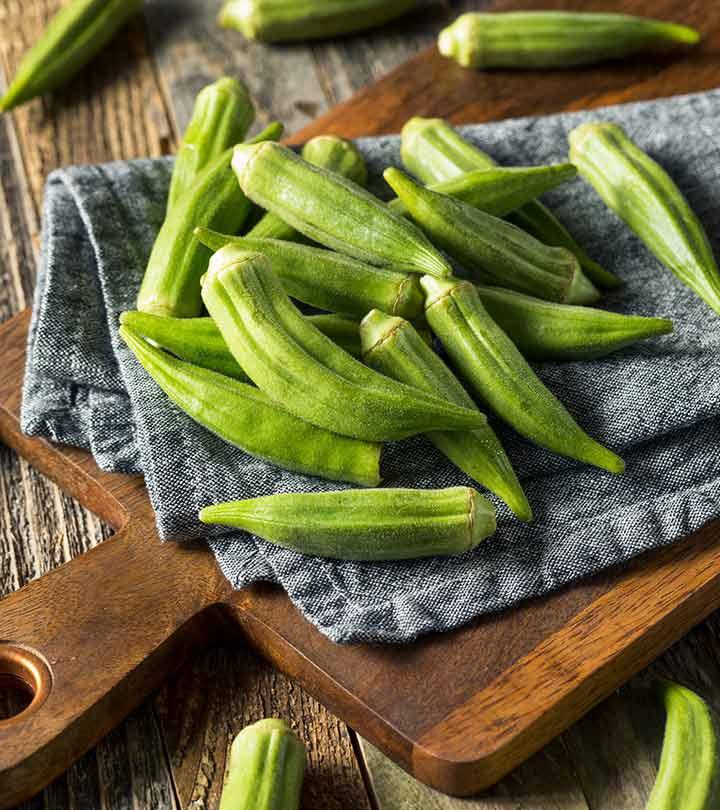 Okra is also known as lady's finger. It is a green flowering plant that is thought to have originated in Asia and Western Africa.
Preliminary rat studies show that okra may help improve blood glucose levels (1). Its high mucilage content has made it useful in traditional medicine to treat gastric irritation (2).
In this post, we will discuss the benefits of okra that have been studied extensively in scientific research.
What Are The Health Benefits Of Okra? 
1. May Aid Diabetes Treatment
Okra may help regulate blood glucose levels and reduce cholesterol levels. 
In rat studies, the peel and seeds of okra were found to have the ability to normalize blood glucose and lower cholesterol levels during diabetes (3).
Okra contains polysaccharides, which may help in the treatment of metabolic disorders. Mice studies showed that these compounds might lower body weight and glucose levels.
The polysaccharides also improved glucose tolerance. These studies suggest that okra polysaccharides may have therapeutic effects on metabolic diseases (4).
Myricetin, a substance derived from okra, was found to prevent high blood sugar. Myricetin could improve the utilization of glucose (this eventually reduced blood glucose levels) in diabetic rats that lacked insulin (5).
The dietary fiber in okra may also help in diabetes treatment. In studies, the soluble fiber in okra was found to reduce glucose absorption in the intestine. The vegetable may help control postprandial (after a meal) glucose levels. However, more research on humans is needed (6).
Note: Okra may reduce the absorption of metformin (a medication for treating type 2 diabetes). Observations suggest that those with type 2 diabetes must be careful in taking metformin along with a meal containing okra (6).
2. May Offer Cardiovascular Protection
Okra may lower blood cholesterol levels. This may help reduce heart disease risk. 
In studies, mice on the okra diet were found to eliminate more cholesterol in their stools (7).
As per other reports, okra could help manage cholesterol levels more effectively. The vegetable contains pectin, which regulates cholesterol levels by modifying the production of bile within the intestines. This can decrease the risk of cardiovascular disease (8).
3. May Aid Cancer Prevention
Okra, in its native form, was found to exhibit antitumor effects on human breast cancer cells. Studies state that it may represent a potential therapeutic to combat breast cancer (9).
Okra pod extracts were also found to kill skin cancer cells. Studies conclude that these findings could open new therapies for melanoma (skin cancer) (10).
4. May Be Beneficial During Pregnancy
Okra contains folic acid, which is an important nutrient during pregnancy.
Folic acid protects the unborn baby from birth defects (also called neural tube defects). Neural tube defects usually can occur during the first few weeks of pregnancy, much before a woman knows she is pregnant (11).
In addition to eating okra, women can also eat a fortified breakfast cereal that contains added folic acid. Enriched pasta, bread, or grain products can help. Taking a vitamin supplement containing 400 mcg of folic acid can help (ensure you check with your healthcare provider) (12).
Folic acid helps in the formation of the neural tube of the fetus through the fourth to the twelfth week of pregnancy. The vitamin C in okra also helps promote the development of the baby (8).
5. May Enhance Skin Health
The vitamin C in okra may have some beneficial effect on the skin. The nutrient helps in the repair and maintenance of tissues. Vitamin C, being an antioxidant, also neutralizes free radicals that may lead to premature signs of aging (13).
6. May Promote Digestive Health
Some reports suggest that okra may also be useful in treating digestive issues.
Immature okra pods contain polysaccharides that possess anti-adhesive properties. They help remove the adhesive between bacteria and the stomach tissue. This prevents microbes from spreading and causing infections (14).
These polysaccharides are particularly effective against Helicobacter pylori, which are bacteria known to cause gastritis and gastric ulcers (14).
Okra also promotes colon health. It sails down the colon and absorbs the toxins and excess water in its path. The fiber in okra also promotes digestive health (14).
 Those were the benefits of okra. Apart from what you read, there are other nutrients in this veggie that contribute to its goodness.
What Is The Nutritional Profile Of Okra?
Okra is a high-fiber food – half of its nutrition consists of soluble fiber in the form of pectins and gums. It also contains over 10% of the RDA of folic acid. The following table shows the other important nutrients in the veggie:
Principle
Nutrient Value
Percentage of RDA
Energy
1.5%
31 Kcal
Carbohydrates
7.03 g
5.4%
Protein
2.0 g
4%
Total Fat
0.1 g
0.5%
Cholesterol
0 mg
0%
Dietary Fiber
9%
3.2 g
Vitamins
Folates
88 µg
22%
Niacin
1.000 mg
6%
Pantothenic acid
0.245 mg
5%
Pyridoxine
0.215 mg
16.5%
Riboflavin
0.060 mg
4.5%
Thiamin
0.200 mg
17%
Vitamin C
21.1 mg
36%
Vitamin A
375 IU
12.5%
Vitamin E
0.36 mg
2.5%
Vitamin K
53 µg
44%
Electrolytes
Sodium
8 mg
0.5%
Potassium
303 mg
6%
Minerals
Calcium
81 mg
8%
Copper
0.094 mg
10%
Iron
0.80 mg
10%
Magnesium
57 mg
14%
Manganese
0.990 mg
43%
Phosphorus
63 mg
9%
Selenium
0.7 µg
1%
Zinc
0.60 mg
5.5%
Phyto-nutrients
Carotene-ß
225 µg
—
Crypto-xanthin-ß
0 µg
—
Lutein-zeaxanthin
516 µg
—
Values sourced from USDA, okra, raw Now that you know how incredible okra can be for you and your family, why not check out a few recipes? Okra Delicacies To Try 1. Roasted OkraWhat You Need
20 fresh okra pods, each sliced ½ inch thick
1 tablespoon of olive oil
2 teaspoons of black pepper, for taste
2 teaspoons of Kosher salt, for taste
Directions
Preheat the oven to 425o
Arrange the okra slices in one layer on a baking sheet.
Drizzle with the olive oil. Sprinkle salt and pepper (if needed).
Bake in the preheated oven for 10 to 15 minutes.
2. Okra Creole Recipe What You Need
1 package of frozen and sliced okra
3 slices of bacon
1 can of chopped tomatoes
1 cup of frozen corn kernels
½ cup of water
1 teaspoon of Creole seasoning
¼ teaspoon of pepper
Cooked hot rice, optional
Directions
Cook the bacon in a Dutch oven until it is crisp. Remove the bacon and drain on paper towels. Preserve the drippings. Crumble the bacon and set it aside.
Over medium-high heat, cook okra and the other ingredients in hot drippings in a Dutch oven. Keep stirring every 5 minutes.
Reduce the heat to low and cover and simmer for 15 more minutes – until the vegetables are tender.
Top with the crumbled bacon. If desired, you can serve the dish with rice.
Simple recipes, aren't they? But does this mean you can have as much as okra as you want? Probably not. There are some side effects you need to be aware of. What Are The Side Effects Of Okra? 
May Increase The Risk Of Kidney Disease
Okra contains potassium, the excess of which can lead to hyperkalemia (excessively high potassium levels). Hyperkalemia is a risk factor for people with kidney disease. Individuals with kidney issues may want to reduce okra and other high-potassium foods in their diet (15).
May Cause Gastrointestinal Issues
Okra is rich in fructans, which are a type of carbohydrate. In some patients with symptoms of irritable bowel syndrome, dietary restriction of fructans was found to improve the condition (16).
May Increase The Risk Of Blood Clots
Okra is rich in vitamin K, which helps the blood clot (17). But if you are on a blood-thinning medication (like warfarin), avoid okra.
May Aggravate Inflammation
Okra contains solanine and oxalic acid, which may collectively weaken the intestines and increase inflammation (18). If you have any inflammatory condition, consult with your doctor before consuming okra.
Conclusion
Okra is a common vegetable. What makes it special is the host of benefits it offers. It is easy to incorporate into your diet. But be wary of its possible side effects. If you have any related medical conditions, check with your doctor before you consume okra.
Expert's Answers for Readers Questions
How to freeze okra?
Place the pods or pieces on a parchment-lined tray and slip it into a freezer for a few hours. Once frozen, you can place them in freezer bags.
Are okra leaves edible?
Yes, the leaves of the plant are edible – both cooked and raw.
Can you eat okra raw?
Yes, you can eat okra raw.
How much okra can you eat in a day?
There is no documented specific dosage of okra. A cup or two (100 to 200 grams) a day should suffice.
Does okra help with weight loss?
Though okra contains fiber that may be a good addition to your weight loss diet, there is no research stating that okra can directly contribute to weight loss.
Is okra good for your hair?
There is less scientific evidence here. Certain nutrients in okra (like vitamin C) could be beneficial for hair. But there is no information available to establish that you can use okra exclusively for promoting hair health.
Does okra water have any benefits?
Okra water is made by soaking the okra pods in water overnight. Though some claim that it can help reduce diabetes symptoms, there is no research that proves it. Drinking okra water may have some benefits, but consuming the vegetable could be your best bet.
18 sources
Stylecraze has strict sourcing guidelines and relies on peer-reviewed studies, academic research institutions, and medical associations. We avoid using tertiary references. You can learn more about how we ensure our content is accurate and current by reading our
editorial policy
.
Recommended Articles
The following two tabs change content below.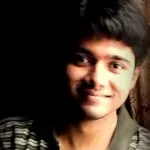 Latest posts by Ravi Teja Tadimalla (see all)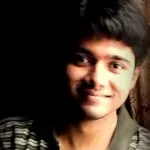 Ravi Teja Tadimalla
Ravi Teja Tadimalla is an editor and a published author. He graduated from SRM University, Chennai, and has been in the digital media field for over six years. He has a Professional Certificate in Food, Nutrition & Research from Wageningen University. He considers himself a sculptor born to chip away at content and reveal its dormant splendor. He started his career as a research writer, primarily focusing on health and wellness, and has over 250 articles to his credit. Ravi believes in the great possibilities of abundant health with natural foods and organic supplements. Reading and theater are his other interests.