12 Amazing Benefits Of Queen's Flower For Your Health
Queen's flower, known more popularly as the Giant Crape Myrtle and Banaba, is a deciduous tree that you can find in India and Sri Lanka. Known in Hindi as Jarul, this is a very popular herb used in folk medicines. Right from curbing the spiraling blood sugar levels to regulating blood pressure levels, this plant has quite a number of health benefits to offer. Rich in tannin, ellagitannin Lagerstroemin, corosolic acid, and gallotannins, this plant is a storehouse of health benefits that you should definitely make use of.
Top 12 Health Benefits Of Banaba
Let's have a look at the various health benefits of this herb to keep ourselves healthy:
1. Cure For Stomach Ailments
The roots of these plants have been used in folk medicines as a remedy for various stomach conditions. A decoction made from the bark of banaba is known to offer relief from diarrhea and ease the cramps involved.
2. Natural Remedy For Constipation
Banaba is also rich in dietary fibers. Hence, people suffering from constipation or hard stools can use the leaves, bark, and flowers of Jarul to ease the stools and smoothen the bowel movements. This, in turn, offers relief from constipation. A decoction made using the leaves has been quite popular as a purgative.
3. Cure For Aphthous Stomatitis
Known more commonly as the canker sores, these are painful blisters that appear on the edges of the tongue and the cheek walls. They are reddish in color and have slight inflammations. Try a gargle prepared by using the roots or fruits of banaba. Gargle thrice a day for faster recovery.
4. Natural Diuretic
The diuretic nature of the flowers and leaves of this herb enables it to be used as a powerful antidote for high fever. Drink a decoction made using the roots and flowers thrice a day to bring down the spiraling temperature.
5. Cure For Urinary Conditions
An infusion or decoction prepared using the banaba leaves are known to have a positive impact on various urinary disorders, including dysuria and renal inflammations. According to a study, including aqueous extracts of banaba leaves in your diet could prevent and cure hyperuricemia.
6. Antidote For High Blood Pressure Level
Studies are being conducted on the positive influence of this herb in curbing down the levels of blood pressure level, thus easing out hypertension and other associated health conditions. Just 2 cups of this tea made from dried leaves of this plant can help in easing hypertension. It ultimately prevents unwanted health conditions.
7. Powerful Antidote For Diabetes
This herb can be used as a potent weapon for controlling blood sugar levels in the body. It aids in breaking down carbohydrates and sugar, while facilitating their excretion from the body. Ellagitannin, present in the leaves of Queen's flower, is known to posses powerful properties that enable it to be used against diabetes. It has the power similar to insulin, which regulates the absorption of glucose. At the same time, these chemicals also showcase the ability to impede adipocyte differentiation. Plus, they can actually hamper the transportation of glucose through the body.
Opt for older leaves and ripe fruits as they are known to have better diabetes controlling properties. One 20 grams of dried fruit in 100 cc water is known to have an effect of 7.5 units insulin. Is that not amazing?
8. Anti-cancerous Properties
The corsolic acid present in the leaves of Queen's flower enables it to be used as a natural treatment option for various types of cancer, including hepatic, breast, cervical, and blood cancers.
9. Natural Antidote For Metabolic Syndrome
Metabolic syndrome is a cluster of medical conditions, which if not taken care in time could escalate the cardiovascular conditions, such as stroke and atherosclerosis. Studies suggest that the banaba leaf extracts could actually help in combating various medical conditions. Some of these conditions are obesity, hypertension, and diabetes that fall under metabolic syndrome.
10. Keeps Your Heart Safe
Queen's flower has a powerful impact on curbing the cholesterol as well as triglyceride levels, which in turn help in shielding your heart from conditions, such as arteriosclerosis and myocardial infarction.
11. Innate Anti-inflammatory Properties
Free radicals, if left untamed, could trigger painful inflammatory conditions, such as arthritis. The leaves of Jarul are known to possess the potential to scavenge the free radicals. It also contains many anti-inflammatory agents to treat various ailments.
12. Aids In Weight Loss
The leaves of this plant, along with certain other natural supplements, are known to aid weight loss. You can use a mixture of caffeine and green tea with these leaves to give your metabolism a quick boost and keep your appetite level under control.
Other Health Benefits Of Queen's Flower
The below mentioned benefits are yet to be proven and established, but studies also point to these potential benefits offered by Banaba:
The seed extracts showcase antibacterial properties
The ellagic acid extracts might safeguard you from HIV infection
The aqueous extract of the leaves showcase xanthine oxidase inhibition properties
Very little research has been conducted on the long term use of Queen's flower. While the benefits are really tempting, make sure you consult your doctor before you start using this to avoid unwanted negative effects.
Do you use herbs of any kind? Do you think herbs work in giving you a healthier body? Let's get the conversation started! Just type your views in the comments section below.

The following two tabs change content below.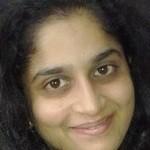 Latest posts by Nithya Shrikant (see all)