10 Amazing Health Benefits Of Cactus Juice
This desert plant is rich in minerals, antioxidants, and vitamins that offer many health benefits.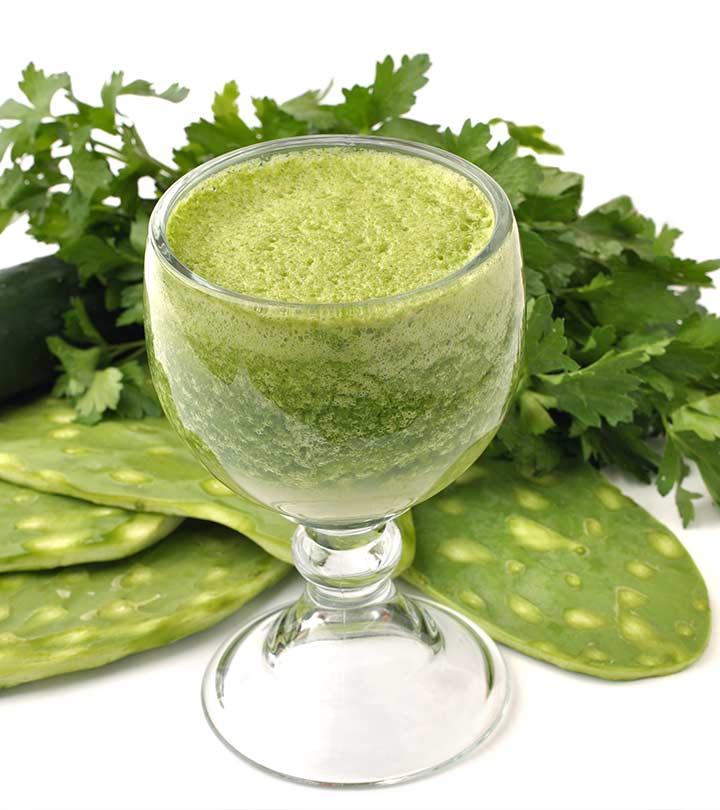 Alzheimer's
Cactus juice is not so popular. It may even sound surprising for most of us. But what if we told you that cactus juice benefits you in multiple ways? Yes, the juice seems to be replete with certain important nutrients. Continue reading to know more about cactus juice and how it can benefit you.
A Scientific Look At Cactus
Prickly pear, also known as Opuntia ficus-indica, is a cactus plant growing in the arid regions of Mexico, Southern California and Arizona. Nopal is a thin, flat and oval stems of the cactus plant, consumed as a vegetable. Prickly pear cactus juice has been used for centuries in Latin and North American cultures. The juice is a staple in the diets of people residing in South America, Mexico, Europe, Middle East, and in some parts of India (1).
Did You Know?
The Aztec word for prickly pear or nopal cactus is 'Náhuatl,' which means 'fruit of the Earth.' The Aztecs used this for several health benefits, such as combating fever and infections, moisturizing the lips, relieving diarrhea, and soothing anger.
Benefits of Cactus Juice
1. Soothes Joint Inflammations:
Cactus juice inhibits leukocyte migration, which acts as a catalyst in the development of inflammatory diseases (2). It contains Vitamin A, B2 and C, which are considered very beneficial for people suffering from rheumatoid arthritis. The anti-inflammatory properties of cactus juice help in relieving the pain and fight inflammation. It also eases the stiffness and soreness accompanying arthritis.
Did You Know?
Tenochtitlàn, the Aztec capital, means 'place of the prickly pear cactus.' The Aztecs used to use cactus juice to treat hepatitis and burns.
2. For A Healthier Gut:
This juice aids in the growth of good bacteria in the gut. A natural detoxifying agent, it can be used in the treatment of diverticulitis and colitis. The laxative properties of this juice enable it to be used as a natural remedy for constipation (3). The anti-inflammatory nature of this juice aids in easing the inflammation in the urethra and bladder, especially in cases of gallstones and urinary bladder infections.
3. Strengthens Immune System:
Regular consumption of cactus juice helps to eliminate deadly viruses in the body, thereby strengthening the immunity system. The high levels of phytochemicals in cactus thwart off tumors and increase immune response in the body. The antioxidants also protects against premature ageing (4).
4. Natural Antidote For Skin Disorders:
Cactus juice is prescribed for people suffering from rashes that develop on the skin. It also helps to treat scabs and sores (5).
5. Beneficial For Women:
Cactus juice provides instant relief from menstrual cramps. It eases the abdominal pain women experienced during their menstrual cycle. Cactus juice is also known to be useful in controlling nausea.
6. Lower LDL Levels:
Regular consumption of cactus juice can lower total cholesterol levels by almost 30%. Cactus juice is a rich source of soluble fiber, which is found to reduce the LDL cholesterol levels in the body (6). It also reduces the oxidation of fat, preventing atherosclerosis.
7. Prevents Onset Of Cancer:
A study has shown that cactus juice possesses the potential to keep cancer at bay. It contains chemical agents that aid in warding off cancer and inhibiting the growth of cancerous cells. Cactus juice contains high levels of betalain antioxidants, the natural anti-cancerous agents. It can be used as an alternative to the chemotherapy. It works as well as synthetic retinoid that is used in the chemotherapy trials (7).
8. Safeguards Body From Free Radical Damages:
Cactus juice is an excellent source of antioxidants. The juice contains a rare form of antioxidant, known as betalain. Betalain flushes out the free radicals present in the body, giving you a new lease of health (8). Drink cactus juice in combination with vitamin C rich fruits for enhancing the overall defense in the body. Thus, regular consumption of cactus juice may reduce the risk of degenerative and age related diseases.
9. Natural Antidote For Hangover:
Prickly pear cactus juice shot can help to prevent and lower the effects of hangovers (9). A research conducted on the same indicated that people who drank cactus juice prior to consuming alcohol had 50% lower chances of experiencing hangover. The juice significantly reduces the symptoms of hangover, which include nausea, dry mouth and loss of appetite.
10. Good For Diabetes Type II:
Regular consumption of cactus juice can help in maintaining the blood sugar levels. Pectin, the soluble fiber present in this juice, slows down the absorption rate of sugar by human body. Thus, regular use of this juice by diabetics can help in preventing fluctuations in sugar levels. Studies also suggest the regular use of this juice for preventing type II Diabetes (10). However, it is advisable to restrict the quantity consumed to avoid hypoglycemia.
As with all products, there is always a set of negative side effects showcases by cactus juice also. Cases have been reported where people who consumed this juice suffered from nausea, vomiting, hypoglycemia, bloating, headache, and stomach pains.
Cactus Juice – Nutritional Value
Cactus juice offers a good dose of nutrition to everyone. Along with admirable levels of potassium, calcium, manganese, copper and iron, it is also replenished with various vitamins and phytonutrients. It is also a rich source of antioxidants, flavonoids, omega 3 fatty acids, amino acids and beta-carotene. Take a look at the table given below for more details:
Nopales (Opuntia ficus-indica ), raw [Nutrition value per 100 g.]
(Source: USDA)
Principle
Nutrient Value
Energy
16 Kcal
Carbohydrates
3.33 g
Protein
1.32 g
Total Fat
0.09 g
Cholesterol
0 mg
Dietary Fiber
2.2 g
Vitamins
Folates
3 µg
Niacin
0.410 mg
Pantothenic acid
0.167 mg
Pyridoxine
0.070 mg
Riboflavin
0.041 mg
Thiamin
0.012 mg
Vitamin C
9.3 mg
Vitamin A
457 IU
Vitamin E
0.00 mg
Vitamin K
5.3 µg
Electrolytes
Sodium
21 mg
Potassium
257 mg
Minerals
Calcium
164 mg
Copper
0.052 mg
Iron
0.59 mg
Magnesium
52 mg
Manganese
0.457 mg
Phosphorus
16 mg
Selenium
0.7 µg
Zinc
0.21 mg
Phyto-nutrients
Carotene-ß
250 µg
Carotene-α
48 µg
Lutein-zeaxanthin
0 µg
Infographic: 5 Ways Cactus Juice Can Benefit Your Health
Cactus juice is not just for those who live in arid climates! They can benefit all, thanks to these prickly plants' amazing nutrient profile. Check out the following infographic and learn about the 5 incredible ways you can benefit from making cactus juice a regular part of your diet.
Cactus juice is replete with important nutrients that help boost your overall health and immunity. The cactus plant is usually consumed as a vegetable and is a staple in South American, Middle-Eastern, European, and some Indian cuisines. Cactus juice benefits your digestive, skin, and cardiovascular health, and is found effective in relieving cramps and inflammation as well . An excellent source of antioxidants, it helps protect your body from free radical damage, preventing various chronic illnesses in return. Pregnant and breastfeeding women should avoid consuming cactus juice, as the studies about its side effects and safety are still limited.
Frequently Asked Questions
Is cactus good for kidneys?
No, there is no quality research to support the benefits of cactus for kidneys. People with kidney disease should avoid consuming cactus juice as it may also cause a few side effects like bloating and gastrointestinal discomfort.
Does cactus juice make you lose weight?
Cactus juice may not have a direct impact on body weight. However, it has fewer calories and is filling. It may reduce cravings and possibly aid weight loss.
Is cactus juice good for the hair?
Yes, cactus juice is good for the hair. It contains iron and amino acids that help rejuvenate hair and promote hair growth.
How do you make cactus juice at home?
Trim the spines and process the cactus pods into a processer. Mix with orange or lime juice or even coconut water and serve.
The following two tabs change content below.