15 Benefits Of Cloves, How To Use Them, And Side Effects
You will be amazed to know how these dried buds play a key role in keeping you healthy!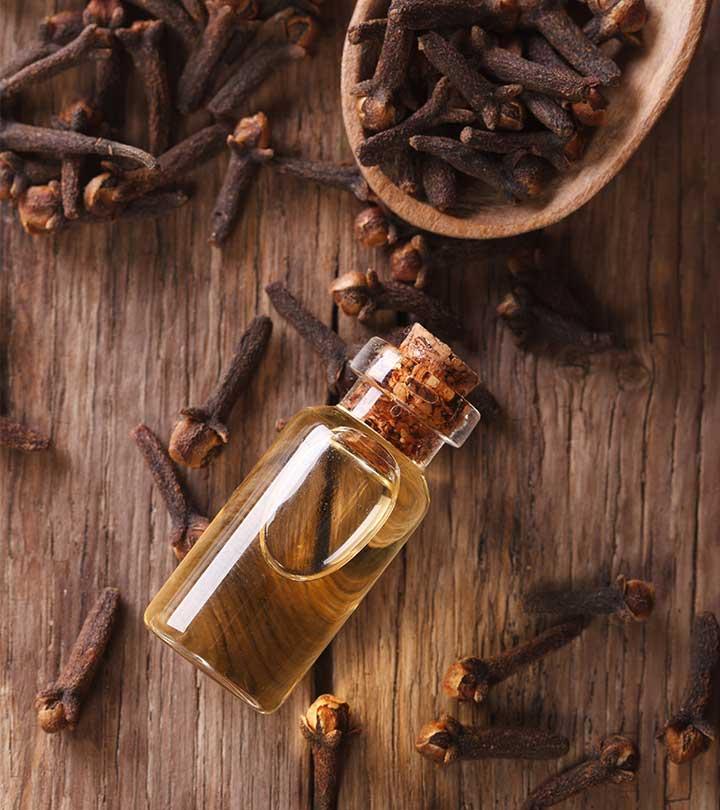 Cloves are those small dried flower buds that fill your mouth with a pungent and spicy taste when you crush them accidentally while chewing food. However, the benefits of cloves are so impressive that it is perfectly fine to bear the little discomfort they cause occasionally.
But what is a clove in scientific terms? They are a popular spice harvested from the clove tree called Syzygium aromaticum. This spice contains vitamins C and K, fiber, and manganese and helps boost immunity and brain function. Moreover, cloves are also used to treat inflammation and manage diabetes.
In this article, we look at clove's benefits in detail, along with its nutritional profile and potential side effects. So, let us get started.

Know Your Ingredient: Clove
What Is It?
A rich brown flower bud with a spicy taste and a pungent smell.
What Are Its Benefits?
It may boost liver and bone health, reduce inflammation, and boost digestion.
Who Can Consume It?
Anyone can consume it except people on diabetes and blood thinning medications.
How Often?
You can eat 1-3 cloves with lukewarm water daily.
Caution
Excess consumption may cause skin irritation and severely lower blood sugar levels.
What Are The Benefits Of Cloves?
1. May Fight Inflammation
Studies have shown that the eugenol in cloves works as a powerful anti-inflammatory agent. This also holds true for clove essential oil, one form of clove that is widely available (1).
Clove also fights inflammation of the mouth and throat. In a study, clove oil could help ease the inflammation associated with plaque and gingivitisi  XA type of gum disorder resulting in inflamed gums from bad dental hygiene, which can progress to tooth loss and other related illnesses. (2).
The eugenol in cloves lowered pro-inflammatory cytokines in animal studies. Hence, it could help treat inflammation associated with arthritis in humans (3).
2. May Help Reduce Cancer Risk
A study showed that clove extract could prevent tumor growth and induce cancer cell death (4). The anti-cancer properties of clove can be attributed to eugenol, which also reduced the risk of esophageal cancer (5).
Cloves are also good sources of antioxidants. Antioxidants fight inflammation and protect us against cancer (6). Clove extract was also found to be lethal to breast cancer cells in another study (7).
3. May Improve Oral Health
The eugenol in clove is believed to provide relief from tooth pain. The substance is an anesthetic and has antibacterial properties, and this may help you deal with the pain (8).
One simple way to get rid of a toothache is to place a few whole cloves in your mouth and moisten them with your saliva. You can crush the cloves with your teeth. The oil that is released fights the pain. You can use a whole clove for 30 minutes before discarding it and repeating the process with a new one.
If you have severe toothache and grinding cloves with your teeth is difficult, you can use crushed cloves. Crush the whole cloves and place the powder on the affected tooth.
An Iranian study states the analgesic effects of clove, which can help relieve toothache (9). Cloves may also combat bad breath.


Trivia
Indian Ayurvedic medicine, Chinese traditional medicine, and Western herbal medicine widely use clove essential oil to help promote dental health and as a painkiller in dental emergencies.
4. May Aid Diabetes Treatment
Volunteers in a study reported lower glucose levels before and after meals after consuming clove extracts (10). Another animal study showed that cloves could moderate blood sugar spikes in diabetic mice (11).
Cloves contain another compound called nigericin, which was found to improve insulin secretion and the health of cells that produce insulin (12). This means that cloves may keep your blood sugar levels in check when taken as a part of a balanced diet.
5. May Improve Liver Health
Eugenol, an antioxidant and anti-inflammatory compound in cloves, can improve liver health. According to one study, the ascorbic acid and beta-sitosterol compounds are cloves that can inhibit hepatic cell proliferation (13).
The eugenol-rich fraction (ERF) in cloves also decreases oxidative stressi  XA condition caused by an imbalance between the creation and buildup of oxygen radicals in the cells and the ability to detoxify them. and acts against liver cirrhosis (13).

Trivia
The word clove is derived from the French word "clou," which means nail.
6. May Promote Bone Health
The hydroalcoholic extract of dried cloves is rich in polyphenols, such as eugenols and eugenol extractives, and can promote bone density (14).
As per some animal studies, the manganese in cloves may help improve bone mineral density and metabolism (15).
7. May Promote Digestive Health
Certain compounds in cloves may help reduce stomach ulcers. The oils from cloves can increase the thickness of gastric mucus, and this protects the stomach lining and prevents peptic ulcers (16).
Cloves also contain some fiber (17). This fiber may aid digestion and prevent constipation. However, the effectiveness of clove fiber to achieve the same is yet to be studied.
8. May Aid Weight Loss
Cloves contain natural fatty acid synthesis inhibitors which can reduce body mass. In animal studies, alcohol extracts of clove (AEC) were found to lower lipid accumulation in the liver, abdominal adipose tissue weight, and body weight (18).
However, more studies are required to understand the function of AEC in reducing body weight in humans.
9. May Improve Respiratory Health
This property is especially true for clove oil. The oil can be used for treating asthma (19). The oil soothes the respiratory tract and also has an anti-inflammatory effect. Supplementation with clove oil was found to prevent bacteria from forming colonies in the lungs (20).
You can massage the oil into your chest, sinuses, and the bridge of the nose. As per anecdotal evidence, this may open the breathing passages and provide relief. You can also add the oil (or steep a few cloves) to a glass of warm water and take it as tea. Chewing on a clove bud is also suggested to ease a sore throat.
10. May Relieve Stress
The alcoholic extracts of clove were found to possess anti-stress properties. It is thought the antioxidant effects of clove could be responsible for this (21). However, more research is warranted in this aspect.
11. May Fight Headache
Clove oil is extensively used in aromatherapy to treat headaches. This could be attributed to the eugenol in clove, which has analgesic (pain-relieving) properties (22).
Crush a few cloves and put them in a clean handkerchief. Inhale the smell whenever you have a headache. Alternatively, you can also add two drops of clove oil to a tablespoon of coconut oil and gently massage over your forehead and temples.
However, these methods are based on anecdotal evidence. If you are unsure about how to use clove to treat headache, consult your health care provider.
12. May Boost Testosterone Levels
Mice studies have shown that the oral ingestion of cloves can enhance testicular function and ultimately boost testosterone levels (23).
Anecdotal evidence suggests that cloves may enhance fertility. However, certain research states that excess intake of cloves may, in fact, impair fertility. Such effects were observed in animals (24). Hence, it is important to consult a doctor before consuming cloves for this purpose.
13. May Treat Acne
The antibacterial and antifungal properties of cloves could play a role here. Clove oil works well in treating acne and improving skin health. The oil is also recommended in the aromatherapeutic literature for treating acne (25).
The eugenol in the oil has antibacterial properties. The oil can kill infection and fight inflammation, thereby effectively treating acne (25).
15. May Improve Hair Health
Some believe clove oil could be used in scalp and hair treatments. The oil is also touted to increase blood circulation and promote hair growth. However, these benefits of clove are not backed by research.
Cloves are generally healthy and most of the research supports the evidence, more studies are warranted to understand their function. But including cloves in your regular diet is a good idea. In the following section, we have discussed the different ways you can use cloves.
How To Use Cloves
Cloves can be used to make tea and as flavor agents in different recipes, cookies, and gingerbread preparations. Also, cloves can be used to kill fleas.
For Cooking
You can add cloves to cakes by grinding them. This gives your baked goods an extra kick. Cloves go well with nutmeg and cinnamon.
You can also add a couple of cloves to your morning tea for added flavor and nutrition.
You can add cloves to your rice preparations. Using them as a garnish is a good idea.
For Killing Fleas
As clove oil is an aromatic essential oils, it can work as an excellent insecticide. After bathing your pet in warm water, rinse it off with water with a couple of drops of clove oil. You can also add a drop of the oil to its collar; this will keep the fleas away.
Clove oil can also be used as a mosquito repellent (26).


Did You Know?
Cloves were widely used during the later half of the Middle Ages to preserve, garnish, and flavor various foods.
In the following section, we will look into the nutritional profile of cloves.
What Is The Nutritional Profile Of Cloves?
Cloves are rich in vitamins, minerals, and fiber. According to the United States Department of Agriculture, one tablespoon of cloves contains (17):
17.8 calories of energy
2.2 g of fiber
0.388 g of protein
4.26 g of carbohydrates
Cloves are also packed with vitamins C and K and minerals, such as manganese and calcium.
Principle
Nutrient Value
Percentage of RDA
Energy
47 Kcal
2%
Carbohydrates
10.51 g
8%
Protein
3.27 g
6%
Total Fat
0.15 g
0.5%
Cholesterol
0 mg
0%
Dietary Fiber
5.4 g
14%
Vitamins
Folates
68 µg
17%
Niacin
1.046 mg
6.5%
Pantothenic acid
0.338 mg
7%
Pyridoxine
0.116 mg
9%
Riboflavin
0.066 mg
5%
Thiamin
0.072 mg
6%
Vitamin A
13 IU
0.5%
Vitamin C
11.7 mg
20%
Vitamin E
0.19 mg
1%
Vitamin K
14.8 µg
12%
Electrolytes
Sodium
94 mg
6%
Potassium
370 mg
8%
Minerals
Calcium
44 mg
4%
Copper
0.231 mg
27%
Iron
1.28 mg
16%
Magnesium
60 mg
15%
Manganese
0.256 mg
11%
Phosphorus
90 mg
13%
Selenium
7.2 µg
13%
Zinc
2.32 mg
21%
Phyto-nutrients
Carotene-ß
8 µg
—
Crypto-xanthin-ß
0 µg
—
Lutein-zeaxanthin
464 µg
—
Eating cloves in excess could cause certain undesirable effects. Though research is ongoing, it is important to practice caution.
What Are The Side Effects Of Cloves?
Overconsumption of cloves may cause adverse effects, such as risk of bleeding, lowering of blood sugar levels, and allergies in some people (27), (28), (29).
Consuming 10 ml clove oil caused hepatic failurei  XLoss of liver function brought on by an infection, alcohol addiction, or a drug reaction that might happen suddenly or progressively. in a 15 month-old boy (30). There is lack of enough research on the safety of cloves for pregnant and lactating women. Hence, consult your doctor.
Infographic: Interesting Facts About Cloves
Cloves are one of the popular spices used in many cuisines throughout the world. They are known for their unique aroma and pungent flavor. They are also used to manage many ailments. The following infographic contains some interesting facts about this flavorful spice. Check it out!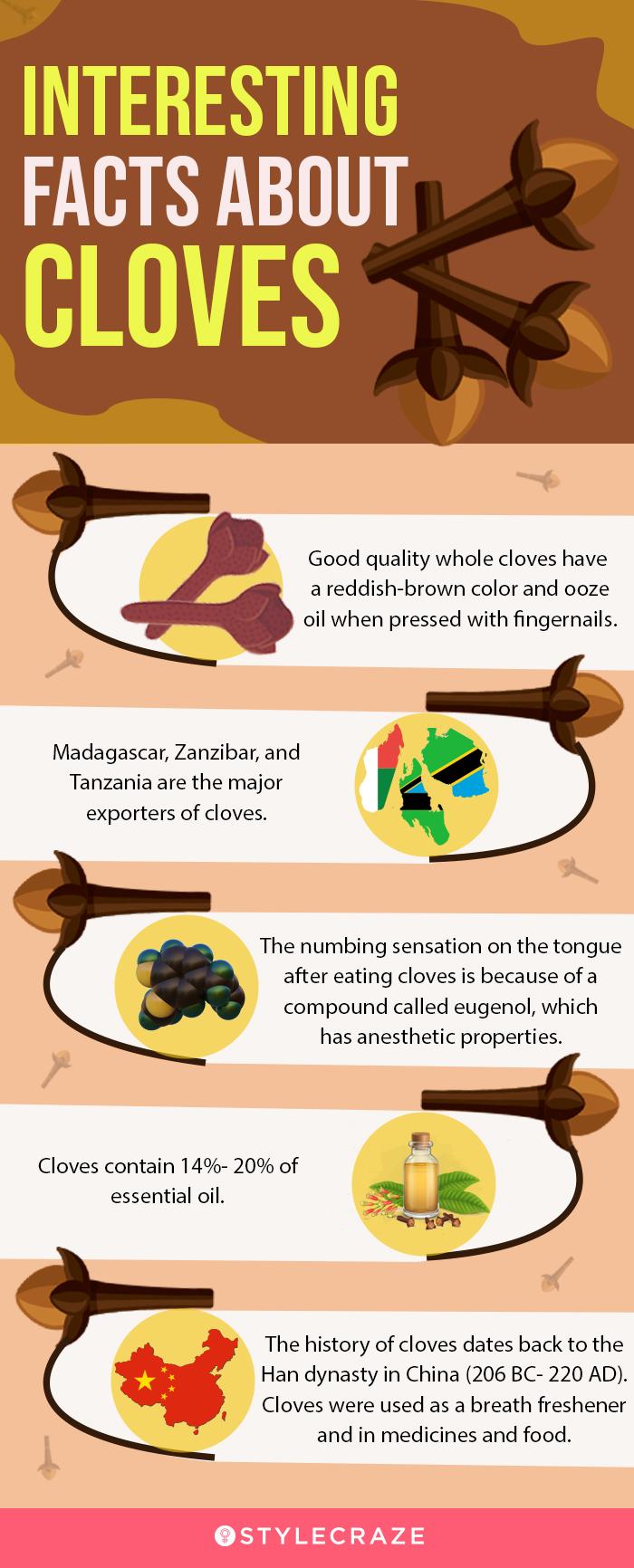 Cloves are rich in vitamins C and K, fiber, and manganese. They can fight inflammation, reduce cancer risk, and improve liver, bone, digestive, and respiratory health and wellness. They also aid in diabetes treatment and weight loss. However, they may also increase the risk of bleeding, lower blood sugar levels way too much, and trigger allergies. Hence, those with existing medical conditions must practice caution.
Frequently Asked Questions
How many cloves can we take in a day?
Taking 2 to 3 cloves per day should be fine. But this dosage may not be suitable for all. Hence, consult your doctor.
What is a good substitute for cloves?
You can use allspice or nutmeg in this case. They are good substitutes for cloves.
Is clove oil toxic to humans?
Topical application is fine. But there is limited research on its effects with repeated oral intake or its application to the gums or teeth. Hence, consult a doctor before using it.
What are the other names for cloves?
A few other names of cloves include laung (Hindi), ding xiang (Chinese), cengkeh (Indonesia), and clavo (Spanish)
Do cloves stimulate blood circulation?
There is limited research available. It may reduce body temperature and enhance circulation. The antioxidant properties of cloves are thought to purify the blood. However, more scientific research is warranted.
Do cloves make your lungs bleed?
Clove-flavored cigarettes may lead to lung bleeding, though this is not supported by research. It is believed the eugenol in cloves makes smoker's lungs numb.
Can cloves treat urinary tract infections?
Yes, clove extract has potent antibacterial effects that may help fight against Proteus mirabilis and Staphylococcus epidermis, the two bacterial strains that cause urinary tract infections (31).
Is clove good for kidneys?
Yes, animal studies suggest that clove essential oil has antioxidant and kidney-protective properties that may reduce oxidative stress on the kidney (32). However, further studies are warranted to further understand this association.
Can I drink clove water on an empty stomach?
Yes, anecdotal evidence suggests that drinking clove water on an empty stomach helps promote digestion and ease stomach issues like constipation, diarrhea, and acidity.
Is clove acidic or alkaline?
Cloves are highly acidic with a pH of 3.8 (33).
Key Takeaways
Cloves are a storehouse of vital nutrients like manganese, vitamins C and K, and fiber.
They can be used as part of several natural remedies to help fight inflammation and promote bone, eye, and digestive health.
Cloves can be made into a tea or added as a garnish for cakes and rice dishes.
Overconsumption of cloves may increase the risk of bleeding and allergies.
Eat two cloves every day for amazing health benefits! Learn about the positive effects and potential contraindications of this simple habit by clicking this video.

Sources
Articles on StyleCraze are backed by verified information from peer-reviewed and academic research papers, reputed organizations, research institutions, and medical associations to ensure accuracy and relevance. Check out our
editorial policy
for further details.
The following two tabs change content below.