13 Promising Health Benefits Of Pomelo
From boosting immunity to aiding weight loss, enjoy all the perks of this yummy fruit!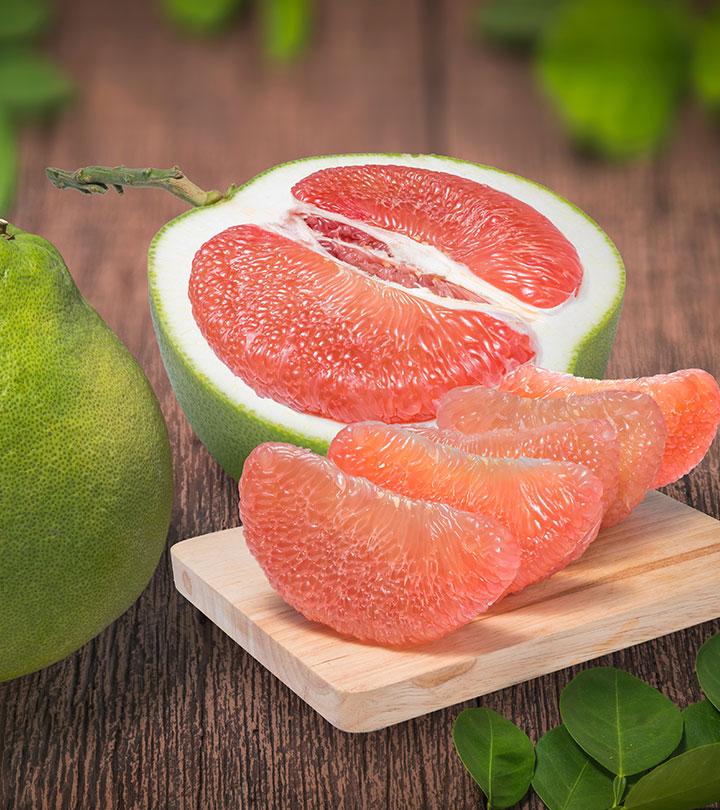 Pomelos (Citrus maxima) are teardrop-shaped citrus fruits similar to large grapefruits and have many health benefits. The presence of antioxidants, minerals, and vitamin C plays a key role in pomelo benefits (1).
These fruits are native to the Southeast Asian region and have been used in traditional medicine to treat fever, gastrointestinal problems, and cough.
Eating this citrus fruit can help boost immune health, aid digestion, promote weight loss, improve bone health, and regulate blood pressure.
This article discusses the nutrition facts of pomelo, health benefits, how to eat it, and possible drug interactions. Keep reading!
What Is Pomelo Or Pummelo?
Pomelo fruits are teardrop-shaped and have a mixed taste. They can weigh up to 20 pounds and taste sweeter than grapefruit. They are very juicy and tangy like tangerine. They are believed to have originated in China around 100 BC.
The outer layer of pomelo is thick and soft and can be peeled easily. The pulp inside comes in a variety of colors, ranging from yellow to pink to red. You can find the fruit growing on citrus trees in the heat of summer and in tropical climates.
StyleCraze Trivia
In China, bathing in water steeped with pomelo leaves and fruit rind on Chinese new year's eve is said to cleanse the body of evil spirits.
Check out the nutritional information of this citrus fruit below.
Pomelo Nutrition Facts
Pomelos are highly nutritious and a rich source of vitamin C and a wide variety of minerals. According to the United States Department of Agriculture (USDA), one pomelo fruit contains (1):
Energy – 231 calories
Fiber – 6.09 g
Protein – 4.63 g
Carbohydrate – 58.6 g
Vitamin C – 371 mg
Potassium – 1320 mg
Pomelo also contains a good amount of potassium, which keeps your heart healthy. It also contains vitamins Alack of electrolytes, B1, B2, and C, bioflavonoids, healthy fats, protein, fiber, antioxidants, and enzymes. It contains a high amount of beta-carotene and folic acid that are very beneficial for pregnant women (1).
Find out more about these benefits in the next section.
What Are The Health Benefits Of Eating Pomelo?
With its wide range of nutritional and medicinal properties, pomelo may help in treating many ailments. It is said to improve your immune system and promote hair health. Scroll down to know more.
1. May Boost Immunity
Pomelo fruit is rich in vitamin C. Vitamin C acts as an antioxidant and attacks free radicals. It enhances microbial killing and phagocytosis. The high ascorbic acid content in the fruit enhances white blood cell activity to fight and prevent infections. It can also treat and prevent systemic infections and many respiratory problems (2). Therefore, adding pomelo to your diet may improve your immune system.
2. May Aid Digestion
Pomelo is filled with dietary fiber. Dietary fiber assists in preserving normal bowel movement, preventing constipation, and avoiding hemorrhoids (3), (4).
A study conducted in China suggests that adding more dietary fiber to your diet may help in maintaining the health of your intestinal microbes (5).
3. May Promote Weight Loss
This is another area where the dietary fiber in pomelo comes into play. Foods high in fiber stay in the stomach for a longer time and reduce regular hunger pangs (6). They also require more chewing time, thus giving the body a long time to feel satisfied and reducing the risk of eating too much. However, more long-term research focused on the weight-loss effect of pomelo is required.
4. May Improve Bone Health
Pomelo contains minerals like calcium, iron, copper, zinc, manganese (1). These minerals are essential for improving and maintaining bone health (7).
Adding pomelo to your diet and physical exercise to your daily routine may help your bones become healthy and strong.
5. May Regulate Blood Pressure
Pomelo juice contains potassium, which is a key nutrient for regulating blood pressure. Potassium is a vasodilator that releases the tension in the blood vessels to maintain blood pressure. Drinking pomelo juice and eating pomelo at night time helps keep your blood pressure in check and prevents hypertension (8).
6. May Boost Heart Health
Pomelo contains antioxidants like polyphenols, flavonoids, and ascorbic acid that have been found to reduce the levels of triglycerides and LDL (bad) cholesterol and cardiac risk (9). However, more research is required to understand this benefit for humans.
7. May Fight Aging
Pomelo, like grapefruits, is claimed to contain spermidine. Spermidine protects the cells from processes related to aging and cell damage (10). Thus, it may help combat wrinkles and skin aging to make your skin appear youthful, fair, and soft. However, there is very little scientific evidence supporting the effect of spermidine in pomelo and its effect on skin aging.
Pomelo fruit extract has also been found to help in preventing advanced glycation end products (AGEs)-mediated diabetic complications (11).
8. Fights Infections
Pomelo has antibacterial and antifungal properties that help in treating certain types of infections. A study conducted by the Vietnam National University found pomelo essential oil to be effective against the fungus Penicillium expansum (12).
A study conducted by the University of Bucharest found that pomelo essential oil inhibits the development of bacterial biofilm on soft contact lenses (13).
However, more studies are required to understand the effect of pomelo on other microbial infections.
9. May Prevent Cramping
Deficiency of fluids, dehydration, and lack of electrolytes (such as sodium, potassium, and magnesium) are the root causes of muscle cramps (14). Pomelo is a rich source of potassium (1). Therefore, it is possible that drinking pomelo juice may supply your body with the fluids and electrolytes needed to prevent muscle cramps.
10. May fight cancer cells
The polysaccharides present in pomelo peels may help in fighting cancerous tumors (15). The leaves of pomelo fruit also possess anticancer and antitumor properties (16).
Naringenin, an antioxidant found in citrus fruit, has been found to inhibit the growth of lung cancer, prostate cancer, and pancreatic cancer cells in experimental studies (17), (18), (19). However, more research is required to understand the real-world application of this anticancer effect of pomelo on cancer.
11. May Help Manage Diabetes
Pomelo may help in managing diabetes. A study conducted on 20 people with diabetes found that though pomelo has a high glycemic index (Gi), it can serve as a low glycemic load (GL) fruit if consumed in limited amounts. Thus, it may help in maintaining blood sugar levels in people with diabetes (20).
12. May Promote Healthy Gums
Pomelo fruit is a great source of vitamin C (ascorbic acid) (1). Ascorbic acid deficiency has been found to be associated with the development of gingivitis (21). Therefore, you may start eating pomelo to strengthen your gums and keep dental problems at bay.
13. May Improve Hair Health
Pomelos are rich in some minerals like zinc, iron, and vitamins A, B6, B12, and E (1). All of these nutrients and minerals help in improving hair health (22).
After reading about these promising benefits of pomelo fruit, you must be wondering how to eat it. Check out the next section to know more.
How to Eat A Pomelo?
Pomelo is not the easiest fruit to peel or eat because of its thick rind. Pomelo fruit skin turns yellow when it ripens. It can be consumed fresh or made into a juice, beverage, or marmalade. Skinned segments of pomelo are used in salads, desserts, and preserves. Fresh or dried pomelo rinds are used in soups and meat stews.
Here are the steps to peel and cut a pomelo:
Step 1: Use a sharp knife to cut off the cap of the fruit. (You may have to cut up to an inch, depending on the size of the pomelo.)
Step 2: Make 8-10 vertical slices around the outside of the fruit, starting from the cut end.
Step 3: Pull the thick rind down and away from the fleshy interior, which looks a lot like an orange. Pull the rind off the fruit completely.
Step 4: Pull the fleshy sections apart and remove the seeds.
Step 5: Discard the excess fibrous material and enjoy!
Pomelo is also used in cooking many delicious dishes. Check out a tasty recipe below!
Vietnamese Pomelo Salad
Ingredients:
240 grams of large shrimp (peeled and deveined)
120 grams of chicken breast (boneless and skinless)
1/4 cup of mint leaves (chopped)
2 tablespoons of chopped cilantro (leafy tops only)
1/4 cup of macadamia nuts (chopped)
1 medium pomelo
2 tablespoons of shallots (crispy caramelized)
1/2 teaspoon of salt
1 carrot(peeled and cut into tiny pieces)
1 tablespoon lime juice
1 tablespoon fish sauce
1/4 teaspoon sugar
1 green chili (chopped)
3 cloves of garlic (chopped)
Procedure:
Fill 2/3 of a small saucepan with water and add salt to it.
Bring it up to a boil on medium heat.
When the water starts to boil, add the shrimp.
When the shrimps start curling up, remove them with the help of a slotted spoon. Set them aside to cool down.
Boil the same water and add chicken to it. Turn off the heat when bubbles start forming at the rim.
Cover the pot for about 20 minutes to cook the flesh. Then, remove the chicken and set it aside to cool.
Cut the shrimp diagonally into large pieces.
Speck the chicken and set it aside.
Cut off the ends and pith of the pomelo to expose the pinkish flesh. Use a knife or fingers to peel the flesh from its skin. Separate the flesh into bite-sized pieces and put them in a bowl.
For the dressing, mix lime juice, fish sauce, sugar, green chilis, and garlic in a small bowl. Stir it to dissolve the sugar.
Add the chicken, shrimp, mint, carrot, macadamia nuts, cilantro, mint, fried shallots, and dressing to the bowl of pomelo. Toss it to mix the ingredients well.
StyleCraze Says
Pomelo can be included in breakfast meals like waffles or oats, and its juice can be used to make scrumptious summer popsicles.
Before you start eating pomelos, please check out the safety precautions you need to keep in mind.
Possible Drug Interactions
Pomelo may interact with certain medications that possess anticancer, antihypertensive, anticoagulant, and cytochrome P450 activities. People who are taking any medication should consult a doctor before consuming this fruit (23).
People who are allergic to citrus fruit should avoid eating pomelo.
The benefits of pomelos are numerous. These citrus fruits are loaded with vitamin C. They can boost immunity and improve bone, heart, oral, and hair health. They can also combat signs of aging, manage diabetes, reduce cancer risk, prevent cramps, fight infections, and regulate blood pressure. However, this fruit may interact with certain medications. Hence, if you are on any medication, talk to your doctor before consuming pomelos.
Frequently Asked Questions
How long do pomelos last?
Pomelos last up to two weeks if you keep them in a refrigerator and one week at room temperature. But, once you peel a pomelo, you must eat it immediately.
Can you eat pomelo seeds?
No, pomelo seeds are not edible. However, you can plant them as the seeds of pomelo are mono-embryonic and helpful in producing seedlings.
When should I buy pomelos?
You can buy pomelos all round the year, but they are the most delicious between December and February.
Is pomelo good for fatty liver?
Yes. Pomelo and its peel contain phenolic compounds and antioxidants, which may help prevent diet-induced non-alcoholic fatty liver disease (24).
Can you eat pomelo on an empty stomach?
No. Consuming citrus fruits like pomelo on an empty stomach may cause the body to produce more acid and cause gastrointestinal issues.
Why is pomelo bitter?
Pomelo isn't bitter; it has a sweet and slightly tart taste. However, its peel and the white, thick membrane surrounding the juice vesicles are extremely bitter. Therefore, the fruit may taste bitter if the pomelo isn't peeled correctly and still has the white membrane attached to it.
Sources
Articles on StyleCraze are backed by verified information from peer-reviewed and academic research papers, reputed organizations, research institutions, and medical associations to ensure accuracy and relevance. Check out our
editorial policy
for further details.