22 Amazing Layered Hairstyles For Curly Hair
Experiment with these trendy hairstyles to make your hair voluminous and thick.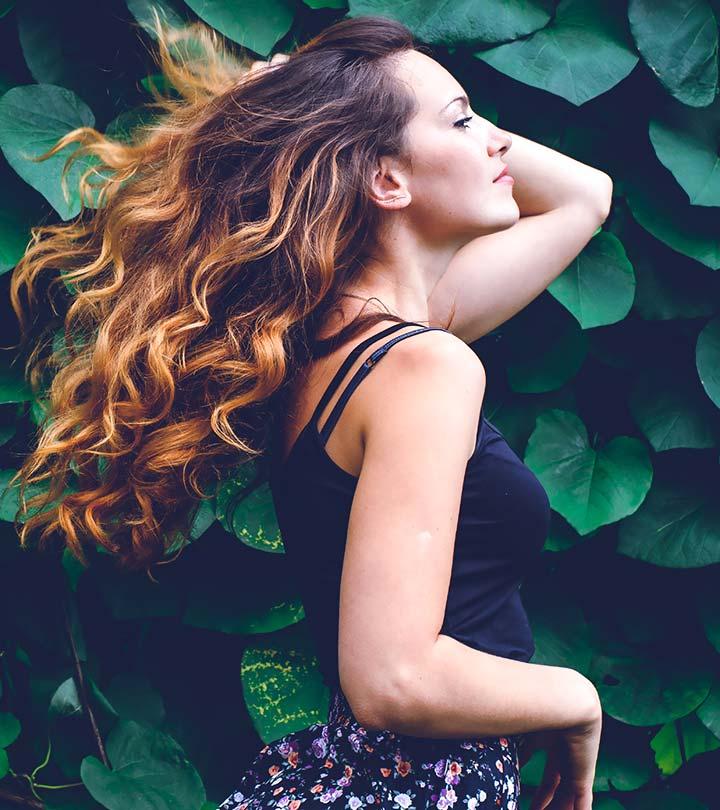 Maintaining your hair is not easy, and maintaining your curly hair can be the most difficult thing ever! Here, we have come up with some of the best layered hairstyles for curly hair to help you take care of your precious tresses.
If you are wondering how a layered hairstyle will work with your curls, let us find that out here. A layered cut makes it look like your hair volume has increased, and the definition of the curls has improved. When different sections have different lengths, the hair becomes more bouncy and looks thick. It will look good and elegant on you.
If you are someone who keeps experimenting with their hairstyles at home, you have reached the right place. We can help you choose the best hairstyle that suits your lovely curly tresses. Keep reading to know more!
Stylecraze Trivia
The sliding haircut and blended elevation are the techniques used to achieve layered hairstyles.
Before You Get Started
There is nothing wrong with letting your hair grow naturally. However, layering your curls will prevent clumping and let your locks breathe.
Layered curls make for neater looks that can pass off as semi-formal.
You will need conditioning products to make the best out of layered hairstyles for your curly hair.
Hair color experiments work well with layered curls as more of your hair is visible. Try balayage and ombre.
Avoid heat styling as much as you can. Curls are more prone to damage.
How To Cut Your Hair In Layers At Home
What You Need
Hair brush/wide toothed comb
Hair elastic
Scissors (specifically made for cutting hair)
How To Cut Your Hair
Start off with damp hair (but not overtly wet) as this is when your curly hair is the straightest.
Brush/comb out all the knots and tangles from your hair. This is super important because any knots left in your hair can make your layers turn out uneven.
Bend your head forward and flip your hair in front of you.
Staying in this position, tie all your hair into a ponytail right at the apex of your forehead. The hair elastic should be a couple of inches away from your head.
If you want to go for subtle layers and leave your hair long, slide your hair elastic down until there are only a couple of inches left in the ponytail. If you want shorter, more drastic layers, slide your hair elastic just a few inches down and leave a major part of your hair in the ponytail.
Hold your hair elastic in place and cut off your ponytail in one even line from under it. Make sure that you are not cutting your hair at an angle as this will make your layers lopsided.
Remove the hair elastic and check out your layered hair.
If you see any uneven sections of hair, trim them out to put finishing touches on your new haircut.
Stylecraze Says
Try lots of texture if you want subtle movements for your hair while steering clear of the bulk. Don't forget to thin out excess weight.
Curly Layered Haircuts And Face Shapes
There are a bunch of ways you can go when styling your layered haircut, all of which depend on your face shape. I know, I know, this whole face shape concept may seem elusive to a majority of you. So, to make your life easier (because I'm nice like that) I have done my research and found the best curly layered haircut you can sport based on the shape of your face. You're welcome.
If you have a round face, a long bob with subtle layers that end right at your jawline will give your face a little more elongated effect.
Boy, are you in luck if you have a heart shaped face because there are a ton of layered cuts you can experiment with. You could try out out a short layered pixie if you're going for an edgier look. Or you could go with long even layers with straight or side swept bangs to create a more adorable hair look.
A short cropped bob with layers that end just at the chin works great on oval/oblong face shapes because it lends softness to an otherwise sharp facial structure. Another great layered style you can sport is long, evenly cut layers with a side swept fringe.
If you have a square face shape, you could go for a layered bob with some subtle bangs or long subtle layers right at the ends.
Well, now that you know how to cut your own hair in layers and which style will suit your face shape the best, let's jump into my top picks for styling your curly hair in a layered cut.
22 Best Layered Hairstyles For Curly Hair
1. Wispy Curly Layers
Susan Sarandon rocks a timeless look with her finely layered and textured shoulder-length hairstyle. It adds an air of romance and ease to any occasion. This well-crafted hairstyle requires little to no maintenance and stands out with its classic yet unique look. Put the finishing touches with thin bangs, and you got yourself a showstopper.
2. Deep Layers On Voluminous Curls
It's time to up your glam game with these gorgeous red carpet curls! Whether you're looking for an occasion-ready 'do or want to add extra body and texture to your look, this style will turn heads and make you feel fabulous. With stunning layers of curls cascading down, you'll be ready to take the spotlight.
3. Layered Super Long Bob On Kinky Curls
Having super long hair with kinky curls can be quite a literal pain in the neck. So, to reduce the weight on your head and to give your gorgeous curls a chance to unfurl in all their glory, go for a layered super long bob that is oh-so-easy to style.
4. Long Even Layers On Texturized Curls
Carrie Bradshaw has been a style icon for the modern woman for years now, and for a good reason. She absolutely nailed the layered cut for her wildly texturized curly hair and how! Her long evenly cut layers parted down the middle make for a perfect hair look for a woman living life in the fast lane.
5. Drastic Layers On Beachy Waves
Joan Smalls sure knows how to serve some serious ~looks~ when strutting down the runway. If you have long and lazy wavy hair like hers, here's a cut that will suit your brilliantly. Go for drastically staggered layers that will add more definition to your waves and give them that extra bounce.
6. Layered Bob And Bangs On Kinky Curls
When you're taking hair inspiration from Alicia Keys, you're taking hair inspiration from the best. To make the most of the oodles of volume of her kinky curls, she went for a short layered bob and subtle curly bangs to create this afro-ish hair look.
7. Uneven Layers On Tightly Coiled Hair
A great thing about a layered cut is that there are a ton of ways in which you can experiment with it. You could, for instance, do what Zendaya did and go for haphazardly cut uneven layers on your tightly coiled curls and leave your length long to create this wild and carefree hair look.
8. Shoulder Length Layers On Low Curls
Does your hair do that strange thing where it's straight on top and curly at the bottom? If it does, then you're one of those very few lucky ones on whom a layered cut looks marvelous. Just go for some shoulder length layers to allow your low curls to unfurl beautifully and create this stunning hair look.
9. Shaggy Layers And Curly Bangs
If a girl-next-door look is what you're going for, then this is a haircut you definitely need to try out. First, get shoulder grazing layers cut into your big spiral curls. Then, finish off your cutesy look by cutting some of your front curls into bangs that end right at your brows.
10. Messy Layers On Long Ginger Curls
One thing that all these boho chic girls on Instagram seem to have in common is long curly hair that cascades down their back. Recreate that magical look by cutting your ginger curls into long messy layers that require little to no time to style.
11. "Barely There" Layers On Thick Curls
A big fear that many curly haired girls have about getting their hair cut in layers is that they'll lose their volume. Well, let me tell you, a good layered cut will combat this problem swiftly. If you have thick curls, get your hair cut in subtle layers that look like they're barely there and part your hair on one side to create this gorgeous natural look.
12. Stepped Layers On Bouncy Curls
If you are blessed with big bouncy curls and are on the lookout for a good haircut to show them off, check out this style. A stepped layer cut separates curls and allows them the space to bounce around uninhibited. Swoop you curls down on one side of your face to give off a mysterious vibe.
13. Subtle Layered Bob On Kinky Curls
The simplest way to get your kinky curly hair cut in layers is to take a more subtle approach. If your layers are too drastic and far apart, your bob may end up looking rather triangular and awkward around your head. So, go for some subtle layers and end your bob at the shoulder to create this simple and classic look.
14. Long Sweeping Layers On Loose Curls
When it comes to curls, no one can beat the beauty of those sported by Annalynne McCord on 90210. Her long curly hair looks even more resplendent owing to the long sweeping layers it is cut in. You can just wash your hair and leave them be to look as stunning as her.
15. Short Layered Bob On Dented Curls
Charlize Theron sure knows what she's doing with her hair when it comes to layering it. She has highlight her beautifully dented curls by getting them cut in a short layered bob. The even layers accentuate her sharp cheekbones and jawline to make her look like the Ice Queen that she is (in)famously known to be.
16. Ombre Layers On Low Curls
You know what you can do to add to the structure and beauty of your layered haircut? You could go for an ombre hair color look. Your low curls are bound to blossom and shine in this color and cut when parted down the middle. Just make sure you take good care of your bleached hair if you want to maintain your curls.
17. Shaggy Layers With Shaggy Bangs
Of course, Rihanna knows what she's doing with her hair and you need to take some style inspiration from her. Take this short shag haircut, for instance. With shaggy layers and texturized curly bangs, she looks every bit the rockstar that she is. If you want to look even edgier, bleach your hair blonde the way she did.
18. Gradual Layers On Messy Waves
Are super structured haircuts not your style? Do you like your hair looking like they naturally grew out that way? Then this haircut with layers that descend gradually and transition beautifully into her medium length hair will work perfectly for you. Style them sleeked down on top and parted on one side (like model Frederikke Sofie) to create a bold and edgy look.
19. Long Layers On Long Curly Hair
If you're anything like me, you're probably extremely against the idea of letting go of your long tresses. But if you still want to go for a layered cut to better manage your curls, you can try out this gorgeous long layered haircut for curly hair in which the layers are concentrated at the length of your hair past your shoulders.
20. Layered Long Bob On Frizzy Curls
Trust Gwen Stefani to either GO BIG or go home. And goes big she does with this big curly hair look. Instead of trying to tame down her wild frizzy curls, Stefani has embraced them and gone for a long layered bob that frames her face and makes her look like the boss ass bitch that she is.
21. Short Texturized Layers And Curls
Take a page out of Vanessa Hudgens' lookbook and try out this effortlessly chic bob cut to show off your messy curls. Go for a short layered bob and style it with tons of texturizing spray to get this sexy look. And if you want to up the ante, finish off with some caramel balayage highlights.
22. Short Stacked Layers On Soft Curls
How many years have you spent avoiding getting a super short cut out of fear that your curls will make you look like a cotton ear bud? Fear no more! For ladies with soft loose curls, a short haircut with stacked layers that frame your face and end just below your ears makes for a youthful and romantic hair look.
Infographic: Tips To Maintain Curly Layered Hair
It takes a lot of hard work to maintain those gorgeous curls. Sometimes, they may not cooperate with you. However, the good news is that experimenting with different layering hairstyles will give those curls bounce and volume. Additionally, we have compiled a list of tips to help you easily maintain that curly layered hair. Check out the infographic below!
The best way to pick a layered hairstyle for your curly tresses is to choose one based on your face shape. Layers tend to draw attention to certain parts of your face and their features. The right layers not only frame your face well but also highlight your facial features and soften harsh lines and face shapes. Not to mention that layers enhance curly hair. Whether you have loose light curls or tightly coiled hair, layers are sure to accentuate your hair texture and type. You can find a beautiful layered hairstyle for curly hair right here! So, scroll up and take your pick.
Frequently Asked Questions
Does layering hair make it curlier?
Yes. Layering hair improves the curl definition and makes it more bouncy.
Are layers good for thin curls?
Yes, a short layered cut will help increase the volume and bounce of thin curls.
The following two tabs change content below.