10 Amazing Rangoli Designs Without Dots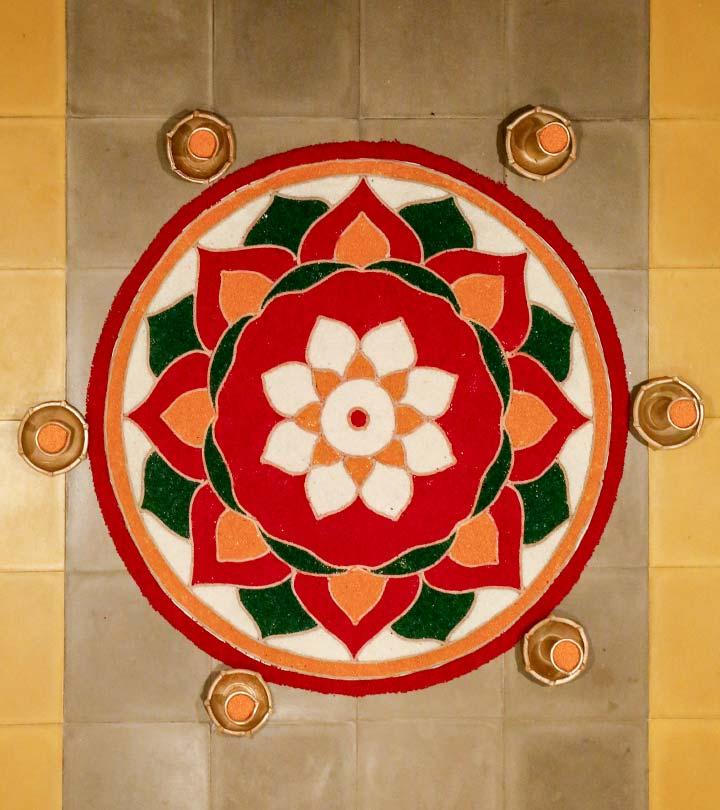 Rangolis have been a part of Indian culture since ages and have over time become increasingly popular and an attractive art form.
There are different types of rangoli designs when it comes to Rangoli making and there are numerous colours and styles to choose from. After seeing very good response for the post on Rangoli designs with dots, I have decided to do this post on Top 10 Rangoli designs without the use of dots.
Rangoli Designs Without Dots
1. This one is a colourful circular rangoli without dots. The use of colours makes this quite vibrant. The vibrant dark blue followed by ink blue then bright green, yellow, orange and white are the main colours used in this design. The details done using white colour are worth mentioning.
2. This one is one of the popular flower shaped Rangoli designs. This one too is a quite a colourful rangoli with very few dull shades. The only dull shade according to us is the earthy brown shade used, other than that- Pink, Blue, Green and Orange shades stand out in the design beautifully.
3. This one is a very bright Rangoli. And we think this one is truly apt for Holi as its oozing with colours. The colours used are vibrant and are loud too. The colours have been given a whirling effect and the white designs over them are done with great care. The details make this quite difficult for beginners in Rangoli making.
[ Read: Kundan Rangoli Designs ]
4. Here is a small Rangoli consisting of a mid section done with vibrant shades and the surrounding parts are done using white shades. This gives the total Rangoli a great contrasting look. The vibrant colours used to portray the peacock design are quite unique too.
5. This is a great design to welcome the festive spirit of Diwali. The colours used are a good mix of vibrant yellows & pinks and dark shades like blue & black. The 'Diya' designs on the outer part stands for the festive occasion. This is a simple design and even beginners can try this one out. And oh, the 'Om' sign in the middle is worth mentioning too.
6. Here is another beautiful design to celebrate Diwali. We love the white background given to the Rangoli. Also there is are a number of vibrant colours used like green, yellow, blue and red. The design is quite unique as compared to the ones that we usually see and the 'Diya' designs in the Rangoli are apt for the festive mood. This is an choice of the rangoli designs for festivals.
7. Less colour and more intricate designs – this is what we would call the above design. We love how the main two colours – blue and red have been sparsely used and the main importance has been given to the intricate and fine details done with the white shade. We feel such designs need a lot of steady hands, so it will probably not suit beginners.
8. Another colourful and vibrant Rangoli. Here we see a very similar design like the 3rd design on this page, but unlike that one there is no whirling effect. The pattern uses floral themes and the main colours used are Bright orange, red, green, orange and white for the borders. This is a comparatively simple rangoli design without dots and also a small rangoli design without dots.
9. A beautiful design of Lord Ganesha is done using white colour and over a pink purple backdrop. This one of the rangoli designs with theme is done on a bright vermillion shaded backdrop. There are a lot of fine details in this one of the rangoli kolam designs without dots.
10. What better way to welcome the New Year than with one of the colourful rangoli designs of Ganesha in your house. We love how this design uses a unique pattern and bright colours like black, dark blue, sky blue, yellow and green. The design of Ganesha is done in the middle over a bright red background.
So these were our top picks for Rangoli designs without dots. Which is your favourite?
The following two tabs change content below.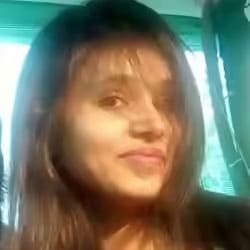 Jyotsana Rao is an engineering graduate from NIT, Nagpur, who discovered her love for writing during her undergraduate days. She is passionate about writing about everything related to beauty - makeup, fashion, hairstyles, skin care, or hair care. When this social media junkie isn't stalking the world of fashion and glamour, she loves spending her time traveling.