Top 10 Amy Winehouse Tattoo Designs
Tattoos are the most popular form of body art. They are the emerging trend as more and more people choose to flaunt their tastes on their skin in the form of quotes, designs, images or simple symbols. They are created by injecting bio ink in the epidermis layer of the skin, that lies just below the surface layer. They may fade with time, but are otherwise permanent and their removal requires surgical procedures.
Amy Winehouse Tattoo Designs:
Amy Jade Winehouse was a singer and songwriter whose genre of music included jazz, soul, R&B and reggae.  She is known for her stunning vocals and her 2006 album, Back to Black earned five 2008 Grammy Awards. This tied her at the record for the most number of Grammys won by a female vocalist for one album. This also made her the first British female to win five Grammys. Born on 14th September 1983, she passed away on 23rd July 2011 at the age of 27. She was famous for her multiple body tattoos.
Given below are her ten famous Amy Winehouse tattoos:
1. Twin Hearts Tattoo Design:
These two hearts are placed directly above her Grandmother Cynthia tattoo. These hearts are red in colour, with black ink outlines. When Amy got her grandmother tattooed on her arm, she got these a few months later on the right of the Cynthia tattoo to symbolize her love for her grandmother.
2. Daddy's Horseshoe Tattoo Design:
Amy was always a Daddy's girl. Being doted on by her father from an early age, it was only natural that her father be her manager when her career took off. To honour this scared union, Amy got this tattoo. It shows the word, "Daddy's" in cursive font. Below it is a horseshoe which is blue in colour.
[ Read: Sparrow Tattoos ]
3. Never Clip My Wings Nightingale Tattoo Design:
Being the leading female vocalist of her time, and the best in her genre, it was only natural that she get a nightingale tattooed. Amy had always been a wild child and music had been her only solace. She got this tattoo soon after her critical acclaim. It shows a blue nightingale, singing away on a branch. Above and around this image is tattooed the words, "Never clip my wings", a testament to her indomitable spirit.
4. Native American Feather Tattoo Design:
This was the first ever tattoo that Amy ever got. In Native American culture,  a white feather symbolized courage and bravery. Amy got this tattoo on the inside of her forearm. It showed a white fluffy feather, outlined and shaded in black ink.
5. Naked Woman's Torso Design Tattoo:
This is Amy's most controversial tattoo. It shows a voluptuous woman's torso, and the woman's upper body is naked, exposing her breasts. When Amy was invited for the Grammys, she was asked to "cover up" this tattoo for censorship. Amy refused to, and instead just drew bra straps onto the woman's breasts.
[ Read: Footprint Tattoo Designs ]
6. "Hello sailor" with Anchor Tattoo Design:
Nothing expressed Amy's flirtatious spirit more than this "Hello Sailor!" tattoo. It is in the form of an anchor, with a rope twined around it. It has the lettering all around it.
7. Lightning Bolt Tattoo Design:
Lightning, Amy felt, was natural disaster that was swift and powerful. This tattoo of Amy Winehouse shows a silver lightning bolt.
8. Blake's Pocket Tattoo Design:
Amy's marriage to Blake was at its peak when she got it. It has "Blake's" tattooed over a pocket. Amy was looking to get it removed after her marriage to Blake failed.
9. Grandmother Cynthia Tattoo Design:
Amy got her grandmother's younger image of a voluptuous teenager tattooed on her arm, with "Cynthia" written at the side.
[ Read: Capricorn Tattoos ]
10. Girl with Fan Tattoo Design:
Another one of Amy's 'girl tattooes', this one shows an 'It Girl', sitting and fanning herself with a colourful fan.
Hope this article showing the various tattoos of Amy Winehouse raised spirits in you to have one such! Feel free to share your comments with us!
Find all celebrity tattoos in this tattoo gallery that has over 8000 tattoo designs

The following two tabs change content below.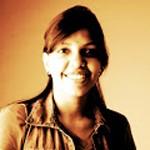 Latest posts by Shruti Goenka (see all)