Androgenic Alopecia – Causes, Treatment, And More Androgenic alopecia occurs in about 50% of the world's population. It is a genetically predetermined hair loss condition that impacts women and men. The hair growth cycle is progressively slower in this type of hair loss. Here, hair follicles shrink down and obstruct new hair growth. Even when new hair finally does grow, it looks weak and thin. This condition is commonly noticed in women during menopause (1). Keep reading to know the symptoms, triggers, causes, and treatments for androgenic alopecia.
What Is Androgenic Alopecia? 
Androgenic alopecia (AGA) is a genetic condition in which both men and women experience hair loss differently (1),(2). It is also known as female pattern hair loss and is characterized by reduced hair density all over the crown and the frontal scalp (3).
Androgenic alopecia or female pattern hair loss is classified into three grades of severity. These are also known as Ludwig grades (3):
Grade I: A small but gradual hair thinning on the crown.
Grade II: The hair thinning becomes pronounced on the crown.
Grade III: Complete baldness on the crown.
There are several underlying causes of female pattern hair loss or androgenic alopecia.
Androgenic Alopecia: What Are The Causes? 
Genetic and environmental factors can lead to androgenetic alopecia. Increased male hormones or androgens in genetically susceptible women are among the main causes of androgenic alopecia (2).
Androgens, such as testosterone and its derivative dihydrotestosterone (DHT), are present in both men and women and regulate the hair growth cycle. The DHT binds to the androgen receptors present in the hair follicles. This shortens the anagen phase (growth phase), and the hair follicles shrink, leading to shorter and finer hair (2).
Women with androgenic alopecia also have high levels of 5-alpha-reductase (converts testosterone to DHT) and androgen receptors in the hair follicles (2). The hair thinning is often diffused in women. Here is how it may look like.
Signs And Symptoms Of Androgenic Alopecia
Gradual hair loss is a common symptom. Women with androgenic alopecia usually have thin, wispy hair that does not grow long.
Hair thinning may start on the crown. You may notice a wide hair parting.
The hair growth phase slows down, and when the hair grows, you may notice thin and fine new hair. Such hair is prone to breakage.
If you are experiencing hair loss and suspect it to be androgenic alopecia, consult a doctor for a proper diagnosis.
Diagnosing Androgenic Alopecia 
The doctor may check:
The family history of alopecia and find any underlying cause
Diet pattern
Medical history
Hormone levels
They may conduct a physical and dermatoscopic examinations. It is done in three parts:
Scalp examination to find evidence of inflammation, scaling, and erythema
Hair density test and assessment of hair distribution
Hair shaft examination to determine its strength, fragility, and shape
The doctor may also conduct a hair pull test to assess the severity of hair loss. They may grab a section of about 50-60 hair strands and gently pull. If more than six strands fall out, it indicates active hair loss. The treatment will be determined as per the severity of your condition.
Treatment Options For Androgenic Alopecia 
Topical Minoxidil (Rogaine): Topical minoxidil 2% is approved by the FDA to treat androgenic alopecia or female pattern hair loss. Minoxidil promotes hair regrowth to a great extent and shows results in a few months (3).
Finasteride (Propecia): Finasteride inhibits 5-alpha-reductase, which, in turn, inhibits the conversion of testosterone to DHT, minimizing hair loss. Topical finasteride is more effective than the oral drug. Although the FDA approved it to treat men's hair loss, finasteride is also used to treat female pattern hair loss with mixed results (3), (4). Further studies are required to ascertain its safety for women.
Dutasteride (Avodart): This is another powerful type one and two 5-alpha-reductase inhibitor that significantly improves female pattern hair loss. However, further studies are needed to determine its effectiveness (3).
Ketoconazole: Shampoos with 2% ketoconazole can help promote hair growth in androgenic alopecia (5).
Spironolactone: Although it is commonly used as a diuretic, spironolactone can reduce androgen levels. Thus, it has been used to treat androgenic alopecia. However, it may cause side effects like fatigue, irregular periods, and birth defects (3).
Laser Therapy: Low-level laser therapy (helmets and laser combs) is a non-invasive method to stimulate hair growth. The doctor may combine laser therapy with other drugs to treat hair loss.
Microneedling: Microneedling is a cosmetic procedure that may promote hair regrowth. Tiny needles are used to deliver drugs more effectively. The punctures in the scalp trigger repair proteins and growth factors that help hair regrowth (3).
Hair Transplantation: In severe cases, the doctor may suggest hair transplantation. The hair follicles or donor plugs are used to cover areas with sparse growth.
Hair loss and female pattern baldness can be distressing. But, is it preventable? Find out next.
Can You Prevent Female Pattern Baldness?
Mild to moderate hair loss can be prevented and reversed to certain extent with proper treatment and medication during the early stages of the condition. However, you may not prevent or reverse female pattern baldness during the advanced stages. You can take care of your hair and scalp to minimize hair fall and breakage. Here is how you can care for your scalp and hair:
Follow the prescribed treatment and medications to prevent hair loss.
Have a healthy and balanced diet. Consume foods rich in omega 3 and 6 fatty acids and antioxidants to promote hair growth (6).
Talk to the doctor to know the side effects of any medication you are using. If any of them cause hair loss, ask your doctor for an alternative.
Take care of your scalp and hair. Avoid excessive sun exposure and use mild shampoos or doctor-prescribed products. 
Multiple factors can make you vulnerable to androgenic alopecia. Scroll down to find out what they are. 
Risk Factors For Androgenic Alopecia 
Although genetic predisposition is a major reason for androgenic alopecia, research links it to various medical conditions, such as:
Androgenic alopecia is a genetically predetermined hair loss condition. In this condition, hair follicles shrink and stop the new hair growth. Thus, the hair growth is slow, and the new hair will look thin and weak. Though irreversible and not preventative, some treatments help promote hair regrowth and interventions that hide hair loss. For example, prescription medicines, laser therapy, microneedling, and hair transplantation may help hair regrowth and hide baldness. While on treatment, you should follow a balanced and healthy diet to maintain your hair health. If you think you have androgenic alopecia, consult your doctor immediately to get it diagnosed and start the treatment at the earliest.
Key Takeaways
Androgenic alopecia is characterized by hair loss at the crown and front of your head.
Genetic and environmental factors and increased male hormones can cause this type of hair loss.
Women with androgenic alopecia usually have thin, wispy hair that does not grow long.
Topical minoxidil is an FDA-approved treatment for androgenic alopecia or female pattern hair loss.
Sources
Articles on StyleCraze are backed by verified information from peer-reviewed and academic research papers, reputed organizations, research institutions, and medical associations to ensure accuracy and relevance. Check out our
editorial policy
for further details.
The following two tabs change content below.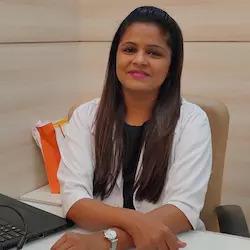 Dr. Shruti Chavan
(MBBS)

Dr. Shruti Chavan is a consulting dermatologist at Dr.Sheth's Skin and Hair Clinic since 6 years. She is a co-committee...

more