25 Androgynous Hairstyles For Women That Are Trendy & Stylish
Blur the lines between masculine and feminine with these uber-cool hair looks!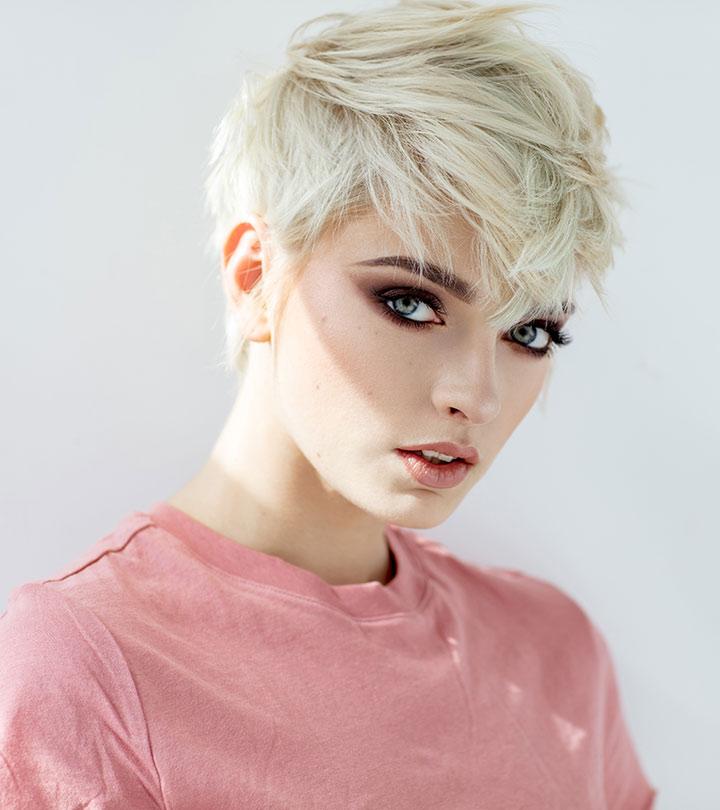 Androgynous hairstyles are quickly becoming a staple among hairstyle trends. Wondering what they are? We are here to tell you exactly that! But first, time for a tiny, interesting history lesson.
Master stylist and owner of Nickieology Beauty Unleashed, Nebraska, Nickie Addison shares her insights, "Back in the day, women were adored for their long flowy locks. But all that changed around the 60's with the Free Love movement when women had started carving their own paths post the second world war and took the liberty to express themselves. Our hairstyle is our identity and with creativity at our fingertips through so many social media outlets our possibilities have really expanded."
In recent years, the debate between long vs. short hair has died down, with more people accepting gender-neutral hairstyles. Androgynous means finding the halfway point between feminine and masculine – not sticking to one gender but accepting both.
Keep scrolling to check out some truly noteworthy androgynous hairdos!

Before You Get Started
Androgynous hairstyles are very much flattering for people with square faces.
Dry shampoo adds texture and volume to androgynous hairstyles. Spray some before creating the look.
Androgynous hairstyles and hair coloring are the best to experiment with. They look edgy and playful together.
25 Stylish Androgynous Hairstyles You Need To Know About
Nickie Addison says, "Whether you're choosing to simply have an adorable pixie or an edgy mohawk, you do not need to care for anyone assuming anything for you. These styles hold a place for you. Have your stylist tailor the look to your uniqueness and bam! Slay your way."
1. Short Pompadour
A hairstyle that looks vintage and modern at the same time. Yes, this hairdo has been around for ages and it will never go out of style. It's bold, grunge-chic, and helps create the illusion of a longer forehead.
2. Shaggy Curls
Flaunt your messy hair in all its glory with a shag cut. These edgy, choppy layers add body to the mane and make it look thicker. Additionally, this short and relaxed hairdo helps draw attention to your facial features.
3. Cropped Pixie
You just can't go wrong with pixie cuts! This effortless hairstyle helps accentuate your cheekbones and requires little maintenance. Plus, it gives off a stylish-without-trying-too-hard vibe.
4. Buzz Cut
Bold and rebellious, buzz cuts have become a huge rage now. It looks fresh and clearly proves that short haircuts are not a hindrance to the hair game. Mark our words, this look will make you stand out in the crowd.
5. Dreadlocks
This statement-making, protective hairstyle is doing the rounds on the internet. It is perfect for afro-textured hair and looks edgy, magnificent, and helps take your hair game to the next level. You can also add some braids or cornrows along with your dreadlocks to elevate your look!
6. Neat Pixie
A neat pixie might sound boring, but don't underestimate it. A neatly brushed pixie with a side parting looks incredibly youthful. It has a boyish charm and a girly twinkle!
7. The "Spur Of The Moment" Pixie
Whether it's to move on from a break-up or just for a change, we've all thought about chopping off our locks. We can all relate to Princess Ann (Audrey Hepburn in Roman Holiday) when she makes a spur-of-the-moment decision and gets her hair chopped. Fortunately, the pixie cut turns out to be chic and stylish. Many women continue to sport this look to this day after watching that movie.
8. Brown Disconnected Gradual Bob
The unique thing about this bob is that it gets longer in the front abruptly instead of gradually. The top layer at the back is a lighter brown, and it gets darker as you reach the final layer. The layered hair brings a nice contrast and adds dimension to the hairstyle.
9. Layered Pixie
Natalie Portman shaved her hair for V for Vendetta, and they shot it all in one go in an incredibly moving scene. But how do you bounce back from a shaved head? With a chic layered pixie, of course!
10. Slicked Back
A gelled-back pixie cut is perfect for flaunting your cheekbones, jawline, and eyes. If you have a large forehead, let your bangs fall over it and gel the rest of your locks back. Pair this hair look with some soft makeup, and you are good to go.
11. The Wedge Cut
Although we say that fashion is edgier now more than ever, the truth is that uber stylish cuts – like the wedge cut – were around way back in the '20s. This A-line cut angle with a deep hairline can take your natural hair to a perfect ten and beyond!


Quick Tip
Alternatively, you can also experiment with an asymmetrical wedge cut, similar to Kat Graham, to transform the classic wedge cut look into a modern version.
12. The Messy Pixie
M-E-S-S-Y! That's what's turning the world upside down. For years, we've heard our parents tell us not to be messy, but now, messy hair is all the rage. Opt for a chic messy pixie – like this one sported by Posh Spice.
13. Platinum Pixie
Platinum meets pixie in this over-the-top hairstyle. I love that the bangs are longer, so the cut does not look too elvin. It is edgy but sweet at the same time. This hairstyle would be perfect for summer.
14. Soft Blonde Mohawk
Model and actress Agyness Deyn sports the rock chic look like a boss. If you have a grungy personal style, this hairstyle is for you. Opt for shaved side and sharp, soft ends that add edge and style to this mohawk. Pair it with a leather jacket to look #GOALS!
15. Dark-Rooted Pixie
This blonde and brunette pixie shows us that we can get the best of both worlds. Keeping your roots dark with the added dimension of lighter pieces helps frame your face. Choose a contrasting blonde shade – one that matches your skin tone and undertone – for the rest of your hair. Your stylist can help with choosing the perfect blend.
16. Spiky Faux-hawk
A messy faux-hawk is a great way to spice up your regular pixie. Comb down your sides, and push the center hair up with your fingers and some hair gel. I like how the ends are curved in – they give the hairstyle a subtle devilish appeal.
17. Full Bangs
If you have thick, dark brown hair and brown eyes, you need a full bangs pixie. Not only does it flaunt your hair volume, but it also makes your eye color pop. It is also a simple and chic way to cover a large forehead.
18. Sleek Mohawk Pixie
Ruby Rose looks like a badass with this pixie cut. Comb down the sides and back of your hair with some strong-hold gel. Slick back the front and crown sections of hair and spritz on some hairspray to achieve this bold look.
Addison adds, "This hairstyle puts a modern spin on the traditional Pompadour from the forties and fifties."
19. Contrast Layers
Contrasting layers look very appealing. They showcase your hair beautifully while adding depth to it. Keep your roots dark and opt for a blonde shade in a similar undertone for the rest of your hair. Style your hair in waves to add texture to it.
20. The Curly Felicity
It was a huge surprise when Keri Russell cut her long, luscious curls. While it got mixed reviews from many, Russell loved it. Simply run your fingers through your short curly hair with some gel to mimic this look.
21. Pixie With A Twist
Who doesn't like a twist every now and then? Apply some gel to your locks and slick them down. Comb your bangs together, twist them at the end with your finger, and lay the twist flat against your forehead. Looks uber stylish, right?
22. Short Layers
A deep hairline was big back in the early 19th century. It was the inspiration for the graduated bob. I love that this style is coming back with a modern twist. This bob haircut is paired with undercuts and patterns. Amazing!

Quick Tip
You can take inspiration from the edgy angled bob style of Halle Berry at the Oscars 2021 with a choppy micro fringe.
23. Gelled-Back Hair
The gelled-back pixie does not have to be flat. Add some lift to your locks with your comb when you are styling it. By adding height to your locks, you can make your face look slender and draw attention to your jawline. You can also add stylish hair accessories to complete this look.
24. Black Edgy Bob
Black bob looks edgy and mysterious. Add layer upon layer at the back to give it a gradual curved look. Keep the hairline at an angle to add more dimensional style to it. Overall, this black bob is one cool cat!
25. Short TWA Pixie
Whoever says you need length to flaunt your textured hair is just wrong. Kinky hair looks amazing when cut short. So, it's no surprise that one of the most trending TWA (teeny weeny afro) styles is the pixie. Style it with a slight undercut to accentuate your kinky curls, and you've got yourself a killer look!
Infographic – Androgynous Hairstyles
No wonder androgynous hairstyles are widely accepted and loved! Not only are they cool, but it is also easier to maintain them. We should thank various celebrities who played a strong role in popularizing these hairstyles. Below is an infographic on the stars who have rocked these hairdos. So take a look and get inspired.



Androgynous hairstyles are perfect for people who refuse to settle with enforced gender norms. If you march to the beat of your own drum and love experimenting and trying out new things, these androgynous hairstyles are just the thing for you. And if you already knew about them and wanted to try one, we hope this article has been informative and given you an encouraging push towards your desired style. Talk to your stylist to learn more and determine which of these styles will work best for you.
Frequently Asked Questions
How do you get long androgynous hair?
If you have long hair, you can go for androgynous hairstyles like the top knot, low ponytail, or a sleek back look.
Is androgynous hair attractive?
Yes, androgynous hairstyles can make you look youthful, beautiful, edgy, and stylish.
Are bob cuts androgynous?
Bob haircuts are a classic example of an androgynous haircut. You can experiment with different hair lengths and styles with a bob to strike a perfect balance for a great androgynous look.
Is wolf cut androgynous?
Wolf cuts are great for creating a textured androgynous look. It reflects a free-spirited and retro look that is futuristic at the same time.
How to make short hair look androgynous?
Try to shave the sides and back of your head or in a buzz-cut style if you have a pixie style. Go with asymmetrical styles when trying to flaunt androgynous hair as they make you look edgy and daring, while also balancing the femininity of your hairstyle.
How do androgynous hairstyles differ from gender-specific or binary haircuts, such as short hair for men and long hair for women?
Androgynous or tomboy hair have balanced feminine and masculine characteristics and can be worn by both men and women such as slicked back, bowl cut, layered pixie, mohawk, and dreadlocks. Binary hairstyles are less-flexible and gender-specific hairstyles such as long hair for women and short hair for men.
What are some popular androgynous hairstyles, such as buzz cuts, pixie cuts, or bowl cuts?
Some of the most popular androgynous hairstyles are shag cut, mohawk, textured crop, side-swept fringe, long layers, and wolf cut.
How does hair texture or color impact the effectiveness of an androgynous hairstyle, and are there any specific hair care tips to follow?
Highly layered and textured hair such as wavy curls is preferred as it adds an edge to your personality and reduces the softness of your look making it look more androgynous. Hair color also helps magnify your personality as darker shades are believed to be more masculine and softer shades of pink and red as feminine. Strike a balance between femininity and masculinity playing around with color and texture for a unique androgynous hairstyle to bring out the best in you.
Can androgynous hairstyles be combined with other types of fashion or accessories, such as bold makeup or statement jewelry?
Yes, androgynous hairstyles can be complemented with bold and dramatic eye makeup such as smokey eye or classic cat eye to create a striking look. Add statement jewelry such as large earrings and bold necklaces to add pop to your short hair and bare neck. Feel free to experiment with your personal style.
Can androgynous hairstyles be a form of self-care or self-love, and how can they impact one's mental health and well-being?
Yes, your hairstyle gives you freedom of expression. Getting an androgynous look as opposed to traditional pre-defined hairstyles can also feel empowering. Trying challenging styles and owning them with confidence can give a great boost to your self-esteem and right over your body. For some, getting a short androgynous could cut hair maintenance time which they can invest in their personal growth and self-love, and self-care.
Key Takeaways
Androgynous hairstyles are gender-neutral and perfect for women who love to experiment with their locks.
The pixie cut is the most popular androgynous hairstyle sported by many celebrities.
You can also opt for a bob or a wedge cut if you want to nail that androgynous look.
Check out this video to learn how to style your long hair in androgynous hairstyles! Get creative and find the perfect look for you in the following video.
The following two tabs change content below.