15 Angelina Jolie Tattoos And Their Meanings
Symbolizing each phase in her life, these tattoos perfectly summarize her journey.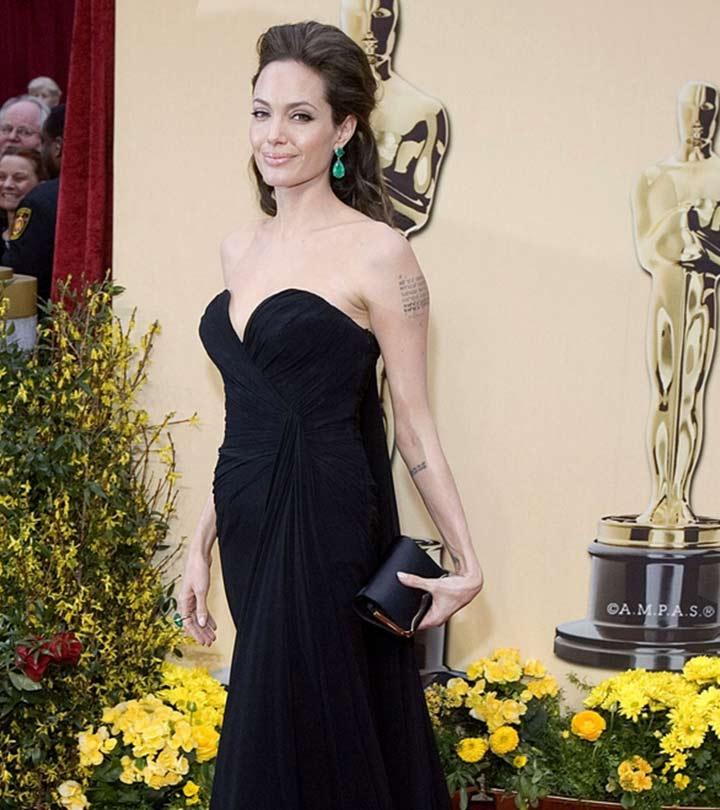 Apart from her stunning acting, Angelina Jolie has been making headlines for her unique tattoos. Her tattoos hold profound messages from both her past and present life, representing her true self perfectly. She has also tried cover-ups and is opting for new tattoos to improve her personality. So, if you are into Angelina Jolie tattoos' meanings, you have come to the right place. Here are some you can have a look at. So, go ahead and read this article. Stay put till the end and get inspired.
Angelina Jolie's Tattoos With Their Meanings
1. Angelina Jolie's Thai Tiger Tattoo
This is one of her most popular tattoos. A tiger tattoo represents the free spirit and has positive connotations. In 2004, Angelina Jolie got a tiger tattoo done on her lower back on a trip to Thailand. It covers an area of 12 inches by 8 inches on her waist. This tattoo was done in the traditional Thai style, i.e., manually with needles and blessed by the artist with ancient chanting on the tattoo.
2. The 'Know Your Rights' Tattoo
On the base of the neck, right above her Buddhist inscription tattoo, is a one-liner tattoo in broad Gothic letters that says, 'know your rights.' It is the title of a song from one of her favorite bands.
3. Angelina Jolie's Arabic Tattoo
Arabic tattoos have always been admired for their beautiful calligraphy. Angelina has an Arabic tattoo on her right forearm that means 'willpower.' This tattoo is a cover-up for a previous abstract tattoo that she got done for her ex-husband Billy Bob Thornton.
4. Angelina Jolie's Cross Tattoo
Angelina Jolie has always been known for being versatile and moving on with her life, and her tattoos have been the biggest example of starting things anew. She had miniature dragon tattoos on her waist, which she got done in Amsterdam. She later got them covered up with a Latin phrase, "Quod me nutrit me destruit," which means "what nourishes me, destroys me." She got the cross done in 1995, a day before getting married to Johnny Lee Miller.
5. The Geographical Coordinates Tattoo
Angelina has been an inspiring mother, and all of her tattoos have a deep meaning connected to her strong memories or her children. Her left bicep has six geographical coordinates of the longitudes and latitudes, where she first met her children. They are:
N11° 33′ 00″ E104° 51′ 00″ – Her Cambodian tattoo is dedicated to her eldest son, Maddox.
N09° 02′ 00″ E038° 45′ 00″ – The second one represents Ethiopia, for her daughter, Zahara.
S22° 40′ 26″ E014° 31′ 40″ – The third tattoo is dedicated to her daughter Shiloh, who was born in Namibia.
N10° 46′ 00″ E106° 41′ 40″ – The fourth one is for her son Pa, who was born in Vietnam.
N43° 41′ 21″ E07° 14′ 28″ – The fifth and sixth were for her twin kids, Knox and Vivienne, who were born in France.
N43° 41′ 21″ E07° 14′ 28″ – The last coordinate was Brad Pitt's birthplace.
6. Angelina Jolie's Roman Numeral Tattoo
Angelina has the Roman number 13 on her left inner arm. As 13 is considered an inauspicious number, it showed her rebellious nature. On the left, it reads "XIII V MCMXL," which is 13/5/1940. It is a tribute to Winston Churchill in remembrance of the "blood, toil, tears and sweat" speech that he delivered on the same day.
7. Billy Bob Tattoo
The 'Billy Bob' tattoo was one of her first tattoos. This black and white design was made in the shape of a Chinese dragon with the name of her ex-husband, 'Billy Bob' Thornton inscribed on top. After her divorce, she got the tattoo covered up with a new design to represent her kids.
8. Buddhist Script Tattoo On The Upper Back
This Buddhist Pali tattoo inscribed in Khmer was done in honor of her eldest son, Maddox Chivan Jolie-Pitt, who was born in Cambodia. It was done by a tattoo artist called Noo (aka Sompong) Kanhphaiin. It says, "May your enemies run far away from you. If you acquire riches, may they remain yours always. Your beauty will be that of Apsara. Wherever you may go, many will attend, serve and protect you, surrounding you on all sides".
9. Angelina Jolie's Japanese Death Tattoo
This Japanese symbol of death was one of her first tattoos. She got it done to keep the fight for life going on within her. She later got a cover-up done with the Khmer tattoo and dedicated it to her eldest son.
10. Angelina Jolie's Dragon Tattoo
Just under the Billy Bob tattoo was an Asian dragon tattoo. The dragon tattoo was done before the name of her ex-husband was. She got it removed later after the relationship ended. She regretted her decision of getting someone's name etched on her skin and said in an interview, "I'll never be stupid enough to have a man's name tattooed on me again." The removal took five visits, and the remnants can still be seen in bits.
11. Angelina Jolie's Arm Tattoos
Angelina Jolie has a quote on her arm that says, "A prayer for the wild at heart kept in cages." It is taken from Tennessee Williams' 1941 play, Stairs To The Roof. She had got the tattoo etched in her mother's presence. This tattoo connects to the neighboring tattoo with swirling lines.
12. Khmer Script Tattoo
Angelina Jolie has her back decorated with a Yant ViHan Pha Chad Sada tattoo. It was inked on her back by an ex-monk using steel rods and a clinical steel needle. The intricate design has two yants. The upper boxes contain scripts. The Sak Yant talisman square signifies the four continents and the four elements – water, wind, fire, and earth. Ajarn Noo Kanpai flew down from Bangkok to Siem Reap in Cambodia to do this tattoo. Her then-husband got a Buddhist symbol on his stomach with the same ink to keep the couple bonded forever. However, the marriage broke off by the next year in September 2016.
13. 'H' On The Wrist
Angelina has the alphabet 'H' on her left wrist, which is dedicated to her brother, James Haven. It is a common Norwegian style tattoo. Many people believe it is in remembrance of her ex-boyfriend, Timothy Hutton. She also has 'M' tattooed on her palm, for her mother, Marcheline Bertrand.
14. Angelina Jolie's Swirl Tattoo
On her upper left arm is a tattoo of a decorated swirl symbol, which is considered sacred according to the Buddhist religion. It is believed to signify a shield against the dark forces and attract good fortune to the wearer.
15. Inscriptions On The Right Hand
Angelina had inscriptions in Urdu on her right arm. However, she got them covered up with her Roman numerical tattoo.
Other Tattoos Of Angelina Jolie
A line abstract tattoo was made on her arm, which was custom designed by her and her husband, Billy Bob Thornton. It was then replaced with her Arabic tattoo.
Jolie had three tattoos on her lower back – a tribal tattoo, a blue window, and an ethnic dragon tattoo. The tribal dragon was covered up by the tiger tattoo. The window represented her outlook toward life, wishing she met someone special. The tail of the tiger covered the window. Whiskey Bravo is tattooed on her inner thigh, which has Brad Pitt's initials. Her dragon tattoo with a blue tongue was covered up by a cross tattoo on her waist. She also had a matching tattoo of a Japanese symbol of courage with her ex-husband Johnny Lee Miller, which she got removed after the divorce. Her navel has an energy waves tattoo, which was done by Daemon Rowanchilde.
The ubiquitous and gorgeous Hollywood actress Angelina Jolie is a tattoo enthusiast. She has adorned many parts of her body with intricately detailed patterns, and each has its own significance to her. These Angelina Jolie tattoos have meanings, stories, and a history. Her tattoos represent her journey and how she has matured. You can take inspiration from her ink and plan your own patterns. First, however, make sure you follow the safety guidelines before and after getting a tattoo to ensure they heal quickly.
The following two tabs change content below.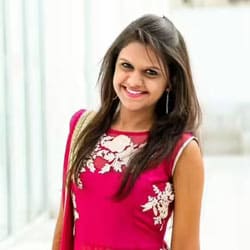 Nisha is a contributor to StyleCraze. She is a makeup aficionado and combines her love for makeup and writing to...
more