8 Stylish Angelina Jolie's Tattoos & Their Meanings
Male or female, we all adore Angelina Jolie, don't we? As much versatility that she shows in her movie roles and as much of a stylish international icon that she is, the same creativity and style can be found in her many tattoos.
With over a dozen tattoos all over her body and some that she has even got removed to make way for new ones, or to erase old memories, Angie sure is an expert when it comes to the art of tattoo.
Angelina Jolie Tattoos
Here are some of Angelina Jolie's tattoo designs and their meaning.
1. Know Your Rights:
This one between her shoulder blades is in Gothic letters. The tattoo says 'know your rights' and is the title of a song from one of her favourite bands. This Angelina Jolie tattoo is a strong example of how much music effects are life and thinking!
2. Geographical Coordinates:
These numbered tattoos have been used to cover up the area where the dragon tattoo and name of her ex -husband Billy Bob Thornton was tattooed before they were removed. The numbers are the latitudes and longitudes of the locations where her children first entered her life.
The first one is a place in Cambodia where her eldest son Maddox was born.
Second is the place in Ethiopia where her daughter Zahara was born.
Place in Namibia where Angelina gave birth to her daughter from Brad Pitt, Shiloh
Place in Vietnam where her son Plax Then was born
5 and 6 are a place in France for her twins Knox and Vivienne
Brad Pitt's place of birth in Oklahama
3. Rune Style:
A rune style tattoo is something that was most common to Norwegians. This rune styled tattoo on her wrist is the letter h. It is said to either remind her of ex-boyfriend Timothy Hutton or her brother James Haven.
4. Cross Tattoo:
Angelina had originally done a little dragon with blue tongue in Amsterdam but she got it covered with this cross tattoo. Next to it is a phrase in Latin ''Quod me nutrit me destruit'' that means ''what nourishes me, destroys me.''
The cross tattoo was done the day before she got married to Johny Lee Miller in 1995.
5. Buddhist Pali Incantation:
Located on her left shoulder blade, this was done in a hotel in PathumThani, 16 miles north of Bangkok. It is a Buddhist Pali incantation in the Khmer script and is the language of Cambodia. This was tattooed to protect her adopted Cambodian son Maddox and herself from bad luck. It means:
''May your enemies run far away from you. If you acquire riches, may they remain yours always. Your beauty will be that of Apsara. Wherever you may go, many will attend, serve and protect you, surrounding you on all sides''.
[ Read: 10 Best Tattoo Studio in India ]
6. Bengal Tiger Tattoo:
This is a Bengal Tiger tattoo that's 12-inch long and 8-inch wide and is on her lower back. This was done in Bangkok in 2004 and took 2 hours to complete. The tattoo artist blessed the tattoo by chanting an ancient hymn while making it. The tattoo was done to celebrate her Cambodian citizenship and was made in traditional Thai style with a manual needle.
7. Arabic Script Tattoo:
This Arabic script tattoo on her right arm below the elbow bone means ''determination''. This covers the abstract lines tattoo she had done with her ex Billy Bob Thornton.
8. Roman Numeric 13: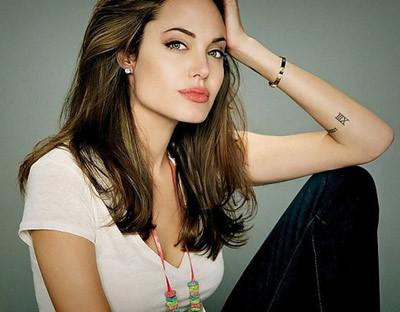 On her left inner arm is the tattoo for the roman number 13. This was done as Angelina does not believe in superstitions.
So what do you think of Angelina Jolie's tattoos? Are you already planning a trip to a tattoo parlour? Do leave your comments.
Image source: 1 , 2 , 3 , 4 , 5 , 6 , 7 , 8 , 9
Recommended Articles

The following two tabs change content below.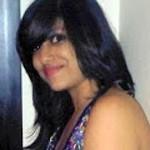 Latest posts by Debolina Raja Gupta (see all)