40 Amazing Anniversary Gift Ideas For Your Husband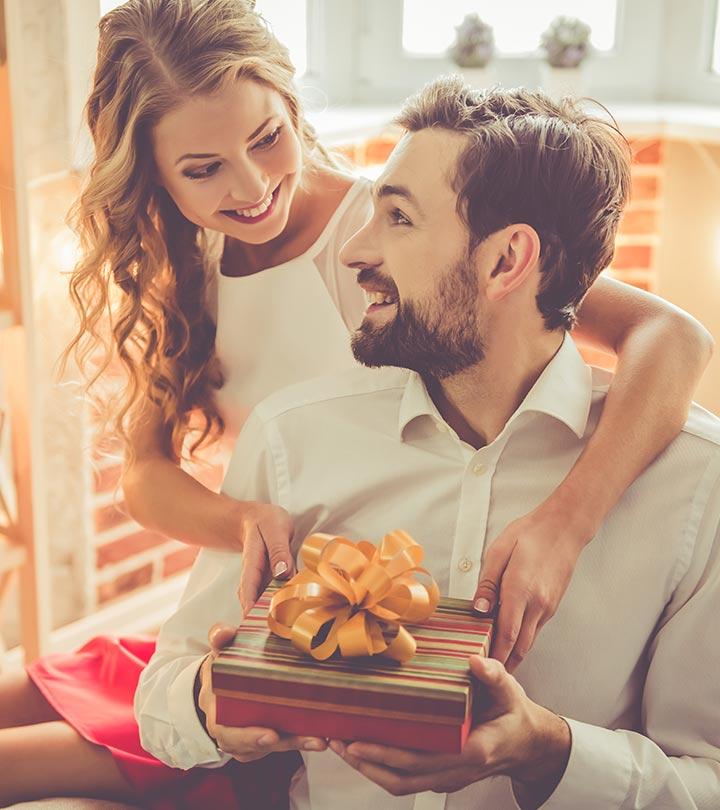 A wedding anniversary is a special day in every couple's life. It is the perfect day to celebrate love and togetherness. If your wedding anniversary is coming up and you are looking for a gift to surprise your husband with, we have the right suggestions for you! Surprise your life partner with these 40-anniversary gifts and make him fall in love with you all over again.
What's a better way to remind your dear hubby of the eternal bond of love than by gifting him a personalized wooden photo frame that he can keep on his office desk? Customize this beautiful photo frame anniversary gifts for him with a lovely image of you two (maybe one from your wedding) and a personal message engraved on it. It is the best anniversary gift ideas for couples (Newly married)
This photo frame is available in customizable sizes of 6.5″ x 8.5″ (holds 4×6 photo), 7.5″ x 9.5″ (holds 5×7 photo), and 11.5″ x 13.5″ (holds 8×10 photo).
Is your man into jewelry? Here's your chance to gift him something thoughtful that he can flaunt whenever and wherever he wants. Get him a personalized stainless steel necklace with a sweet message engraved on it. It is the best aniversary gift.
This necklace is made of high-quality stainless steel that is resistant to corrosion and rusting and does not cause allergic reactions. This necklace is going to shine forever, just like your love for each other.
Is your husband struggling to arrange his ID cards, credit cards, and debit cards in his wallet? Gift him a sleek and stylish cardholder wallet that will help him get rid of his bulky wallet and organize his cards easily. This pure leather wallet is available in a bunch of attractive colors.
This wallet is also equipped with RFID blocking technology that blocks electronic signals and keeps your identity safe everywhere.
Does your husband enjoy writing? Well, then, what could be a better thing to gift him than a personalized pen with his name engraved on it! Additionally, pressing the stylus tip lights up the engraved name. How cool is that? You can twist the grip to extract the ink and start writing right away.
Do you get irritated when your man cannot find his socks before leaving the house and asks for your help to find them? Don't depend on a single pair and buy this value pack for your husband to surprise him on your wedding anniversary.
These socks are made of 82 % cotton, 1 % elastane, and 17 % nylon. The top is made of spandex for better grip and comfort.
Gift the man of your life a safe and thoughtful gift – an electric lighter. With an electric lighter, there is no risk of fire accidents. This lighter comes with a rechargeable battery with indicators. It is the best surprise gift for boyfriend.
This lighter is windproof, has a seven-seconds auto shut-off feature, and a sleek and portable design that allows it to be carried around easily in pockets. You also get a USB charger and a small brush to clean out the ash along with the lighter.
Are you tired of your husband's excessive smoking habit? Let your wedding anniversary be the beginning of a cleaner and healthier life for him with an aromatherapy inhaler. This product works just like a cigarette, except there is no nicotine in it. It contains certified essential oils, natural fruit extracts, and collagen that improve your overall health.
This aromatherapy inhaler is easy to use and comes with no additional buttons. It is available in five flavors: Mint, Lemon, Coffee, Refresh, and Tobacco. One stick can easily produce up to 500 puffs.
This portable essential oil diffuser can fill any room with a lovely natural fragrance to lift your mood. If your man complains about stress and anxiety, this essential oil diffuser can help improve his mood and calm his senses. It also works as a humidifier to help reduce dryness in the room.
This diffuser is equipped with seven mood lights and works on three different modes: Intermittent Mist (30 seconds on/30 seconds off), Continuous Mist, and Lights Only.
Make your man look dapper in formals by gifting him this premium men's tie set. This gift set contains three neckties and handkerchiefs in coordinating colors, along with four cufflinks and tie clips. This stylish and sleek set is an all-in-one gift for the man of your life who loves dressing up.
Let your man customize his attire with a touch of personalization. Gift him a customized lapel pin with a lovely picture of you both and let him style it the way he wants. This pin is made of high-quality material and secured with a butterfly clasp.
Gift your husband this innovative and handy product to help him in his garage work and outdoor activities. These LED flashlight gloves can be your hubby's best friend, especially when he needs to do any sort of handy work in the dark.
The lightweight fabric of these gloves and the velcro snaps make them fit your hands perfectly while you do tasks like plumbing, fishing, and other outdoor work. The batteries can be replaced, allowing him to use this product for a long time.
This innovative wristband may look ordinary, but it has the power of 20 strong magnets to hold small metal tools like nails, screws, and bolts with ease.
This wristband also has two small pockets to keep non-magnetic products safe. Gift it to your man on your wedding anniversary, and he will be more than happy. The breathable design of this wristband allows you to wear it all day without any discomfort, and it comes with a lifetime warranty.
Is your man passionate about gardening? Then look no further and buy him this pair of garden gloves with claws. These might look a bit scary, but trust us, they are a great tool for people who love gardening.
The claws help dig the soil with ease to plant trees. These gloves are waterproof and puncture-resistant to protect your man's palms while gardening. They come with a lifetime guarantee as well.
If your man travels frequently, this personalized name tag will be a good addition to his travel essentials. This name tag can be customized in your choice of color and fonts, so hurry up and order one for your husband now!
This custom-made wine glass charm is a unique anniversary gift idea for your darling hubby. If you plan to celebrate the day with a romantic dinner at a restaurant, ask them to bring the wine bottle along with this charm. You can customize it with his name or a message of your choice. It would be the most romantic anniversary gift for your husband.
This wine charm is made of metal and will last for years with proper care. Every time your husband opens his bottle of wine, let it remind him of your unconditional love.
You can never go wrong with an electric wine opener kit for your husband on your wedding anniversary. This electric opener removes any cork in just 6 seconds, and it can open up to 60 bottles with a single charge.
The well-designed aerator can instantly vacuum the wine, which gives it a rich aroma, and the sealer keeps the wine fresh for a long time. The mini stoppers come with date reminders to remind him to put the bottles back in the freezer.
One of the best anniversary gifts that you can give your hubby is a Fitbit. With a Fitbit, your husband can track his heart rate, step count, calories burnt, and also check calls, messages, and reminders. If you want your husband to develop a healthy lifestyle, getting a Fitbit for him can be a good start.
The Fitbit can easily sync with different operating systems, such as iOS, Windows, and Android, for rich user experience. It is available in a wide range of colors.
If your husband is a fitness freak, there is no better gift for him than this dumbbell set. The weights vary from 5 to 52.5 pounds and come in a pair of 15 sets that will allow the user to switch between different exercises and focus on building and toning muscles on different parts of the body. With this useful dumbbell set, your hubby won't need any other body-building equipment. It comes with a two-year warranty.
If your husband loves adventure, gift him this cooling towel that will keep him fresh and energetic while he is out seeking a thrilling experience. The absorbent fiber of this towel promotes fast cooling without irritating the skin.
This towel is easy to fold and carry and can be cleaned without any hassle. The antibacterial layer on it prevents allergic reactions.
Admit it, and you get annoyed when your husband keeps the light switched on when you are trying to sleep. Why fight when you can find a smart solution to this problem with an LED desk lamp? Get this desk lamp that comes with four lighting modes and five levels of brightness that can be adjusted according to your needs.
What's more? You get a USB charging port to charge the lamp easily, a timer with an auto-off feature, and a flexible neck to let your husband adjust the light and continue his midnight reading spree or complete his work.
Impress your man by cooking tasty dishes and packing them in this wonderful lunch bag. This spacious lunch bag is perfect for carrying to work as it is leak-proof and thermally insulated. The comfortable shoulder strap does not exert much pressure on your shoulder when you carry it around.
This lunch bag has multiple pockets in which you can keep a water bottle, cutlery, and napkins along with the lunchbox. The high-quality zipper helps open the lunch bag with ease.
Tired of your husband forgetting his water bottle at the gym or at work? If you can't change this habit of his, you can gift him a personalized water bottle with his name etched on it. Every time he looks at the bottle, he remembers to bring it back home.
The capacity of this bottle is 650 ml, and it can keep water warm for 12 hours and cool for 18 hours. Its non-toxic premium-grade stainless steel material is safe to use daily.
Is your husband a caffeine addict? Surprise him with a single-cup coffee maker that will allow him to brew fresh coffee anytime he wants to. With this coffee maker, your husband can choose to brew whole beans or use easy-peasy ground coffee to make his cuppa.
This coffee maker is made of stainless steel and is BPA-free. Its mug has double insulation that keeps the coffee piping hot for a long time.
Aiming paper balls into a trash can is surely a fun pastime, but it's not much fun when the target is poor. If your hubby has a poor target with waste papers and other unusable items, gift him this mini trash can that he can keep close to his work desk. This trash can has a 1.5 L capacity and is very convenient to use.
Is your husband working on his startup idea or visualizing an upcoming project? Gift him this mini magnetic whiteboard that he can install in his cubicle or home office to help him get his work done easily.
This 360-degree adjustable board is lightweight and can be hanged or made to stand as per your husband's convenience. Whether he is working alone or with his team, this small magnetic whiteboard will help make conversations much simpler.
This travel laptop bag is ideal for your husband to carry to work every day or to take for short business trips. This spacious bag has the capacity to hold a 17-inch laptop along with additional compartments to hold his essentials, like keys, passport, phone, clothes, water bottle, umbrella, files, and chargers. This the best anniversary gift for husband who is a travel freak.
The adjustable shoulder strap makes it easy for anyone to carry this bag, and the shockproof foam padding ensures that none of the items in the bag is damaged due to accidental impacts.
If your husband is a bookworm, you don't need to think twice before buying him a Kindle Paperwhite. This device is waterproof and comes in 8 GB and 32 GB storage variants. Its glare-free display will allow your husband to enjoy reading without irritating his eyes.
The device comes installed with Audible, an app that converts text into speech, making it easy to listen instead of reading. Its long-lasting battery life lasts for weeks without charging.
Gift your smart husband a smart assistant to make his life easier. Get him this smart speaker that he can use to stream music, set alarms, make calls, and do much more without moving an inch. This is one of the best anniversary gift ideas for him.
This smart speaker specializes in 10,000 skills and adds many more to its capability to make life easier and more manageable. This is surely an anniversary gift to cherish forever.
If your husband is a crazy gamer, do you even need to think twice before buying this? The Playstation 4 is every gamer's dream come true with numerous games, music, and entertainment to enjoy. The PS4 comes with a 1 TB hard drive and is super slim and portable. It can also be given as a wedding gift for male friend.
Who doesn't love Groot? I'm sure your husband loves him too. Get him a cute Groot bobblehead that he can keep in his car or on his office desk. The height of this Funko Pop is 3.75 inches, and it is made of high-quality vinyl with a detailed finish.
Help your husband manage his cash, cards, and IDs with this trifold leather wallet with multiple slots. In this leather wallet, you get two currency note compartments, two document compartments, and two ID slots. This wallet comes with RFID blocking to safeguard your privacy, and it has a one-year warranty on general wear and tear.
Buy your husband this cool pair of shades with polarized lenses that reduce glare and protect the eyes from the sun. It is metal frame is sturdy as well as trendy. These shades can be sported on outdoor trips and while hiking, skiing, climbing, and various activities during the day.
If your man is still the old-school type and loves analog watches, gift him this beautiful timepiece with a premium leather strap. Its dial is made of surgical-grade stainless steel and is scratch- and water-resistant. Its dial complements formal as well as casual outfits seamlessly. This watch has a precise Japanese Miyota Quartz movement along with a date function.
When it comes to personal hygiene, a men's grooming kit is very useful, especially if your man loves to style his beard and mustache. It is the best anniversary gift for boyfriend. This electric grooming kit is an awesome gift for your husband to take care of his daily grooming needs. This trimmer is a lithium-powered cordless device and offers 70 minutes of runtime. Its blades are extremely sharp and easy to clean. It is easy to store as well.
How can you go wrong with multipurpose sneakers for your husband? Gift him a breathable and comfortable pair of sneakers that he can use to run, walk, and jog regularly.
The anti-slip sole of these sneakers prevents accidents and provides unending support.
This lightweight helmet for adults will keep your husband safe on his cycle rides. This lightweight helmet is a great choice as an anniversary gift for your husband, who enjoys cycling daily. The adjustable strap ensures that the helmet fits perfectly, and the top air vents offer proper ventilation at all times.
Does your husband love baking cupcakes and pastries? Then, surprise him on your 3 year wedding anniversary with this 117-piece baking kit. This kit contains all the big and small accessories that one needs for baking tasty treats. Your husband can also use the cooking guidebook to learn the basics of baking if he is a beginner.
This mini portable projector can be a useful anniversary gift for your better half if he loves watching movies and videos. This portable projector is compatible with Amazon Fire TV Stick, tablets, laptops, TV or TV Boxes, USB sticks, PS3, PS4, DVD players, or Media Players (Music, Pictures, Video, and TXT). This projector is easy to plug in and play. It comes with a five-year warranty.
Buy this pair of stylish flip-flops for your hubby to wear in the shower or at home. These comfortable rubber slippers have antimicrobial layers and slip-resistant soles. These flip-flops will protect your man's feet from dust, mold, and fungus.
Help your husband look youthful and handsome forever. Gift him this amazing anti-aging skin care kit that consists of a face and body wash, a moisturizer, and exfoliating scrub. it is the best gift for husband on first night.
These skincare products are paraben-free and non-comedogenic, and they help keep the skin clean and problem-free.
Make your wedding anniversary special by presenting a lovely gift to your husband that he can use and cherish forever. A gift is an act of gratefulness and love, so make him feel the affection you have for him by choosing something really special.
Do you have any go-to gifts that you give your husband? Comment below and let us know!
Recommended Articles