16 Simple Anti-Aging Hair Care Tips For A Healthy Scalp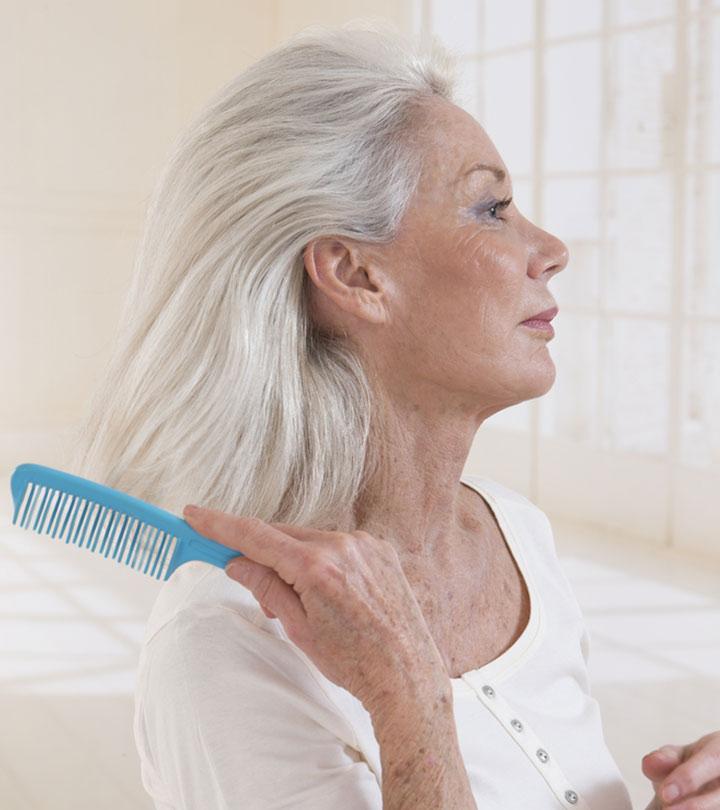 When it is about anti-aging routine, our mind automatically shifts to skin care. However, an anti-aging hair care routine is equally crucial. It is because the hair changes with age. Aging affects the hormones and other mechanisms in the body. As a result, you may notice changes in hair color, texture, growth rate, and volume.
That is why you need a holistic routine to care for the aging hair strands. Read this article to learn how to maintain healthy hair and help it age gracefully.
The Best Anti-Aging Hair Care Tips
1. Get The Right Hair Cut
Hair thinning is a common issue as you get older. If it has been bothering you, ask your hairstylist to give you a short hair cut that will make it appear voluminous. If you like to wear your hair long, try long layers. Regular trimming every 5-7 weeks can help keep the hair healthy.
2. Consume A Balanced Diet
This is crucial for your overall health and your hair. As you grow older, you may develop health issues and hormonal imbalances (after menopause) and have nutritional deficiencies.
Lack of essential nutrients like iron, zinc, niacin, essential fatty acids, selenium, vitamins A, D, E, folic acid, biotin, proteins, amino acids, and antioxidants can trigger hair loss (1). Moreover, the hair density and growth rate also deteriorates after menopause (2).
Hence, consume a well-balanced diet and consult a doctor for vitamin supplements.
3. Moisturize Your Hair
Just like your face, you need to moisturize your hair to prevent dryness and frizz and keep it soft and healthy. Try deep conditioners, hair masks, and rejuvenating oil massages. Regular massaging boosts scalp and hair health and helps you relax.
4. Use Quality Hair Brushes
Buy a good quality brush with nylon bristles or natural boar bristles to prevent snagging. You may use the nylon bristle brush for gentle detangling and the boar bristle brush to distribute the natural oils throughout the length of your hair.
5. Check The Ingredients Of Your Shampoo
Switch to a mild and hydrating shampoo and conditioner. Check the ingredients and avoid any product that contains harsh sulfates, alcohol, artificial fragrances, and preservatives. Look for products that contain natural and herbal extracts. If you have any scalp issues, use a medicated shampoo and consult a doctor for product recommendations.
6. Avoid Heat Styling
Excessive use of flat irons and hair dryers on high heat settings can damage your hair. Aging hair demands a gentle hairstyling routine. It is better to avoid heat styling tools. However, if you cannot avoid them, use them on the lowest heat setting.
7. Say "No" To Hairsprays
It is because hairsprays contain ethanol and other drying alcohols that could be damaging to your hair. Avoid hair styling products that provide a stronghold as they have high alcohol content. To manage flyaways and frizz, you can use aloe vera gel as a substitute.
8. Be Gentle
Just like your aging skin, your aging hair needs extra love and care. Instead of tying your hair tightly, go for relaxed hairstyles like loose buns, braids, and loose and low ponytails. Do not tease your hair for adding volume. Also, wrap your head with a silk scarf or use silk pillowcases to avoid friction while sleeping.
9. Get Rid Of Residue
Hair products like leave-in conditioners, shampoos, oils, and styling products can leave residue and cause buildup. This causes tangles and hair fall. Clean your scalp once in two weeks with a clarifying shampoo. Follow up with a nourishing conditioner.
10. Avoid Frequent Hair Wash
Frequent shampooing can strip the natural oils and dry out your hair, causing frizz, tangles, and breakage. Limit your hair washing schedule to twice a week. Also, use a nourishing and hydrating shampoo with ingredients like aloe vera, emollient oils, sea kelp, green tea, and vitamin E.
11. Avoid Brushing Wet Hair
It is because combing wet hair can stretch the strands and make them weak. As a result, the strands become brittle and break easily. Let your hair air-dry for a while, and use a wide-toothed comb to detangle the strands.
12. Use A Microfiber Towel
Avoid rubbing your wet hair with cotton and other towels. The strands are prone to damage when wet, and rubbing them causes friction and structural damage. Instead, use a microfiber towel and wrap it around your head. Microfiber towels are soft, gentle on the hair, and quickly soak excess water. You may also use a soft cotton T-shirt to wrap your hair.
13. Reduce Your Stress Levels
Life can go haywire and be stressful. Stress can profoundly affect your hair health, causing damage and hair fall and inhibiting hair growth (3). Take a break from the monotony of your daily routine and indulge in activities that help you de-stress.
14. Avoid Hot Showers
Steam baths and hot showers feel relaxing, but they are not ideal for your skin and hair. They strip the natural oils and cause dryness, leading to frizzy, unmanageable, and breakage-prone hair. Moreover, your skin becomes thin with age and cannot withstand extreme temperatures. Use lukewarm or room temperature water for the shower.
15. No More Chemical Treatments
You might feel tempted to color your hair to conceal the grays or try chemical smoothening and straightening. However, it is best to avoid chemical treatments. Bleaching, coloring, straightening, and other chemical treatments may damage your hair structure. Instead, go for relaxing spa treatments, and if you want to color your hair, use henna.
16. Talk To The Doctor
If your hair is thinning and you are experiencing excessive hair fall, consult a doctor immediately. Often, hair loss is a sign of an underlying health condition. Early diagnosis is crucial for treatment and your overall health. Also, steroids often trigger hair loss. If you are using steroids for a medical condition, ask the doctor for alternatives.
In short, an anti-aging hair care routine is about keeping your hair healthy, not preventing grays. Following the easy tips mentioned above can keep your hair luscious and strong. Eat a balanced diet filled with nutrients, use the right brush and hair products on your hair, and moisturize your hair and scalp regularly. Limit the number of times you heat-style your hair, and stop using products with too many chemicals and harsh ingredients. If you give your hair the love and care it needs, it will flourish and remain healthy.
Frequently Asked Questions
Do I need medical advice for thinning hair at old age?
Yes. Hair thinning can be a sign of an underlying condition. If you experience excessive hair fall and thinning, consult a doctor.
How can I keep the hair ends healthy?
Apply conditioner and nourishing oils to the hair ends to prevent dryness and split ends.
Key Takeaways
Aging hair demands a gentle hairstyling routine. Therefore, avoid excessive use of flat irons and hair dryers.
Avoid frequent shampooing as it can strip the natural oils and dry out your hair, causing frizz, tangles, and breakage.
Avoid chemical treatments like bleaching, coloring, and straightening that damage your hair structure.
References:
The following two tabs change content below.