Top 12 Anti-Dandruff Conditioners Available In India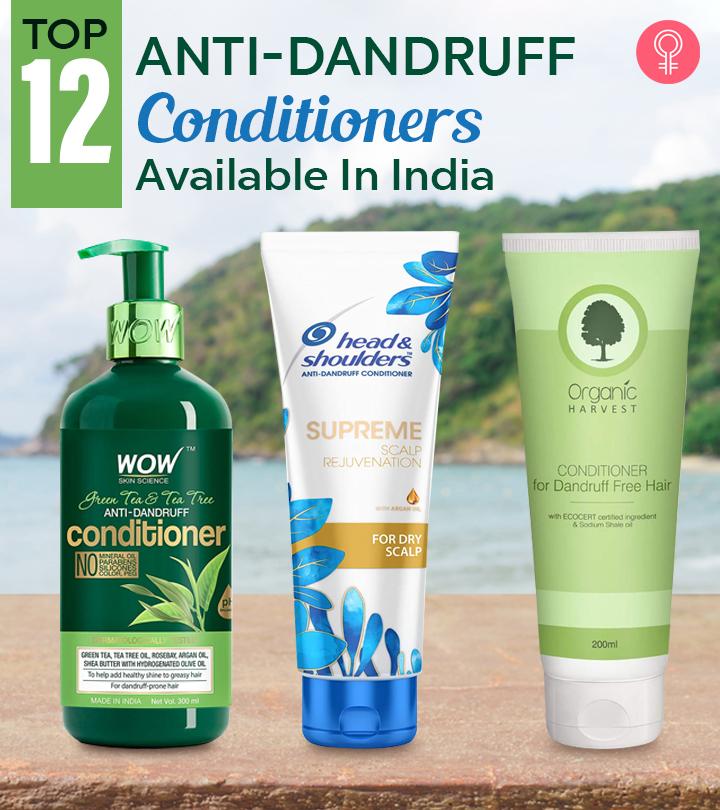 If you are using an anti-dandruff shampoo and are still experiencing flaking, the culprit might be your conditioner. Ordinary conditioners can reduce the effectiveness of your anti-dandruff shampoo by washing away the ingredients that control and fight dandruff. This is where anti-dandruff conditioners come in. They not only moisturize your hair and keep it soft and smooth but also lock in the dandruff-fighting ingredients. We have put together a list of the 12 best anti-dandruff conditioners in India to pair along with your anti-dandruff shampoo. Scroll down to take a look!
Top 12 Anti-Dandruff Conditioners Available In India
The mamaearth Tea Tree Conditioner controls and removes excess oil and dandruff. It contains tea tree oil that has antifungal and anti-inflammatory properties to fight dandruff and lice and soothe the scalp. Ginger oil soothes itching in the scalp and improves blood circulation, stimulating hair growth. Almond oil nourishes and moisturizes the hair and imparts shine. This anti-dandruff conditioner is suitable for all hair types, including colored and chemically treated hair. It does not contain parabens, sulfates, silicones, mineral oils, and dyes.
Pros
Dermatologically tested
Silicone-free
Paraben-free
Sulfate-free
Mineral oil-free
Pleasant fragrance
Suitable for chemically treated hair
Cons
The khadi ESSENTIALS Shea Butter, Tea & Thyme Conditioner prevents hair fall, treats dandruff, reverses graying, and adds nourishment to your hair and scalp. It is made with time-tested natural ingredients with medicinal properties to rejuvenate your hair.
Shea butter locks in moisture, prevents itchiness, and keeps your hair healthy. Tea tree oil counters the effects of dirt and grime on your hair and fights dandruff. Thyme moisturizes and nourishes the scalp to stimulate hair growth, amla boosts hair and scalp health and prevents premature graying, and peppermint oil soothes the scalp and imparts a refreshing smell to the hair. Arnica protects your hair from scalp infections, while brahmi strengthens the hair and repairs the damage caused due to UV rays and environmental pollutants. This conditioner is suitable for all hair types and sensitive scalps.
Pros
Paraben-free
Fragrance-free
Artificial color-free
Cruelty-free
100% organic product
SLS/SLES-free
Cons
The Green Tea & Tea Tree Anti-Dandruff Conditioner from WOW SKIN SCIENCE prevents dandruff and flaking and helps refresh greasy hair. Tea tree oil and green tea extracts clean your scalp by removing excess oil buildup and treat dandruff. Argan oil, shea butter, and olive oil nourish your scalp and restore the hair's natural health. This conditioner prevents conditions like hair fall, dandruff, dry scalp and adds volume and shine to your hair.
Green tea extract is rich in polyphenols and catechins that prevent dryness and hair fall, while tea tree oil absorbs excess oil and improves blood circulation to the scalp. Rosebay extract clarifies and soothes the scalp and reduces dandruff. Argan oil and shea butter are rich in fatty acids and vitamins A and E that moisturize and protect the hair and scalp, while hydrogenated olive oil has emollient properties that impart shine to your tresses. This conditioner does not contain sulfates, parabens, or silicones.
Pros
Mineral oil-free
Silicone-free
Paraben-free
Sulfate-free
PEG-free
Artificial color-free
Dermatologically tested
Cons
None
The head & shoulders Supreme Scalp Rejuvenation Conditioner fills your hair with moisture and fights against dandruff. It contains zinc pyrithione, argan oil, citric acid, and behentrimonium chloride, which reinvigorate dry scalp, add moisture, and prevent inflammation. This conditioner transforms dull and dry hair strands into shiny, healthy, and thick hair. It makes your hair dandruff-free, soft, and manageable. This conditioner is suitable for all types of hair.
Pros
Refreshing fragrance
Suitable for regular use
Travel-friendly
Cons
The head & shoulders Anti-Dandruff Conditioner locks in moisture to prevent dryness and frizz, smooths your hair to make it manageable, softens each strand from root to tip, and gives you 100 percent dandruff-free hair. The special formula includes zinc carbonate that moisturizes the scalp and fights flakes and Hydrazinc Technology that fights dandruff and prevents its recurrence. The pleasing fragrance leaves your hair feeling refreshed after every wash. This conditioner is suitable for all hair types, including color-treated and chemically treated hair.
Pros
Suitable for all hair types
Pleasant fragrance
Makes the hair silky soft
Cons
The Organic HARVEST Conditioner For Dandruff Free Hair eliminates dandruff, relieves itchiness, and strengthens the hair. The fortifying formula includes provitamin B5, organic xanthan gum, water, and sodium shale oil to fight dandruff and strengthen your hair. It makes your hair smooth, soft, silky, and manageable like never before. This product is suitable for oily, dry, and normal hair types.
Pros
Organic ingredients
Hypoallergenic
Paraben-free
ECOCERT certified
Cruelty-free
Unisex product
Cons
Unpleasant smell
Expensive
The Brillare SCIENCE IntensoCreme Dandruff Control Clarifying Conditioner eliminates flaking, soothes irritation, purifies the scalp and hair, and prevents dandruff for healthy, smooth, and lively hair. It contains piroctoneolamine, wintergreen fruit extract, black pepper fruit extracts, inga alba extract, and canola oil. The wintergreen fruit extract clears dandruff, while black pepper fruit decreases excess oil secretion from your hair and scalp. This product is suitable for all hair types.
Pros
Vegan
Cruelty-free
Paraben-free
Mineral oil-free
Formaldehyde-free
Color-free
Organic ingredients
Cons
None
The MATRIX BIOLAGE Advanced Scalp pure Anti-Dandruff Conditioner makes your hair healthy, shiny, and dandruff-free. It contains zinc PCA, pyrithione, and bergamot that help treat oily, greasy, and dry scalp and prevent dandruff and flaking. This conditioner also imparts suppleness and gloss to your hair and promotes hair growth. It detoxifies, moisturizes, and refreshes the scalp for up to 72 hours and is suitable for all hair and scalp types.
Pros 
Pleasant fragrance
Silicone-free
Paraben-free
Unisex
Cons
The Himalaya Anti-Dandruff Conditioner strengthens the hair roots, soothes the scalp, and eliminates flakes, dandruff, and itching. It locks in moisture and protects your hair and scalp from fungal infections. This conditioner includes the goodness of chickpea, aloe vera, and tea tree oil. Aloe vera softens the hair, while tea tree oil acts as an antifungal agent to fight dandruff and impart shine to the hair. Chickpea is a protein-rich nutrient that gives you well-nourished hair. This product is suitable for all types of hair.
Pros
Suitable for all hair types
A little goes a long way
Cons
None
The Raaga Professional Pro Botanix Anti-Dandruff Conditioner provides relief from dandruff and promotes healthy hair. Its key ingredients include tea tree oil, triclosan, and climbazole. Tea tree oil helps prevent dandruff, triclosan treats infections, and climbazole kills dandruff-causing agents. This conditioner also contains salicylic acid, which removes dryness and itching. It deeply moisturizes your hair, cleans the scalp, and is suitable for all types of hair.
Pros
Organic ingredients
Dermatologically tested
Artificial color-free
Cons
The VLCC Dandruff Control Conditioner defends the hair from scalp infections. It is enriched with the goodness of rosemary oil, spearmint oil, menthol, and other ingredients to fight against dandruff and impart shine. Rosemary oil prevents infections, while mint leaf cools the scalp and rejuvenates it for healthy hair growth. This conditioner deeply cleans your hair and makes it smooth, shiny, and manageable. It also detangles your hair to prevent frizz and split ends. This hair conditioner is suitable for people with oily hair.
Pros
Organic ingredients
Long shelf life
Value for money
Cons
Not suitable for allhair types
The Dove Dandruff Care Conditioner nourishes your hair and keeps dandruff at bay. It contains ZPTO, a clinically proven ingredient that helps in treating dandruff while being gentle on hair. The Micro Moisture Serum nourishes your hair and keeps it soft and smooth. Dove's Moisture Lock System keeps your scalp hydrated and prevents flaking. This product is dermatologically tested for all hair types and shows visible results from the first wash.
Pros
Paraben-free
Gentle
Cruelty-free
Suitable for dailyuse
Cons
None
That was our round-up of the 12 best anti-dandruff conditioners in India. Let's now look at the factors to consider while buying a product from the above list.
Things To Consider When Buying An Anti-Dandruff Conditioner
Consider your hair type – dry, oily, and normal –before purchasing an anti-dandruff conditioner to achieve optimum results. Also, remember your specific hair needs. If you have colored hair, look for an anti-dandruff conditioner that is safe for colored hair.
Check the ingredients of the conditioner. Many conditioners contain harmful chemical additives that can damage your hair. Choose products containing tea tree oil, aloe vera, milk protein, citrus extracts, thyme extracts, neem, and olive oil. All these ingredients have antifungal and antibacterial properties that are gentle on the scalp and hair and help eliminate dandruff and flakiness.
Before making a final decision, compare your product with similar products on the market. This will give you a better picture of the product's efficiency and side effects.
If you want to treat dandruff permanently, you will need to switch from a regular conditioner to one that addresses scalp issues. All you have to do is find a suitable option for your hair from the above list. Go on, make the purchase, and you can thank us later!

Recommended Articles: