Top 6 Anti-Lice Shampoos Available In India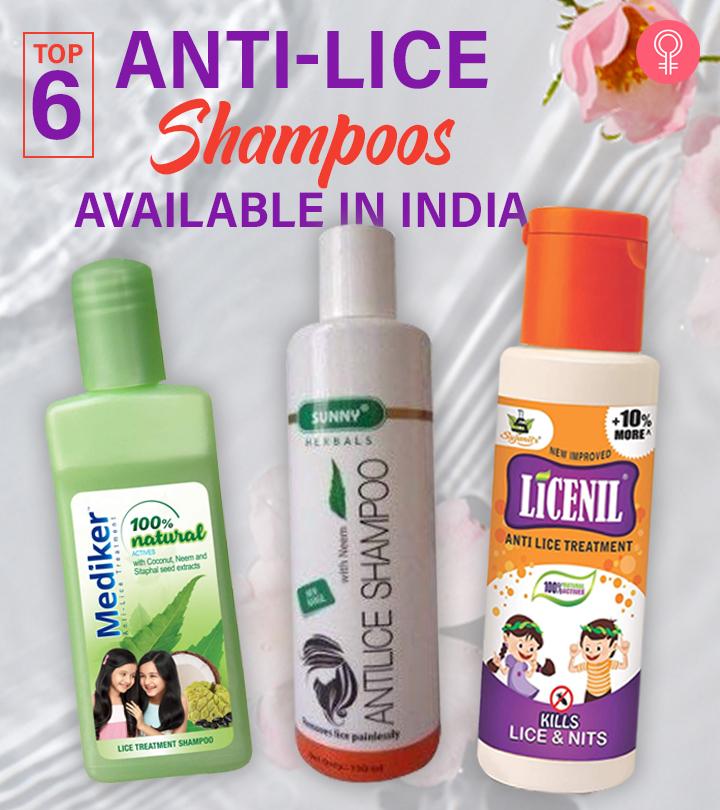 It is a known fact that lice are an annoying and embarrassing inconvenience that we all have to face at some point. Once these pesky parasites find their way into your hair, they reproduce so quickly that a full-blown infestation only takes a few days. The itchiness they cause and the red bumps they leave on the scalp can become a serious issue, especially for the kids. Fortunately, there is one solution you can turn to – an anti-lice shampoo. Scroll through our list of the 6 best anti-lice shampoos available in India that will get to the root of the problem efficiently and instantly.
6 Best Anti-Lice Shampoos Available In India – 2023 Update
The deep conditioning properties of the Hairshield Anti Lice Cream Wash ensure it does not dry the hair out while eliminating lice from your scalp. This shampoo is enriched with shikakai, reetha, and guldaudi to tame frizz, detangle the hair, and maintain moisture balance. The one-wash formula is powered by hydro shell technology to form a protective layer around the strands and remain active for a longer duration. The set includes a free anti-lice comb that can be used to remove lice and eggs from the hair.
Key Ingredients: Shikakai, Reetha, and Guldaudi
Pros
Moisturizing
Natural ingredients
Reduces frizz
Pleasant scent
Comes with a comb
Cons
Price at the time of publication: ₹343.93
The double action of the Medilice Single Application Lice Formula is powered by pyrethrum extract that is a natural anti-lice agent, which suffocates and dehydrates eggs and lice. It forms a protective layer on the strands to ensure the anti-lice treatment remains active for 14 days to eliminate eggs and larva. The single-use lice shampoo is suitable for children and has moisture-retaining properties to keep the hair free of frizz and tangles.
Key Ingredients: Pyrethrum extract
Pros
Does not dry out the hair
Reduces frizz
Detangles the hair
Nice fragrance
Cons
Price at the time of publication: ₹180
The clinically tested Mediker Anti-Lice Treatment Shampoo is crafted from natural actives like neem oil, coconut oil, karpura, and sitaphal seed extract, which are effective anti-lice agents. It has no side effects and is safe for children to use. The lice removal treatment works in four washes and has a conditioning effect on the hair and leaves it smooth and shiny. It cleanses the scalp thoroughly to reduce itching and irritation.
Key Ingredients: Neem oil, Coconut oil, Karpura, and Sitaphal seed extract
Pros
Natural ingredients
Clinically tested
No side effects
Moisturizing
Pleasant fragrance
Cons
Price at the time of publication: ₹50
The Jungle Formula Head Lice Shampoo eliminates all lice and nits in just one application. It dehydrates the eggs to ensure they do not hatch while suffocating the lice using the double-action formula enriched with potent anti-lice ingredients. This skin-safe shampoo is entirely insecticide-free to make it suitable for children to use. It comes with a free lice comb to safely remove all eggs and lice from the hair after shampooing.
Key Ingredients: Cocamide DEA
Pros
Insecticide-free
No side effects
Free lice comb
Cons
Price at the time of publication: ₹70
This anti-lice shampoo from Sunny Herbals has antibacterial, antimicrobial, and anti-parasitic properties. The powerful lice treatment eradicates lice and eggs while soothing the irritations caused by the bites on the scalp. This clinically tested shampoo maintains the hair's moisture balance to keep it soft and shiny and has a pleasant fragrance.
Key Ingredients: Neem extract and Zinc pyrithione
Pros
Natural ingredients
Pleasant fragrance
Conditions the hair
Cons
None

Price at the time of publication: ₹326
The Anti Lice Treatment Shampoo from Lice-Nil is crafted from natural actives like neem that are potent and instant lice removal agents. Neem is a natural insect repellent and has antimicrobial properties that soothe the scalp and strengthen the hair. This shampoo also treats dandruff and combats dryness while keeping the hair smooth and shiny.
Key Ingredients: Neem and Karanj
Pros
• Reduces dandruff
• Natural ingredients
• Non-drying
Cons
Most anti-lice shampoos come with their set of application instructions. Here is the common procedure to use anti-lice shampoo.
How To Use Anti Lice Shampoos
Massage the shampoo gently into dry hair and wait for 5-10 minutes. Some anti-lice washes require the hair to be clean and damp before application.
Cover the entire scalp and hair and pay attention to the base of the neck and behind the ears.
Add enough water to create a lather and rinse the shampoo from the hair thoroughly.
While the hair is wet, comb it with an anti-lice comb in sections to remove all the eggs and lice.
The application can be repeated after 7 days.
Listed below are a few essential pointers that you need to consider before buying an anti-lice shampoo.
Things To Consider When Buying An Anti-Lice Shampoo
Avoid anti-lice shampoos that contain harmful additives and chemicals like pyrethroids and pyrethrins. These pesticides can kill lice but are toxic to human health. Instead, opt for safer and milder alternatives like neem, camphor, or rosemary extract-based lice repellents.
Many anti-lice shampoos come with lice combs that help extract lice from the hair effortlessly. Look for a shampoo that comes with a comb or buy one separately.
Check the user reviews before buying an anti-lice shampoo. It will help you understand whether the shampoo is effective or not. Buy a shampoo that adheres to the quality and safety guidelines. If you have a sensitive scalp, consult a dermatologist before using any product.
If you are careful with applying the anti-lice shampoo, it will start showing results right from the first application. But to be safe, a second round is always recommended. The anti-lice shampoos listed above are effective yet gentle. So, go ahead and choose a product from our list, and do not let those pesky creatures ruin your hair!
Frequently Asked Questions
Are there any specific precautions or usage instructions for anti-lice shampoos in India?
Follow these instructions while using an anti-lice shampoo:
• Always use anti-lice shampoo after moistening the hair.
• Take a generous amount of shampoo and apply it all over the scalp and the lengths of the hair.
• Use your fingers to gently massage the shampoo well.
• Leave it for around 10 minutes for the product to take effect.
Do anti-lice shampoos in India require a prescription or are they available over-the-counter?
Anti-lice shampoo and treatments that are safe and effective can be bought or availed of without a prescription.
Are there any home remedies that can be used in conjunction with anti-lice shampoos for better results?
Although anti-lice shampoos are potent formulas effective on their own, you may use them in conjunction with home remedies that work well for your hair.
Recommended Articles: