10 Best Anti-Pollution Skincare Products You Can Invest In – 2022
Eliminate dirt, grime, and achieve flawless skin without breaking the bank!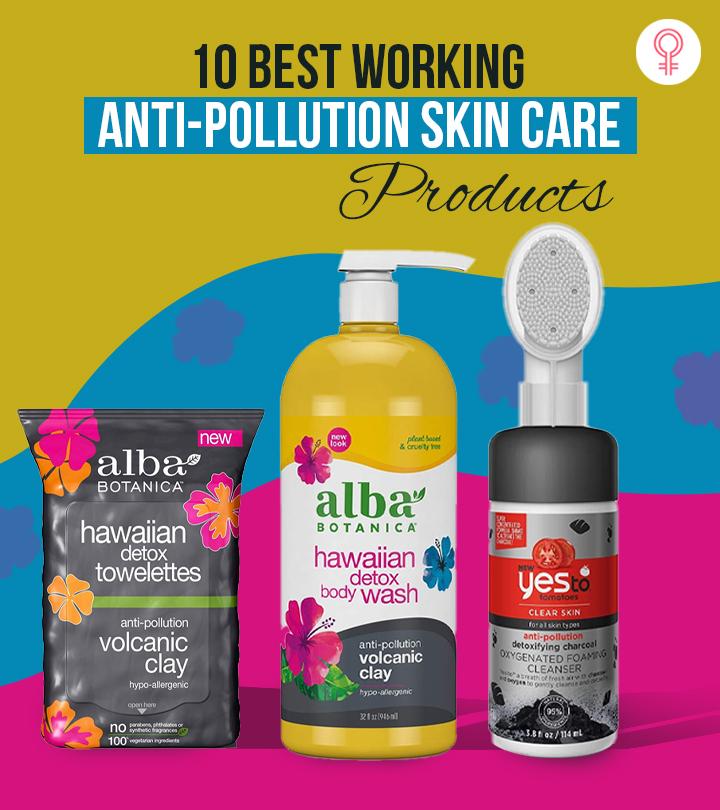 The glitz and glam of city life is not without its downsides, such as pollution. While the impact of pollution may not be immediately evident, they do affect your skin. So, it is important that you start using the best anti-pollution skin care products.
These skin care products are rich in antioxidants and designed to offer your skin robust resistance against pollutants. Their advantages include the removal of debris and toxins from the surface of the skin. To help you out on your skin care journey, we have compiled a list of the top 10 anti-pollution skin care products that can help you attain clearer, healthier skin. Scroll down and check them out below!
What Is Anti-Pollution Skin Care?
Environmental pollution can have a significant negative impact on our skin. Pollutants contain free radicals that put the skin cells into a state of oxidative stress. This may alter the skin texture, increase sensitivity, cause pigmentation, generate dark spots, and lead to premature aging, leaving your skin feeling dull and dehydrated.
This is where anti-pollution skincare products come in. They contain several active ingredients specially formulated to fight damage caused by free radicals, UVA/UVB rays, daily impurities, etc. From deep cleansing foam washes that remove the last traces of dirt and grime off your face to concentrated serums loaded with the goodness of vitamin C, niacinamide, or peptides and good old mineral sunscreen with a higher concentration of zinc oxide – they have it all for you to design an entire healthy skincare routine.
 Let's take a look at the 10 best anti-pollution skincare products below.
 10 Best Anti-Pollution Skin Care Products To Protect Your Skin
The Yes To tomatoes Clear Skin Oxygenated Foaming Cleanser cleanses your skin while mimicking a spa-like face massage. It contains charcoal that naturally detoxifies the skin and removes pollutants and impurities deeply cleanse it, without leaving any black residue. This foam leaves you with skin that feels cleaner, revitalized, and protected. The built-in cleaning brush not only massages the face but also helps remove deep-seated impurities, makeup, and dirt from the pores. This video helps you know more about the product.
Key Ingredients: Charcoal
Pros
Vegan
Dermatologist-tested
Gentle
Paraben-free
Sulfate-free
Alcohol-free
Silicone-free
Allergen-free
Cruelty-free
Cons
The Alba Botanica Hawaiian Detox Body Wash is a gentle body cleanser that washes away all toxic pollutants from your skin. The volcanic clay infused in this formula is known to have an adequate extraction power that absorbs oil, grime, and dirt. The tropical fruit acids melt away surface debris, giving you an overall improved complexion. The blend of coconut water, torch ginger, lotus flower, and yerba mate extract nourishes the skin and adds a natural glow to it.
Key Ingredients: Volcanic clay, Coconut water, Torch ginger, Lotus flower, Yerba mate extract
Pros
Safe for sensitive skin
pH-balanced
Hypoallergenic
100% vegetarian
Subtle fragrance
Vegan
Sulfate-free
Cruelty-free
Artificial color-free
Synthetic fragrance-free
Phthalate-free
Paraben-free
Cons
This facial serum from Drunk Elephant is formulated with chronocyclin to mimic the benefits of vitamin D and give you youthful and damage-free skin. It offers an easy way to get a bronze glow with the right amount of moisture when you want to go about your day without any makeup. The serum contains cocoa extracts that soothe the skin and platinum peptides that reduce the appearance of fine lines and wrinkles and boost the skin's resilience.
The vitamin F in the form of linoleic and linolenic fatty acids promotes even-textured, supple skin and calms down sensitivity, while the vitamin E strengthens the skin's environmental defense and maintains its lipid balance. The virgin marula oil in the formula is rich in powerful antioxidants, omega 6, and omega 9 that nourish, moisturize and revitalize the skin. The serum also contains black currant seed oil that moisturizes and protects the skin.
Key Ingredients: Cocoa extract, Platinum peptides, and Chronocyclin
Pros
Lightweight
Smells good
Reduces fine lines and wrinkles
Imparts glow
A little goes a long way
Vegan
Essential oil-free
Silicone-free
Fragrance-free
Cruelty-free
Cons
The Clarins Cleansing Milk dissolves makeup, grime, dirt, and impurities on your skin while preserving its natural moisture. It hydrates the skin and leaves it feeling soft and supple. The formula is infused with plant extracts, including alpine herbs, marshmallow, linden, sweet almond, and St. John's wort that soften, tone, and moisturize the skin and make it look radiant.
Key Ingredients: Alpine herbs
Pros
Non-greasy
Moisturizing
Gentle
Suitable for all skin types
A little goes a long way
Cons
These towelettes are 3-in-1 products that serve as makeup removers, cleansers, and toners and will leave your dull skin looking clean and clear. They utilize the strong extraction power of natural volcanic clay to melt away makeup, dirt, grime, and other daily pollutants from your skin. The towelettes are infused with lotus flower, torch ginger, aloe leaf juice, sweet almond oil, and citrus to gently tone your skin and restore its balance to make it look refreshed and revitalized.
Key Ingredients: Volcanic clay
Pros
Hypoallergenic
Plant-based
pH-balanced
Mild fragrance
No artificial colors
Phthalate-free
Value for money
Cruelty-free
Sulfate-free
Alcohol-free
Paraben-free
Synthetic fragrance-free
Cons
This sunscreen from Clarins comes with broad-spectrum SPF 50 and is designed to protect your skin from pollutants. It is enriched with an exclusive organic alpine sanicle extract that strengthens the skin against free radicals. The unique anti-Pollution Complex helps protect the skin against damage from environmental aggressors. The formula also contains cantaloupe melon extract that protects your skin cells against oxidative stress and organic blackcurrant extract that reduces redness and tightness, both of which are caused due to pollution and UVA and UVB rays.
Key Ingredients: Alpine sanicle extract, Cantaloupe melon extract, Organic blackcurrant extract, Anti-pollution Complex
Pros
No white cast
Quickly absorbed
Lightweight
Non-sticky
Pleasant fragrance
Non-greasy
Doubles as a makeup primer
Safe for sensitive skin
Paraben-free
Mineral oil-free
Cruelty-free
Cons
No products found.
If you are looking for an all-in-one essence that helps restore balance, moisturize, and strengthen your skin, look no further than the Exuviance Probiotic Lysate Anti-Pollution Essence. It is developed to enhance the skin barrier function and reduce oxidative stress. The formula includes probiotic lysate that is naturally found in yogurt and used to target the skin's microbiome for an overall healthy complexion.
This essence also contains gluconolactone, which is responsible for improving the natural moisture barrier, conditioning the skin, boosting skin resilience, hydrating, and moisturizing your skin. The hyaluronic acid in the formula works towards attracting water to the skin's surface to prevent dryness. The biosaccharide gum-1 supports the function of hyaluronic acid by forming a film to reduce water loss.
Key Ingredients: Hyaluronic acid, Gluconolactone, and Probiotic lysate
Pros
Reduces breakouts
Minimizesflakiness
Calms eczema
Lightweight
Quickly absorbed
Suits all skin types
Paraben-free
Cons
None
The Julep Boost Your Radiance Anti-Pollution Daily Moisturizer is formulated to protect the skin from environmental aggressors and daily pollutants. It contains sodium hyaluronate that provides deep hydration and locks in moisture without making your skin feel too heavy or greasy. It is enriched with an antioxidant-rich botanical blend that includes ceramides, camellia japonica seed oil, and rosehip seed oil to shield your skin against the damaging effects of pollution. The moisturizer also contains niacinamide that helps brighten and refine your skin tone.
Key Ingredients: Sodium hyaluronate, Ceramides, and Camellia japonica seed oil
Pros
Hypoallergenic
Lightweight
Non-greasy
Quickly absorbed
Suitable for all skin types
Cruelty-free
Cons
The Sampar Essentials French Rose Mist is a light moisturizer with a 97% natural formula designed to tone, refresh, and revitalize the skin. Its Urban Advance Complex is a powerful blend of three active ingredients that target pollution damage. These ingredients include shea butter serum, mint endorphin, and probiotic sugar that provide antioxidant benefits, enhance the skin's natural barrier function, and revitalize the skin cells. The mist also contains geranium essential oil that works in coherence with the Urban Advance Complex to purify the skin by removing toxins from deep within. Other ingredients like cornflower, lime blossom water, and orange blossom water tone the skin.
Key Ingredients: Urban Advance Complex, Geranium essential oil, Cornflower, Orange blossom water, and Limeblossom water
Pros
Lightweight
Refreshing
Holds makeup
Quickly absorbed
Eco-friendly
Alcohol-free
Cruelty-free
Cons
May cause a tingling sensation.
The Naturally Serious Anti-Pollution Repair Cream is designed to strengthen the skin's moisture barrier and protect it against the harmful effects of pollution and premature aging. It is infused with apple extract, hyaluronic acid, squalane, and bisabolol to provide thorough and long-lasting hydration. This cream is formulated with the brand's patented Anti-Pollution Blend that contains six natural antioxidants –pomegranate, goji berry, grape seed, green tea, red tea, and white tea. They work in tandem to prevent damage caused by free radicals, UV rays, and pollution.
The exclusive Active Rescue Complex in the cream consists of edelweiss, imperatorial, Swiss stone pine, and ViaPure Coleusthat boost natural cell renewal for radiant and healthy-looking skin. The mix of colloidal oatmeal, shea butter, and cocoa butter hydrates the skin and adds a protective layer that locks in moisture to soften and soothe dehydrated skin. The cream also contains magnolia, white birch, and mangosteen extracts that help prevent premature aging and skin damage. It is suitable for all skin types and targets dryness, dullness, uneven skin texture, and fine lines and wrinkles.
Key Ingredients: Colloidal oatmeal, Shea butter, Cocoa butter, Magnolia extract, Mangosteen Extracts, Anti-Pollution Blend
Pros
Lightweight
Vegan
Hypoallergenic
Gluten-free
Cruelty-free
Paraben-free
Phthalates-free
Preservative-free
PEG-free
Formaldehyde-free
Petrolatum-free
Mineral oil-free
Sulfate-free
Silicone-free
Drying alcohol-free
Artificial color-free
Artificial fragrance-free
Cons
There are a wide variety of anti-pollution products available on the market. But do they actually work? Find out in the next section.
 Do Anti-Pollution Skin Care Products Really Work?
Yes. Most skincare products are designed to protect your skin from the harmful effects of environmental aggressors or reverse the damage already done. They do this by forming a protective film over your skin to keep damage at bay.
However, it is not necessary that a product formulated with effective pollution-fighting ingredients will carry an anti-pollution label. Products containing antioxidants, peptides, ceramides, vitamin C, zinc oxide, or green tea extracts are highly helpful in defending your skin against pollution damage, even if they are not essentially anti-pollution products.
Hence, instead of focusing on the 'anti-pollution label, look at the active ingredients, which will help you figure a more efficient product that will essentially give you better value for your money.
Even if the damage is not visibly apparent immediately, pollution can be detrimental to your skin over time. Incorporating anti-pollution skincare products into your beauty routine can help prevent premature aging and damage caused due to environmental aggressors. Think no more! Choose from our list of the best anti-pollution skincare products and protect your skin from the ever-increasing pollution.
Why Trust StyleCraze?
The author, Shiboli Chakraborti, is a certified skin care coach and takes pleasure in helping people choose the products for their skin through her research-based reviews. She has compiled the above list of best anti-pollution products for skin following hours of research and considering the rich presence of antioxidants. These cruelty-free products are endorsed by users through their reviews, offer robust protection against pollutants and help you get softer and glowing skin.
Recommended Articles:
The following two tabs change content below.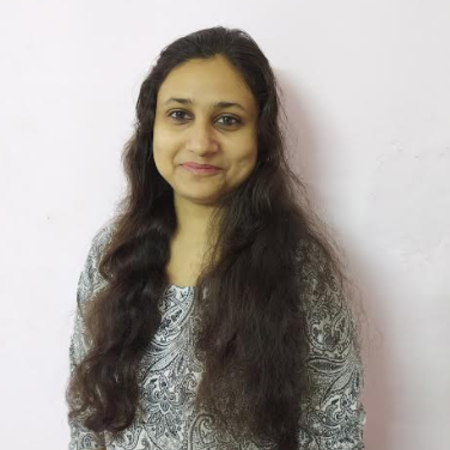 Shiboli has a master's degree in English literature from The English and Foreign Languages University, Hyderabad, and is a certified...
more