10 Best Anti-Snoring Devices For A Good Night's Sleep – 2023
Enjoy deep, sound sleep without embarrassing yourself or disrupting another's slumber.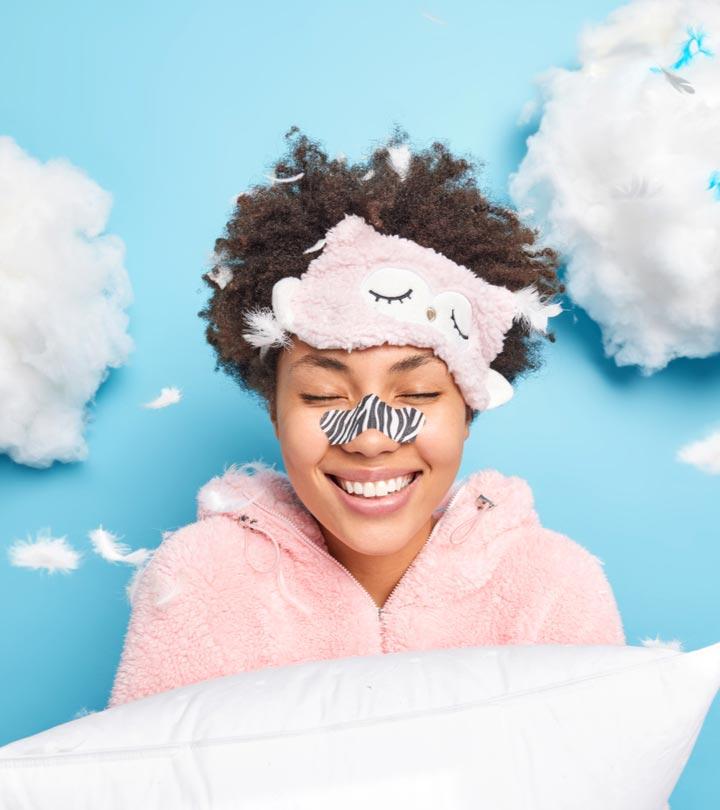 Sleep isn't necessary only for our bodies to repair themselves but it's an activity we all find comfort in. There's nothing like hitting the sack after a long day and knocking out instantly. Well, the problem comes in if you happen to share your bed with someone or the sound of your snores startles even you! Snoring occurs due to many reasons, a few of which may include your weight, anatomy, genetics, and alcohol consumption. If you find it getting out of hand, it might be time to invest in an anti-snoring device. This problem doesn't just affect adults, but some children can also face it. While the over-the-counter DIY methods in this list can help, it is recommended to check with your doctor beforehand.
It's true that snoring interrupts the sleep of your partner more than your own. For healthy social relationships and circadian rhythms, it's necessary to look into reducing the incidence of this habit. Snoring actually happens when your airway or throat collapse on themselves during the night. This is why you'll find that the products in this list work to open up your air passages for improved airflow. As the cherry on top, a few also work to relieve you of headaches, teeth grinding, and allergies. So if you want to know the best anti-snoring devices that really work, read below.
10 Best Anti-Snoring Devices To Sleep Uninterrupted
If you've been on the lookout for simple anti-snoring devices that work, Breathe Right's Nasal Strips might be right up your alley. They open up your nasal passage which improves the intake of air so you can breathe better and correctly. The lavender nasal strips are skin-friendly and stay put all night long, helping get rid of nasal congestion for a peaceful night's sleep for both you and your partner. With a soothing lavender fragrance, sleep comes quickly and you can wake up with fewer allergies. This video review will help you learn more about the product.
Pros
 Contains 26 strips
 Skin-friendly
 Strong adhesive
 Relieves nasal congestion
 Lavender-scented
 Suitable for sensitive skin
Cons
 Might leave behind residue during removal
Price at the time of publication: $11.29
The adjustable and comfortable Rhinomed Nasal Dilator can easily "Mute" your snoring at night. It increases the airflow by clearing the nasal passages and restricted airways to give you a good quality deep sleep. The dilators are made of ultra-soft, medical-grade, latex-free, drug-free, and pliable biocompatible polymers and come in all three sizes- small, medium, and large. These are reusable up to 10 times for 12 hours per night, while the proprietary BreatheAssist technology helps follow the natural angle of the nose.
Pros
Reusable for 10 times
Secure and comfortable
Adjustable for each individual
Latex-free
Drug-free
Comes in 3 sizes
Cons
Causes runny nose in the beginning
Price at the time of publication: $14.99
The Intake Premier Nasal Dilator is a starter kit that offers a wide range of products to eliminate your snoring problem. The kit includes 1 magnetic applicator, 1 travel case, 10 cleansing wipes, and 2 reusable magnetic bands in two sizes. The reusable magnetic band is suitable for sensitive skin. It is easy to use and stays on all night. It helps in deepand easy breathing and a good sleep cycle with the help of a proper layering of premium quality 3M medical tape. The nose strips are made from latex-free zinc-plated steel that lasts up to 10 uses for up to 72 hours for each use.
Pros
Reusable for 10 times
Lightweight
Latex-free
Suitable for sensitive skin
Easy application
Travel case
Stays all night
Cons
Price at the time of publication: $38.99
Fix your snoring problem with the Snore Bastion Medium Nasal Dilator. It enhances deep breathing with normal oxygen saturation to enjoy a relaxing sleep every night. The top-notch nasal cones are made of hypoallergenic, durable, high quality, incomparably soft, and medical-grade silicone that makes them effortless to use with a smooth move. The first use maximizes airflow and expands nasal passages to reduce snoring.
Pros
Durable
High-quality
Medical-grade silicone
Almost invisible
Travel-friendly
Cons
Too soft for everyone's liking
Price at the time of publication: $14.99
The NEOMEN Anti Snoring Device is designed to maximize the air breath for sleeping. You can wear it comfortably by clipping it on your nose before sleeping. It is effective for mild to moderate snoring. These magnetic clips eliminate the sound with the soft silicone, flexible, and barely noticeable material. Four packs of reusable clips with a matching box provide the utmost protection against dust and dirt to keep the products in their best condition for a prolonged period.
Pros
Comfortable grip
Reusable
Anti-allergic
Free of chemical blowing agents
Flexible
Unnoticeable
Cons
Takes time to get used to it
Price at the time of publication: $13.99
Breathe easier by reducing your constant snoring with the Glalove Advanced Anti-Snoring Nose Clip. The clips are upgraded to a strong magnet with BPA-free and eco-friendly soft silicone material. It increases the breathing of air without any pain in your nose. They are best suitable for those who have mild snoring. These 4 clips are highly convenient, comfortable, and suitable for any nostril shape to improve the quality of sleep for the entire family.
Pros
Reusable
Easy to clean
BPA-free
Eco-friendly
Comfortable
Cons
 Might slip off during the night
The Hush Strips Sleep Strips gently close your lips to reduce snoring and improve sleep quality. The sleep strips are medical-grade, non-invasive, residue-free, hypoallergenic materials. It may take 5 to 6 days for beginners to get used to the strips. The strips also help prevent multiple diseases by closing oral breathing, including sore throat and tonsillitis. The box contains 32 mouth strips to get restful sleep at night. It is also helpful with a combination of an oral appliance, nose dilator, and CPAP to regulate your sleep cycle.
Pros
Non-invasive
Comfortable fit
Residue-free
Hypoallergenic
Flexible
Easy to use
Kid-friendly
Prevents oral diseases
Cons
Can't use over cold, ear infection, breathing problem, and chapped lips
Price at the time of publication: $17.99
The Itlufy Anti-Snoring Nose Clips are easy to wear and suitable for those who struggle to get a good night's sleep. They are made with high-quality silicone, latex-free, and food-grade materials to effectively reduce snoring. It helps you rest the tongue at a normal position while it opens the nose cavity passage during sleep. Thus, your mouth and throat muscles relax without making any snoring sound.
Pros
High-quality silicone
Latex-free
Food-grade materials
Reusable
Easy application
Safe to use
Cons
Not very comfortable for beginners
Price at the time of publication: $16.66
The Nopunzel Magnetic Anti-Snoring Nose Clip is one of the best weapons against snoring. The high-quality soft hypoallergenic silicon device is free of chemical blowing agents and BPA, making it barely visible. The carrying case protects 4 easy-to-use and reusable clips from dust and dirt to keep them in the best condition. These are convenient to carry, and let you have a quiet sleep all night. Make sure to clean it after every use to make it long-lasting and get multiple uses.
Pros
Long-lasting
Reusable
BPA-free
Hypoallergenic
Carrying case
Easy application
Suitable for mild snoring
Cons
Price at the time of publication: $15.99
For those that simply can't seem to get rid of noisy snoring, Vicorrect's pack of magnetic clips and nasal dilators will be beneficial. Super easy to use multiple times, each of these anti-snoring devices is made of BPA-free and high-quality silicone to ensure your safety. The magnetic force of the clips is just right without a pinching sensation and both the aids help in allowing you to breathe better for lessened snoring. Incorporating these breathing aids into your sleep routine may help alleviate the issue of noisy snoring, promoting a more peaceful and restful sleep experience. Enjoy a quieter and more restful night's sleep with this noise reduction device.
Pros
 4 magnetic clips and nasal dilators each
 Reusable
 Easy to clean
 BPA-free
 Carrying case included
 Non-toxic
Cons
Now that we've taken a look at some of the best-rated anti-snoring devices in the market, let's learn how you can pick a good one.
What To Look For In An Anti-Snoring Device
As we've seen above, there are a few kinds of anti-snoring devices you can try. Nose strips are quite easy to use as all you have to do is slap them on and go to bed. If your nasal passages are blocked or congested, this simple fix will work very well. But if your snoring is a result of other issues, this might not be the one-stop solution.
 Mouthpieces are also used to correct snoring, albeit they are very uncomfortable. This over-the-counter method moves the jaw to help widen the air space. With this, an open airway can be maintained, reducing the vibration of your throat tissues.
 Clips made of silicone combine with the help of magnets and go on your septum. This device also works to open your nasal passage for better and quiet breathing.
 Nasal vents or dilators are also an affordable and effective way to reduce snoring. They are inserted into the nostrils and widen the air passage.
Whatever material your anti-snoring device is made of, ensure to read the package and label for potential warnings. Silicone that is odorless, BPA-free, and medical-grade is ideal as it won't irritate your skin. Nasal strips should also be hypoallergenic so as to not leave behind any residue and cause abrasion especially when you're removing them.
Most of the products in this list are reusable at least a couple times after which they must be discarded. Strips are meant for only one-time usage whereas clips, vents, and dental devices can last you a few months as they are easy to clean. One thing to keep in mind is that the cost adds up over time and might not be as cost -effective as corrective pillows or chin straps.
The Bottom Line
As children, we probably found snoring pretty funny, but with age we've realized it's quite a serious problem. Not only is it a problem that is the result of genetics and anatomy, but can also harm your social relationships. If you're a snorer, the night is probably endless for whoever is sleeping next to you. That's why investing in the best anti-snoring devices is crucial for both your own sleep wellness and the well-being of your loved ones. Try the Breathe Right Nasal Strips for a soothing lavender aroma to drift off to sleep to, or the Intake Premier Nasal Dilator that helps in deep and easy breathing. The Snore Bastion Medium Nasal Dilator is soft, almost invisible, and can be reused multiple times. All the aids in this list work to open your respiratory passages, allowing you to breathe freely which can in turn reduce snoring. With a wide variety available, you can make your pick with what's comfortable.
Why Trust StyleCraze?
The author of this article, Shreya Vishwanathan, is a fitness and health enthusiast. She has conducted an extensive study and gone through several forums for user feedback to prepare this list of best anti-snoring devices. She has considered the necessary parameters, safety requirements, common concerns, and additional features while shortlisting the products. These devices are durable, skin-friendly, and can be reused.
Frequently Asked Questions
Does the anti-snoring ring really work?
Anti-snoring rings or clips can make a huge difference by reducing the sound of your snores, thereby putting others around you at ease. They can also lessen the incidences of your snores by opening up the air passages so that breathing is not constricted. The upper airway is stiffened and strong airflow is reduced so that the air passage is widened and opened up for free breathing.
Do anti snoring devices help with teeth grinding?
There are devices available on the market that target both snoring and grinding. A few target only one issue but some work to keep the jaw and chin forward, therefore eliminating both at once.
Can you use multiple types of anti snoring devices at once?
Yes, it is deemed safe to be using more than one anti-snoring device at once. If your problem is serious, you should consult with your doctor before making a solid decision.
How effective are snoring devices?
Even if snoring devices can't completely eliminate snoring at once, they can work gradually to reduce it over a long period of time. They dilate the airway and help increase airflow which can open up the air passage.
How effective are anti-snoring devices?
Most anti-snoring devices effectively clear your airway at night, preventing snoring or breathing issues.
Are magnetic anti-snore clips safe?
Yes, magnetic anti-snore devices are easy to use, safe, and pocket-friendly.