15 Apology Letters To Send To Your Husband For Hurting Him
Resolve the misunderstandings between you both and say sorry through a letter.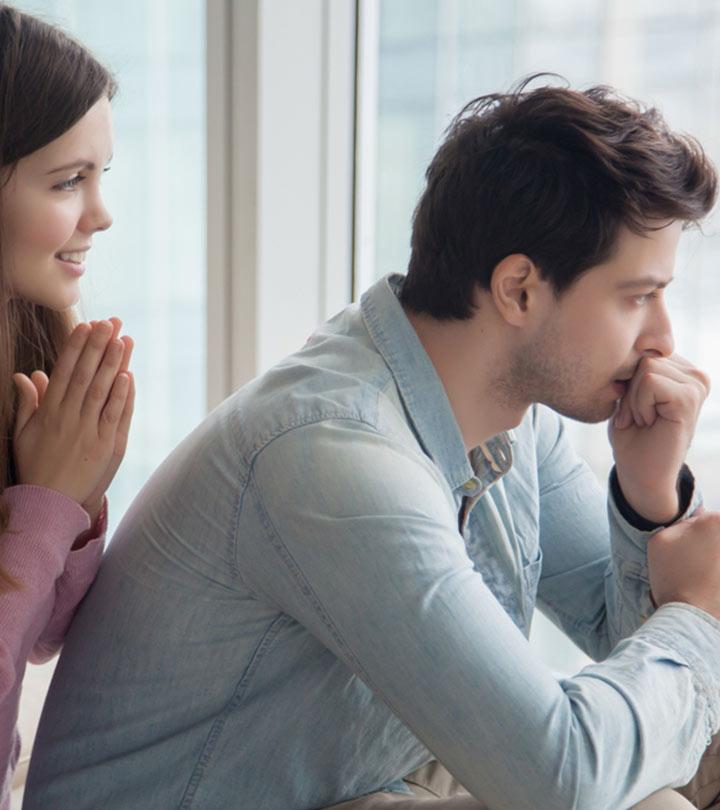 Marriage is not always about unconditional love and living happily ever after. You will have disagreements, but you need to keep your ego aside and apologize to resolve issues with empathy and compassion. If you feel bad for hurting your husband, writing an apology letter can be a great step toward reconciliation.
An apology from the bottom of your heart can help you get things back on track. However, it is not easy to mend wounds after hurting each other. Hence, it is important to express your genuine emotions through this letter. If you want help, you may refer to this curated collection of apology letters that may let your husband know how sorry you are. Scroll down to read them.
15 Apology Letters To Send To Your Husband For Hurting Him
1. Apology Letter To Husband After A Fight
Dear Husband,
I know you are probably not in the state to accept my apology after all that had happened yesterday. I know I crossed all the boundaries and kept going on to hurt you even more. But, today, as I pen down this letter to you, I realize how wrong I was. I know things probably won't get back to normal between us so easily. But, let me assure you that I will do my best to not hurt you that way again. In the end, I want to say that life doesn't seem normal without your love and acceptance. All I want is to get back to the same place where I dwelled happily with you. Please, forgive me.
2. Apology Letter Saying "I Am Sorry I Hurt You"
My Husband,
You might find it a bit odd to see this letter on your desk right after our nasty argument today. But let me just tell you that I overreacted to what you said. I was wrong and understand my mistake, and all I want right now is to make things okay again. The house doesn't seem as lively as it used to be without your presence. So, please accept my apology. I'll try my best not to lose control over petty things and overreact. For you, I'll bring this positive change and make life a better place.


Quick Tip
While writing an apology letter, avoid giving excuses as the reason for apologizing. Instead, acknowledge your mistake and promise not to repeat it.
3. Apology Letter For Your Husband After An Argument
Dear [your husband's name],
I know I was overly harsh while arguing yesterday. I know you are hurt and in pain because of the thoughtless words I said to you in anger. But, in return, I have myself become the victim of all that I said. I couldn't even gather the strength to come in front of you and apologize as I realize how personal I had gotten. I have promised myself to never hurt you like this again as my life doesn't seem to be the same without you. I crave your presence and love always. Please accept my sincere apology.


Quick Tip
Your husband may have a different perspective on some issues. Avoid dismissing that while apologizing after an argument. It may hurt them. Instead, make an effort to understand his view.
4. How To Say Sorry To Your Husband After A Fight
My Life,
The most important thing for me right now is to seek your forgiveness. This time, it's not like a regular apology. I mean every single word that I'm saying. My ruthless behavior with you was incorrect, and I could have handled things in a better way. I lost my patience and kept pushing my view on you without caring to understand what you were trying to explain. I realized that I wanted to prove that I was right and you were wrong. But, I have realized my mistake. You can take your time and talk to me whenever you are comfortable again. In the end, I just want to say sorry again.
5. How To Say Sorry To Your Husband In Romantic Way
Dear Hubby,
Last night was probably the longest night of my life as it was the first time we didn't kiss or hug each other before going to sleep. You may behave normally, but I know you are hurt because of what I said in rage. I have realized my mistake, and I'll make sure never to repeat that stupidity. My only wish is to be by your side and lead a happy married life. So, please forgive me and show me the same love that is still hiding in your beautiful and kind heart.
6. Apology Letter For Not Spending Quality Time With Your Husband
Dear [your husband's name],
It's so funny how life plays with you that you end up hurting the person closest to your heart without even realizing it. I apologize for being overly occupied with my work and not sparing even a little moment for our love. I can recall the days when you were excessively occupied with work but still used to find the time to give me attention and care. On the other hand, I have been so selfishly involved that I have totally forgotten about my family's existence. I own up to this mistake of mine and want to get things back on track. I promise to you that no matter how busy I am, I will take out some time to sit, chat, and relax with you. After all, it's you who matters the most to me. From the bottom of my heart, I want to apologize to you once again and bring back the love that went missing amidst all this.
7. How To Ask For Forgiveness From Your Husband
My Love,
Sometimes I wonder why I end up hurting you again and again? Sometimes I think, do I even deserve to be with you? Well, there is so much on my mind right now that I have lost all my focus. I am guilty, I'm scared, and I seek forgiveness. My actions and words were more than enough to hurt you and make things worse. I understand that things could have been much better if I had put a little effort into looking at things from your perspective. But now I have understood my mistakes and want to bring about some change to lead a happy life again. Please forgive me and offer me a chance to be a better person like I used to be a long time back.
8. Apology Letter Saying "Please Forgive Me"
My Loving Husband,
How weird is it that we argue every day? Maybe that is how marriages are meant to be. You slowly tend to forget the worth of the person you are living with and only realize their worth when that person is no longer available like they used to be. I get scared sometimes that our marriage will end because of all our fights. But then, I realized that it's me most of the time who takes our conversations to another tangent. I'll work on it and I'll improve myself because I don't want to live without your love and presence. You are important to me and an inseparable part of my life. I'll make things better for us again, so would you hold my hand in the process and don't let go? Please forgive me one last time as I can't imagine my life without you in it.
9. Apology Letter To Make Your Husband Happy Again
My Loving Husband,
I know I cannot do much to reverse what I did in the past, but I promise you that I'll do every possible thing to make you happy again. My love for you is constant and eternal, and I can assure you that it will never fade. Every relationship goes through ups and downs, but in the end, only true love survives. Please forgive me.
10. Apology Letter For Hurting Your Husband Unintentionally
Dear Husband,
I know I am not the perfect person. I have done many things in the past that have unintentionally hurt you. But, that doesn't mean that my love for you is not true. I still love you the way I did five years ago when we met. Nothing has changed, I assure you. I know I have been a bit off lately, but that has nothing to do with our relationship nor you. I am tense because of my work, and I am trying to work on it. I apologize for mistakenly hurting you due to this. Please forgive me as you know I would never want to hurt you on purpose.
11. Apology Letter For A Misunderstanding With Your Husband
My Love,
Tell me, what is the most important thing to you? If I am not wrong, then it's our relationship. Through this letter, all I want to tell you is that every relationship goes through rough patches. Maybe that's what is happening with us. We both have busy schedules and endless things to do, and perhaps that's why we have not been communicating enough nor in the best way. I can see some sadness in your eyes, and I know the reason behind it. I apologize to you with all my heart as I never tried hiding anything from you. It was just a miscommunication that led to a heated conversation. So, I wish to apologize and tell you that there is no problem from my side and things are as clear as they used to be.
12. Apology Letter For For Saying Harsh Words To Your Husband
Dear [your husband's name],
I am so sorry that I lost control and showed my worst side to the man who has been so loving and supportive to me. I am probably more hurt than you are right now as my intention was never to hurt you. Please accept my apology and give me a chance to do better so we can live happily together. I swear by our love that I'll never even think of doing anything intentionally that can hurt you. I am extremely sorry!
13. Apology Letter For Getting Frustrated With Your Husband
My Love,
First of all, I apologize for venting out my frustration on you. I could have acted more mature and a bit more responsible while discussing things with you. I promise that I'll do my best not to lose my calm again on such petty issues and spoil the fun of living happily with you. Please forgive me because I have realized my mistake.
14. Apology Letter To Show Your Husband You Have Changed
Sweetheart,
You have all the right to not talk to me if you don't feel like it. You have all the right to scold me if you think I am not right. You have all the right to make me understand things that I don't understand. But, please do not ignore me. I know I have been acting crazy and not listening to you lately. I cannot bear to be out of sorts with you. I want to tell you that I have learned from it. My mind cannot be at peace if we don't interact the way we usually do. It makes me sad and really disappointed. I don't feel like eating or doing anything as all I want is to make you happy. I know I cannot change the past, but this lesson has brought a significant change in me. Please accept my apology. I promise I'll never repeat this mistake ever again.
15. Apology Letter For Getting Jealous
My Loving [your husband's name],
You know I trust you the most, but the jealousy and possessiveness inside me made matters worse. I was not spying or stalking you, but I lost control over my feelings when I saw that picture from your past. I just couldn't handle the thought of losing you. My crazy mind just went on overthinking but I promise that I'll never bring up such imaginary issues again and discuss everything clearly if I feel some confusion. Please forgive me as I cannot imagine living a happy life without you, my love.
Infographic: Tips On Writing An Apology Letter To Your Husband
Married life is beautiful indeed, but not everything is always hunky dory. Just like fights between siblings and misunderstandings between friends, altercations or disagreements between spouses are expected and may also lead to some hurtful moments. This is when an apology letter can save you from several heartbreaks. But an apology is not just saying, "I am sorry." It's instead about letting him know that you regret your actions. In that case, you may need to consider certain points while writing an apology letter because you want the letter to work and bring you closer to your spouse. Check out the tips shared in the infographic below.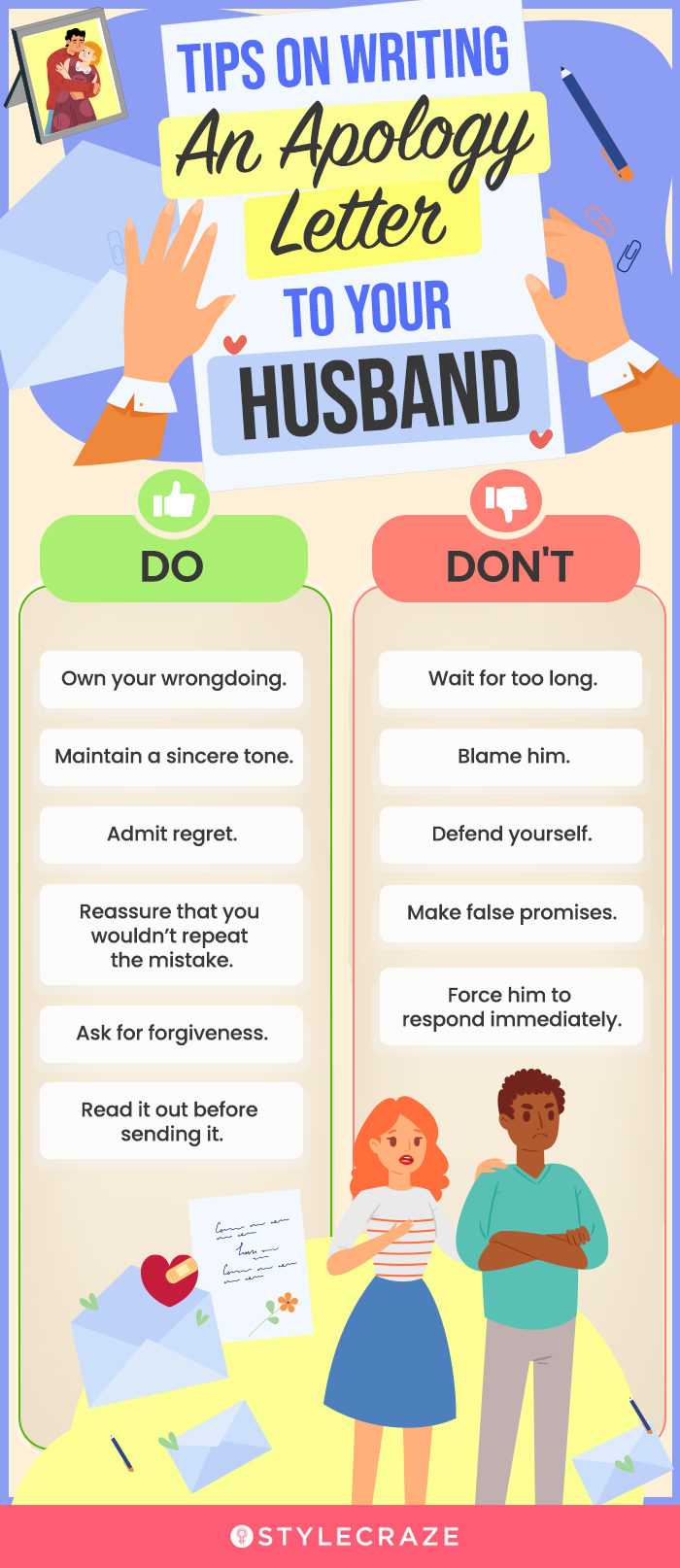 Despite trying to keep your cool and being on your best behavior, sometimes you may be unable to react appropriately and end up hurting your husband. But do not take it too hard on yourself, as you are just a human. And humans can err. However, once the anger has passed and you begin seeing things more clearly, it is necessary to own up to your mistake with honesty and apologize at the earliest. The apology letters mentioned above can come in handy if you cannot find the right words to express your remorse. All you have to do is acknowledge that you have hurt them, apologize for the same, and extend assurance that you will refrain from such behavior in the future. This resolution can help repair the trust and love in your relationship.
Frequently Asked Questions
How can I get my husband to forgive me?
Apologize if it was your mistake. Accept your mistakes and show your willingness to learn from them. Be genuine and sincere with your words but do not demand forgiveness. Give him time to process your apology and get back to you at the right time.
How do you end an apology letter?
The ending of an apology letter should focus on your commitment to working on your mistakes and never repeating them. It must also show your willingness to wait for the recipient's forgiveness. For example, you may end by saying, "I believe we can put this unfavorable situation behind us" or "I am looking forward to being forgiven by you whenever you want to."
How long should an apology letter to my husband be?
Try to limit the length of your apology letter to one or two paragraphs. Write your genuine feelings and try to restrict your word count. Get to the point immediately without beating around the bush. Avoid using complex and long sentences.
Is it necessary to give my husband a gift or do something special after writing an apology letter?
No, it is not necessary to give your husband a gift or do something special after sending him an apology letter. However, it might make him feel appreciated and bring across how sorry you are and how much you value him, thus earning you brownie points with him.
What are the important components of a well-written apology letter?
Acknowledge that you have hurt his feelings and are truly sorry for it. Iterate that you want to make it better and learn from this experience. Avoid using condescending words that might hurt him more. Remember that while you might want to justify your actions, this is a letter asking for forgiveness.
Discover the power of apology letters as we explore "I'm sorry" quotes in this video. Ask for forgiveness sincerely and heal the pain caused by hurtful actions.