How To Apply Blue Eyeliner?
Learn how to use your blue eyeliner to make your eyes look gorgeous and seductive.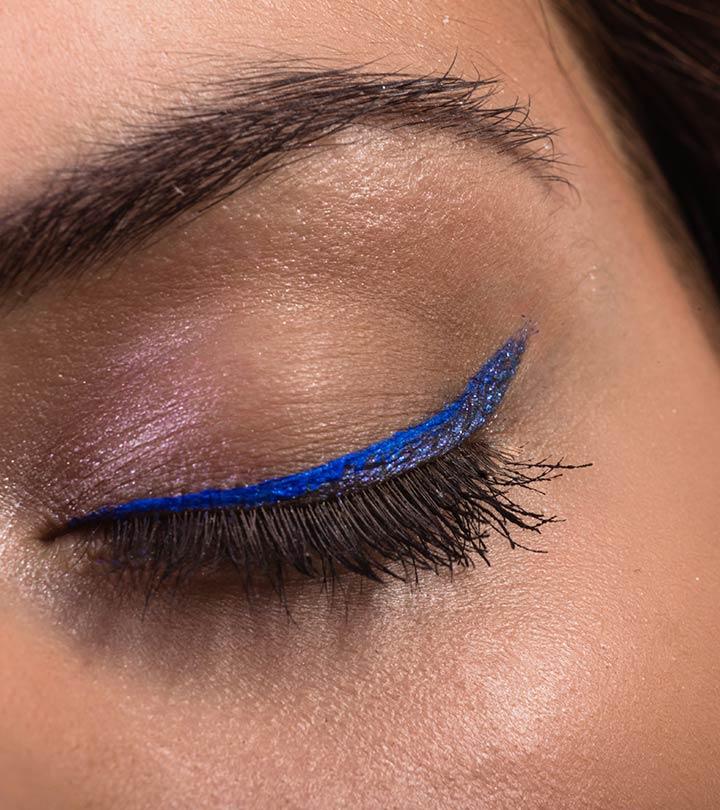 Black eyeliners have been done to death. So, if you want to mix things up a little and know how to apply blue eyeliner, you have landed on the right page. It can be somewhat tricky as the eyeliner shade can make or break your look. It is not as subtle as black and just as intense.
Blue eyeliners are not always flattering for every skin tone, but in some cases, they can take your eye makeup to a whole new level. If you think blue suits you and want to experiment more with the shade, we have your back. First, blue has various shades, and it varies from brand to brand. In this article, we delve deeper into this issue and help you find out the suitable color to accentuate your beautiful eyes. You can wear it as casually as black eyeliners if the shade is right and look gorgeous! So, without further ado, let's look at how you can play with this stunning shade and make your eyes more appealing. Swipe up for the details!
Products Used:
Application Method:
Step 1:
If you have been following my posts you would easily guess by now that first step will always be moisturizing the eye area and grooming your eye brows. Never ever leave your eyebrows out while doing eye makeup because this is what ideally changes the look of your face. Conceal the under eye area if required.
Step 2:
Take blue eyeliner in any form you prefer- pencil, gel or liquid. I am taking pencil eyeliner by Revlon which happens to be one of my favorite blues. Just draw a light stroke going along the shape of your eyes. If you are trying blue eyeliner for the first time, go for a darker shade of blue since darker ones suit Indian eyes more than their lighter counterparts.
Step 3:
Now draw the complete rim keeping the line thin at the inner corner and thick on the outer. Apply as near to the lash line as possible.
Step 4:
Now, take a black eye liner and draw a very thin line under the blue, sticking close to the lash line. This step will not only cover the peeping skin better but make your blue eyeliner look a bit more subtle and soft. Those who inhibit from wearing blue liners should try it this way and I am sure you'll have better results.
Quick Tip
Instead of black eyeliner, you can use dark eyeshadow. Apply it along the lash line and blend it with the blue eyeliner to make it pop.
Step 5:
Take a black khol/kajal and line your water line keeping the inner corner bare.
Step 6:
Now take a similar eyeshadow color as the blue eye liner on your pencil or smudger brush. Apply that on the outer corner of the lower lash line in continuity with the blue eyeliner extending towards the inner side. Keep this step limited to the outer corner only; extending it along the whole lash line will make it look over the top in most of the cases.
Quick Tip
You can also apply a little bit of black or gray eyeshadow to the lower lash line for a smokey and vibrant effect.
Step 7:
Apply highlighter in the inner corner and tear duct area which we left bare in the above steps purposefully. Follow the eye margins while doing this step or else it will not look as we desire.
Step 8:
Curl eye lashes and apply mascara. The desired look is achieved with this step being the last one.
We understand your worries about trying new eyeliner colors when black is a classic, but you have nothing to worry about. Instead, follow these simple tips on how to apply blue eyeliner in a way that does not look over the top. This way, you need not save your blue eyeliner for specific occasions and can use it daily without the fear of looking gaudy or OTT. Stop hesitating and get yourself a blue eyeliner if you do not own one already. Try it out and fall in love with the hue!
Frequently Asked Questions
Does blue eyeliner make blue eyes pop?
Yes, using a darker hue of blue as eyeliner gives the eyes a magnificent yet sensual look. Use blue eyeliner on both the upper and lower lash lines to make your blue eyes pop.
Is blue eyeliner good for brown eyes?
Yes, dark midnight blue eyeliner is perfect for brown eyes.
Key Takeaways
Before applying eyeliner, the first thing to do is moisturize and groom your eyebrows.
A lighter stroke of blue eyeliner along the shape of your eyes and a thicker one on the outer corner can help get a clean look.
A thin line near the lash line can help you pull off a look with subtle makeup.
A similar color of eyeshadow goes perfectly with the blue eyeliner makeup.