Aquaphor On Face: Benefits, How To Use, And Side Effects
Say 'goodbye' to all your skin woes with this dermatologist-recommended ointment.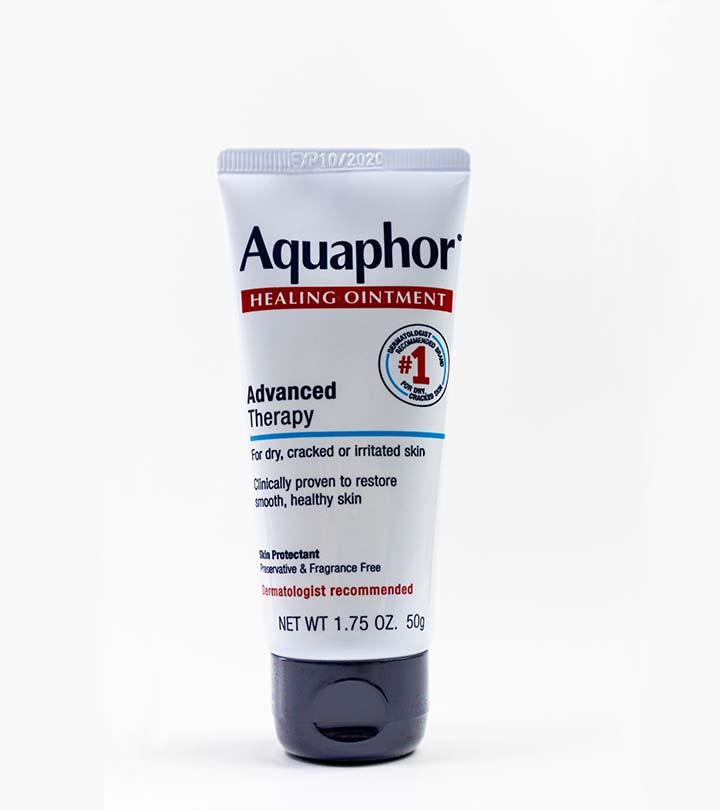 Many people wonder if they can use Aquaphor on the face and if it is good for the skin. Aquaphor is a soothing ointment for severely dry skin. It forms an oily layer on the face that locks in moisture and keeps your skin hydrated for a long period. Aquaphor also helps in treating skin flaking and other irritations. This specially prepared ointment aids in the healing of minor wounds, burns, and a variety of other skin problems. For these reasons, Aquaphor has become a household staple.
Celebrities such as Hailey Bieber, Zendaya, and Nicole Kidman, among others, use this ointment. Read this article to learn about its advantages, how to use it, and its potential negative effects. Scroll down!
What Is Aquaphor? What Does It Do For Your Face?
Aquaphor is a dermatologist-recommended ointment to treat dry and cracked skin. It is different from a lotion or cream. This multi-purpose ointment can also be used to treat minor wounds.
According to Dr. Konstantin Vasyukevich, a board-certified Facial Plastic Surgeon, Aquaphor keeps the face moisturized for a long period.
"Aquaphor creates an oily layer on the face to trap water in the skin, keeping your face moisturized for a long time. In addition, Aquaphor embodies emollients, which help moisturize and soften the skin. It also decreases flaking and other discomforts," says Dr. Konstantin Vasyukevich.

Did You Know?

Aquaphor is available in four product ranges — skin protectants, lip care, sunscreen, and baby care.

Let us now look at the benefits of Aquaphor for skin in detail.
Benefits Of Aquaphor For Skin
1. Moisturizes Dry Skin
Aquaphor is a long-lasting, efficient moisturizer for dry skin. "Aquaphor is a medicated topical moisturizing ointment designed to treat dryness, itching, or irritated skin. It can also shield broken, irritated, or injured skin by forming a slightly breathable barrier over it," says Dr. Konstantin Vasyukevich.
2. Relieves Diaper Rashes
Anecdotal evidence suggests that Aquaphor may relieve diaper rash in just 6 to 7 hours. It also can make diaper changes easier to clean up. In addition, its fragrance-free, preservative-free, and dye-free formula is effective at soothing your baby's sensitive skin. This product can help soothe and heal a rash on a baby's face, adds Dr. Konstantin Vasyukevich.
3. Reduces The Appearance Of Fine Lines And Wrinkles
Aquaphor may help hydrate skin and reduce fine lines and wrinkles. However, it may not be able to prevent them. Using products/chemicals made from vitamin A may help, according to Dr. Konstantin Vasyukevich.
4. May Promote Wound Healing And Prevent Scarring
Aquaphor is said to help minimize extensive scarring when applied to a minor wound.  It accelerates the process of wound healing. While Aquaphor contains wound-healing capabilities, it may also induce redness and swelling in the affected area (1).
5. Soothes Chapped Lips
As per anecdotal evidence, Aquaphor reduces the dryness of lips and soothes them. In addition, it provides effective, long-lasting hydration to lips, making them appear healthier. It also may give a touch of shine to your lips. Aquaphor also has a lip-specific product with protective ingredients such as shea butter, beeswax, vitamin E, and more.
There are a variety of ways to use Aquaphor in your skincare routine. Let's check them out.
How To Use Aquaphor?
1. As A Moisturizer For Face
Wash your face with a cleanser and pat it dry. Ensure there is some moisture left on your skin.
Gently apply and massage the ointment onto your skin.
2. As A Make-Up Remover
Apply Aquaphor as a thin layer on the face.
Gently wipe the makeup off with a cotton swab.
To remove your eye makeup, take a little Aquaphor on a cotton ball and swipe it over your eyelids and lashes.
Rinse your face to remove any extra residue.
3. For Cracked Hands/Feet
Wash your hands/feet to remove the dirt.
Rub the ointment onto the affected skin.
Put on socks/gloves to keep the ointment intact before you go to bed.
4. For Chapped Lips
Wash your face with a cleanser and pat it
Apply Aquaphor lip balm and let it absorb.
You can apply a thin layer underneath or on top of your lipstick to keep your lips moisturized. It can work especially well with drying liquid lipsticks.
5. For Rashes
Wash the affected area and pat it
Apply a small amount of Aquaphor with your fingertips onto the rash and let it absorb.
6. For Cuts And Burns
Gently wash the burn/wounded area with soap to remove any dirt particles.
Allow the area to dry and apply Aquaphor to accelerate healing.
Although Aquaphor is used to treat minor cuts and burns, it is advised against using on open wounds. Instead, wait until the wound gets healed before using Aquaphor.
Note: Follow the directions on the label or as prescribed by your physician. Do not use more than the indicated dosage or for longer than the advised duration.
In the following section, we will look at the possible association between Aquaphor and breakouts.
Does Aquaphor Cause Breakouts?
Aquaphor can be a little too occlusive for those with acne-prone or oily skin.  In addition, Aquaphor's consistency is thick. Hence, it's best to avoid using it during humid conditions as it may clog your pores and keep you from sweating.
The makers of Aquaphor claim it does not clog the pores on your face. Hence, it does not cause acne in individuals with dry to normal skin.
However, using Aquaphor on naturally oily skin may cause excessive moisture and greasiness due to the thick consistency of this product. In humid conditions, Aquaphor may also clog the pores on your face, so they may not be able to breathe properly.
Let's look at the differences between Aquaphor and Vaseline in the upcoming section.
Aquaphor And Vaseline: What Are The Differences?
Aquaphor and Vaseline are skincare ointments that hydrate the skin, help prevent skin dryness, and protect against minor skin injuries. These two brands are comparable in terms of product benefits, yet they differ in a few respects.
Aquaphor is a type of ointment marketed as a skincare product. It can treat minor skin injuries and chapped lips. It also helps prevent skin from drying out. Aquaphor, like Vaseline, contains petrolatum. But it also contains mineral oil, glycerin, panthenol, and lanolin. Panthenol is a substance that can be found in both shampoos and conditioners. It aids in the absorption of skin products. Aquaphor is also thicker and less oily than Vaseline due to its additional components.
Vaseline, often known as petroleum jelly, is a well-known product to all. Unlike Aquaphor, it contains only petrolatum. This product is usually used as an after-injury treatment for burns, cuts, and wounds due to its ability to protect the damaged area from infections. Vaseline is used as a lubricant and moisturizer as it is greasy and thin. Vaseline does not enhance product absorption.
On the other hand, Doctors recommend Vaseline to patients because of its composition as some people could be allergic to some components in Aquaphor.

Did You Know?

Aquaphor has 41% petrolatum, making it semi-occlusive. It allows oxygen and water to penetrate while sealing moisture for wound healing.

How Long Does Aquaphor Take To Heal Skin?
According to Dr. Konstantin Vasyukevich, "Aquaphor typically takes upward of six months to complete its healing process. From there, aftercare is needed. This care includes daily cleaning, as well as continued use of ointment or moisturizer."
But before you start using Aquaphor, you must be aware of its potential side effects.
Potential Side Effects Of Aquaphor
Negative reactions from Aquaphor are rare and the product is generally considered safe for use. However, it may cause allergic contact dermatitis (a rash) due to the presence of lanolin alcohol (wool alcohol). According to a study, 52% of those who used Aquaphor for healing had complained of redness compared to 12% of those who used white petrolatum jelly (1).
Aquaphor can aggravate oily or acne-prone skin, resulting in outbreaks. However, if you are allergic to Aquaphor, it may cause burning, stinging, redness, or irritation. Contact your doctor immediately if any of these side effects continue or worsen.
Note: Always make sure to do a patch test before using the product.
Infographic: Easy Ways To Use Aquaphor For Cracks, Rashes, And Burns
From moisturizing dry skin to soothing diaper rash, Aquaphor is a multi-purpose skin care product. Though most people use it for moisturizing the skin and treating chapped lips, you can also use this for other issues like cuts and burns. Check out the infographic to learn how to use Aquaphor for cuts, cracks, burns, and rashes.


Aquaphor is a gentle, occlusive, and non-comedogenic product recommended by dermatologists. It can be used on the lips, hands, feet, and other parts of the face. It is a multi-purpose product that can be used for various aesthetic purposes. Its moisturizing characteristics make it great for extremely dry skin. However, remember to conduct a patch test before using the product. While Aquaphor is usually considered safe, it should be avoided if you have any sensitivities. For more information, talk to your doctor.
Frequently Asked Questions
Where should you not use Aquaphor?
Do not apply Aquaphor on serious burn wounds, insect bites, skin irritation, swelling, puncture or deep wounds.
Can I use Aquaphor on my face every day?
Yes, you can use Aquaphor on your face every day as per the product or doctor's instructions.
Can I sleep with Aquaphor on my face?
Yes, you can apply Aquaphor on your face before going to bed.
Is Aquaphor good for under eyes?
Yes, you can apply a little bit of Aquaphor under your eyes to keep the skin plump and hydrated.
Key Takeaways
Aquaphor is a multi-purpose ointment that helps treat dry and cracked skin.
It may also promote wound healing and prevent scarring.
However, in some cases, it may cause allergic reactions and trigger skin outbreaks.
Sources
Articles on StyleCraze are backed by verified information from peer-reviewed and academic research papers, reputed organizations, research institutions, and medical associations to ensure accuracy and relevance. Read our editorial policy to learn more.
Postoperative wound care after dermatologic procedures: a comparison of 2 commonly used petrolatum-based ointments
https://pubmed.ncbi.nlm.nih.gov/23377388/