6 Skin Care Products With Arbutin (For Women) – 2023
Nourish your skin with this gentle ingredient to see a visible difference in no time!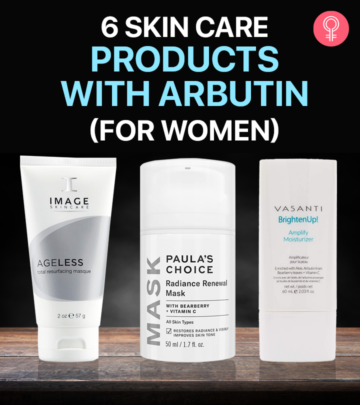 If you have not tried Arbutin skin care products, we will tell you why you need to add them to your skin care routine right away. Common skin problems like freckles, hyperpigmentation, and sunspots are often swept under layers of foundation, and we do not know how to attend to them.
Arbutin-based products are gentle and safe on your skin. Many brands incorporate arbutin in their cleansers, serums, moisturizers, and sheet masks due to its skin care benefits. Here are the 6 highest-rated products that you must check out.
What Is Arbutin?
Arbutin is a natural compound found in plants like mulberry, bearberry, and pomegranate. It works as a tyrosinase inhibitor. Tyrosinase is activated in the skin when exposed to the sun and is responsible for melanin production, which leads to dark spots, freckles, and pigmentation. Arbutin is an effective tyrosinase blocker and works to correct hyperpigmentation.
Benefits Of Arbutin For The Skin
Arbutin is generally safe for all skin types and can be used in conjunction with other skin-brightening products to provide a host of benefits:
Provides UV protection against harmful sun rays.
Prevents dark spots and promotes an even skin tone.
Reduces pigmentation.
Effectively fades acne scars.
Arbutin can also be used in combination with other skin care products. Let's now look at the products containing this wonderful ingredient.
Best Skin Care Products That Have Arbutin
The overnight mask from Paula's Choice is packed with brightening ingredients to deliver a smooth, even skin tone. Apart from arbutin, this rich gel contains bearberry extract and vitamin C to boost skin radiance and give a refreshing glow in the morning.
It is enriched with niacinamide that strengthens the natural barrier of the skin while diminishing fine lines and wrinkles. Hyaluronic acid plumps the face and provides intense moisture to keep the skin soft and supple. The hydrating preparation brightens dull and tired skin while fading away dark spots during the night.
Pros
Mild
Paraben-free
Fragrance-free
Cruelty-free
Cons
Price at the time of publication: $39
The microcrystals in the Image Skincare Ageless Total Resurfacing Masque gently buff away dead skin cells and reveal smooth, even-toned skin. It is enriched with bearberry extract, rich in natural arbutin, that minimizes dark spots and visibly brightens skin tone.
Papaya extracts and alpha hydroxy acids come together to rejuvenate dull skin and restore a youthful appearance. The hyaluronic acid maintains the skin's natural moisture barrier while combating the premature signs of aging. This exfoliator can be paired with a cleanser for body polishing.
Pros
Mild
Paraben-free
Phthalate-free
Mineral oil-free
Artificial fragrance-free
Physician formulated
Cons
Expensive
May cause redness.
Price at the time of publication: $33.15
The lightweight moisturizer from Vasanti is a natural ingredient-based formula that includes aloe vera and bearberry leaves. The bearberry leaves deliver natural arbutin to the skin, and aloe vera hydrates the skin while boosting collagen production. This zero-residue product has anti-aging and antioxidant properties that minimize sun spots and dark circles and fade away wrinkles. This moisturizer instantly hydrates and heals the skin's natural moisture barriers for instant radiance and luminosity.
Pros
Lightweight
Non-greasy
Paraben-free
Sulfate-free
Phthalate-free
Cruelty-free
Vegan
Cons
Price at the time of publication: $34
The Biocellulose mask from Soon is designed to snugly fit the contours of the face for maximum serum absorption. The innovative blend of brightening ingredients, including arbutin, niacinamide, and glutathione, makes this K-sheet mask a cult favorite.
The arbutin brings down melanin production to fade dark spots and reduce hyperpigmentation. It is fortified with hyaluronic acid and betaine to keep the skin plump and well-hydrated. The blend is also infused with adenosine to energize tired skin and fade fine lines to reveal softer, smoother skin.
Pros
Snug fit
Cruelty-free
Paraben-free
Sulfate-free
Phthalate-free
Cons
Price at the time of publication: $20
The gentle and soothing serum from Cos De BAHA is a blend of arbutin and niacinamide, which tone down hyperpigmentation and dark spots to bring out a natural glow. It protects and minimizes the damaging effects of harmful sun rays on the skin. Niacinamide combats the signs of premature aging and reduces the appearance of acne, blemishes, and open pores while promoting a clear and even skin tone. This moisturizing serum harnesses the benefits of hyaluronic acid to enhance the elasticity of the skin and keep it soft and supple.
Pros
UV protection
Mild
Value for money
Fragrance-free
Cons
Price at the time of publication: $11.45
Obagi Nu-Derm Clear Fx Skin Brightening Cream is formulated with Arbutin and is ideal to improve dull complexion. It enhances the appearance of the skin, and makes it look healthier. The cream also effectively minimizes the signs of aging. It also reduces the dark spots & improves the skin texture. Word of caution: the cream contains sodium metabisulfite which may be not suitable for some people.
Pros
Visible results
Easy-to-use bottle
Enhanced skin appearance
Suitable for all skin types
Cons
Price at the time of publication: $106.5
Alpha arbutin, a natural skin-lightening agent that inhibits the production of melanin in the skin, can tackle various skin concerns. This secret skin brightener works better than the traditionally known natural brighteners and is now used in various skin products like serums, masques, moisturizers, and creams. Read on to learn how to choose the best skin care products with arbutin.
How To Choose the Best Skin Care Products with Alpha Arbutin
Alpha arbutin is safe for topical use in concentrations of up to 2%. However, incorporate a product with less concentration if you have sensitive skin. Note that higher-concentrated products may work faster than those with lower concentrations.
To boost the benefits of alpha arbutin, look for products with other skin-brightening ingredients like vitamin C and bearberry extract. On the other hand, when used in conjunction with AHA, it helps slog off dead and discolored cells to reveal healthy, clear skin underneath. Lastly, Kojic acid in the products also helps reduce brown spots by slowing down melanin production. For dry skin, look for hydrating ingredients such as aloe vera, hyaluronic acid, and other natural fruit extracts.
Your alpha arbutin product should be lightweight and easily absorbed into the skin. The consistency should be non-sticky to feel comfortable on the skin. The mode of delivery should be convenient for your skin care routine without being heavy or clogging your pores.
Ensure your alpha arbutin product is free of harmful chemicals like parabens, sulfates, phthalates, mineral oils, and artificial fragrances. Read the label to ensure it is hypoallergenic and toxin-free.
Why Trust StyleCraze?
Shiboli Chakraborti is a certified skin care coach who loves to review different skin care products. After thorough research, she has provided a detailed list of the best arbutin skin care products in this post. She went through numerous reviews and feedback on multiple forums and brand websites to help you pick the best arbutin skin care products that are gentle and safe on your skin. The products listed in this post protect and minimize the damaging effects of harmful sun rays on the skin.
Frequently Asked Questions
Can I use arbutin with vitamin C?
Yes, arbutin is often combined with skin brighteners like vitamin C. They work in the same way to reduce pigmentation and have an enhanced effect when blended.
Is the ordinary alpha arbutin safe?
Alpha arbutin is safe to use in facial skin care products up to 2% concentration. It slowly releases hydroquinone into the skin, eliminating the chances of side effects.
Is arbutin safe for the skin?
Yes, arbutin is safe for all skin types. It helps reduce dark spots, treats acne scars, improves skin tone, and removes hyperpigmentation.
Does arbutin lighten the skin permanently?
No, arbutin does not lighten the skin permanently.
What can you not mix with alpha arbutin?
Do not mix alpha arbutin with vitamin C and niacinamide.
How long does arbutin take to work?
It takes 1-2 months for arbutin to show visible results.
Recommended Articles